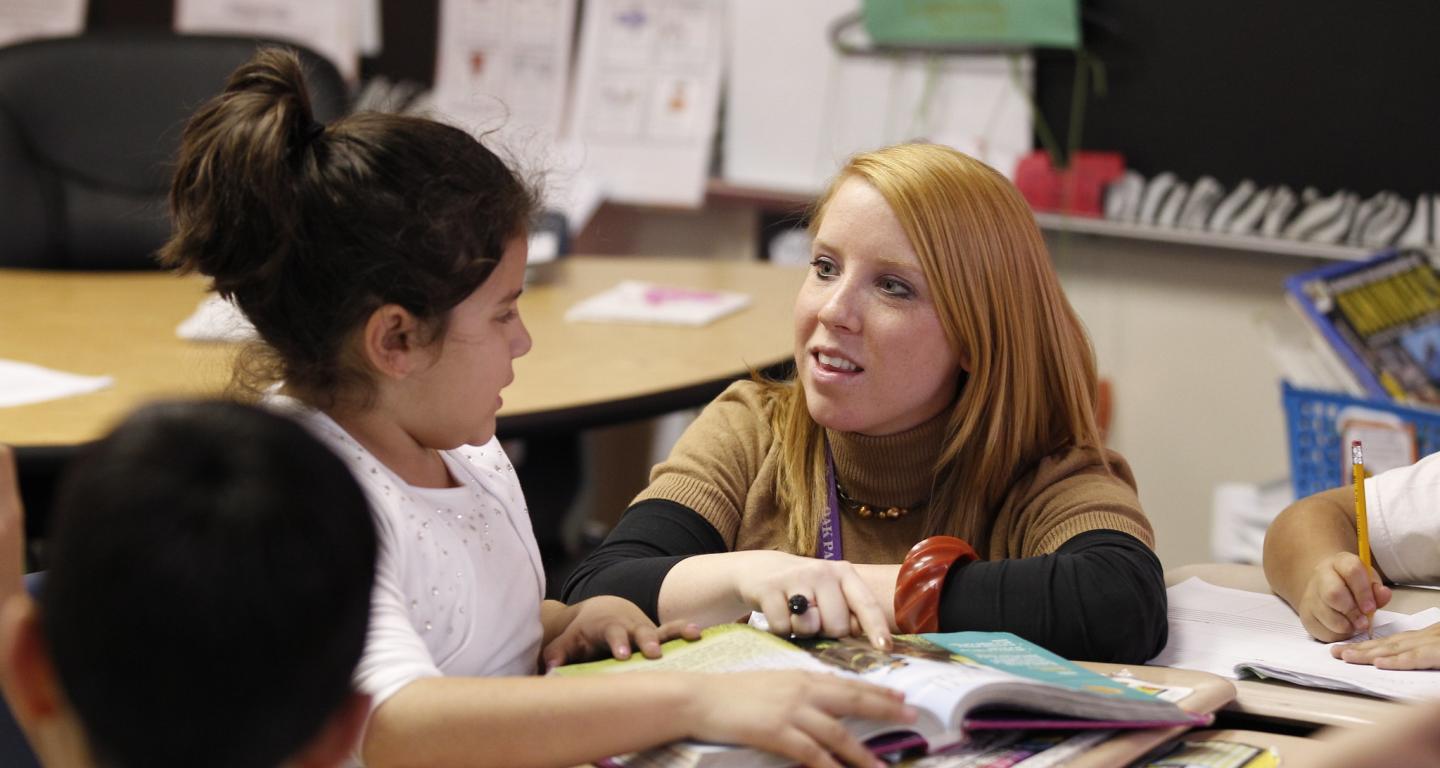 How to Become a Music Teacher
Reviewed by Jacob Imm
Aug 31, 2021
How to Become a Music Teacher
Are you passionate about music? Do you love sharing that knowledge and enthusiasm with people? Then a career as a music teacher may be the perfect path for you. 
But what degree do you need to become a music teacher? And what steps do you need to  take to turn it into a successful career? 
As one of the music colleges in the Chicago area, we created an in depth music teacher path guide. This guide will cover everything you need to know, from obtaining your degree to becoming a certified music teacher. 
What Does a Music Teacher Do?
A music teacher may have different duties and responsibilities depending on where they teach and what they focus on. For instance, a music teacher at a public school may have several different responsibilities, including:
Teaching music theory and music history

Instructing students on how to play musical instruments

Directing bands, choirs or orchestras

Evaluating and grading musical performances 
On the other hand, a self-employed or a private music teacher may focus on a single instrument,  such as the guitar, and teach one student or small group at a time. In this case, an instructor can work with a wide range of students—from beginner to advanced—on all things related to that one instrument, including: 
Sight-reading

Hand, finger and breathing techniques

Musical theory 

Performance 
Music Teacher Job Outlook
If you're passionate about music and teaching, current expectations for the job market are optimistic. 
According to the U.S. Bureau of Labor Statistics, elementary school, middle school and high school music teacher jobs are expected to grow by 4% through 2029. But, for art, drama and music teachers, this growth is estimated to reach 11% as early as 2024 as schools place a greater emphasis on music and theater.
The earnings for music teachers vary according to several factors including:
Location

Public or private sector

The age group they teach
Music teachers employed by schools earn an average salary of $41,234 annually. Self-employed music teachers who offer private instruction earn an average annual salary of $106,933, but there is a wider variance between the highest and lowest earners.
The Path to Becoming a Music Teacher 
As with most careers, the path toward becoming a professional starts with school. 
Typically, there are three steps a student must undergo: 
Most music teachers begin by earning a bachelor's degree in music education or advanced music studies.
The musical theory and knowledge gained from course instruction is usually applied practically via classroom observation, participation and instruction. 
In most states, once you have demonstrated mastery of your musical focus and accrued enough training hours, you can apply for a state teaching license certification.
Musical Education Courses 
A music education major can provide the most comprehensive training for a career as a music teacher, as it focuses on both the study of music as well as the profession of teaching. Depending on the school you attend, this degree typically prepares future educators  to teach music for kindergarten through high school students. 
A music education program goes far beyond a focus on music theory. It also includes the study of people, places and cultures—all of which have historically impacted the development of musical styles and genres. 
Although there are other pathways to a college degree for prospective music teachers, remember that some degree programs like music or music performance don't include courses in teaching. As a result, they may not adequately prepare you for a career as a music instructor, particularly if you're looking to work in a school setting. 
For an example of a potential path to a music education degree, let's look at  North Central College, where core classes within the music education program include: 
Music theory and musicianship

Music literature and history 

Conducting

Private study

Ensemble study

Clinical experience 
To further develop specialized skills, students pursuing a music education major at North Central can choose between the choral and instrumental tracks, and gain valuable teaching knowledge through classes such as K-12 and High School Teaching and General Music Classroom Instrument Techniques. 
Both the choral and instrumental tracks require students to take the same core courses for music majors—core music, music education and education. Where they differ is that choral students must take advanced choral courses, which include:
MUSI 228 - Diction for Singers

MUSI 329 - Vocal Pedagogy

MUSI 348 - Elements of Choral Conducting

MUED 408 - Advanced Choral Conducting
On the other hand, instrumental students must take advanced instrumental courses, which include: 
MUED 205 - Woodwind Techniques

MUED 206 - Brass Techniques

MUED 207 - String Techniques

MUED 208 - Percussion Techniques

MUED 407 - Advanced Instrumental Conducting

MUSI 347 - Elements of Instrumental Conducting
Music Education Skills
During their studies, students don't simply increase their knowledge of music theory, they also develop a variety of related skills, including: 
Music proficiency – Most students focus on mastering a single instrument; at many institutions, everyone is expected to also demonstrate proficiency in piano for its benefit in learning music theory and communicating with other musicians, as explained by veteran performer Eddie Bond on Skoove.com. 
Patience – Music is all about precision and technique. It takes patience, dedication and repetition to build those muscles. And when you have to work as a team of musicians to create harmony, developing these soft skills becomes even more essential.   
Communication – To become an instructor, you have to learn how to communicate effectively. A good music program will teach you how to boil down difficult ideas and theories into digestible information.  
Organization – Discord is commonplace wherever groups are gathered. Creating music where everyone is working together requires organization and teamwork.  
Classroom Training
Classroom training is an integral part of any music education program. 
Students gain practical experience through observing established music teachers and participating in classroom instruction. By student teaching for at least a semester, students gain invaluable  work experience with younger music students. 
The ability to watch other teachers and assist with instruction helps undergraduates better understand and prepare for their future careers. 
Certification
Most schools require the music teachers they employ to have a teaching certificate that demonstrates professional training and skill. Certifications vary by state but often require passing exams that test teaching and musical knowledge. 
Want to know what the specific requirements are for your state of residence? The National Association for Music Education compiled a data sheet that contains the music teacher certification requirements for every state as well as Washington D.C. 
Note: While private tutors don't necessarily need to be certified in order to find employment, a certification can be a helpful resource when building a client base. 
Advanced Degrees
Receiving a master's degree or doctorate in music education can open the door to further job opportunities, including teaching music at the university level. And, in some states, an undergraduate degree isn't enough to even teach K-12. For instance, in New York, an elementary school teacher must have a master's degree to work for public schools. Wherever you choose to teach, be sure you know that state's requirements well before you start applying for jobs.  
During a master's degree program, individuals further develop their skills and knowledge in several areas, including:
Education

Music history

Orchestration and arrangement

Music theory 

Instructional design

Academic research

Contemporary teaching methods 
Completing an advanced degree program may require at least three years of schooling, depending on the school you choose to attend, in addition to much more rigorous musical performance and testing.  
The Benefits of a Career as a Music Teacher
So, what are some of the compelling reasons for becoming a music teacher? 
Here are three primary benefits to consider: 
The reward – For music lovers, there are few experiences as rewarding as seeing a student "get it." You can be a positive influence in their life while teaching them the values of self-confidence, teamwork, hard work and the pursuit of excellence.  Watching and nurturing a young person's musical development provides intrinsic joy and value that can't be conveyed by a paycheck.  
Time off – In both private and  public school settings, music teachers get extended breaks  for religious holidays and summers. This gives you time for other  things, whether it's spending time with your family, working on your home, or pursuing your own musical performance endeavors. Music teachers, like all teachers, often fill the time when school is not in session working on continuing their education or taking other jobs for extra money. For private music teachers, self-employment gives you total control over your work hours and rates. 
Doing what you love– At the end of the day, a music teacher gets to do something they love everyday. Not only are you playing music everyday, you get to share this passion with young minds.
Becoming a Music Teacher
The path toward becoming a music teacher involves years of study, training and preparation. But once you're finished, it's worth it. 
Fortunately, with colleges like North Central College, you can get quality instruction toward a  bachelor's degree in musical education. Better yet, you can earn your bachelor's degree, complete your training, and receive your certification within a four-year time frame, allowing you to enter the job market sooner and start teaching music faster.
Find out more about North Central College and get started on your journey today.
Sources: 
High School Teachers: Occupational Outlook Handbook: : U.S. Bureau of Labor Statistics. (2021, April 9). U.S. Bureau of Labor Statistics. 
https://www.bls.gov/ooh/education-training-and-library/high-school-teachers.htm#tab-6 
Music Teacher Education Program & Certification. (2019). North Central College. 
https://www.northcentralcollege.edu/program/music-education
McDonald, H. (2019, July 16). Music Teacher Job Description: Salary, Skills, & More. The Balance Careers.
https://www.thebalancecareers.com/music-teacher-career-profile-2460640 
CBEST. (n.d.). California Educator Credentialing Assessments. Retrieved June 14, 2021, from
https://www.ctcexams.nesinc.com/PageView.aspx?f=GEN_AboutCBEST.html
CBEST. (n.d.). Music Teacher Preparation in California: Standards of Quality and Effectiveness for Subject Matter Programs. Retrieved June 14, 2021, from
https://www.ctc.ca.gov/docs/default-source/educator-prep/standards/ssmp-handbook-music-pdf.pdf?sfvrsn=0
National Association for Music Education. (2020, July 7). 2020 Teacher Certificate Update.
https://nafme.org/wp-content/uploads/2020/07/2020-Teacher-Certification-Update_7.1.2020-1.pdf
Professional Certificate - Master's Degree Requirement. (n.d.). NYSED. Retrieved June 14, 2021, from
http://www.highered.nysed.gov/tcert/certificate/relatedmasters.html