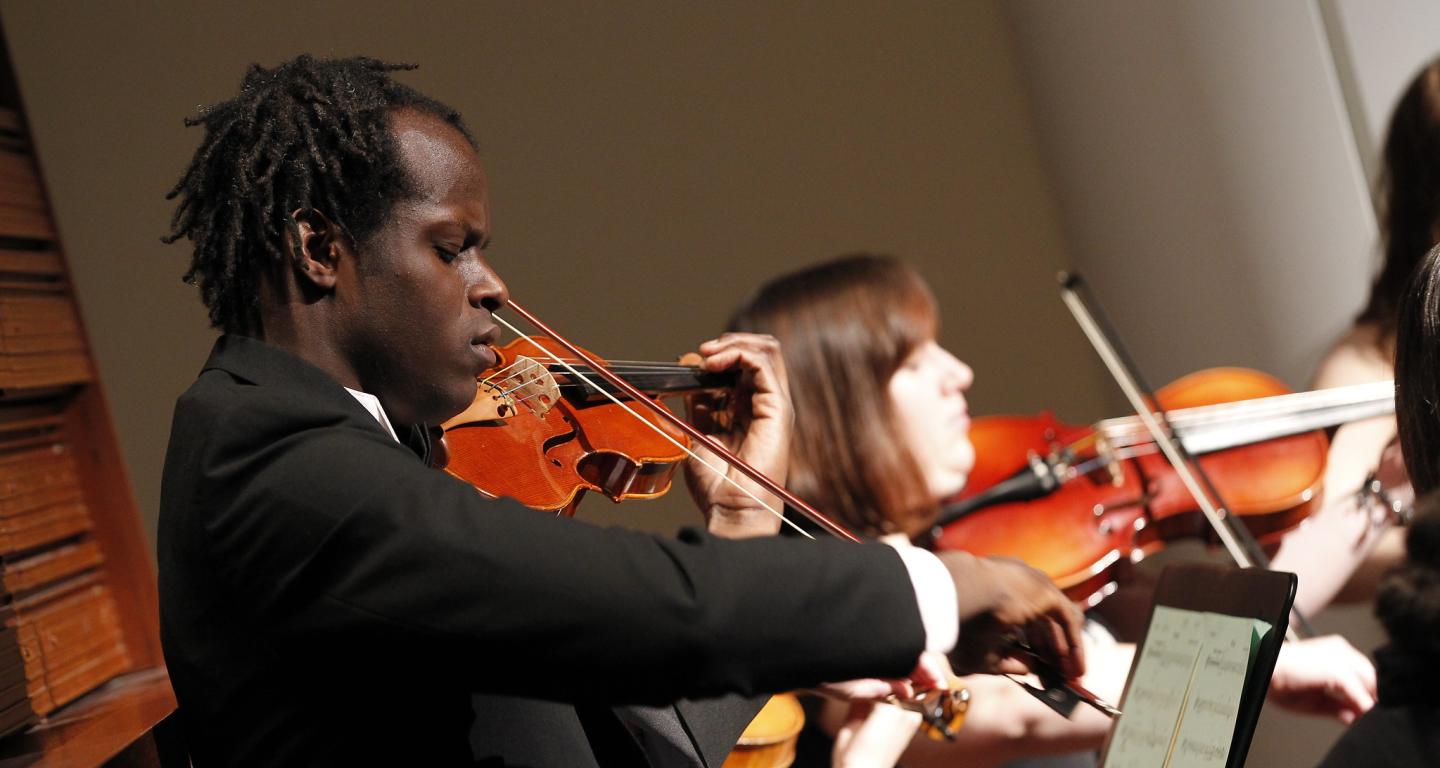 Different Music Majors in College
Jul 02, 2021
Different Music Majors in College
If you love music you might want to explore music majors in college to prepare for a career. There are many ways you can use a music major—in performing, teaching, arranging, directing, composing, and many more career fields. 
Most will require a bachelor of arts degree from a four-year conservatory, college, music school, or university, and some will require a graduate degree, as well. Keep reading to learn more about the different music majors in college.
Are you ready to major in music?
A music degree allows you to enjoy the performing arts and study the academic side of music while also getting ready for the job market. An undergraduate degree in music can be extremely beneficial! 
"Studying music in college can lead to a wide variety of careers in music, involvement in musical organizations, and most importantly, a scholarly and pragmatic understanding of the musical arts in our society," said Jonathon Kirk, associate professor of music and chair of the music department at North Central College. "Several of the music degree programs at North Central College help to prepare students for careers in the performing arts, for teaching, and for working in the ever-changing music industry. 
"Careers in the musical performing arts continue to be, not surprisingly, one of the most popular music course at the music school, colleges and universities," added Kirk. "This includes training for singers, instrumentalists, composers, songwriters, dancers, and choreographers, but it also includes preparation for sound engineering techniques, music production, and music directing." 
The U.S. Bureau of Labor Statistics continues to expect growth in many music-related careers, including music therapy, postsecondary music education, commercial music and theatre, freelance audio production, non-profit arts management, and music business. Some of these professions, like music therapy, will require you to obtain a master's degree and/or additional professional experience.  
What are the Different Music Majors?
Here are some examples of music majors in college: 
Bachelor of Arts in Music 
If you want to obtain a wide range of musical experiences and pursue a liberal arts education without a narrow focus, a general bachelor's degree in music may be right for you. Many institutions, including North Central College, offer a bachelor's degree for music students interested in topics like world music, music technology, ethnomusicology, music history, and other music electives. 
You'll gain experience with research and writing––a perfect fit with your creative and academic interests. You might also complete a music minor to complement a different performing arts major or business discipline for a career in commercial music. 
Bachelor of Arts in Music Performance 
If you want to pursue a career as a performer, private studio teacher, or composer, you should consider a major in music performance. You will focus on heightening your performance skills through extensive practice as well as ongoing lessons through private instruction.
This is the path to follow if you seek to develop your personal music style while preparing for the next steps to become a professional musician. Many students plan to attend graduate school in performance or graduate-level artist diploma programs at other universities, conservatories, or schools of music.
Within this major, you'll specialize by following a track in voice, instrumental music, or piano to suit your talents and post-graduation goals. You should expect to audition for admission to this major. The B.A. in music (composition) is similar in that you will expect to submit samples of your creative work, but it does not include a performance audition.
Music performance majors are usually required to take a rigorous core of courses in music theory, history, techniques/pedagogy, and applied lessons using their primary instrument or voice. You will also be required to participate in a large ensemble with your primary instrument or voice and to perform a senior recital.
Jazz Studies
If jazz is your thing, look for a college or university that offers a degree program or specialized track in jazz studies. This is designed for students who wish to pursue careers as jazz performers, arrangers, composers, or jazz educators and for students planning to go to graduate school in related areas. Expect to take a rigorous core of courses like jazz harmony and aural skills, jazz improvisation, jazz history, and jazz arranging and composition courses. 
You will most likely be required to take studio lessons and participate in both small combos and large ensembles. An audition is usually required for entrance into a jazz studies program. 
Music Education/Teaching 
Music majors pursuing a teaching degree will develop skills related to directing school bands, choirs, and orchestras. They will gain experience and knowledge for teaching general music, directing school music productions, and even managing large marching and athletic bands. "Music teaching and music education is a career field with stable growth," said Jonathon Kirk at North Central College, which has a nearly 100 percent placement of  music education majors.  
Teaching music in the public schools (and some private and independent schools) will almost always require a bachelor's degree and licensure in music education. North Central College offers a professional degree and pre-K through high school licensure in either instrumental or choir education. 
If this is your career goal, you need to begin preparing right away, during your first year in college, combining your performance training with classroom teaching experience. Even with licensure and teaching requirements, it is still possible to complete your degree within a four-year time frame at North Central College––although some programs require five years. 
Your interest might be in private teaching––like in a piano or voice studio––teaching within the commercial and popular music fields, or teaching at independent music schools and conservatories, where licensure is not required. If your goal is to become an assistant professor of music at a college or university, you'll need to pursue a doctorate.
If this is a path you're interested in exploring, read our guide to learn more about how to become a music teacher. 
Music Business 
Music business, entertainment management, and music copyright law are quickly changing and growing fields in the music industry. In the past few decades, some colleges and universities have added majors in music business and music entrepreneurship, which have grown considerably. 
If this is the career field for you, look for an institution or music school with a music business major or the ability to double-major in a music discipline and business-related field like marketing or management. Another option might be a semester away music program; North Central College partners with Belmont University in Nashville to allow its students to spend an entire semester there studying the music business and music entertainment management. 
You might also consider blending these disciplines into a career in arts management. This exciting career field offers numerous opportunities with operas, symphonies, dance companies, record labels, recording studios, digital streaming companies, and more. Along with taking traditional music courses, arts management students should learn to market themselves, understand accounting and finance, and enhance their careers as artists.
Other Careers in the Music Field
Here is a list of examples of music-related careers:
Arranger

Producer

Orchestrator

Composer

Conductor

Music publisher

Music critic

Music editor

Music supervisor

Choir director

Music minister

Private instructor

Educator/teacher, K-12 

Band director

Music therapist

College/conservatory/university music educator

Session musician

Performing artist

Background vocalist
Advice on How to Succeed in Music
Become an outstanding musician. Your musicianship will determine your success in many music careers, including teaching. You want to be the best possible role model for your peers and students. 
Become as versatile as possible. Your ability to play different instruments, compose, direct an ensemble, promote a concert or even lead a musical theater program will make you more employable. 
Develop your business skills. Whether you're marketing yourself, recruiting students, or promoting an ensemble, building your entrepreneurial and marketing skills will help you succeed. As a musician, you might always be creating your own employment. 
Learn all you can about technology. Music educators and musicians use technology for teaching chording and music theory as well as composing, recording, tuning, and improvisation. 
Build your resume. Find performance opportunities, participate in workshops, attend professional performances, gain teaching experience, work at a fine arts center and add any other skills that will help you launch your music career. 
Take The First Step
Regardless of your specific music major, finding the right college, mentors, and music instructors will help you prepare to perform, teach music or find other professional work in the music field. 
"Working in music does require specific skills, but it really depends on your chosen career to know what type of formal education or experience is needed for success," said Dr. Jonathon Kirk of North Central College. "In most cases, a formal education is certainly helpful and required, along with creativity and a musical sensibility, which can be developed in lots of different ways." 
To learn more about the music program at North Central, check out the music education and music department pages.
Laura Zahn Pohl is an editorial director in higher education with 18 years of experience as a content writer, publications editor and speechwriter. An honors graduate of the University of Iowa School of Journalism, her experience includes corporate communications and freelance reporting for the Chicago Tribune, Daily Herald and Kalamazoo Gazette.