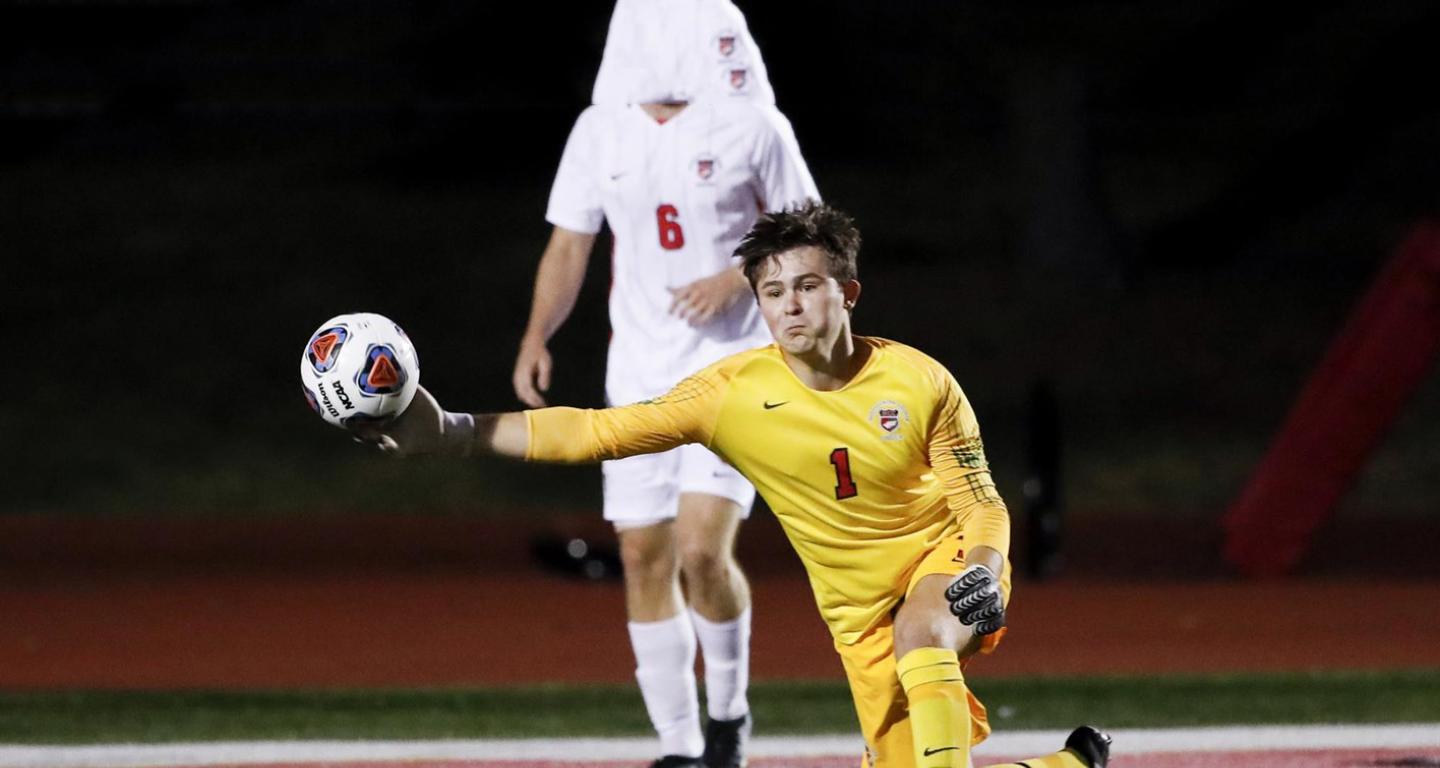 What is a Student-Athlete?
Reviewed by Jacob Imm
Sep 17, 2021
What is a Student-Athlete?
Colleges and universities offer a variety of academic, athletic, humanitarian and social pursuits for students to participate in throughout their time on campus.
One of the most popular extracurricular activities is college athletics, which provides student-athletes with an opportunity to compete, form lasting relationships, develop their leadership and time management skills, and strengthen their work ethic. 
How do we define the term "student-athlete?" Essentially, a student-athlete is a full-time or part-time student of a university or college who also participates in an organized and competitive athletic program offered by the school. 
In this article, we will start with a general discussion about what it means to be a student-athlete, and then focus more specifically on DIII.
The Role of a Student-Athlete
A student-athlete must fulfill the responsibilities of both a student and a young athlete. In other words, they must be enrolled in and attend courses offered by the college while also participating in a competitive intercollegiate sport. 
As such, student-athletes typically have less free time than non-athletes in between classes, practices, and athletic competition. 
In addition to attending classes, studying, and taking exams, student-athletes have responsibilities to their team that can include:
Attending practice, typically 20 hours per week, according to the NCAA

Maintaining a minimum grade-point average (GPA) in order to remain eligible

Practicing and training when classes are not in session

Representing the college with respectful behavior during games and competitions
Student-Athlete Scholarships
As a student-athlete, you can receive athletic scholarships from your college or university to help pay for tuition, books, and other expenses. Most of these scholarships are regulated by the National Association of Intercollegiate Athletics (NAIA) or the National Collegiate Athletic Association (NCAA). 
These organizations set minimum standards for each scholarship, which may include GPAs and standardized test scores, as well as the value of each scholarship and the number of student-athletes who can receive them. Each scholarship recipient must also meet the school's admission requirements. However, due to the size of the NCAA (overseeing 1200 schools and 23 sports), their scholarship requirements are more strict than those of the NAIA (which oversees 300 schools and 13 sports). 
Student-athletes can only receive a full-ride athletic scholarship from the NCAA if they attend a NCAA Division I school. Division II schools will often only offer partial scholarships to their athletes. While the NAIA offers athletic scholarships to both DI and DII student-athletes, partial scholarships are more common than full-ride scholarships (regardless of DI or DII status) due to the organization's smaller size. 
Athletic scholarships are not available from either the NCAA or NAIA to student-athletes who attend Division III schools, but this doesn't mean financial aid isn't available. In fact, about 75% of student-athletes who attend DIII schools receive financial aid based on academic merit or financial need. 
How to Become a Division III Student-Athlete
While Division I and Division II athletics put a greater emphasis on top-level athletics, supported by large athletic budgets and competitive teams, Division III athletics allow students to pursue their interest in sports while still devoting a significant amount of time to other interests and academic pursuits. This is because Division III athletics function with a smaller budget and receive less scrutiny than DI and DII athletics. However, Division III athletics are still very competitive. 
Division III student-athletes must meet the same admission requirements as any other student, including: 
Minimum GPA 

Standardized test scores (if applicable)

Admissions essay

Income requirements (if seeking financial aid)
Along with meeting these requirements, Division III student-athletes must also be high-achieving high school athletes. Many colleges begin recruiting students as early as their freshman year in high school. 
Wondering what it takes to go to the next step, meaning how to be a good student athlete? Read our linked blog! 
A Day in the Life of a Division III Student-Athlete
All student-athletes have busy schedules, so you'll need to know how to manage time as a student athlete. As we mentioned above, however, as a Division III athlete you'll likely have more time to include other extracurricular activities in your schedule. A typical day in your life as a Division III student-athlete may look like this:
6 A.M. – Your day will get off to an early start. Many athletes get some of their training in before their first class begins. Before those early training sessions, you'll need to give yourself time to get dressed and grab a quick snack.
7 - 9 A.M. – A typical morning training session might include running, weight training, drills, or other activities. Depending on the college sport you play, you might work on your own, with a coach, or with your teammates.
9 A.M. - 2 P.M. – You'll likely attend most of your classes during this time. In college, you can expect your class schedule to vary from day to day. Some days you might only have one or two classes, while others you'll have more. You also need to grab lunch and fuel your body before your afternoon practice.  
3 - 5 P.M. –  You'll probably have practice most afternoons when your college sport is in season. During the off-season, you'll have more free time on your hands to participate in other extracurricular activities. This is one of the benefits of being a Division III athlete. You're not obligated by an athletic scholarship and thus have a little more time to pursue additional interests.
What to Consider Before Becoming a College Athlete
Becoming a college athlete is a huge commitment that requires significant sacrifices. If you think you want to get involved in college athletics, carefully consider the following:
Are you sure you want to continue playing your sport for the next several years?

Can you handle a very busy schedule?

Will you be able to make enough time for the rest of the college experience?

Are you planning on getting a job while you're in school?

Are there other extracurricular activities you want to try?
Balancing schoolwork and a social life with athletics can be a lot. Student-athlete mental health is very important, so if you decide to pursue athletics in college, it's important to make sure you know how to access support systems and resources available in case you ever find yourself overwhelmed.
Get the Student-Athlete Experience at North Central College
You want to make sure you enjoy the student-athlete experience. If you're passionate about the sport you play, but don't want intercollegiate athletics to take up too much of your college experience, then Division III athletics may be the best path for you. 
Division III colleges, like North Central College, offer a balance of quality academics and competitive athletics, without overworking students or consuming  all their free time.
North Central College offers 27 Division III athletic programs, including football, women's and men's basketball, volleyball, soccer, cross country, track and field, and many more. The College has a great tradition of excellence, including 40 team national championships along with 142 individual and relay national championships. If you're ready to start your journey to becoming a student-athlete, reach out for more information today.
Sources:
Student-Athletes. Demands and workload. Time Management is Critical. Athnet. https://www.athleticscholarships.net/college-student-athletes-demands-and-workload.htm.  Accessed July 19, 2021. 
Play Division III sports. NCAA.org - The Official Site of the NCAA. https://www.ncaa.org/student-athletes/play-division-iii-sports. Published June 12, 2015. Accessed July 19, 2021. 
Become a Division III Student-Athlete. NCAA.org - The Official Site of the NCAA. https://www.ncaa.org/student-athletes/become-division-iii-student-athlete. Published July 16, 2014.  Accessed July 19, 2021. 
The Difference Between NCAA & NAIA? Birminghamunited.com. https://www.birminghamunited.com/the-difference/#:~:text=The%20NAIA%20is%20a%20smaller,of%20%247%2C000%20of%20financial%20aid. Accessed September 8, 2021.
NAIA Scholarships. Scholarships.com. https://www.scholarships.com/financial-aid/college-scholarships/sports-scholarships/naia-scholarships/#:~:text=The%20National%20Association%20of%20Intercollegiate,do%20not%20offer%20scholarship%20funding. Accessed September 8, 2021.