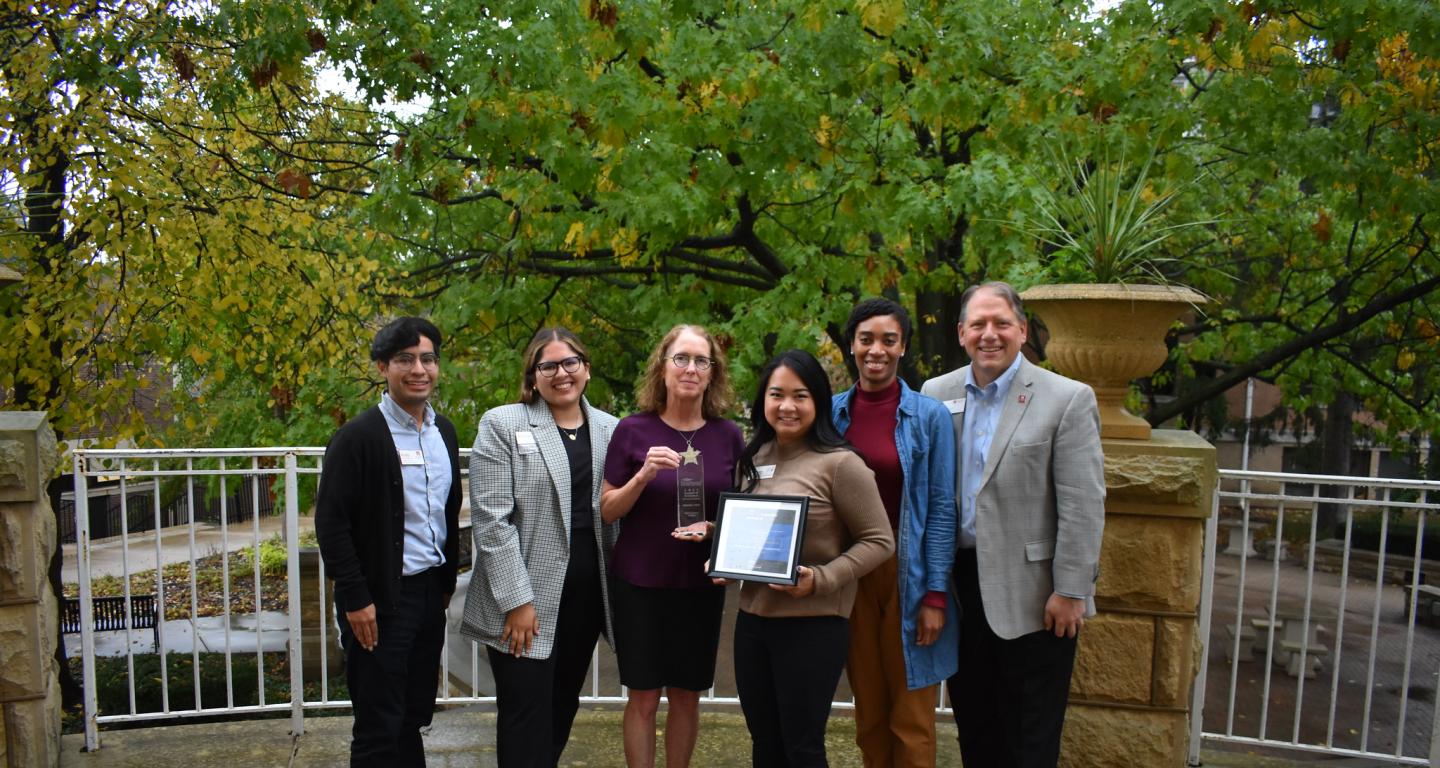 Media Releases
North Central College's Cardinal First Program Recognized as 2021 National Finalist By Excelencia in Education
Sep 20, 2021
One of Only 21 Programs in the Country to Be Recognized for Asset-Based Approach to Serving Latino Students
Excelencia in Education, the nation's premier authority on efforts to accelerate Latino student success in higher education, named Cardinal First—North Central College's program for first-generation college students—as a national finalist for the 2021 Examples of Excelencia. This recognition was given to only 21 programs nationwide out of 145 program submissions representing 23 states and Puerto Rico. Cardinal First is the only Midwestern program in the baccalaureate category, and one of just two programs in Illinois, to be recognized as a finalist.
"Cardinal First is committed to advancing outcomes for all first-generation students, including our increasing population of first-gen Latino students," said Julie Carballo, director of first-generation initiatives, veteran and military-affiliated student services at North Central College. "This recognition represents the tireless and passionate work of so many involved with Cardinal First since its launch in 2015. It is also an honor to see the success of our first-gen Latino students recognized and celebrated; they are remarkable and a tremendous asset to our campus."
The mission of Cardinal First is to provide a supportive and welcoming community for first-generation college students and their families, a campus culture that recognizes and celebrates first-generation student identity as an asset, and a program that intentionally connects first-generation students to faculty, resources, information, and experiences that promote academic and personal success from enrollment through graduation.
"Cardinal First was the first program I joined after starting at North Central and it's the main reason I'm comfortable talking to new people and making new friends," said Isaac Sosa, a biology major at North Central College. "The workshops have been immensely helpful in giving me advice that I didn't even realize I would need; they prepared me for situations I would have otherwise not been able to handle well."
"Identifying and advancing what works is central to Excelencia's tactical plan to accelerate Latino student success," said Deborah Santiago, CEO of Excelencia in Education. "We look to these evidence-based practices, and the leaders working directly with students and community, as exemplars of what others can do to ensure our students are served well."
Examples of Excelencia was created in 2005 and is the country's only national effort to identify, aggregate and promote evidence-based practices improving Latino student success in higher education. The 21 finalists will be featured online as well as in Excelencia's Growing What Works Database – the only national online, searchable database for institutional leaders, funders, and policymakers interested in identifying what works for Latino students. On October 28, 2021, four of the 21 finalists will be announced as the 2021 Examples of Excelencia and recognized virtually at the annual Celebración de Excelencia.
"Going into college there were so many challenges being a first-generation student," said Gregorio Alvarez, a mechanical engineering major at North Central College. "Cardinal First really set the foundation for myself and unlocked all the possibilities to have a successful college career for which I can't be more grateful."
Every year, Examples of Excelencia begins with a national call for nominations encouraging individuals and programs to share initiatives accelerating Latino student success in higher education. Excelencia in Education reviews all program profiles of those intentionally serving Latino students and, this year, identified 21 finalists using rigorous criteria. Finalists identified in each of four categories—associate, baccalaureate, graduate, and community-based organizations—are presented to a national selection committee composed of higher education leaders, grant makers, and stakeholders. The committee assesses the strength of innovative, intentional, culturally relevant, and effective high-impact practices tailored to Latino students and their communities to select the four Examples of Excelencia.
To see the full list of the 2021 Examples of Excelencia finalists visit https://www.edexcelencia.org/2021-examples-excelencia-finalists.