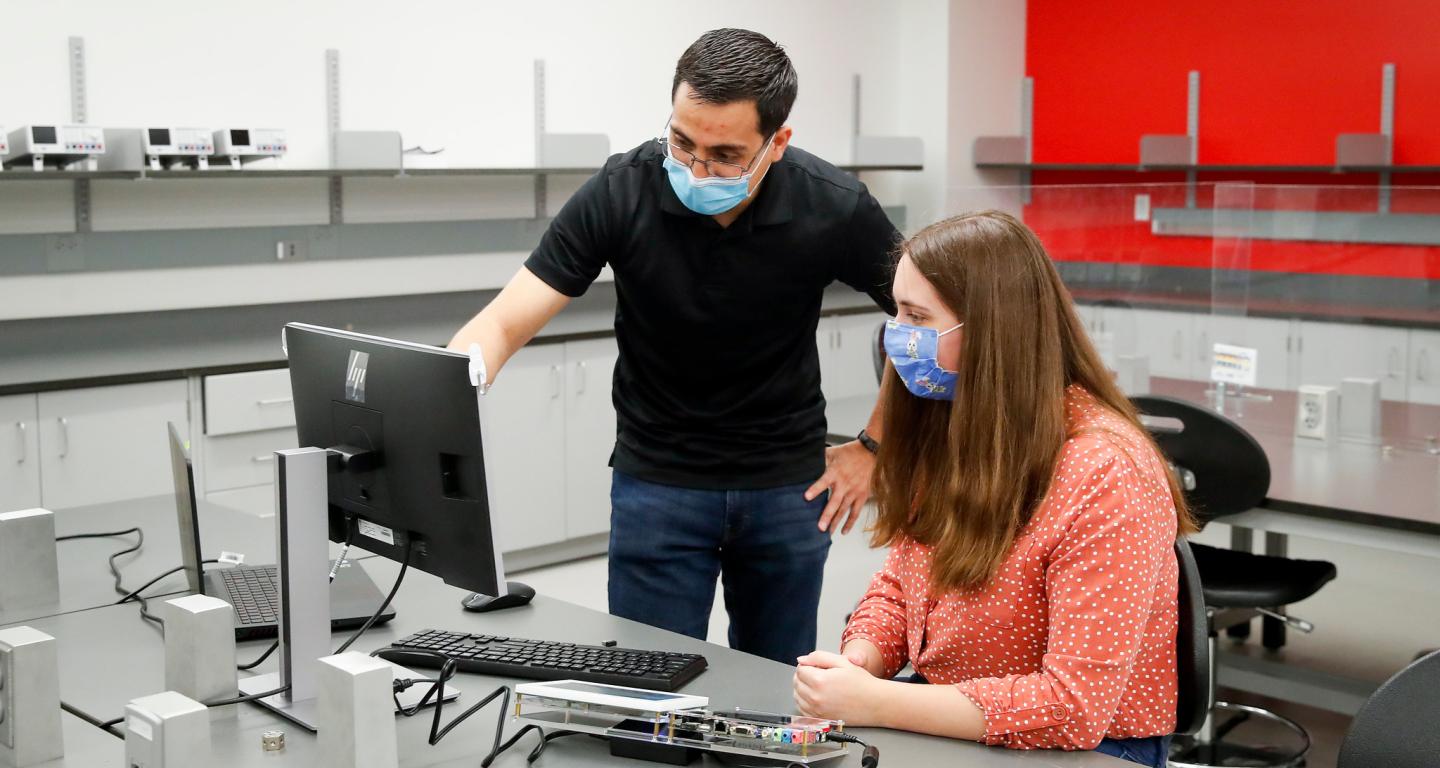 The Benefits & Importance of Internships in College
Oct 13, 2021
The Benefits & Importance of Internships in College
No matter who you are or what you're interested in, it's difficult to think about going to college without thinking about what comes after. Your time in higher education is an important period for you to grow, meet new people and experience life from a different perspective, but ultimately, it's about preparing you for your career path and your life after school is done.
As you get ready to enter college, you should get used to hearing a word that's going to start coming up a lot: internships. Internships are becoming more and more important as a way to complement your education and secure your future career. They give you a valuable glimpse into what it's like to work for a living, lend insights into how your chosen field works and what it takes to succeed, and they can show a potential employer you are serious about wanting to be a valuable, successful employee. 
So, what is an internship in college? Why are they such a big deal? Read on to find the answers.
Career Development
Depending on your individual experience, an unpaid internship may be the first time in your life you find yourself working just for the sake of learning and doing a good job. While there is such a thing as a paid internship, and often they are done for academic credit, an internship program isn't about money. The importance of internship experience comes from the skills you build and the improvements you make to your resume.
Once you have your degree, it's going to take more than a diploma and a winning smile to convince employers to hire you. Internships are your way to show your commitment to professionalism, self-improvement, and excellence. They are one of the most important factors in making yourself appealing in the job market. 
An article in Top Universites puts it this way: "Globalization means the world's economy and business landscape is evolving at a rapid pace, and as a result, businesses and employers are in desperate need of those who have the knowledge, skills, and proven capabilities of working in such settings."
Even at entry-level positions, every prospective employer prefers to hire someone with industry experience who they can rely on and who doesn't require extensive training. Internships show an employer that you made the most of your education and spent your free time outside of class on experiential learning. 
But what is it, exactly, that you get from an internship that is so worthwhile?
Internships grant you exposure to the inner workings of your chosen industry. They let you behind the scenes to get a taste for the specific knowledge and everyday practices that every job requires. You get the benefit of seeing trained professionals complete tasks you might otherwise have only read about, and you'll get a chance to try tasks out yourself—the extent to which you do will depend on your field. 
But you can't be expected to be a polished, fully competent reporter, banker, graphic designer, pharmacist, occupational therapist, etc. after an internship position. You simply won't get enough high-level practical experience for that, especially if you're a virtual intern. What you will do is learn how to be a professional. 
Margaret Stacy-Duffy, an assistant director of career development at North Central College, points to the generalized skills developed in an internship environment. They are what the National Association of Colleges and Employers (NACE) calls the eight career readiness competencies:
Career- & self-development

Communication

Critical thinking

Equity & inclusion

Leadership

Professionalism

Teamwork

Technology
These competencies make up, broadly, what you need to have to succeed in any professional setting, and whether you're onsite or doing a virtual internship, you should pick up these skills. Being a college student around full-time employees will help you appreciate and absorb how to carry yourself, be accountable to co-workers, and make valuable contributions in any workplace situation.
Barbara Fouts, who is also an assistant director of career development at North Central, shares what interns most commonly tell her they learn at internships:
Learning how to introduce themselves and tell their stories

Learning how to communicate with a supervisor and handle challenging work situations in their chosen field

Approaching problems independently 

Knowing how to ask for additional work

Recognizing strengths and weaknesses
These are universal skills that don't really get taught in a workplace—you're essentially expected to have picked them up by the time you enter the professional realm. Internships are a great way to pick them up before they become essential to finding or maintaining your chosen career path.
A Door to Opportunity
Internships are a great way to decide what you want from your professional life. Penny Loretto, writing for The Balance, says, "In addition to gaining exposure and professional experience in the field, (internships) also provide an opportunity to see if the particular career field is the right one (for you)." 
You should certainly use internships to get a feel for whether a certain field is something you can see yourself doing for the rest of your life. College is the right time to try things out, as you have plenty of time and resources to help you adjust your goals if needed.
Among the most important tips for how to get an internship in college is to start looking early. While you don't necessarily have to do an internship before you graduate, it will almost assuredly make things easier for you. 
Fouts says there are three keys to completing an internship before graduation according to a recent NACE survey:
You'll find a job more quickly

You'll get more job offers

You'll earn more money at your first job
While applying for and completing multiple internships is a smart strategy, you should still ensure you make the most of every internship, even if you are unsure of exactly what you want to do. That is because an internship is more than just a preview of a "real" job. A primary benefit of internship placement is that you can make a vital connection with a potential employer.
According to Loretto, "By doing a great job and completing more than what is required of you in your internship, you will be creating a great impression that can provide a great reference letter at the least, and may even … lead to a potential job offer. 
"When you leave the organization at the end of the internship, you should ask for a recommendation letter that you can keep on file for future reference."
Fouts says, "Internships are about building skills, relationships, and connections. Every person you meet who you can get to remember you could be the stepping stone to your next position. I still have connections with people I met at my internships jobs even now."
Internships allow you to gain a competitive edge
There is a certain amount of faith that goes into every hiring situation. It doesn't always work out this way, but employers often have to choose between multiple candidates for a job who has just about the same credentials, equally impressive resumes, and may even come recommended by similarly impressive people. While there's no easy secret to make yourself stand out, an internship experience is a great start.
Professional career coach Suchi Musaddi wrote on LinkedIn that, "A college degree is important to make you capable enough to get … a fulfilling and well-paying job, but the skills you develop as an intern make you marketable ... You can develop good work ethics, aptitude and flexible skills through internships, which is what employers look for."
It's even more helpful if you have a specific place in mind where you want to work and you can target that company or firm for your internship. Most workplaces put a high value on hiring from within, and that often includes interns.
Fouts says, "Employers use internships to try out potential talent—it's a three-month interview. Employers say that when looking at two equal candidates, an internship with their company or industry can make the difference."
There is proof in the numbers. Top Universities uncovered research done by asking employers what they looked for in candidates. They said, "Research by High Fliers (research firm) in 2017 found (more than) half of … recruiters warned that college graduates who had 'no previous professional experience at all are unlikely to be successful during the selection process and have little or no chance of receiving a (job offer).'
"In addition, 87 percent of respondents to the ISE Development Survey in 2018 'agreed that students who had completed an internship or placement had better skills than those who did not have this internship experience.'"
The data tells the truth: internships simply make it more likely you will get hired for a paying job.
Get Started on the Path to your Career
Before you can work on internships in college, you need to get into college first. Your school should provide you with the resources you need to make every step of your path to a career easier, so choosing where to get your degree is actually one of the first and most vital choices you'll make in your professional life.
Look for a school like North Central College. Their office of career development provides the resources you need—anything from updating your resume, to making informed choices between internship opportunities, to help with how to write a cover letter for internships in college. 
Find out more about North Central College and get your academic and professional journeys started today.
Jacob Imm is a communications specialist in the North Central College Office of Communications. He has 11 years of collegiate communications experience and has worked with hundreds of college students. He has a bachelor's degree from the University of Notre Dame and a master's degree from Northern Illinois University.
Sources:
https://www.topuniversities.com/student-info/careers-advice/how-important-are-internships-really  
https://www.naceweb.org/uploadedfiles/files/2021/resources/nace-career-readiness-competencies-revised-apr-2021.pdf
https://www.thebalancecareers.com/is-an-internship-really-all-that-important-1986800
https://www.linkedin.com/pulse/why-internships-so-important-college-students-suchi-musaddi 
https://www.northcentralcollege.edu/undergraduate-studies/internships-jobs