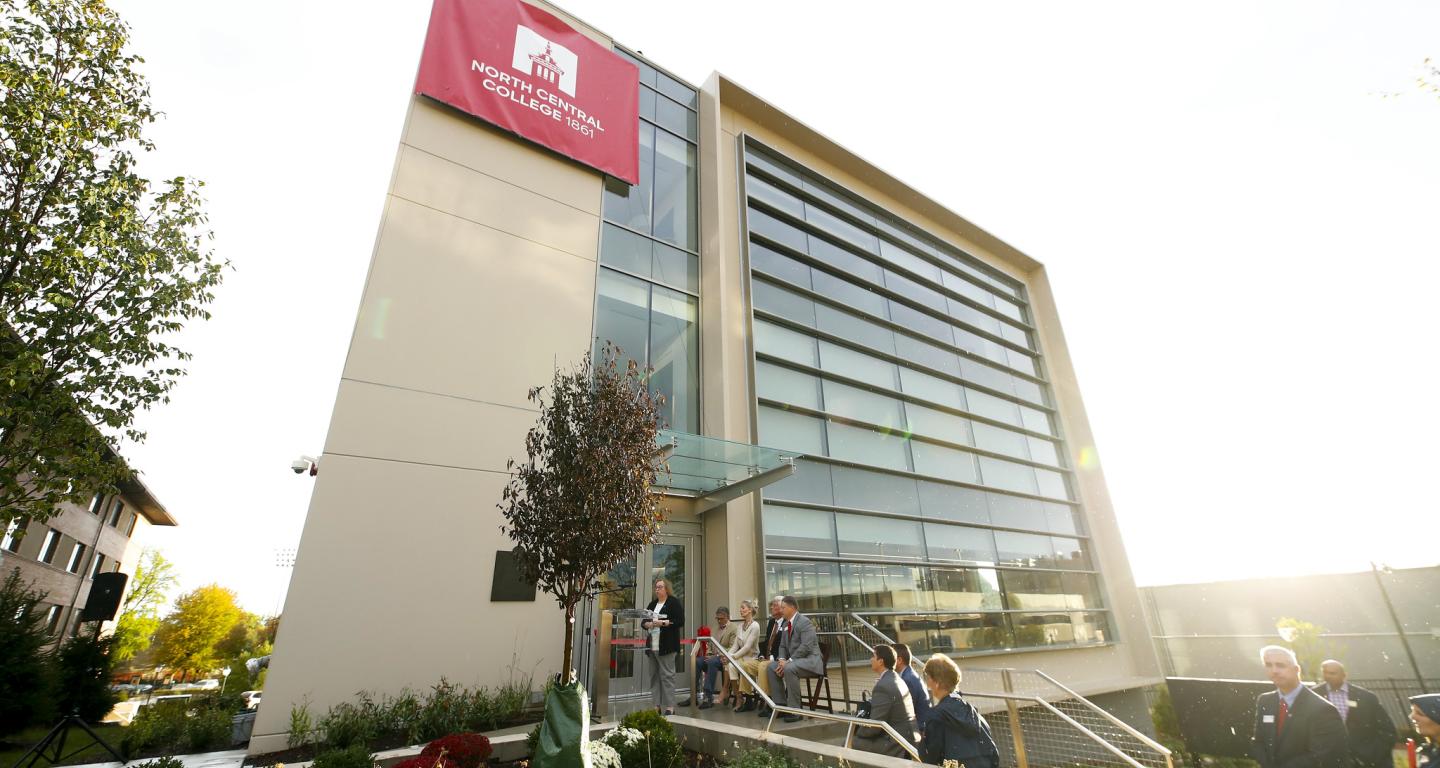 Media Releases
North Central College launches Doctor of Physical Therapy Program
Jan 20, 2022
New program to help students prepare for thriving and fulfilling careers in the physical therapy profession
North Central College has introduced a Doctor of Physical Therapy (DPT) program and expects to enroll its first cohort of students in January of 2023. As part of the College's School of Education and Health Sciences, the DPT program will build upon the foundational knowledge of students' undergraduate degrees and prepare them for thriving and fulfilling careers in the physical therapy profession. The program is currently in development and the College will apply in June 2022 for Candidate for Accreditation status from the Commission on Accreditation in Physical Therapy Education (CAPTE)1.
"Expanding North Central College's program offerings in the health sciences continues to be a significant focus as we strive to meet the growing demand in these exciting fields," said North Central College President Troy D. Hammond. "Our location in the heart of Naperville makes North Central an ideal location for students to pursue their degree in the health sciences and capitalize on the College's proximity to several of the best healthcare service providers and facilities in the Midwest."
The 28-month DPT program will be competency focused and will be the only pass/no pass program of its kind offered in Illinois. The focus will be on mastery of knowledge, critical thinking and skill acquisition. The program embraces current technology and offers a flexible, semi-self paced and personalized approach to learning that meets students where they are.
"North Central College has established a successful model for designing distinctive health sciences programs, rooted in the liberal arts tradition, that tackle broad societal issues, while at the same time addressing the unique needs and of the communities in which we live and work," said Marci J. Swede, Ph.D., dean of North Central College's School of Education and Health Sciences. "Our new Doctor of Physical Therapy program takes a learner-centered approach to supporting each individual on their journey to becoming an excellent physical therapist dedicated to serving the community by helping others."
Students will learn from experts in the field and gain the skills necessary for evidenced-based patient care and management in clinical settings. The DPT curriculum is comprised of two foundational principles: liberal arts and movement science. The liberal arts foundation offers insight into self-reflection, critical thinking, communication, problem solving, and the lived experiences of others; while movement science informs the knowledge and understanding of anatomy, kinesiology, neuroscience, physiology, nutrition and biomechanics. Together, these foundations enable physical therapists to serve society through the treatment of their patients and clients.
The DPT program will be housed within the College's new, state-of-the-art Dr. Myron Wentz Center for Health Sciences and Engineering. The 40,000-square-foot facility is home to multiple advanced clinical practice programs and was designed to promote inter-professional learning. It includes a skills lab with three-dimensional Anatomage visualization tables; simulated hospital settings with high- and low-fidelity manikins; fully functional outpatient examination rooms; as well as classroom, study and collaboration space. All DPT students will be provided with an electronic device by the institution to account for equity regarding access to technology. Students will use computer-based technology including ExamSoft to help prepare for their national exam, and EHRGo electronic health records to align with future healthcare practice.
How to Apply
Students interested in applying to North Central's Doctor of Physical Therapy program can do so online through the Physical Therapy Centralized Application Service (PTCAS) by going to ptcas.org. To be part of the charter class of DPT students expected to start in January 2023, students must submit their applications by May 16, 2022.
For more information, visit northcentralcollege.edu/program/doctor-physical-therapy.
1 North Central College is planning to submit an Application for Candidacy—the formal application required in the pre-accreditation stage—for its DPT program from CAPTE on June 1, 2022. Submission of this document does not assure that the program will be granted Candidate for Accreditation status. Achievement of this status is required prior to implementation of the professional phase of the program; therefore, no students may be enrolled in professional courses until Candidate for Accreditation status has been achieved. Further, though achievement of Candidate for Accreditation status signifies satisfactory progress toward accreditation, it does not assure that the program will be granted accreditation.