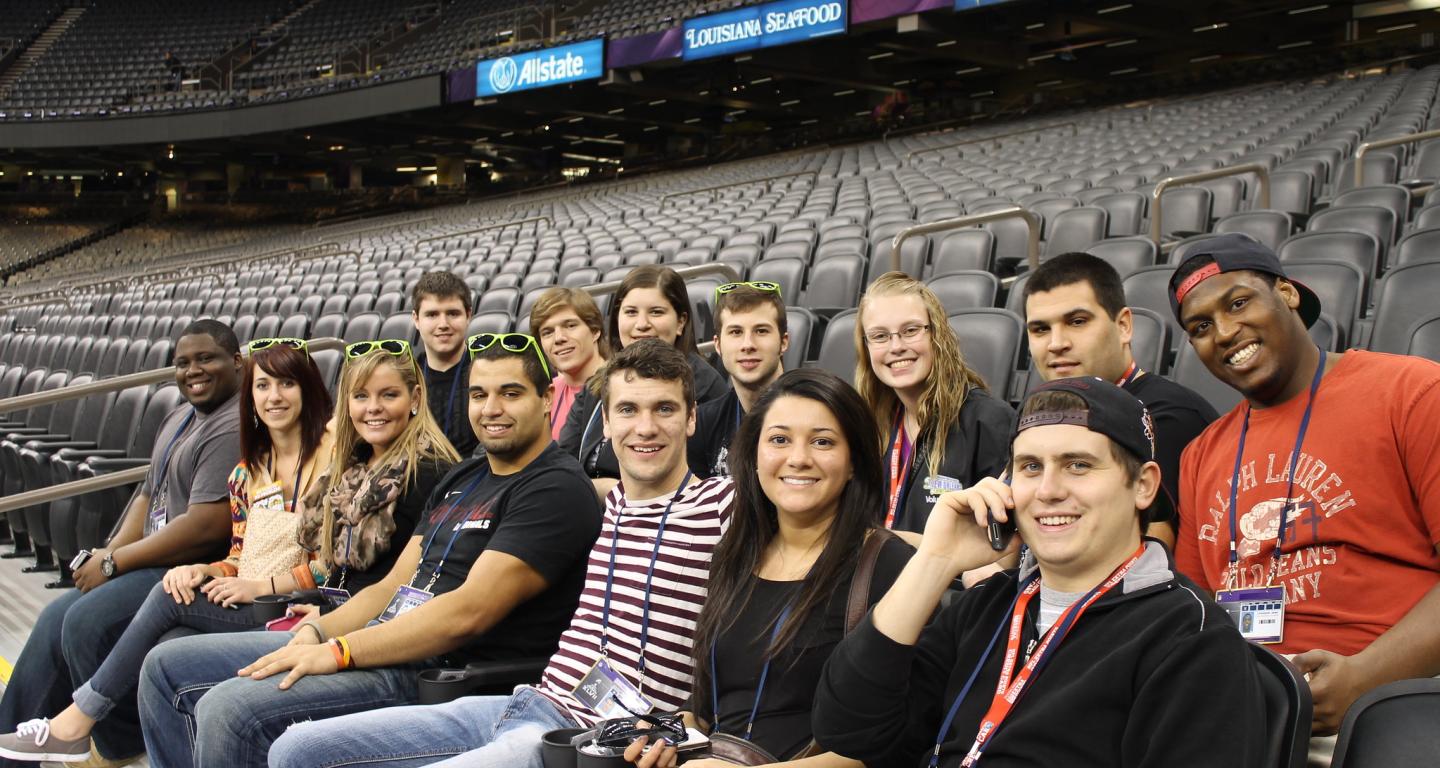 What is a Sports Management Degree?
Reviewed by Jacob Imm
Jun 17, 2022
What is a Sports Management Degree? 
You might not realize it, but you don't have to play in the big game or win the Heisman trophy to have a fulfilling career in sports. Even though the highlights that happen on the playing field get most of the attention, there's a lot of excitement to be had behind the scenes, as well.
To be part of that excitement, you may consider pursuing a degree in sports management. But what is a sports management degree? 
Through courses like accounting, management, and communications, a sports management degree prepares you for a career managing the business side of sports. 
In this guide, we'll explore everything you need to know about obtaining a degree in sports management, including educational focuses, future career paths in the sports industry, and tips for anyone interested in pursuing this degree option. 
Sports Management: Defined 
What is sports management? Simply put, sports management is the business side of sports. Athletes head onto the rink or field for a few short hours every night, but they have an immense team behind them, working 24/7. Sports management graduates make up much of that team. 
People with degrees in sports management go on to perform some of the most important roles in athletics. They're the coaches and managers behind your favorite professional sports teams and the directors and coordinators who organize your local little league. They have a hand in nearly every aspect of modern sports, excelling in positions that also include: 
Agents

Analysts

Lawyers

Marketers

Sales
It might be the star players that enjoy the fame and glory, but it's the people off the field who help make it possible, ensuring that every game gets played.
Everything You Need to Know About a Sports Management Degree
No one should enter any degree program without understanding the specifics of it. Higher education is a major commitment that requires time, dedication, and money, so knowing what challenges you'll face—and what you stand to gain—can help you avoid entering a field that isn't right for you. 
To that end, let's look at the details of a sports management degree in-depth—from enrollment to completion. 
Who Should Enroll in a Sports Management Program? 
When it comes to how to become a sports manager, the most important quality of any sports management student is a love of sports and live events. No matter what specific career path you end up following, a belief in the importance of sports, either professional or recreational, is key. 
That doesn't mean that students need to be star athletes or fitness fanatics to find success in the field. Apart from an appreciation for sports, students in a sports management program should:
Exude an entrepreneurial spirit – The most successful sports management students are enterprising problem-solvers who are able to identify structural strengths and weaknesses, innovate solutions, and manage multiple tasks at once. 
Have a thirst for all knowledge – As a sports management student, you'll be exposed to courses in a variety of subjects and fields. A deep-seated curiosity in a wide range of subject matters will only help you succeed. 
Be willing to jump headfirst into unfamiliar topics – One of the biggest draws of sports management is that it opens up opportunities for pursuing many different paths. For that reason, sports management students need gumption, grit, and fortitude. 
What Will You Learn in a Sports Management Program? 
Sports management is a vast field of study. Depending on where you study, what you specialize in, and whether you choose a bachelor of arts (B.A.) or a bachelor of science (B.S.), your course load will vary. 
For example, the sports management program at North Central College includes sports business administration classes like:
Sport Marketing

Sport Budgeting and Finance

Applied Sport Sales

Sports Law, Ethics, and Organization

Contemporary Sport Studies
Generally speaking, sports management programs build their curriculum around coursework that includes subjects like algebra, economics, business administration, and accounting. Some sports management students may also take science-based courses like biology, physical therapy, and psychology.
What Can You Do with a Sports Management Degree? 
Whether you hope to be on the field or in an office, you'll unlock countless career opportunities with a sports management degree. 
Sports management graduates go on to perform some of the most necessary positions in sports organizations. They may work directly with athletes or in sports-adjacent roles that support, promote, and sustain players and teams.
Work Directly with Athletes 
Some graduates work closely with star players in roles like:
Coach – Amateur and professional athletes alike need coaches. According to the U.S. Bureau of Labor Statistics (BLS), coaches earn a median annual sports management salary of $36,330. A sports management degree can set you up for a career coaching professional sports teams, semi-professional teams, or amateur recreational teams. 
Scout – Scouts seek out talent to bring up to the major sports leagues. They attend sporting events at collegiate and other amateur levels to observe and recruit promising athletes. The BLS places scouts and coaches in the same category, so the median annual salary is also $36,330. 
 
Athletic director – Athletic directors generally work with athletes in schools—from middle school to university. They may perform a variety of duties, including scheduling games, arranging travel, hiring coaches, planning budgets, and more. Administrators at the post-secondary level can earn a median salary of $97,500 per year according to the BLS.
Work in Sports-Adjacent Fields 
So much of the thrill of spectator sports occurs off the field. If your love of sports coincides with other disciplines or industries, a sports management degree can help you land a role like:
Sports marketer – By combining sports and marketing, you can work as a market research analyst and earn a median salary of $65,810 a year according to the BLS. Sports marketers help athletic organizations build themselves as brands, studying consumer data and analyzing market and sales trends to promote the organization.
Sports lawyer – Some sports lawyers handle contracts, while others navigate a sports league's rules and regulations. Lawyers earn a median annual salary of $126,930 per the BLS. Keep in mind that you'll need to go to law school after your sports management degree to work as a sports lawyer.
Public relations specialist – PR managers can represent individual athletes or the sports team they play for. They often act as liaisons between players, teams, or sports organizations and the media. As per the BLS, a public relations specialist's median salary is $62,810 a year.
Is a Sports Management Degree Worth It? 
"Worth it" is a subjective term, but sports management is an excellent degree that unlocks all kinds of career opportunities in a growing field. 
You may also be wondering, is sports management a good major?
A sport management major certainly can be. Students who commit themselves to their studies and take advantage of all the opportunities that higher education can provide—like internships, apprenticeships, and professional networking—can go on to forge thrilling, fulfilling careers for some of the biggest sports brands in the world. 
Tips for Pursuing a Sports Management Degree 
Before you start applying to degree programs, there are a few things you should know about pursuing a sports management degree. 
Considering the following tips can help you make the most of your education and set you up for success in the classroom—and beyond.
Think About Your Future 
While a sports management degree opens you up to various careers, it's wise to consider where you see yourself after graduation. In particular, you may want to ask yourself, what is my dream sports management job? 
When you have a clear idea of your future, you can choose your electives and internships more carefully.
With that said, don't stress about having your future fully fleshed out on day one. The purpose of college is to explore topics and find what excites you. For that reason, you should view your education as an opportunity to dip your toes into as many pools as possible. 
Prepare for a Range of Topics 
Sports management is a diverse field, and an undergraduate program is designed to give you a taste of each topic. Your studies will range from finances and communications to science and math. Be ready to commit yourself to wide-ranging coursework, even if it isn't always directly in line with your interests.
Anticipate Further Education 
To land your dream job, you may need to pursue an advanced degree. Many careers in sports management may require a graduate degree, including:
Sport lawyer

Contract analyst

Operations manager

Sports marketing manager 
In many cases, sports management majors follow up their undergraduate studies with a master's degree. For example, students who go on to become sports analysts may couple their sports management bachelor's degree with a master's degree in journalism or broadcasting.
Other careers, like law and sports medicine, typically require doctoral degrees that mean even further study. 
Stay Open to Traveling 
Scouts, coaches, and other professionals routinely travel with their professional sports teams. If you're willing to relocate—or even see traveling as a perk—sports management might be the right fit for you.
In fact, the opportunity to travel can be one of the most exciting parts of a career in sports management. Athletics happen everywhere, on both the professional and amateur levels. So, consider asking yourself, am I ready to go where the job takes me?
Where Should I Study Sports Management? 
If this guide has you considering a degree in sports management, consider pursuing it at a well-known college with connections to the industry's top teams. Many universities offer degrees in sports management, so researching your options and finding a school that best aligns with your goals and ambitions is the first major step toward an exciting career in the sports industry.
For example, North Central College offers a reputable sports management program, giving students the chance to work hands-on with high-profile names like the Chicago Bears, Game Day USA, and the Bulls-Sox Academy. 
Contact North Central College today to find out more about what their sports management program has to offer.
Jacob Imm is the assistant director of communications in the North Central College Office of Marketing and Communications. He has 12 years of collegiate communications experience and has worked with hundreds of college students. He has a bachelor's degree from the University of Notre Dame and a master's degree from Northern Illinois University. 
Sources: 
U.S. Bureau of Labor Statistics. (2021, September 8). Occupational Outlook Handbook: Coaches and Scouts. U.S. Bureau of Labor Statistics. Retrieved April 11, 2022, from https://www.bls.gov/ooh/entertainment-and-sports/coaches-and-scouts.htm
U.S. Bureau of Labor Statistics. (2021, December 14). Occupational Outlook Handbook: Postsecondary Education Administrators. U.S. Bureau of Labor Statistics. Retrieved April 11, 2022, from https://www.bls.gov/ooh/management/postsecondary-education-administrators.htm
U.S. Bureau of Labor Statistics. (2021, September 8). Occupational Outlook Handbook: Market Research Analysts. U.S. Bureau of Labor Statistics. Retrieved April 11, 2022, from https://www.bls.gov/ooh/business-and-financial/market-research-analysts.htm
U.S. Bureau of Labor Statistics. (2021, September 8). Occupational Outlook Handbook: Lawyers. U.S. Bureau of Labor Statistics. Retrieved April 11, 2022, from https://www.bls.gov/ooh/legal/lawyers.htm
U.S. Bureau of Labor Statistics. (2022, February 14). Occupational Outlook Handbook: Public Relations Specialists. Retrieved April 11, 2022, from https://www.bls.gov/ooh/media-and-communication/public-relations-specialists.htm