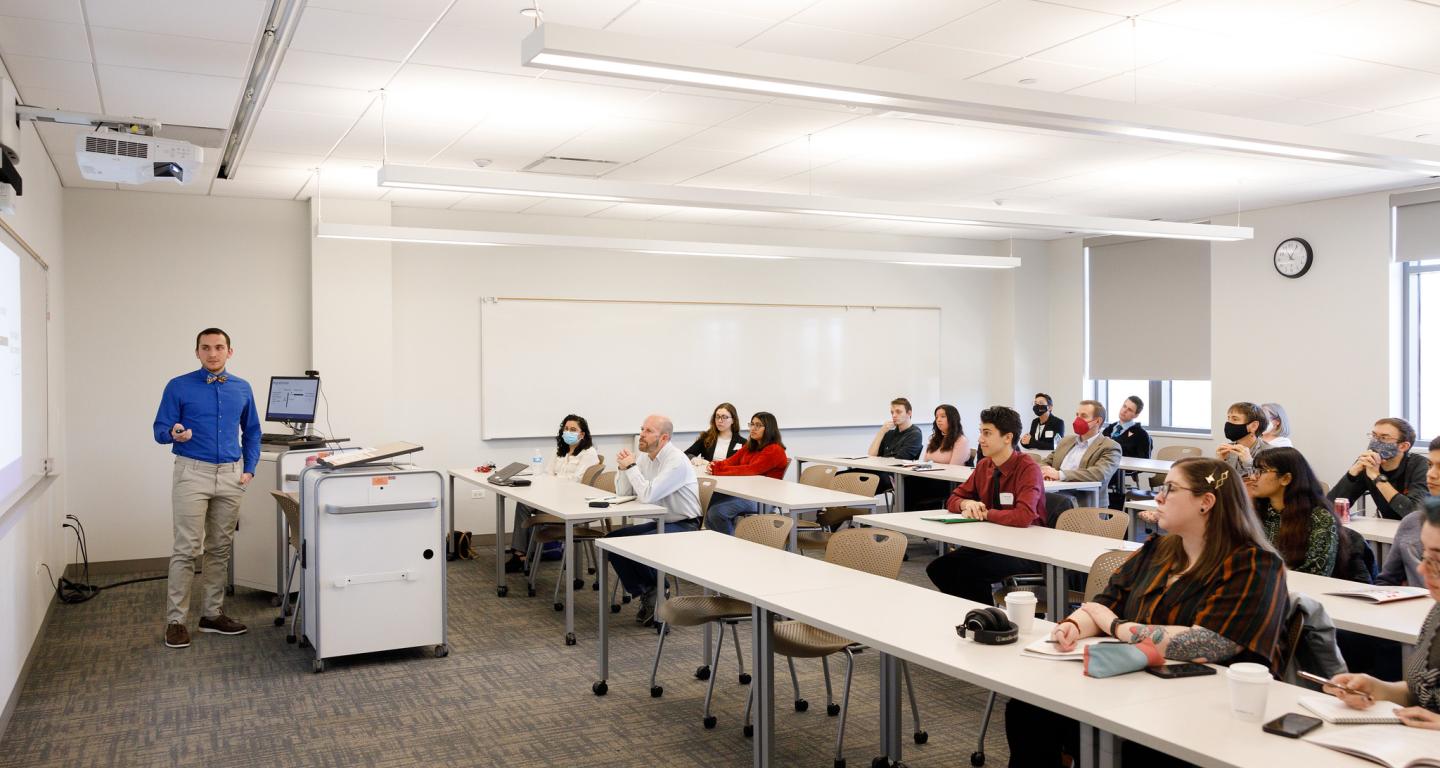 Is Economics a Good Major?
Reviewed by Jacob Imm
Jun 22, 2022
Is Economics a Good Major?
As college application season is approaching, you're probably spending your time looking for a potential major. Feeling unsure, you might find yourself scrolling through college websites and online forums looking for inspiration.
Finally, you stumble upon something that fits with your love of math and finances: economics. But you don't want to make your decision lightly. After all, this choice will shape your future. So, you might wonder, "Is economics a good major?"
In reality, this question doesn't have a straight answer. Every major can be experienced differently from student to student. Still, you could call economics an objectively good major for several reasons.
To elaborate, we'll expand on the realities of studying economics, the many benefits and where the field can take you.
Why Study Economics?
Economics takes an analytical mind and a proficiency with numbers. If you enjoyed econ ed in high school, like making budgets and keeping track of what people are buying and why, and see yourself making a career of it, there are countless reasons to do so.
You Can Earn a Considerable Salary
When choosing a degree, money isn't your only concern; you also want to pursue a career that ignites your passion. Even so, high wages are one of the many appeals of becoming an economist. As per the U.S. Bureau of Labor Statistics (BLS), economists earn a median annual salary of $108,350.
We'll dive deeper into potential earnings later on, but for now, rest assured that economists are usually well-rewarded for their expertise.
It Helps with Personal Financial Literacy
With your newfound income will come a need to spend and invest wisely. Luckily, economics teaches you those skills.
While college-level macro and microeconomics courses focus on resource management from a business perspective, you can apply many of the same concepts to your everyday life. The topics you'll cover in an economics program can help you understand and manage your:
Personal budgeting and spending

Retirement savings

Taxes

Mortgage payments
The career options and possibilities in the field of economics are nearly endless, from positions in financial economics and quantitative economics to business economics and international economics. Ultimately, a background in economics empowers you to make educated financial decisions in all areas of your life and career path.
It's About Making Decisions
Life is all about decisions. And more than anything, economists are decision-makers—they learn how to balance the facts and come to the best available conclusion.
Economists utilize vast amounts of data to support their predictions and suggestions. They pore over spreadsheets and datasets to make an educated choice.
When you major in economics, you can study the same strategies that professional economists use to make decisions. Then, you can use this ability to weigh the options in almost any situation—be it financial, personal or otherwise.
It Pairs Nicely With Other Majors
If you're thinking about pursuing a double major, a minor or a second degree, economics goes hand-in-hand with many other disciplines. The skills and vocabulary economic students learn can help them excel in finance-related fields (and otherwise), including:
Accounting

Communication

Computer science

Engineering

Journalism

Marketing

Psychology
So, even if you don't plan to work as an economist, the knowledge and skill you'll gain as an economics major can help your job application stand out.
The Effects of the Economy are Felt Everywhere
That old saying "money makes the world go 'round" is largely true. Money is everywhere; income, expenditures and debt influence our choices as individuals and as a nation.
With that in mind, an economics degree can help you make sense of the world around you and contextualize the decisions others make. It can also help you understand your own motivations. When you recognize the important role economics plays in our everyday lives, it's hard not to gravitate toward the field.
What to Expect When Majoring in Economics
By now, you might be convinced that studying economics is worthwhile. But what should you expect when you sign up for a degree program in the field?
Here's what you can look forward to as an economics major.
You'll Explore the Field of Economics
The first questions you'll seek to answer are what is an economist, and what exactly do they study? In an economics program, you'll learn to look at the world as an economist. In a nutshell, that means economics analysis on the management and exchange of goods, services and resources on a small and large scale.
You'll work to understand the trends in what people are buying and selling—and the events and decisions that shape these trends. 
Of course, this explanation is only the tip of the iceberg. Naturally, an economics program will dive much deeper into the ins and outs of the field.
You'll Take a Variety of Courses
While economics will take up much of your course load, it isn't the only topic you'll study in your program. Whether you pursue a bachelor of arts (B.A.), bachelor of science (B.S.), or a bachelor of business administration (B.B.A.), you'll have plenty of opportunities to expand your horizons.
For example, students in the economics program at North Central College take varied courses like:
Principles of Microeconomics

Principles of Macroeconomics

Econometrics

Calculus

Data Analytics

Financial Accounting

Business Strategy

Business Law and Ethics

Corporate Finance

Principles of Marketing
The goal of a dedicated economics program—besides teaching you about economic principles—is to provide you with critical thinking skills and a breadth of knowledge that will serve you well in your career. You'll learn about the differences in macro vs. micro economics as well as consumer behavior within a market.
You'll Learn New Skills (and Master Old Ones)
Majoring in economics will test your hard and soft skills. The competencies you'll foster in an economics program include:
Mathematics

Data analysis

Interpersonal communication (verbal and written)

Time management

Computer literacy

Logic and critical thinking

Public speaking and presentation

Effective research and reading
You should already have experience with these skills before you enroll. And that may be one of the best parts of economics: it builds on practical skills that you'll continue to use throughout your life.
You'll Have a Solid Foundation for a Graduate Degree
Economics can also be a springboard for an advanced degree. After earning your undergraduate degree, you can pursue a master's or Ph.D. in economics to improve your career opportunities. In fact, advanced schooling could be a vital step since many economist jobs require at least a master's degree according to the BLS.
Thanks to the quantitative skills and critical thinking that economics teaches, the degree will equip you well for the deeper discussions and dedicated research of graduate school. You could leverage your bachelor's in economics to pursue a master's in:
Business

Law

Sociology

Statistics
Career Prospects for Economics Graduates
For most people, the primary reason to pursue a degree is to secure a career after college. With that in mind, let's look at everything you need to know about your career after graduating with an economics degree.
Economist Earning Potential
According to the BLS, the median yearly salary for economists reaches above six figures—an hourly wage of $52.09, to be exact.
With that said, you can't expect to start earning over $100,000 in your first year after college. A more realistic wage for entry-level economists is the BLS' projections for the bottom 10% of earners ($59,220 per year).
However, if you stick with it and gain experience, you can quickly work your way up the ranks, where the top 10% of earners take home a whopping $198,230 per year per the BLS.
Economist Job Outlook
Demand for economists continues to rise, with the occupation expected to grow 13% between 2020 and 2030 according to the BLS. That works out to roughly 1,600 new job openings each year.
These opportunities will open up in a variety of industries, including:
Government (local, state and federal)

Banking

Scientific and technical consulting

Insurance
More Careers Related to Economics
One of the best parts of an economics degree is that it won't pigeonhole you; your career opportunities are plentiful. After graduation, you could take your relevant skills and look for work in a variety of positions including:
Budget analyst – Your background in economics makes you an ideal candidate for a budget analyst role, where you'll report on your client's budget and spending. The median salary for a budget analyst is $78,970 per year according to the BLS.
Market research analyst – With your knowledge of supply and demand, you'll be right at home in a marketing analyst role. These professionals look for the best strategies for selling goods and services, earning a median annual salary of $65,810 in the process per the BLS.
Financial analyst – Financial analysts put their critical thinking skills to the test to steer individuals and businesses toward the most profitable decisions available. The median salary for this kind of career is $83,660 per year according to the BLS.
Actuary – Actuarial science combines economic knowledge with statistics and reasoning. Actuaries calculate financial risk for businesses to help minimize potential losses. While you'll need to pass additional tests post-college to become an actuary, the effort is well worth it; actuaries have a median salary of $111,030 a year per the BLS.
In short, economics presents a world of opportunity for the mathematics- and money-minded.
Discover Economics for Yourself
As far as majors go, economics is certainly worth studying. Between its utility in the workforce and its applications in your personal life, an economics major has plenty to offer.
But not all programs are created equal. To experience an economics program in the right setting, you'll want to study at a well-respected institution with a top-notch faculty.
As you continue the college application process, look for schools like North Central College that combine theoretical knowledge with job-ready skills. By the time you graduate with your major in economics, you'll be prepared for a long, fulfilling career.
Jacob Imm is the associate director of communications in the North Central College Office of Marketing and Communications. He has 12 years of collegiate communications experience and has worked with hundreds of college students. He has a bachelor's degree from the University of Notre Dame and a master's degree from Northern Illinois University. 
Sources: 
U.S. Bureau of Labor Statistics. (2022, February 15). Economists: Occupational Outlook Handbook. U.S. Bureau of Labor Statistics. Retrieved March 17, 2022, from https://www.bls.gov/ooh/life-physical-and-social-science/economists.htm
U.S. Bureau of Labor Statistics. (2022, February 15). Economists: Occupational Outlook Handbook. U.S. Bureau of Labor Statistics. Retrieved March 17, 2022, from https://www.bls.gov/ooh/life-physical-and-social-science/economists.htm
U.S. Bureau of Labor Statistics. (2022, January 5). Actuaries: Occupational Outlook Handbook. U.S. Bureau of Labor Statistics. Retrieved March 17, 2022, from https://www.bls.gov/ooh/math/actuaries.htm
U.S. Bureau of Labor Statistics. (2021, September 8). Market Research Analysts: Occupational Outlook Handbook. U.S. Bureau of Labor Statistics. Retrieved March 17, 2022, from https://www.bls.gov/ooh/business-and-financial/market-research-analysts.htm
U.S. Bureau of Labor Statistics. (2021, December 17). Financial Analysts: Occupational Outlook Handbook. U.S. Bureau of Labor Statistics. Retrieved March 17, 2022, from https://www.bls.gov/ooh/business-and-financial/financial-analysts.htm
U.S. Bureau of Labor Statistics. (2021, December 17). Budget Analysts: Occupational Outlook Handbook. U.S. Bureau of Labor Statistics. Retrieved March 17, 2022, from https://www.bls.gov/ooh/business-and-financial/budget-analysts.htm