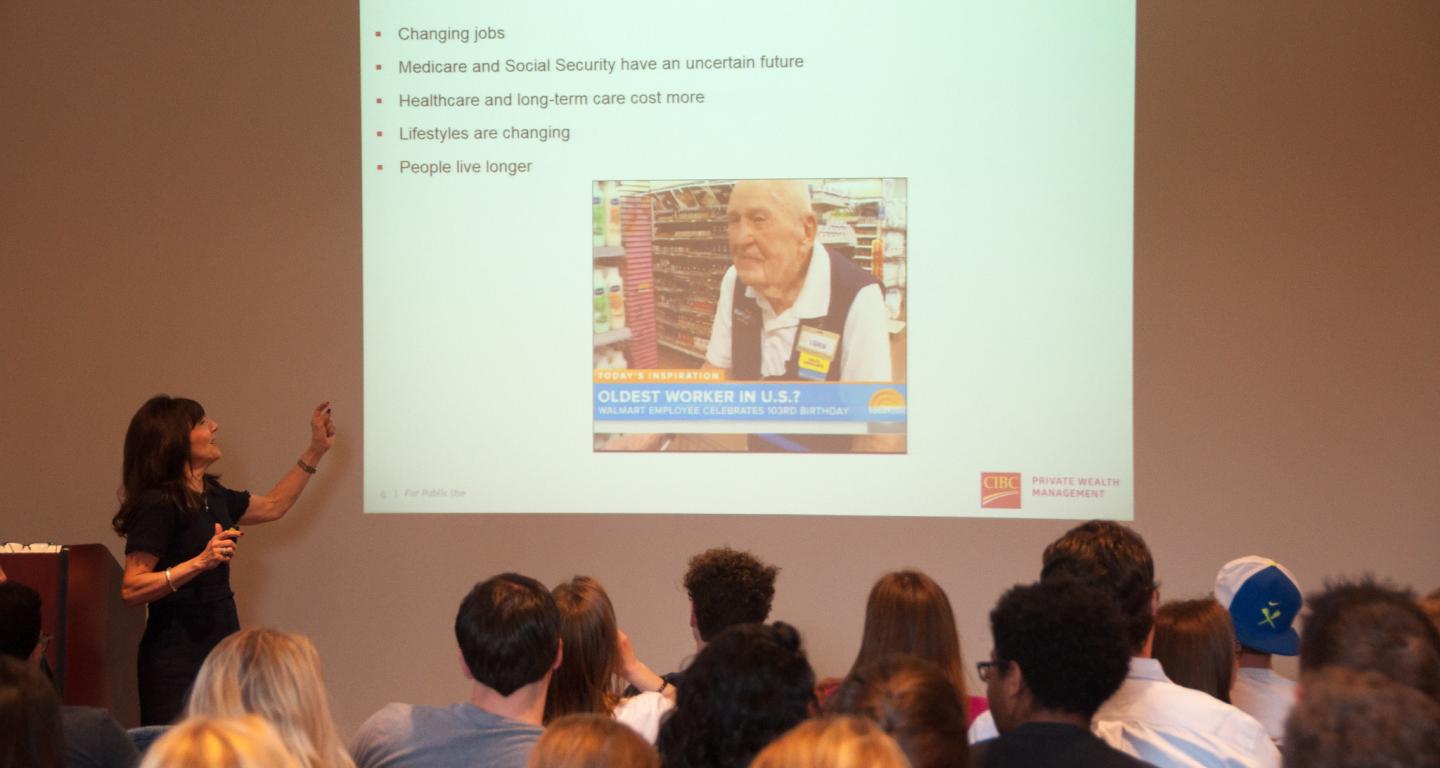 What Can You Do With A Finance Degree?
Edited by Jacob Imm
Jul 22, 2022
What Can You Do with a Finance Degree?
"Money makes the world go round" is a phrase you might have heard before. That's because money is often at the center of many of the decisions that we make, both big and small, from where we live, to the clothes we wear, to the food we eat.
With money playing such an important role in our lives, it makes sense that you may be interested in pursuing a college degree in finance. After all, the term "finance" is synonymous with money and is most often associated with banking or managing large amounts of money. Even though both finance and accounting deal with managing money, the two degrees are very different. If you're trying to choose and down to accounting vs finance degree, you can rely on our resource center to familiarize you with the key differences.
You might be wondering what a finance degree is? Or, is a finance degree worth it? In general, a finance degree will help prepare you for a career path in the financial field through the study of financial markets, instruments, and institutions. Once you've received the necessary training, you'll be ready to take on an exciting career in corporate finance, financial services, investments, wealth and financial management, law, or government.
Any business or organization needs sound financial management in order to be successful, so a finance career can take you to many places, including the non-profit sector, the corporate world, or civil service.
Even if you are uncertain that a career in finance is for you, having a baseline of financial knowledge is important for managing your financial statements, including building and managing credit, managing your monthly bills and expenses, renting or purchasing a home, paying your taxes, saving or investing for retirement, and a whole lot more.
This article will help you understand what a finance degree program entails and, should you decide that a degree in finance is the right path for you, what you can expect to do with a finance degree, from internships to finance jobs.
Skills a Finance Major Needs
If you are interested in a finance job, it is first and foremost important to be someone who enjoys working with numbers. But that's not all it takes. It's also helpful to have strong analytical skills, meaning you are someone who can take in and process—or make sense of—a lot of information, and then make sound decisions based on that information. Other skills that are useful to finance majors include:
Problem-solving

Communication

Reporting

Knowledge of technology/software
Benefits of a Finance Degree
Majoring in finance is a good bet. With strong career prospects and practical knowledge that can serve you well in both your personal and professional life, there are numerous benefits should you choose to pursue a degree in finance. Those benefits include:
High demand skills – The world of finance is becoming increasingly complex thanks to globalization, the emergence of new technologies, and even the adoption of new currencies such as Bitcoin and other cryptocurrencies. Current college students will no doubt learn about and master these trends through the course of their studies and enter the marketplace with knowledge and skills that are in increasingly high demand.
Practical knowledge – No matter what field you go into or what profession you ultimately choose, having a strong foundation of financial knowledge will serve you well, whether you're managing your department's annual budget or interpreting complex financial data. Understanding finance will also help you in your personal life when it comes to managing your personal finances.
Financial security – As you will read later in this article, the financial field is financially rewarding and projected to continue to grow well into the future. Median salaries in this field can outpace overall median salaries by more than $30,000 per year. Plus, with a strong and stable salary, you'll have the know-how to manage your personal finances in a way that can set you up for a soft landing in retirement.
Finance Major Coursework
Finance majors should expect to take a wide range of courses, including several in fields that are adjacent to finance, such as business, economics, accounting, and  marketing. This is important, as any successful financial professional will need to understand how their area of expertise connects to all other facets of the business or organization that they work for.
Is a finance degree hard, you may ask? The answer may depend on the classes you take. The curriculum for a finance major will likely include the following courses:
Globalization and Society

Financial and/or Managerial Accounting

Business Law and Ethics

Business Economics and Statistics

Micro- and Macro-economics

Management and Organizational Behavior

Principles of Marketing
Finance-specific courses will likely include:
Corporate Finance

Wealth Management

Investments and Portfolio Management

Financial Institutions

Derivatives

International Finance

Forecasting and Valuation

Statistics Applications in Finance
Top Finance Degree Jobs
As previously mentioned, finance graduates can expect to find meaningful work in a wide range of fields, including in the public or private sector, at non-profit organizations, and at banking or investment firms.
Before we jump right into careers, internships are often an important steppingstone to a prosperous career as a finance professional. Many private sector firms and government entities have robust summer internship programs aimed at college students, and those internships can function as bridges to full-time career opportunities after graduation.
When the labor market is strong, job offers can often be made to college students before they even graduate. According to a report by Richard Kremer for National Public Radio (NPR), "College graduates are entering a hot labor market with national data showing employers are significantly boosting recruitment. Many (college) seniors are accepting job offers months before they graduate."
At North Central College, which is located less than 30 miles outside of Chicago in the thriving suburb of Naperville, recent finance graduates have earned internships at Wachovia Bank, Morgan Stanley Smith Barney, Northwestern Mutual, Aspen Mortgage Corporation, and Calamos Investments.
According to the U.S. Bureau of Labor Statistics, employment in the financial field is expected to grow 8 percent over the next 10 years with the addition of more than 750,000 new jobs. According to 2021 statistics from the BLS, the median annual wage for business and financial occupations is $76,570, which is more than $30,000 higher than the median annual wage for all occupations.
Occupations and median pay in the financial field include:
Loan Officer ($63,380)

Purchasing Manager ($75,410)

Budget Analyst ($79,940)

Financial Analyst ($81,410)

Management Analyst ($93,000)

Personal Financial Advisor ($94,170)
In an article by Robin Madell of U.S. News & World Report, financial managers were listed among 10 jobs that were predicted to be "great ones to target in the current economic climate."
The BLS reported a median salary of $134,180 for financial managers with a projected growth rate in the field of 17% through 2030. With this rosy outlook from the BLS, the U.S. News article stated that "an entry-level financial manager position is a smart choice for (college) grads whose talents include not only working with numbers and understanding complex reports, but communication skills."
Majoring in Finance at North Central College
Not every financial institution is created equal. At North Central College, you will earn a bachelor's degree in finance while developing the communication, interpersonal and critical thinking skills that will make you a success in any work environment. North Central's program balances finance degree courses that develop practical career knowledge with a business core that creates a broad set of skills that employers value.
Plus, North Central is one of only a handful of colleges where you can simulate trades and access thousands of proprietary reports and data screens in the College's Bloomberg Finance Lab, where 10 workstations are equipped with the Bloomberg Terminal software—the same tools and software that Wall Street professionals rely on every day. You can choose to become "Bloomberg certified" by completing a series of modules that cover economic theory, economic indicators, currencies, fixed income vehicles, options, equities, and more.
For more information about North Central College's finance program, visit northcentralcollege.edu/program/finance.
Jeremy Borling is the director of communication at North Central College. He has spent his more-than-15-year career in communications working in the fields of higher education and financial services. He has a BA degree in journalism from North Central College, and a MS degree in communication from Boston University.
Sources:
Richard Kremer, NPR. "Good news for college seniors: The job market is booming." https://www.npr.org/2022/05/05/1096809691/good-news-for-college-seniors-the-job-market-is-booming 
Robin Madell, U.S. News & World Report. "Job outlook for recent college graduates."  https://money.usnews.com/money/blogs/outside-voices-careers/articles/jobs-after-college-for-recent-graduates