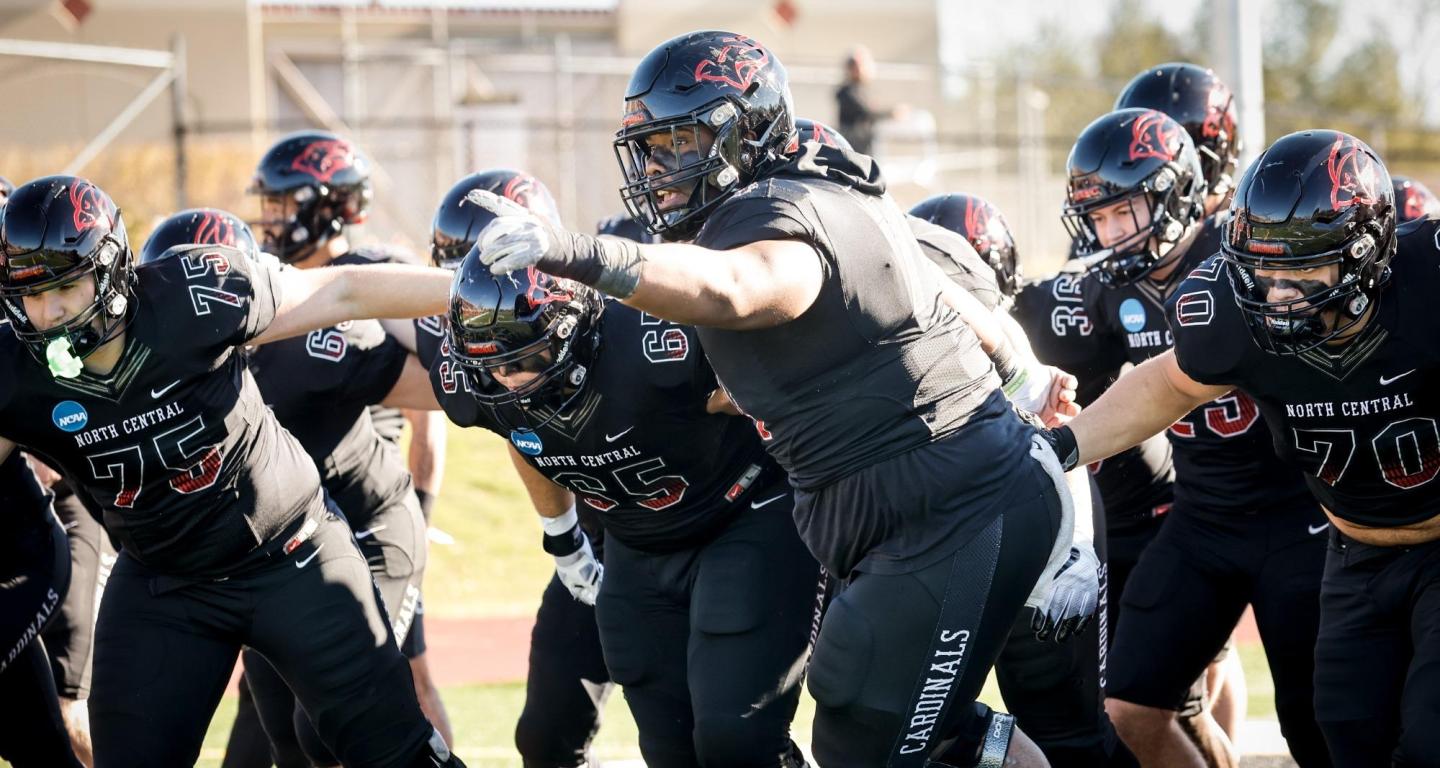 Feature News
Cardinals defuse Bombers; North Central headed to National Semifinals
Dec 05, 2022
Achieving a comfortable home win in the national quarterfinals for the second straight season, the North Central College football team advanced to its third straight semifinal Saturday with a 48-7 battering of the Ithaca College (New York) Bombers at Benedetti-Wehrli Stadium.

The No. 1-ranked Cardinals (13-0) scored the game's first 21 points and permitted Ithaca to gain just 140 total yards. North Central, which gained 583 yards of its own and held a 25-minute advantage in time of possession, has held each of its first three opponents in this postseason under the 150-yard mark.

The hosts opened the game with a 13-play, 90-yard drive which featured Ethan Greenfield prominently. The senior ran five times for 39 yards before plunging over the goal line from a yard out with 8:30 on the first-period clock. Ithaca (12-1) saw its first possession end on fourth down at the Cardinals' 25-yard line as Julian Bell broke up A.J. Wingfield's pass. 

The Cardinals doubled their lead to 14-0 in spectacular form with 2:25 left in the first, as Luke Lehnen rolled to his right and fired a deep pass to DeAngelo Hardy. The junior made a leaping catch and eluded two would-be tacklers for a 41-yard touchdown pass. North Central took possession at the Bombers' 42 after an interception by Bell, and the Cardinals cashed in on the miscue with an 11-play scoring drive as Greenfield ran up the middle untouched from four yards out for his second score of the day and his 23rd rushing touchdown of the season. 

A 56-yard return by Ithaca's Anthony D'Addetta set the Bombers up for what would be their lone score of the contest, an 11-yard TD pass from Wingfield to Jake Williams. The Cardinals went into halftime with a 284-67 advantage in total yards, having run 46 plays to the visitors' 20. Ithaca opened the second half on offense and drove to the Cardinals' 31 before an option pitch to Williams was stopped by Sam Taviani for a three-yard loss on fourth down. 

North Central celebrated a second 41-yard touchdown pass from Lehnen to Hardy just three plays later, as Hardy dragged Bomber defensive back Tommy Moran the final five yards across the goal line. Less than three minutes later, Lehnen faked a handoff, stiff-armed Ithaca linebacker Matt DeSimpliciis and raced down the left sideline for a 45-yard touchdown run to extend the Cardinals' lead to 34-7 with 8:25 to go in the third period.

Taviani made a leaping interception at the Ithaca 42 on the next play from scrimmage, and a six-play drive ended with Lehnen's third TD pass to Hardy, this time from two yards out. Hardy now ranks second in the Cardinals' history in career touchdown receptions (35) and has scored 40 total touchdowns in 40 career games.

On fourth down-and-one at the Ithaca 19-yard line, Lehnen authored North Central's final touchdown of the afternoon by calling his own number, running to his right 19 yards to the end zone. Lehnen finished the day 18 of 25 passing for an even 200 yards and ran for 144 yards on 13 carries to establish a career high in rushing for the second straight week. Greenfield ran 19 times for 115 yards while Hardy caught seven total passes for 106 yards. 

Taviani was the Cardinals' leading tackler (7), while Dan Gilroy tallied a quarterback sack to move into a tie with Anthony Imbordino '08 for third in the Cardinals' history (22.5). 

North Central's opponent in the semifinals will be the University of Mary Hardin-Baylor (Texas). The third-ranked Crusaders (12-1) scored 24 points in the fourth quarter of a 41-28 quarterfinal victory over 13th-ranked Bethel University (Minnesota). Mary Hardin-Baylor defeated North Central, 57-24, in the 2021 national championship game in Canton, Ohio. The game will be held at Benedetti-Wehrli Stadium on the North Central campus and begin at 2:30 p.m. local time.
For more information on the Cardinals, go to northcentralcardinals.com.