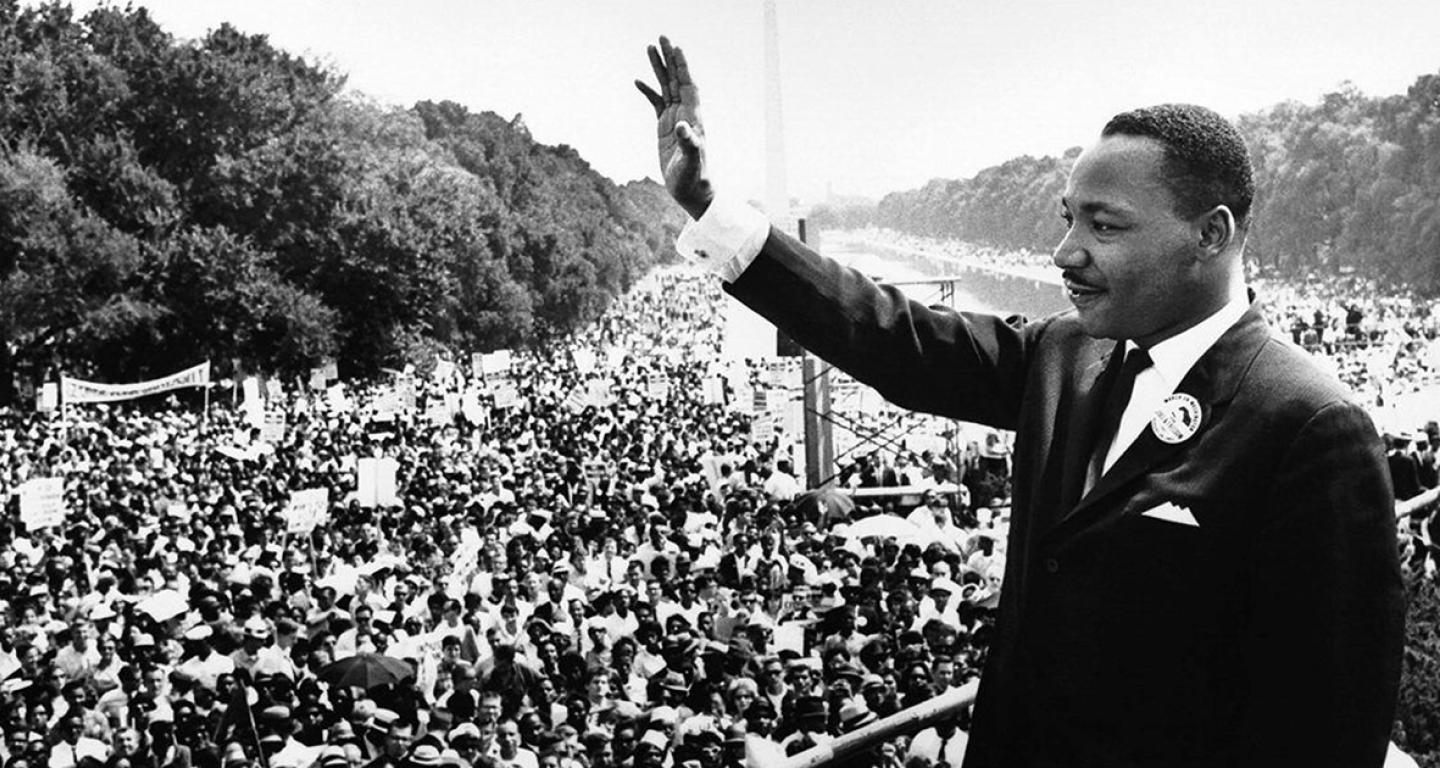 Media Releases
North Central College honors Dr. Martin Luther King Jr. with annual Prayer Luncheon and Vision Day Teach-In January 16
Jan 12, 2023
North Central College has a long history of celebrating the life and legacy of Dr. Martin Luther King Jr.—a history highlighted by Dr. King's visit to campus and speech at the College's Pfeiffer Hall in 1960. This year, the College will host a number of MLK Vision Day events under the theme "Freedom to Dream: The Radical Imagination of a New Generation." Members of the public are welcome to join the North Central College community for the following events.
MLK Annual Prayer Luncheon
Monday, January 16 at 12 p.m.
Stevenson Hall | Wentz Science Center (2nd floor), 131 S. Loomis St., Naperville
The 2023 MLK Vision Day Luncheon keynote speaker will be Tracie Morris '02. Morris is chief people officer for Corewell Health—formerly Beaumont Health and Spectrum Health. She is integral in developing inspirational and innovative people strategies that propel the organization forward to thrive in a vibrant and inclusive culture. She champions programs related to learning, development, recruitment, retention, culture and well-being. Tracie also serves as a member of the Corewell Health leadership team. In addition to the keynote address, there will be a performance by North Central College's Voices of Praise Gospel Choir. Pre-registration is required.
MLK Vision Day Teach-In
Monday, January 16 from 9 a.m. to 12 p.m.
Wentz Science Center, 131 S. Loomis St., Naperville
The MLK Teach-In will be conducted both in person and online and will consist of hourly sessions beginning at 9 a.m. in Wentz Science Center. The goal of the Teach-In is to engage the community in learning and conversation about topics such as race, anti-racism, equity, inclusion and Dr. King's goals of peace and justice. Attendees are welcome to drop into the sessions as their schedules allow. Pre-registration is required.
For more information about North Central College's 2023 MLK Vision Day activities and events visit northcentralcollege.edu/MLK23.
Chicago Sinfonietta's "Martin Luther King Jr. Tribute Concert: THUNDER"
Sunday, January 15 at 3 p.m.
Wentz Concert Hall, 171 E. Chicago Ave., Naperville
Sinfonietta's annual MLK Tribute Concert is a beloved yearly tradition. This year, come and join us for an inspiring program full of power and intensity. Opening the program, 2021 Sphinx Medal of Excellence winner Carlos Simon's piece was inspired by a journal entry from Beethoven in 1815, about the unpredictable nature of life: "Iliad. The Twenty-Second Book: But Fate now conquers; I am hers; and yet not she shall share In my renown; that life is left to every noble spirit. And that some great deed shall beget that all lives shall inherit."
The concert continues with Valerie Colemans's "Umoja," the Swahili word for Unity and the first principal of the holiday Kwanzaa. Through the two decades, "Umoja" transformed from an original version for women's choir to the woodwind version. Rounding out the program, Kathryn Bostic's (pictured left) newest commissioned "Letters from Moral Courage" encompasses the powerful impact from all types of people making a choice to abide in integrity, truth and fearlessness. Tickets can be purchased online.