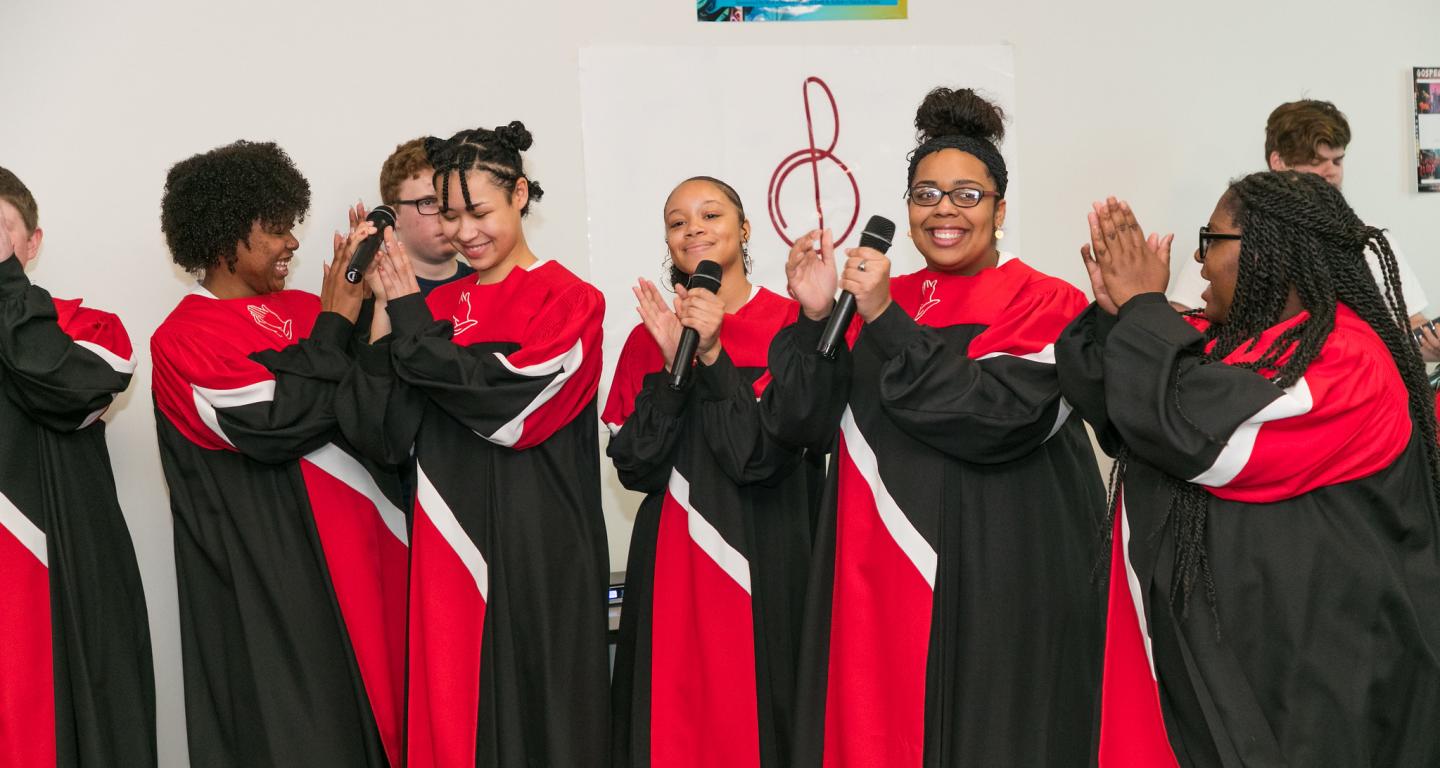 North Central News
Stories, music and love to fill North Central campus during Black History Month events
Jan 24, 2023
In honor of Black History Month, North Central College will host special events throughout the month of February. These celebrations will include thought-provoking discussions for scholars, musical performances to lift all spirits, and faith-based reflections to touch the soul. The following events are open to the public and all are welcome to attend. For updates and more information, visit our Black History Month web page or contact the Office of Multicultural Affairs at mca@noctrl.edu.
Mikki Kendall Black History Month Keynote
Wednesday, February 1
7 - 8 p.m., Wentz Concert Hall
Book signing to follow from 8:30 - 9 p.m.
Mikki Kendall is a writer, diversity consultant, and occasional feminist who talks a lot about intersectionality, policing, gender, sexual assault, and other current events. Her essays can be found at TIME, the New York Times, The Guardian, the Washington Post, Ebony, Essence, Salon, The Boston Globe, NBC, Bustle, Islamic Monthly, and a host of other sites. Her media appearances include BBC, NPR, the Daily Show, PBS, Good Morning America, MSNBC, Al Jazeera, WVON, WBEZ, and Showtime. She has discussed race, feminism, education, food politics, police violence, tech, and pop culture at institutions and universities across the country. She will be signing copies of her latest book "Hood Feminism: Notes from the Women that a Movement Forgot." This is a free event, bur registration is required. Get your tickets for the event now.
Additional Black History Month Events
Denyce Graves
Sunday, February 5
3 p.m.
Wentz Concert Hall
Recognized worldwide as one of today's most exciting vocal stars, Denyce Graves continues to garner unparalleled popular and critical acclaim in performances across four continents. USA Today identifies her as "an operatic superstar of the 21st century," and the Atlanta Journal-Constitution exclaims, "If the human voice has the power to move you, you will be touched by Denyce Graves." Her career has taken her to the world's great opera houses and concert halls. The combination of her expressive, rich vocalism, elegant stage presence, and exciting theatrical abilities allows her to pursue a wide breadth of operatic portrayals and to delight audiences in concert and recital appearances. Graves has become particularly well-known to operatic audiences for her portrayals of the title roles in "Carmen" and "Samson et Dalila." Tickets are available for purchase online.
Black Student Association's Annual African American Read-In
Thursday, February 9
6 p.m.
Meiley-Swallow Hall
Voices of Praise Gospel Extravaganza
Saturday, February 11
3 p.m.
Grace United Methodist Church, 300 E. Gartner Rd, Naperville
Join Voices of Praise Gospel Choir for an evening of praise and worship. The choir will be celebrating Black History Month with local college choirs, spoken word artists, and other performances. This is a time to learn about African American culture through various art forms. Tickets are available for purchase online.
12:5 "What's Love Got to Do With It"
Tuesday, February 14
12:05 p.m.
Koten Chapel, Kiekhofer Hall
Forever Motown
Saturday, February 18
8 p.m.
Pfeiffer Hall
Performed by a cast of veteran entertainers, including former members of The Jones, The Main Ingredient, The Spinners and The Marvelettes and peppered with Broadway savvy performers who had leading roles in "Dream Girls," "Your Arms Too Short to Box With God," "Porgy & Bess" and "Showboat," Forever Motown resumes its successful theater tour that broke its own box office records in 2018. The veteran entertainers offer a non-stop, high-energy trip down memory lane featuring the note-for-note hits America grew up on. The iconic Motown sound was recreated down to the slightest vocal and musical nuance by such American icons as Marvin Gaye & Tammie Terrell, Smokey Robinson & The Miracles, Gladys Knight & The Pips, The Temptations, The Four Tops, The Supremes, Stevie Wonder and the entire Motown roster of stars. The look and feel of authenticity extends to costumes from Tony Award-winning designer Evie Ross and classic Motown choreography from American Dance Theater director Terri Giordano who succeeded in creating visuals and choreography that capture the unique Motown style. Tickets are available for purchase online.
The Langston Hughes Project: Ask Your Mama (12 Moods for Jazz)
Saturday, February 25
8 p.m.
Wentz Concert Hall
The Langston Hughes Project is a multimedia concert performance of Langston Hughes's kaleidoscopic jazz poem suite, "Ask Your Mama" - Hughes's homage in verse and music to the struggle for artistic and social freedom at home and abroad at the beginning of the 1960s. "Ask Your Mama" is a twelve-part epic poem which Hughes scored with musical cues drawn from blues and Dixieland, gospel songs, boogie woogie, bebop and progressive jazz, Latin "cha cha" and Afro-Cuban mambo music, German lieder, Jewish liturgy, West Indian calypso, and African drumming - a creative masterwork left unperformed at his death. A joyous celebration of music, spoken word and visuals, The Langston Hughes Project is performed by the impressively versatile Dr. Ron McCurdy (as narrator and on trumpet) and his talented group of musicians (on piano, bass and drums) who make heads bob, fingers snap and feet tap throughout. Together the words, sounds, and images recreate a magical moment in our cultural history, which bridges the Harlem Renaissance, the post World War II Beat writers' coffeehouse jazz poetry world, and the looming Black Arts performance explosion of the 1960s. Tickets are available for purchase online.
12:5 "Seasons of Love"
Tuesday, February 28
12:05 p.m.
Koten Chapel, Kiekhofer Hall