North Central News
Adrian Brown '23 recognized as 2022 Lincoln Laureate
Feb 03, 2023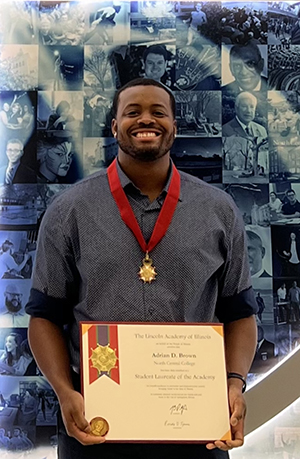 Leadership, advocacy, and devotion to creating opportunities for minoritized communities are the distinguishing characteristics that made Adrian Brown '23 North Central College's 2022 Lincoln Laureate.
The Laureate award program honors one outstanding student from each of Illinois's four-year, degree-granting undergraduate institutions. Award recipients embody "leadership and service in the pursuit of the betterment of humanity and … overall excellence in curricular and extracurricular activities."
Brown, a Chicago native, majored in behavioral neuroscience and completed his studies in the fall 2022 semester. As part of his reward, he received a $500 prize, a Lincoln Academy of Illinois medallion, and a certificate of honor.
A first-generation college student, dedicated scholar, and high achiever, Brown transferred to North Central in 2021. He has done extensive research with Margaret Gill, associate professor of neuroscience, thanks primarily to the PUMA-STEM program. PUMA-STEM stands for Promotion of Underrepresented Minorities in STEM and is a program funded by the National Science Foundation to increase success in the sciences for racial and ethnic groups that are underrepresented in the field.
Gill said that Brown "took on lab research with fervor, always going above and beyond with whatever tasks needed to be completed." Brown presented his research along with McKenzie Linden '23 at the 2022 Rall Symposium in a study called "Impact of Differential Rearing on Cocaine Addiction."
Beyond his studies, Brown is an influential citizen. He served as president of North Central's Neuroscience Club, taking great strides to build the organization by organizing social events, impressive guest speakers, and a trip to the International Surgical Museum in Chicago. He has also collaborated with the Psychology Club. One achievement he takes great pride in is when he helped coordinate study sessions to assist fellow Cardinal First members in obtaining U.S. citizenship.
"Video chatting and learning about people's stories all around the world were incredibly heartwarming," Brown said of the study sessions. "I felt a sense of duty when helping them and appreciated when they would give the biggest smile and thank me."
Brown's immediate future is already taking shape. He and a close friend are working on an ambitious project to open the Nakama Center for Emerging Success in the North Lawndale neighborhood of Chicago. This community center will embrace an interdisciplinary research approach, incorporating medical and behavioral science to discover more about the human decision-making process. It will offer activities designed to improve the whole person, not just the researcher, including self-esteem issues, building healthy relationships, and professionalism.
Brown hopes to partner with North Central to offer students the chance to volunteer, complete internships, and participate in community-engaged learning.
He has already secured a position at Rush University as a neuroscience lab technician and studying the effects of Parkinson's disease. He has applied to graduate programs to get a Ph.D. in neuroscience.
He has done all this while working full-time at restaurants and was recently promoted to manager.
Mary Jean Lynch, professor of psychology, was among many faculty who recognized Brown's impact on his fellow students and the world around him. "Adrian is an enthusiastic promoter of North Central and his field of study, a leader among his peers, and a strong advocate for systemic change that will improve the lives of people in minoritized communities," Lynch said. "Even faculty who have not had Adrian in class and only interacted with him informally mentioned his quiet, strong, positive presence in the department."
When asked what he attributes his success to, Brown said, "My family, professors, and classmates help me succeed at this high level. I could turn to family, classmates, and professors whenever I needed support. I will always appreciate the professors sharing (experiences from) their career paths, whether about overcoming obstacles or achievements.
"They have been so caring, welcoming, and warm. I'll never forget that feeling. It made me happier walking through North Central College every day."