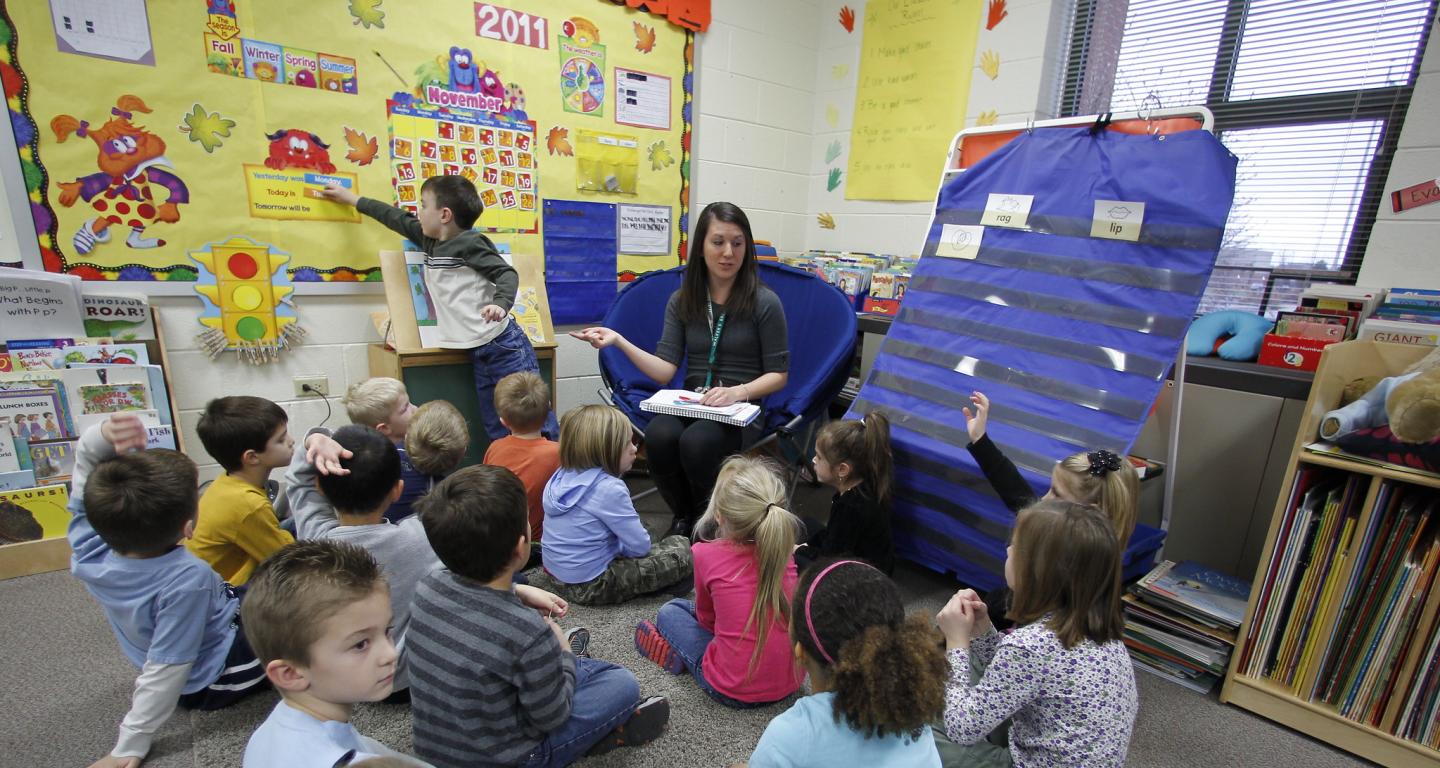 How to Become an Elementary School Teacher
Jul 18, 2023
How to Become an Elementary School Teacher
If you are passionate about working with young students, then majoring in elementary education may be the right path for you. A rewarding career choice, working with young learners gives you the unique opportunity to assist in child development and make a lasting impact on your community. If you are interested in learning more, keep reading to discover an elementary school teacher's day-to-day responsibility, the necessary skills for the role, and the steps to becoming one. 
What is an Elementary School Teacher?
Before diving into the process of becoming an elementary school teacher, it is important to understand what an elementary school teacher is and the role's day-to-day responsibilities. Elementary school teachers are early childhood education providers who primarily teach children in kindergarten through the sixth grade (K-6). However, some school districts may classify pre-kindergarten and/or the seventh and eighth grades (K-8) as elementary. 
Since elementary school teachers may teach a wide range of grades, they should be aware of the different phases of child development. In most cases, elementary school teachers focus on one specific grade level, where they are the primary instructor. Since they lead a single classroom of the same students throughout the day, elementary school teachers can expect to provide instruction in all subject areas they are required to teach.
As an elementary school teacher, you can expect to teach subjects ranging from reading and writing to science and basic mathematics. Other topics may include history, social studies, and art. In addition to teaching these subjects to your class, additional responsibilities may include: 
Creating an engaging and inclusive learning environment

Developing and enforcing classroom rules and procedures

Tailoring a curriculum and lesson plans for specific grade levels

Supervising and leading students throughout the day as they participate in various activities

Meeting with elementary school staff and administrators to ensure school policies are met

Providing evaluations and grades for each student

Stocking the classroom with learning materials

Meeting with students' parents and/or guardians

Staying up to date on teaching best practices, as well as classroom and curriculum standards
What are the skills needed?
As an elementary school teacher, there are several skills you will need to develop that will be crucial for you to become proficient in your career. Like most professional roles, being organized will be essential to your success. As a teacher, you will not only be responsible for keeping yourself organized but for all the materials and lesson plans your class will be following. From creating and meeting due dates to communicating classroom needs and expectations, having good organizational skills will set you and your students up for success. In addition to staying organized, being compassionate will go a long way. 
Interacting and teaching with empathy and compassion will be beneficial as it builds a positive classroom culture and can increase students' motivation for learning, both of which are crucial to the overall academic experience. Learning to be flexible and adaptable is another important trait for elementary teachers. At times, plans can change quickly and sometimes without notice. Throughout the day, expected and unexpected situations can arise. That is why it is crucial to be able to adapt and find the best solution for all involved. 
Other traits that will be advantageous to have on your teaching toolbelt include:
Staying curious, including the will to keep learning and bettering yourself in the role.

Collaborating with other teachers, families, and community members.

Being passionate and a strong advocate for your students. 

Not being afraid to ask for help. 
In addition to building on the soft skills stated above, developing and utilizing the hard skills you learn from your classes and student teaching will be just as important. "There are lots of skills and teaching methods we provide at North Central College, such as how to lesson plan and to be strong in different content areas," stated Lindsay Wexler, assistant professor of education. Learning from top professors, elementary education majors at North Central College learn what exemplary teaching means daily. Students will receive experience in classroom management, lesson planning, and teaching in all subject areas. Additionally, students will have the opportunity to complete at least 180 hours of classroom field experience before they start student teaching. By learning the necessary skills from your elementary education degree and teacher preparation, you will find yourself on the path to success. 
How to become one?
Now that you know what an elementary school teacher is, what are the steps to becoming one? As stated earlier, teaching is one of the most rewarding career paths.
Earn a bachelor's degree
Earning a bachelor's degree in elementary education (ELED) from a strong teacher preparation program is a crucial first step to ensuring you become a proficient teacher. Since teachers are responsible for preparing and educating the next generation of learners, more states require the aspiring teacher to hold a bachelor's degree. A bachelor's degree will equip you with the appropriate knowledge and skill to educate and care for a classroom full of young learners. 
For instance, North Central College's Department of Education established the system of Progression Points as a way for faculty to ensure students receive the necessary experience to prepare them for teaching. The system provides the prospective teacher with checklists outlining critical phases in their journeys. When all of the requirements under a Progression Point are met, the aspiring teacher can move forward in the educator preparation program.
Students enrolled in North Central College's elementary education program dive headfirst into program-specific experiences as early as their sophomore year. Students have a field placement, where they teach two lessons in social studies and two in reading and are in the classroom for 50 hours. During their junior year, they have another field placement teaching two lessons in math and two in science and are in the classroom for another 50 hours.
At the start of their senior year, students have a 75-hour field placement and teach five lessons. While they are engaging in field placements, they are simultaneously taking classes. Field placements are crucial to students' academic experiences as they can bring and practice the knowledge and skills they gain from the classroom. While receiving the proper elementary teacher education is crucial, it is not the only requirement. In the second half of their senior year, they participate in student teaching, which includes 16 weeks of complete immersion. This immersive experience helps boost teaching skills and confidence, making students ideal teacher candidates in the job market. 
Meeting all the requirements
Lastly, you must ensure you meet all current elementary school teacher requirements. For instance, to become an elementary teacher in Illinois, you must take the licensure or teacher certification exam through the state's Board of Education. You are required to complete an elementary teaching program, a student teaching assignment of 12 to 16 weeks, and pass the state's teacher licensure exams evaluating your basic skill and teaching standards.
Career path
What can you do with an elementary education degree? Once you've completed all the education requirements for an elementary teacher, including a bachelors degree in education, career paths may include working in school administration, special education, and social work, among others. While these exist, teaching is the most commonly known career path students take. Undoubtedly, all of the roles above have the power to be pivotal mentors to young students and transform their academic experience. If you aspire to find an elementary school teacher job, spend time getting to know your professors, peers, and other community members within the field of education.
"See each field experience as an opportunity to network—you never know who will offer you a job when you graduate! Relationships are at the heart of everything in education," stated Lindsay Wexler from North Central College. "Your professors are here to support you and truly care about you when you are at North Central College and when you are a (certified) teacher in your own classroom. Be okay with asking questions, not knowing, and always learning."
If you want to learn more about elementary education, take some time to explore programs at different colleges and universities. Students enrolled in North Central College's elementary education program dive headfirst into a rich curriculum and field experiences designed to help students become world-class educators who inspire young learners to achieve their best daily. Learn more about how North Central College can help you push past possible as a student and in your career.  
Kara Kots is the senior social media specialist in North Central College's Office of Communications. There, she contributes her content, writing, and communication skills.  
This article was updated on July 18, 2023.
Sources:
Elementary Education Degree Program. North Central College. https://www.northcentralcollege.edu/program/elementary-education. Accessed July 13th, 2022.
How to Become an Elementary School Teacher. Indeed. https://www.indeed.com/career-advice/career-development/how-to-become-an-elementary-school-teacher. Published February 4th, 2020. Accessed July 19th, 2022.
Elementary School Teacher. Teach.com. https://teach.com/careers/become-a-teacher/where-can-i-teach/grade-levels/elementary/#:~:text=The%20curriculum%20is%20usually%20structured,%2C%20music%2C%20art%20and%20reading. Accessed July 21st, 2022.
Elementary School Teacher Career Guide. Teacher Certification Degrees. https://www.teachercertificationdegrees.com/careers/elementary-school-teacher/. Accessed July 28th, 2022.