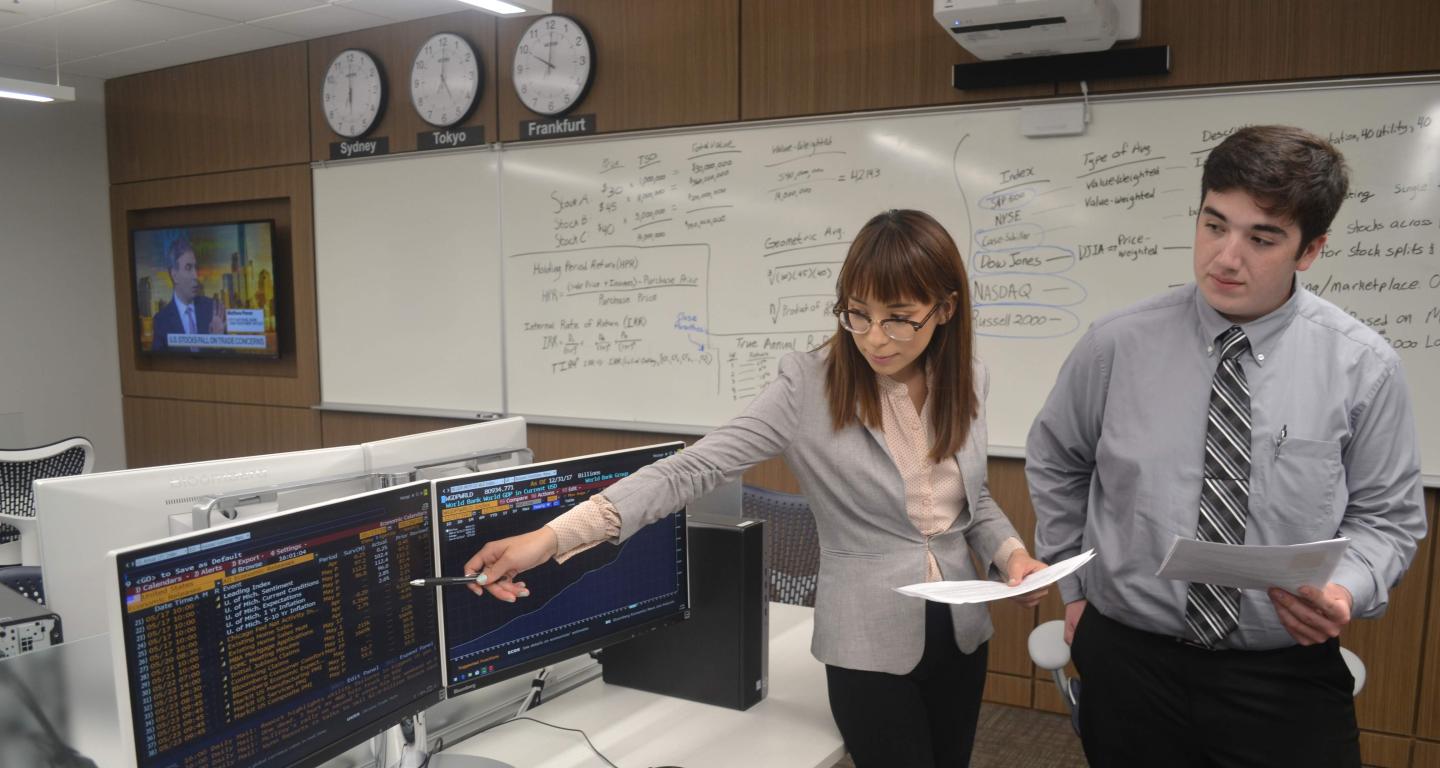 Why Study Accounting in College?
Jul 18, 2023
How to Decide if Accounting Is the Right Path for You
Accounting is a favorite major among many college and university students. Why study accounting in business school? There are plenty of great reasons.
From high-paying salaries to a plethora of career paths, studying accounting opens so many doors. Follow along as we uncover whether or not accounting is the right major for you.  
Benefits of studying accounting
Before determining if accounting is the best major for you, it's important to understand the various benefits it offers. Many choose to study accounting because it offers:
Outrageously good career prospects: Professionals in the accounting field can bring home excellent salaries. According to The Accounting Path, starting salaries at large firms can be as high as $70,000 – plus bonus.
Plenty of opportunity: There's a high demand for professionals who understand accounting principles and possess the financial skills across all types of industries, from manufacturing to hospitality to health care. In fact, U.S. News & World Report reports an estimated 90,700 new accounting job opportunities will be created by 2028.  
Fun for "quants": If you like working with numbers–and are good at it–then pursuing an accounting degree can be lots of fun. (Of course, if math isn't your strong suit, then this probably isn't the degree for you.)
Something for everyone: Lots of people think of an accounting career as quiet and solitary, but that's not necessarily true. Whether you like to fly solo or work on a team, there's something out there for you.  
How to study accounting
Your courses as an accounting major will vary depending on the college you attend. Subjects might include:
Accounting systems
Accounting theory and research
Auditing, attestation, and assurance
Business law & ethics
Business strategy
Computer information systems
Corporate finance
Cost accounting
Economics
Finance
Financial accounting and reporting
Financial statement analysis
Fraud
Intermediate Accounting I
Intermediate Accounting II
Macroeconomics
Management
Managerial accounting and reporting
Marketing
Microeconomics
Organizational behavior
Statistics
Taxation
As part of your undergraduate accounting degree, you may also complete an accounting internship to broaden your education and enrich your learning with practical, hands-on experience. Accounting internship programs challenge finance and accounting students to apply critical thinking skills as part of the experiential learning process.
The bottom line: whatever side you're leaning towards in the argument of accounting vs. finance, you need to be able to analyze complex quantitative problems. If you can also explain them to ordinary, non-accounting folks, then you'll be even more valuable to employers … so it's a good idea to look for a higher education program that also develops communication skills like writing and public speaking. Some colleges will also work with you to complete the credit hours you'll need to take the CPA examination.
What other majors are related to accounting?
If accounting interests you, there may be other fields that you should also consider. Related majors and minors include:
Actuarial science
Auditing
Business/management
Economics
Entrepreneurship
Finance
International business
Organizational leadership
Of course, once you've finished your bachelor's degree, you can also consider a variety of graduate or master's degree programs, including a Masters in Financial Management. Some schools offer online accounting courses and entire online programs, including online MBA programs. Wondering, "Is an online MBA worth it?" and do they deliver the same competitive advantage as attending class at an institution? Have no fear, we'll help clear up any questions you have!
Careers in accounting
When it comes to finding a job in accounting, the sky's the limit. Really. The world of accounting truly opens the door for career opportunities to be pursued now and in the future.
 
That's partly because accounting is essential to every business, whether you're working in the nonprofit, public, governmental, or private sector. If you are interested in taking your accounting career to other parts of the world, you'll want to understand the answer to the commonly asked question: "What can you do with an international business degree and how does it pertain to accountants?"  If you're the entrepreneurial type, you could start your own accounting firm. Learn the importance of an entrepreneurship education and see how you can mesh those interests to then funnel into your dream career with accounting. Or you could take an entirely different direction; the quantitative and analytical skills you learn in accounting will easily carry over into other professions, like business or management.  
Pursuing an accounting degree
If you think accounting could be for you, consider the accounting program at North Central College. Its accounting graduates are in high demand among employers, and the college ranks #2 in Illinois for students passing the Certified Public Accountant (CPA) exam. North Central is also one of just a few institutions with a state-of-the-art Bloomberg Laboratory where students conduct market research and data analytics, and can become Bloomberg certified.
Visit www.northcentralcollege.edu/request-info for more information on how North Central can help you exceed your personal best.
This article was updated on July 18, 2023.