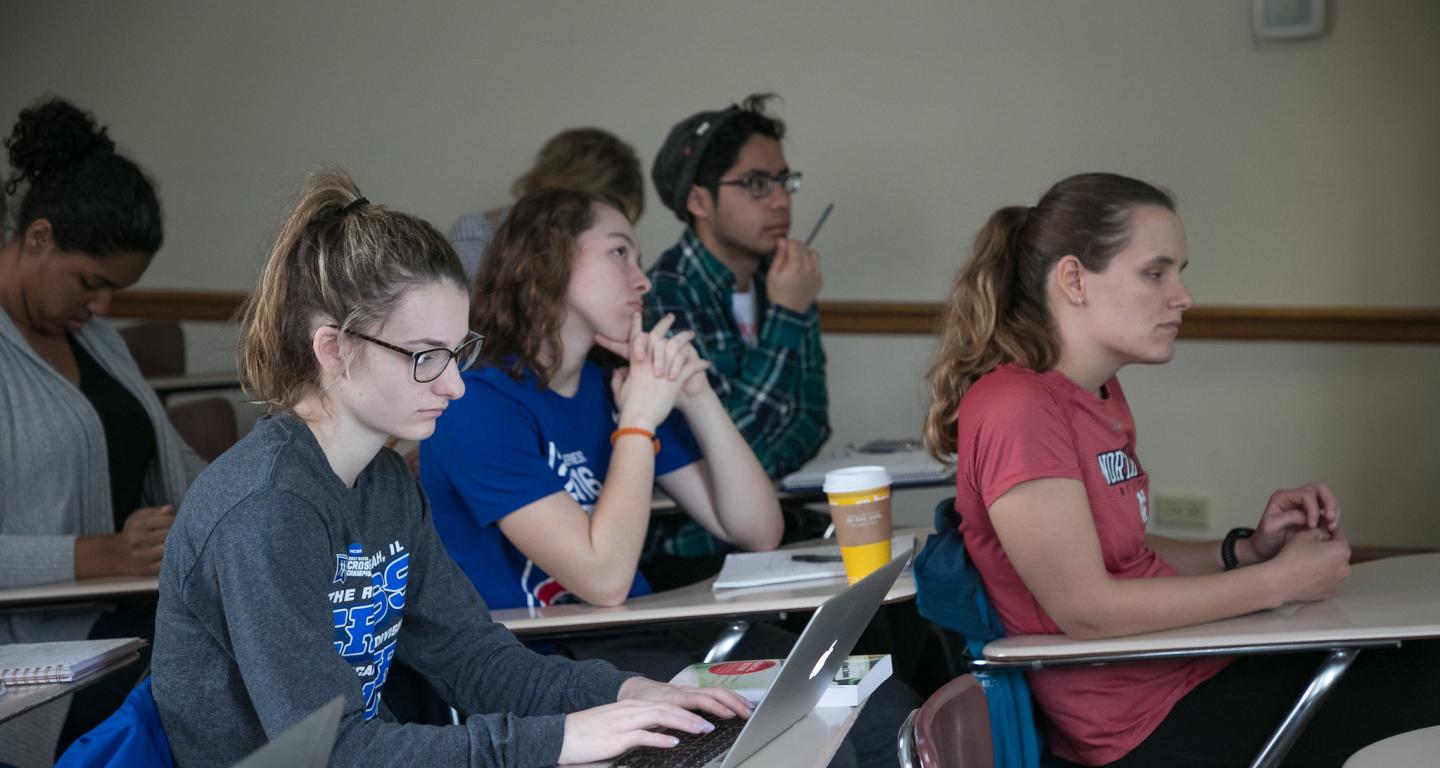 Accounting vs Finance Degree: What's the Difference?
Aug 03, 2022
Accounting vs Finance Degree
If you're interested in a career in business, you may find yourself in the middle of an internal argument many students who are good with money, numbers, and organization have every year: the battle of accounting vs finance degree. Whether you want to end up as a financial analyst or work in forensic accounting, want to find a career as a certified public accountant or a certified financial planner, you'll have to come up with which of these two fields you want your degree in first. In this helpful guide we will look at the details of what courses and topics go into a finance degree and an accounting degree, weigh the perks and benefits of each field, and look at how they cross over. By the time we are finished, you should have a clear picture of which business administration degree program is right for you.
What does a Finance Degree Cover?
Finance is one of the core degree programs in just about every department of business. As such, there are certain general concepts you will need to know within the field of business, as well as courses you will need to take to cover the foundations of a liberal arts degree. 
Once you have done that, you will begin to specialize in finance and point yourself in the direction of preparing for a specific career. 
Najrin Khanom, assistant professor of finance at North Central College, provides a good example for the path you'll likely follow by detailing the program at her institution. "All business majors … are required to take the core business classes. You are able to better succeed if you know how other parts of the business operates," she said. "In addition to the core (courses), our finance majors are required to take classes in investment management, derivatives, personal wealth management, and financial institutions. This allows our majors to explore different career options."
Other common areas of study within a finance major include financial reporting, financial analysis, and corporate finance. You'll learn skills such as financial transactions, financial reports, financial planning, and other financial information.
If these subjects sound interesting, but you aren't sure how comfortable you are with them, be sure to check out our guide, "Is a finance degree hard?" 
Pros
There are a number of advantages to studying finance and ultimately choosing it as a career path. Finance is a flexible field that leads to a number of opportunities.
Looking for jobs in finance is relatively easy—it's actually harder to narrow down the opportunities. Dealing directly with money means that skills in finance are in demand everywhere, from privately-owned companies to government, schools, hospitals, and more. 
A finance degree is a great way to learn the basic skills you need to handle your own money, as well. College is the first chance many of us get to live on our own and handle our own finances, but it's also a time when we are bombarded with things to pay for as well as choices to make. Your courses will give you insight into the smartest ways to deal with things like credit cards, home ownership, and monthly bills that your classmates will wish they had after graduation.
Khanom says that a finance major also cultivates marketable skills that can be applied across the professional spectrum. "There is a strong emphasis on (the use of Microsoft) Excel," she cited as one example. "Excel projects include preparing company financial analysis, detailed financial plans, and company valuations. Depending on (their) interest, students can further enhance their quantitative and computational skills with econometrics, forecasting, and programming in finance courses. Among other skills, our students develop critical thinking, problem solving, and communication skills."
Find out more about careers in finance with our guide, "What can you do with a finance degree?"
Cons
While the advantages we've discussed may seem unbeatable, you probably still want a straight answer: is a finance degree worth it? Generally, a degree in finance is a tremendous building block for a successful career. There are, however, some factors about the field of finance that are worth considering before you dive in. Casey Mcclain of Quotf lays out some possible drawbacks to studying and working in finance this way:
1. Lack of job security
It's important to know that you are unlikely to work with the same company for your entire career in finance, so be sure you are always keeping your resume up-to-date and keeping an eye out for openings.
2. Training is limited  
If you want to advance to higher levels of leadership, work for a company outside the realm of finance, or start your own business, a bachelor's degree in finance may not be enough. You may need to look at an advanced degree to train you in higher-level concepts and improve your resume.  
3. Time consuming 
Finance is a conceptual field, meaning it demands a lot of time for studying and practicing to get it right. Be prepared not to have as much free time as classmates in other majors, and remember the benefits will really kick in when you have great jobs to choose from after graduation.
4. Career path
Advancement in finance can be complicated. While most companies offer plenty of chances for advancement, no matter how high you reach or how many people you manage, you'll still be working with numbers and deciding how to spend money. That is something to keep in mind as a student figuring out what you want to do with the rest of your life. The good news is that skills in finance make it possible to change career paths if you need to and still find success.
What does an Accounting Degree Cover?
Like finance majors, accounting students will start in the same boat as everyone else, taking required general education courses and then the foundational business classes before things get more focused.
Emily Bratcher of U.S. News and World Report says, "As they progress in their studies, accounting majors can expect to take introduction to accounting and taxation courses as well as principles of microeconomics and macroeconomics. Math classes like calculus and statistics are part of the curriculum, too. More advanced courses accounting majors take include computer-based systems, operations management, business law, and theory classes for both accounting and auditing. Business communication and public speaking are often part of accounting program curriculums as well."
Pros
An accounting major has a lot of the same kind of upside as finance as a degree. The editors of Indeed.com provide a list of specific advantages:
1. Clear career path
Accounting is a highly practical field. You either know things like how to record sales, issue invoices, and manage payrolls, or you don't, and no good accounting program will let you graduate until you've learned these skills precisely. That makes applying for jobs and moving up the ladder a lot more straightforward than in other fields. The chances to grow are also clear to see as most companies have a well-established structure in accounting. Entry-level jobs like junior auditors, controllers' assistants, or staff accountants generally last six months to a year before accomplished accountants move up, and that is generally clear when you begin at a company. 
2. Job stability
Like finance, any accounting job is a field in high demand because every employer that deals with money needs someone to count it for them and help advise them on where to spread it around. Indeed found that, according to the U.S. Bureau of Labor Statistics, accountants and auditors have a projected job growth of 7% by the year 2030. This figure is higher than the projected 5% growth for other financial specialist positions, and across the whole country, that 2% is a big advantage.
3. Competitive wages
Salaries for an accounting career can range from just above the national average for all jobs to higher percentiles. The average national salary for auditors is $61,119 per year, according to Indeed. Financial controllers and financial managers are on the high end for accounting positions, with annual national average salaries of $88,252 and $95,613, respectively.
4. Employment opportunities in the accounting field as well as entrepreneurial opportunities
Jobs for graduates with degrees in accounting number among some of the most highly sought-after positions available. They cross a number of fields and levels of promotion. Careers in accountancy include:
Forensic accountant

Public accountant

Cost accountant

Staff accountant

Government accountant

Chartered accountant

Managerial accountant

Finance manager

Chief financial officer

Certified internal auditor

Investment banker
If none of those careers suit you, an accounting degree can also be a good first step to entrepreneurship, as one of the foundations of owning your own business is knowing how to handle your books.
Cons
Just like finance, accounting has aspects you should think about carefully before entering the field. According to Indeed.com, some of the significant possible disadvantages of going from accounting student to accountant are: 
1. You may need to pursue advanced education
As with finance, while a bachelor's degree will qualify you for plenty of job opportunities, the highest positions in the accounting field will require at least a master's degree. You may also go for continuing education courses or take classes to get certified for certain positions.
2. You may experience a heavier workload at specific points during the year
Accounting is generally a five days and 40 hours per week sort of field, but just like a sport, it has a busy season. From January through mid-April, as people are working on their tax returns, accountants need to be prepared to work long hours to accommodate the demand. The benefits are important, as accountants can do a great deal of their yearly business during this first third of each year, but you need to be prepared for the extra workload during this time.
3. The work is math-intensive
Orderly thinking, patience, and attention to detail are key to succeeding in accountancy. No matter what, though, you can't escape that it's a field dominated by math. Even if you have a talent for mathematics, be sure you really take satisfaction from working with numbers before you commit to a career as an accountant. 
What are the similarities?
There is a great deal of carryover between finance and accounting as important pillars of business. How do the two resemble one another?
Khanom compares the two this way: "There is a nice harmony between the two majors. To put it in an imperfect analogy, finance is like driving a car, and accounting is the mechanics of the car. As a driver, you have to make decisions—when to stop, when to accelerate. You also need to make sure your brakes are working, you have sufficient fuel, and that your engine is not overheating. Finance involves a lot more decision-making than accounting: which firm to invest in, when to expand the business, and whom to lend money to. These decisions will be a lot more successful if you have a strong understanding of accounting."
The harmony between the two majors means that you can take courses from each and tailor your education to fit the career you are most interested in. "If you want to pursue a career in banking, corporate finance, or investment analysis, you should take more accounting classes in addition to your finance classes," Khanom said. "If you want to get into personal wealth management or derivatives trading, there is less focus on accounting."
Take the first step to a career in finance or accounting
Whichever major you decide is best for you, be sure you find a great school to get your degree. Look for a place like North Central College: with faculty who have both the theoretical expertise and industry experience to help you learn what you need; with internship opportunities and extracurricular activities to help you apply what you've learned; and strong support to help you connect and network with employers so you can get started early on your future. 
Find out more about North Central College and their programs in finance and accounting today.
Jacob Imm is the associate director of communication in the North Central College Office of Marketing and Communications. He has 12 years of collegiate communications experience and has worked with hundreds of college students. He has a bachelor's degree from the University of Notre Dame and a master's degree from Northern Illinois University.
Sources:
Emily Bratcher, U.S. News and World Report. https://www.usnews.com/education/best-colleges/accounting-major-overview 
Casey Mcclain, Quotf. https://quotf.com/in-the-know-pros-and-cons-of-finance-degrees/ 
Indeed.com editorial team. https://www.indeed.com/career-advice/finding-a-job/accounting-field-pros-and-cons