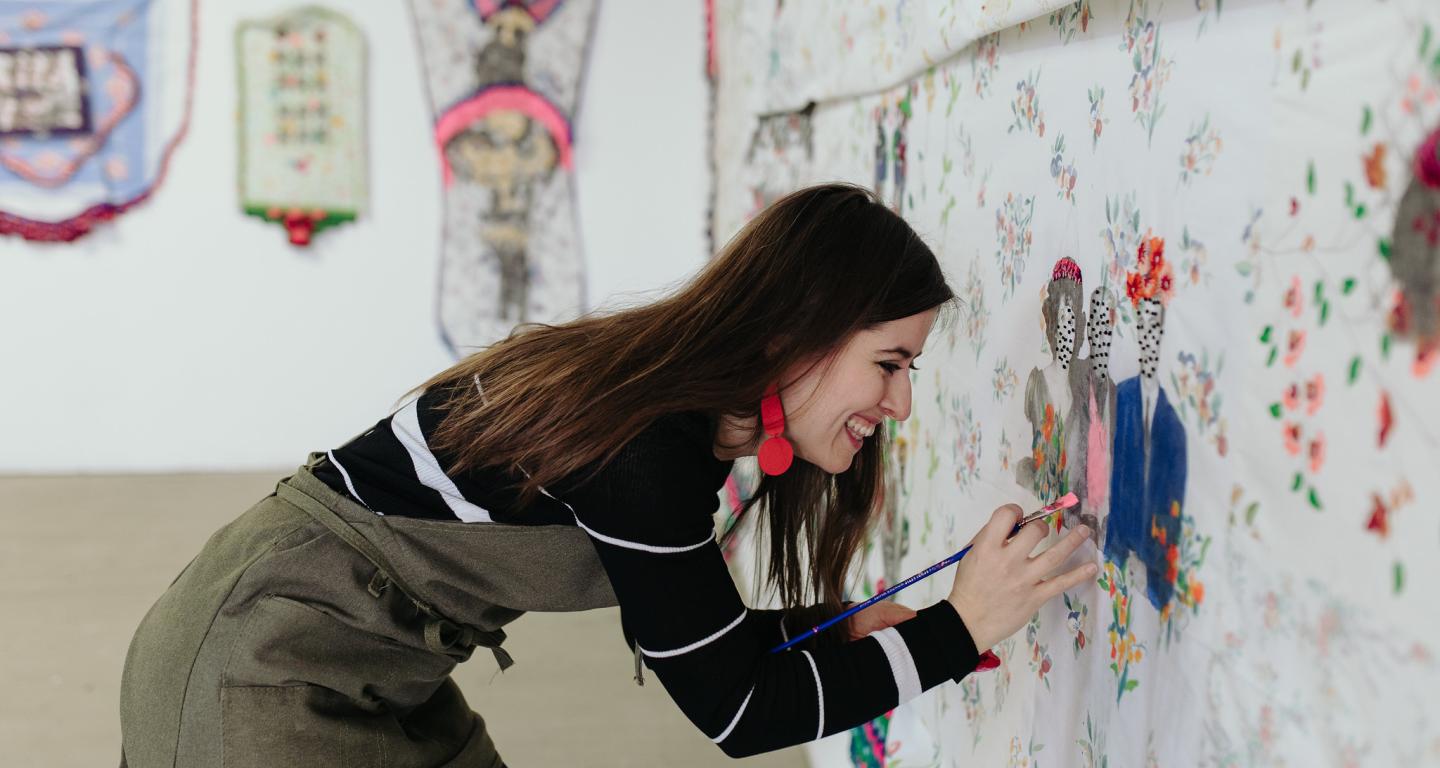 What is Studio Art?
Jul 26, 2023
What is a Studio Arts Major?
Are you in the process of applying to colleges, exploring majors, and finding yourself wondering what is studio art? If you answered yes to the above, then you have come to the right place, as this article will be a guide on earning a studio art degree. Keep reading to uncover the definition of studio art, why it is important, and how to use a studio art degree in the professional world.
What is studio art?
A degree in self-expression, majoring in studio art, calls for students to bring their most creative selves front and center in their learning. Through a broad spectrum of visual media courses and hands-on learning experiences, students gain the necessary knowledge and skill to create impactful visual culture and art. 
"A studio artist specializes in creating visual work that effectively communicates ideas and emotions to prepare students for 21st-century careers in fine art, digital communications, and education," stated Whitney Sage, assistant professor of art and design at North Central College.
What is studied in studio art?
Paired with a liberal arts general education, you will take a wide range of courses to improve your knowledge and build on crucial technical skills to thrive as a professional artist in the industry. "Beyond providing students with the technical equipment and education necessary to produce work on a professional level, our coursework also focuses on developing the historical and conceptual groundings of contemporary artmaking, facilitating the growth and development of the ideas that drive our student's personal work," added Sage. When earning your degree, required studio art courses may include the following:
2D Design: Explorations in Image Making

Digital Art and Design

3D Design: Form and Space

Drawing I: Observational Drawing

Painting I: Materials, Tools, and Techniques

Ceramics I: Introduction to Form and Techniques

Sculpture I: Modern and Contemporary

World Art Histories I

World Art Histories II

Modern Art

Contemporary Art

Professional Practice

Exhibition I: Research and Development

Exhibition II: Production and Installation
When configuring which studio art course you can expect to take from the ones listed above, you will have to choose which studio art degree you would like to obtain. This decision will impact what your coursework will focus on throughout your academic career. These two types of degrees are listed below.
Types of studio art degrees
Earning a degree in studio art gives you the flexibility to explore various disciplines in facilities outfitted with studios and equipment for drawing, graphic design, ceramics, painting, photography, printmaking, sculpture, interactive media, and other digital arts. The amount of coursework you take that focuses on visual arts to liberal arts will depend on the type of studio art degree you choose to pursue. For instance, North Central College's studio art program offers bachelor of arts (BA) and bachelor of fine arts (BFA) degrees. 
Choosing between the two will come down to your academic and career goals. If you pursue a BA, you can expect to take more liberal arts-focused courses under topics such as history and literature. Conversely, with the BFA, you would be required to take more intensive art and design courses such as Figure Drawing and Drawing II: Expanded Drawing. Additionally, if you want to earn a studio art minor instead while paired with another academic program, such as a social science program, you could also choose to do that. When it comes to your art education, you can tailor it to what you envisioned.
How to use a studio arts degree
When equipped with a studio art degree, you will have the technical skill to construct your voice as a professional artist—drawing from your valuable experiences of exploring visual art and media creatively and intellectually. In your final years as a studio art student, you will assemble a portfolio of your creative endeavors, from working on course projects art department to preparing creative work in the art studio and sharing it in an art gallery that will impress future employers, prospective clients, and industry leaders. 
So what can you do with a studio art degree? As a studio art graduate, you can apply for fulfilling roles in a wide range of industries. "Our studio art students may pursue careers as a professional artist, industrial or textile designer, fashion designer, jobs in the entertainment and media industry, education or museum-based work, and more," added Sage. If desired, you could also further your education with graduate school by pursuing a master of fine arts (MFA) or a master of arts in art therapy (MAAT).
If you are interested in bringing your ideas to life by experimenting with various media, explore different studio art programs to see which is the right fit for you. Students that study studio art at North Central College will have access to valuable opportunities to:
Network with North Central's faculty mentors and prominent artists attending on-campus gallery events and exhibits.

Participate in the Department of Art and Design's Senior Art Show.

Conduct undergraduate research and present your findings at the College's Rall Symposium for Undergraduate Research.

Study world-class art and architecture in Naperville and Chicago galleries and museums.

Enroll in Chicago Term, a studio art program that gives students the chance to experience living in the city while taking courses from North Central professors.
Apply for competitive talent scholarships in art with help from faculty mentors.

Access the University Partner Program offered by the Art Institute of Chicago, where students can gain admittance to the museum free of charge with their North Central College Cardinal ID.

Learn about career opportunities through the College's faculty, robust alumni networks, and the College's career center—the Center for Career and Professional Development.
While gaining crucial hands-on experience, studio art majors will also work alongside expert faculty passionate about student success both inside and outside the classroom. Prospective students looking for a dynamic studio art program with inspiring mentors that will help them realize their potential and direction toward a fulfilling career should look into North Central College in Naperville, Illinois.
Kara Kots is the senior social media specialist in North Central College's Office of Communications. There, she contributes her content, writing, and communication skills.
Sources:
College of Arts & Sciences: Studio Art. North Central College. https://www.northcentralcollege.edu/program/studio-art. Accessed March 22, 2023.
Bachelor of Fine Arts Degrees: BA vs. BFA. All Art Schools. https://www.allartschools.com/bachelor-art-fine-arts-compared/#:~:text=Your%20choice%20between%20a%20Bachelor,intensive%20art%20and%20design%20studies. Accessed March 28, 2023.