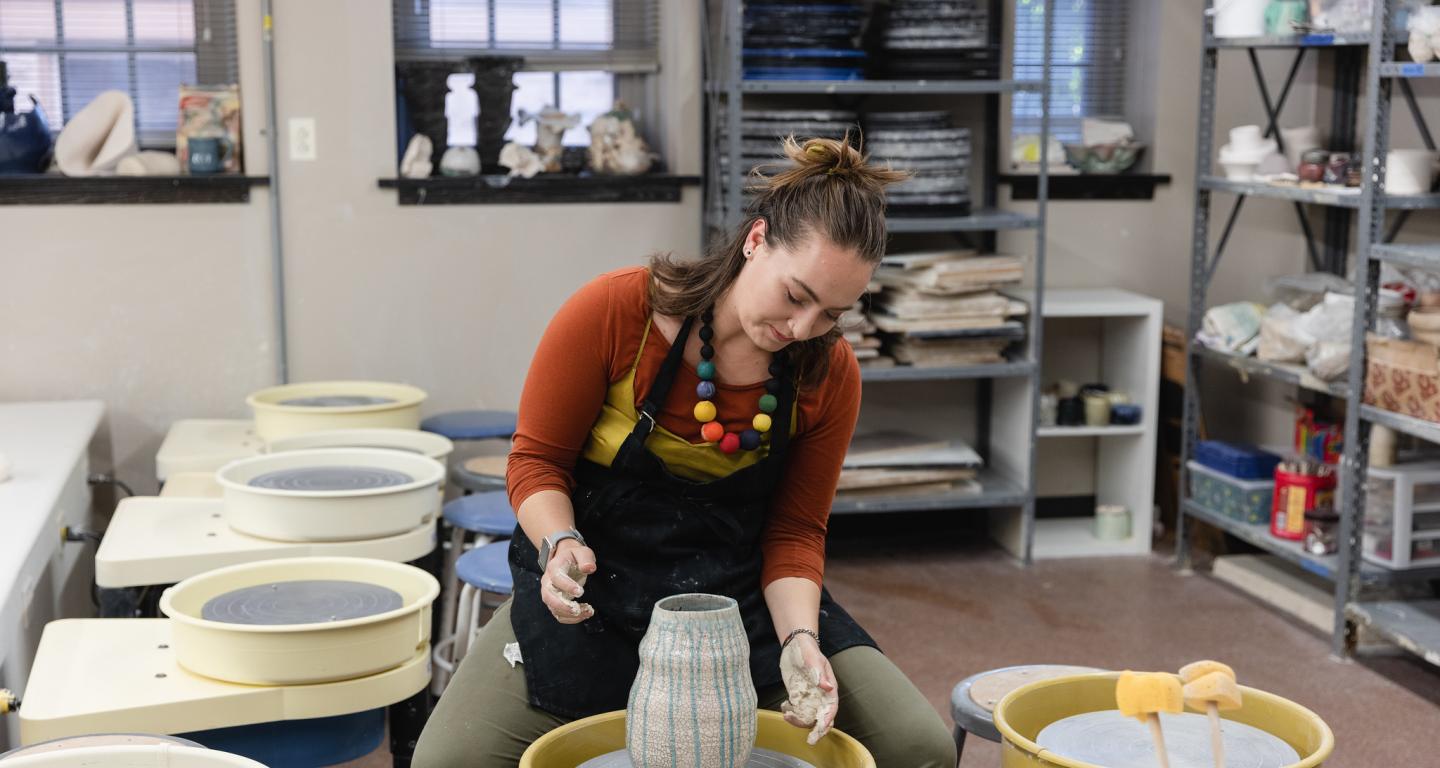 5 Studio Art Degree Jobs
Reviewed by Jacob Imm
Jul 28, 2023
What Can You Do With a Studio Art Degree?
More often than ever, creative individuals are being sought out as professional problem-solvers. The creative eye is uniquely sharpened to chisel complexity into simplicity and find fresh ways to communicate solutions, services and stories.
Many creative minds channel their vision into art education and studio art degrees. So, what is a studio art degree, and what occupations can you pursue with it?
There are a variety of studio art major jobs available, and almost 100,000 positions open in the field each year, according to the U.S. Bureau of Labor Statistics (BLS). You may be surprised to find that those jobs don't only reside in art studios. 
This list highlights five of the most popular studio art degree jobs available today, from the modern office to the textile space.
#1 Graphic Designer
So what do graphic designers do? Graphic designers are responsible for much of the beauty in the world around us. They use their artistic skills to create design concepts, generally for commercial purposes. Whether they work across digital or physical mediums, graphic designers' duties span a large scope and can include exciting work such as:
Designing packaging aesthetics for everyday items

Developing logos, motifs and digital art designs for companies to help market their products and services

Creating and implementing themes for websites and other digital projects as part of a creative team
Graphic designers need a keen artistic eye and the ability to bring a client's vision to life through creative technologies. Graphic design is expanding as a profession, and the average salary is a little over $50,000 per year, per the BLS.
#2 Crafter/Fine Artist
From hand-molded pottery to your favorite painting, crafters and fine artists turn the creation of art into a profession. Professionals in the fine art field include many creators and visionaries keeping worthwhile artistic traditions alive and establishing new ones. Some notable crafting/artistic jobs include:
Sculptor

Painter

Caricature artist

Cartoonist

Potter

Glassblower
Essentially, anything that involves creating physical art pieces can be grouped into this category. On average, such artists make around $50,000 annually, according to the BLS. Earnings can vary greatly, however. If your painting or pottery strikes a chord with the art scene, for example, a single piece could sell at auction for much more.
#3 Interior Designer
Interior designers beautify the insides of homes, offices, and other buildings using their creative talents. If you have a knack for spicing up spaces and eliminating the drab and dull, interior design could be the career path for you. 
Interior designers may:
Choose color palettes, select and arrange furniture, and pick out accent art to reinvigorate interior spaces

Work with clients and owners to help them conceptualize what they want their space to look like, then make that vision a reality 

Study the physical limitations of an area, understanding how to make it safe and functional while beautifying it in the process
Interior designers have a keen ability to select complementary artistic pieces and balance contrasting colors. According to the BLS, the average interior designer can take home more than $60,000 a year.
#4 Industrial Designer
Industrial designers are crafters on a commercial level. Every basket, bobblehead, and bottle that you've ever seen was, at one point, created by an industrial designer. The profession combines art, business, and materials engineering to make products for everyday consumption. 
Some of an industrial designer's duties may include: 
Adding aesthetically-pleasing touches to mass-produced consumer goods

Developing concepts for potential products and pitching them for production 

Working as part of a greater team with engineers, scientists, and marketing experts
Industrial design is an exciting career path that allows you to see the fruits of your labor in everyday society. It's a complex and demanding profession, but a rewarding one as well. Industrial designers can earn, on average, more than $77,000 a year, per the BLS. 
#5 Art Director
Art directors are the head honchos of design and aesthetics at their companies. They take the lead on creative projects and decide on their brands' artistic direction. Some activities that art directors are responsible for include:
Setting the visual style for different forms of media, from magazines to television productions

Delegating creative tasks to other workers while ensuring a uniform style for their project

Hiring talented individuals who will make valuable assets to their creative teams
Generally, art director is a job title earned after several years of experience in the industry. As such, the expected pay illustrates a more managerial salary, which on average can be more than $100,000 annually, according to the BLS.
Get Moving Towards Your Career In The Arts
Studio art degrees can lead to jobs in the corporate, decorating, or even industrial spaces. A degree in studio art can lend creative thinking skills that are lucrative in a wealth of different industries. 
You need to find a program like North Central College's bachelor of arts (BA) in studio art that can help kickstart your career in the field. North Central's BA program emphasizes both traditional creative skills and the importance of presenting art in digital mediums. The program prepares students for a variety of creative careers that are both personally and economically fulfilling. 
Jacob Imm is the associate director of communication in the North Central College Office of Institutional Communication. He has 13 years of collegiate communications experience and has worked with hundreds of college students. He has a bachelor's degree from the University of Notre Dame and a master's degree from Northern Illinois University.
Sources: 
U.S. Bureau of Labor Statistics. (2022, September 8). Arts and design occupations : Occupational outlook handbook. U.S. Bureau of Labor Statistics. Retrieved March 17, 2023, from https://www.bls.gov/ooh/arts-and-design/home.htm 
U.S. Bureau of Labor Statistics. (2022, September 8). Graphic designers : Occupational outlook handbook. U.S. Bureau of Labor Statistics. Retrieved March 17, 2023, from https://www.bls.gov/ooh/arts-and-design/graphic-designers.htm 
U.S. Bureau of Labor Statistics. (2022, September 8). Craft and fine artists : Occupational outlook handbook. U.S. Bureau of Labor Statistics. Retrieved March 17, 2023, from https://www.bls.gov/ooh/arts-and-design/craft-and-fine-artists.htm 
U.S. Bureau of Labor Statistics. (2022, September 8). Interior Designers : Occupational Outlook Handbook. U.S. Bureau of Labor Statistics. Retrieved March 17, 2023, from https://www.bls.gov/ooh/arts-and-design/interior-designers.htm 
U.S. Bureau of Labor Statistics. (2022, September 8). Art directors : Occupational Outlook Handbook. U.S. Bureau of Labor Statistics. Retrieved March 17, 2023, from https://www.bls.gov/ooh/arts-and-design/art-directors.htm