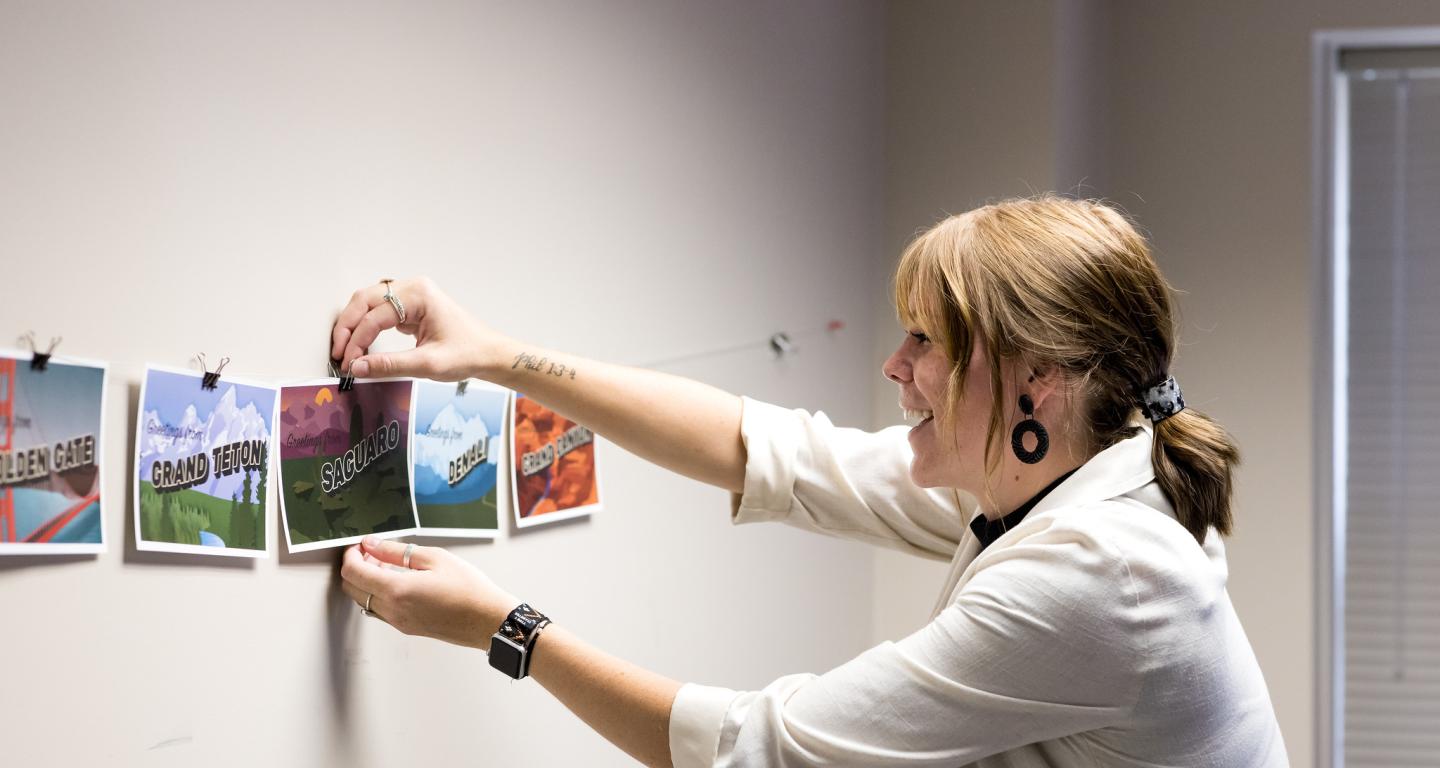 What Do Graphic Designers Do?
Mar 02, 2022
What do graphic designers do?
If you have skills in fine art, an appreciation for visual design and want a creative career, you should explore graphic design as a profession and a major in college. A graphic design career is not limited to a certain industry or career path, but can lead to many roads. This article will discuss what graphic designers do and the types of employers who hire graphic designers. 
What is a graphic designer?
To understand what graphic designers do, it helps to look at the job description of graphic design. Graphic design is the art of visual communication. In a college degree program, you will learn a hands-on approach to design thinking and problem solving through a variety of courses and experiences. Students develop a range of skills in computer technology and an understanding of design principles to improve the visual appearance and function of messages and information.
A graphic designer usually holds an undergraduate graphic design degree and has experience in designing a multitude of projects like print publications, ads, branding, packaging for consumer goods, web design, signage, graphics for video, and any other medium that requires design input. You might ask, "Is graphic design hard?" Read on for advice from pros about this flourishing career field. 
What does a graphic designer do?
Graphic and visual designers create materials to communicate ideas. They develop everything from branding and advertising to systems maps and websites. Many designers work as in-house staff for a business, corporation, or non-profit organization. Designers are also employed by design consultancies that work with a variety of clients who contract the firm for design services on a project-by-project basis. "It's good to try both working environments to see which might be right for you," said David Cordero, assistant professor of art and design at North Central College. 
Graphic designers often combine art and technology to communicate ideas. According to CareerExplorer, graphic designers typically develop the overall concept for a layout and production design for advertisements, brochures, magazines and reports.
In other words, graphic designers oversee the visual aspects of an organization. Graphic designers are important to an organization's message and/or brand, because the content they create may be the first time an intended audience—think potential customer--notices your company. Do you want your audience to learn more about your organization? Attend a special event? Donate money?
If the branding and/or messaging isn't clearly presented and designed, you won't reach your audience. A graphic designer ensures that the branding is well-designed, meaningful, and consistent across all channels. 
Responsibilities of graphic designers include:
Working with other creative team members to produce content for a variety of media. The design process begins with a meeting with clients to determine the scope of a project. 

Establishing a timeline for completion and production flow process. 

Presenting visual concepts of your ideas to the team to gain support for your creative direction. This usually starts with a rough illustrations of design ideas, either by hand sketching or by using a computer program.

Using digital illustration, photo editing software, and design software like Adobe Indesign to create the designs. You might work with a photographer to obtain images and a print vendor to obtain print quotes for your project. 

Then you'll incorporate changes recommended by clients or art directors into final designs.

You'll oversee the review process to ensure that your designs are free of errors before printing or publishing them.
Other responsibilities of your work might include creating brand guidelines for how your typography, logos and images should be used consistently. You'll have input on design choices and your organization's overall "look," either by creating your own branding elements or consulting with an outside agency. 
Why is graphic design a good career?
If you're looking for career success with a graphic design degree, entry level positions are available for graduates with portfolios of their past work and a love of creativity.  According to the Professional Association for Design, here are some areas of specialty for graphic designers:
Book design

Branding

Experience design

Illustration

Motion Design

Packaging

Strategic Design

Typography 
A recent graduate of a four-year university, Brooke Belair, a graphic designer at North Central College, loves the creativity she experiences while working on projects for admission office marketing in higher education.
"Graphic design is an amazing career! Something that I didn't realize until I was working full time is that LITERALLY everything you see has been touched by a graphic designer," she said. "A granola bar wrapper, the social media post you scroll past, the tag on the T-shirt you're wearing--design is everywhere! My favorite thing about being a designer is being able to see what you made on a screen become reality in the real world!"
Are you suited to be a graphic designer?
One of the most important characteristics of a successful graphic designer is the ability to accept input and criticism, said Mary Bass, director of creative services at North Central College. "Be open to constructive criticism. This is huge. You need to be willing to take constructive criticism, even if you think your idea or direction is better. That doesn't mean you shouldn't give your professional opinion, but at the end of the day, you are designing for your employer, they have the vision and you need to design to achieve that vision and make it a reality."
Where do graphic designers work?
Designers go into fields as varied as marketing and advertising to software development, film and television, journalism, and industrial design, according to David Cordero at North Central College. "It's becoming more common for graphic designers to go into web development and motion graphics," he said. "Designers wear many hats wherever they work because the field requires that kind of flexibility. Graphic designers are constantly developing different skills."
If you're wondering what can you do with a graphic design degree, rest assured that a graphic designer job can be found in a wide range of organizations and the job outlook is especially good for designers who can work in digital design. According to Best Degree Programs, graphic designers are in demand in these areas: 
Manufacturing/food processing – In this field, you might be developing the look of a consumer product—combining the right images, wording, and layout to appeal to shoppers looking at packaging, for example. Other graphic designers might be involved with designing a product that looks good and functions well. A graphic designer who works in manufacturing might be called an "industrial graphic designer."

Publishing – Long the traditional career field of graphic designers, you would create the page designs, images, advertisements and logos that appear in printed works like magazines, newspapers and books. Graphic designers create a layout that's easy to read and eye-catching. Good publishing jobs still exist – especially for graphic designers who can design digital media as well as print layouts.

Advertising – In an advertising agency role, graphic designers develop the visual appearance, animations, and motion graphics used in all types of ads. These positions are often referred to as "art directors." 

Computer systems design or UX/UI (user experience and user interface) design careers are areas of growth in the industry.  The UX designer makes a product or service usable, enjoyable, and accessible. The term UX means "user experience" and is most often associated with digital design for websites and apps. Graphic designers who work in computer systems design develop website layouts and the digital media used on those sites.

Specialized design services and freelance graphic designers work means that as a graphic designer, you would be self-employed, designing branding and complementary images for clients in any number of industries needing marketing material. 
The flexibility and versatility of graphic design means that a designer can branch out to become a web designer, a motion graphic designer, etc.
What are some important graphic design skills?
As a director of creative services and veteran of the profession, Bass offers these recommendations for developing marketable skills and staying current in the field: 
Program knowledge. You don't have to be an expert, but you should know your way around Adobe Illustrator, InDesign and Photoshop.

Having some knowledge of UX design or web design is also important. Knowing the rules for designing on the web will make you more versatile as a potential employee.

Stay current. Make sure you are plugged into the design world in some way. Subscribe to Communication Arts or HOW Design. Read blogs, listen to podcasts. Find a way to stay current in design trends. You can bring those to your employer and offer suggestions on how to stay current and competitive using the latest trends.
Annual salary for a graphic designer
According to the U.S. Bureau of Labor Statistics, the annual salary for a graphic design career is $53,000 and the hourly rate for freelance work is $25/hour. Of course, those amounts would increase with experience and proven graphic design skills. 
How to become a graphic designer
So, if you're wondering how to become a graphic designer, it will help to get some type of related degree. Aspiring graphic designers need an undergraduate degree in graphic arts or a related arts field, covering topics like studio art, principles of design, computerized design, production, printing techniques, and UX design. You'll want a graphic design program that provides opportunities to build a portfolio—a collection of your completed work. A portfolio is key to a great graphic design job offer. To build your portfolio while in college, find an organization on campus or a non-profit in your community that needs promotional materials. You'll need to work for free at first to build your samples. Then progress to looking for a campus job in the marketing department and/or an internship. For an entry level position, you want to show a creative director/hiring manager you have the skills and creativity to excel at your work! 
At North Central College, Art & Design department faculty believe it's important to approach their students' education in a comprehensive and multi-disciplinary way. "We prepare our students for their careers by providing a rigorous curriculum that encourages innovative problem-solving, conceptual approaches, critical thinking, collaboration, and community building," said Cordero. "Students learn graphic design software like Photoshop, Illustrator, InDesign, and After Effects among many others. They also participate in a design practicum that provides them the opportunity to work with clients to get real-world experience."
As you research your future education and a career path in graphic design, remember that you want a program that will prepare students for life after graduation--through portfolio building, interview preparation and connecting them to practitioners in the field. 
Laura Zahn Pohl is an editorial director in higher education, with 19 years of experience as a content writer, publications editor and speechwriter. An honors graduate of the University of Iowa School of Journalism, her experience includes corporate communications and freelance reporting for the Chicago Tribune, Daily Herald and Kalamazoo Gazette.
Sources:
https://www.bestdegreeprograms.org/lists/5-industries-that-are-hiring-graphic-designers/
https://www.careerexplorer.com/careers/graphic-designer/ 
https://www.bls.gov/ooh/arts-and-design/home.htm 
https://www.northcentralcollege.edu/program/graphic-design
https://www.northcentralcollege.edu/profile/djcordero