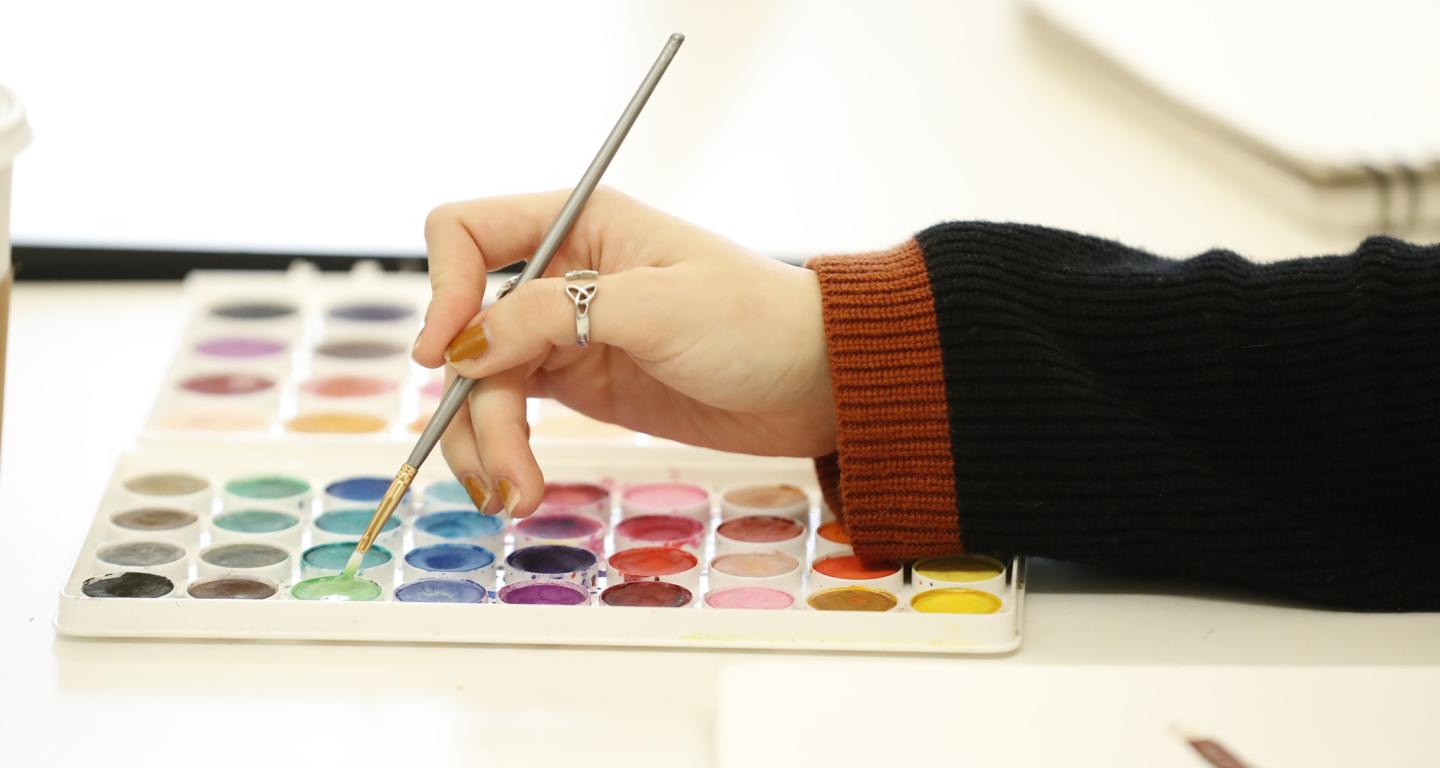 What to Do with a Graphic Design Degree
May 07, 2021
What Can You Do with a Graphic Design Degree? Discover Your Options
For decades, even centuries, there's been a misconception that artistic talent doesn't amount to productive careers. Even though we love artists and their work, too often we assume that only a rare few are destined to find a way to make money with their creative talents.
Hopefully, we have moved past that, at least a little bit, as a knee-jerk reaction. And hopefully, if you are a creative type who likes to do your talking with shapes, colors, patterns, and even three-dimensional objects, you've gotten plenty of encouragement to use those gifts. Because there is definitely a future in it--if you know where to look and the right steps to take.
Graphic designing is a skill rising in demand and opportunity, and there are excellent programs in the field at a variety of colleges and universities. So let's say you are looking to the future, and you want to make a professional life out of graphic design. You probably have some questions like, "What is graphic design?",or you may be wondering how to become a graphic designer. The good news is there are plenty of helpful answers. Before you fill out your online college application, let's take a closer look.
Job Outlook
Certainly, if you're going to make a commitment to a bachelor's degree program, you're worried about what you will get out of it. That means you should think about what graphic design job you want after graduation, even before you take your first class. In terms of careers that involve using a graphic design degree, the only thing limiting you is your imagination. From becoming a web designer to working as a layout artist to making a career out of typography, graphic design has applications everywhere.
According to David Cordero, assistant professor of art and design at North Central College, graphic design skills are on the rise with employers looking to hire recent graduates, opening doors in more and more lines of work.
"What I love about the design field is that it's about creative problem-solving—every project you encounter is a little different than the last and requires ingenuity," Cordero said. "Because of this, more companies are starting to see the value in hiring people with an education in design thinking. Designers go into fields as varied as marketing, advertising, design software, film and television, journalism, and industrial design. It's becoming more common for graphic designers to go into web development and motion graphics. Designers wear many hats wherever they work because the field requires that kind of flexibility."
Sarah McHugh of Creative Boom points out that a graphic design degree can allow you to decide who you want to create for and how. You can make individualized and broad works of art as a muralist, appeal to people's love of having the printed word in their hands designing book covers or wedding announcements, or even put your work in front of huge consumer bases by developing product packaging with a design firm.
"Brands are always on the lookout for new and creative ways to market their products, and as such, require designers to help produce engaging artwork for their packaging," McHugh said. "From drinks companies to confection(s) and toiletries, there's a whole host of opportunities for savvy designers and illustrators to be part of this lucrative industry."
Because the kind of creative work done by graphic design graduates can be very personal and specific to certain media, subjects or audiences, the career path you choose should be most driven by your passions. Do what appeals to you most. That said, if you are interested in the field of graphic design more than any specific kind of job, there are factors to consider.
According to the United States Bureau of Labor Statistics (BLS), certain careers related to graphic design are seeing stronger growth at the moment than others. "Employment of graphic designers in computer systems design and related services is projected to grow," BLS said. "Companies are continuing to increase their digital presence, which sometimes requires graphic designers to help create visually appealing and effective layouts of websites."
So, where do you start looking when it's time to find a place to work in graphic design? Thankfully, experts say the best places to look are relatively easy to access.
Hale Ekinci, associate professor of art and design at North Central College, says to start with the career office at your college or university. They are likely to have not only resources but possibly specific leads on jobs in an area like graphic design, more than you'd find on a general career site or classified section. "LinkedIn is another great tool," she added. "(You should) also join associations like the American Institute of Graphic Arts (AIGA), attend their events and look at their job boards."
What Do You Learn in a Graphic Design Degree Program?
Now that you have an idea of what the market looks like for graphic design careers, you're probably wondering just what they're going to teach you in this graphic design program you want to enter.
Whether you're going for a bachelor's degree, master's degree, or otherwise, design is about a lot more than doodling with a pencil in your notebook or tooling around in Photoshop. While creativity is at the core of the field, it's also about crafting ideas and shaping them to fit a specific purpose after you come up with them. Some of what it takes to succeed in graphic design can't be taught, but it can be practiced, and your graphic design degree program should be where you do so.
"Designers need to be good communicators and collaborators," said Cordero. "They also need to be good at receiving and giving feedback. The work they make will go into the world and be seen by others, so they must advocate for good ideas throughout the ideation process. The power to shape culture is a privilege, and it comes with a lot of responsibility."
Ekinci mentions learning how to effectively work with clients, use design as a means of visual communication, present and defend opinions, manage time and competing projects, and multitask as vital skills each graphic design course should help you develop that will make you look good to potential employers.
As you might expect, tech is an important area on which to focus your interests and practice your skills as a graphic design student.
"Graphic designers are expected to face strong competition for available positions," according to BLS. "Prospects will be best for applicants who keep up with the latest design trends, technologies, and techniques."
The tools themselves are vital, but so is recognizing they can't do the work for you, and that's one of the most important lessons every aspiring graphic designer needs to learn. "Knowing programs like Adobe Photoshop, Illustrator, and InDesign (is) important, but developing a creative process that works best for you is just as important," Cordero said. "Focusing solely on the technology side of design can be a mistake. Technology should always be at the service of your creative process. Because our students will be the future creators of our visual landscape, they need to engage the world with curiosity and criticality."
10 Popular Graphic Design Career Opportunities
After taking in all this information, you may still be asking, "Is graphic design a good career?" That's a complicated question, as it depends on what you are looking for from your career.
Because it is a wide field with a lot of different applications and expectations, hours, and workload can vary across different industries for work in graphic design. Be sure to read descriptions of openings carefully when you're applying to make sure what a company needs fits with what you can handle. It's possible you might feel more comfortable working as a freelance graphic designer, as well, and there should be lots of work for you, if so.
The money you make in graphic design careers has a significant amount of variance. To give you an idea of that range as well as start your list of career ideas, here are 10 of the most popular graphic design positions along with their average yearly salary, provided by PayScale:
Graphic designer—$46,116
Creative director—$88,819
User experience or UX designer—$74,531
User interface or UI designer—$64,127
Production artist—$48,397
Product developer—$63,985
Art director—$68,880
Marketing specialist—$51,560
Multimedia artist or animator—$55,202
Fashion designer—$65,616
If you're less interested in what career paths a graphic design major is most likely to take, there are plenty more unexpected ways to work in design. Here are some more ideas from Sarah McHugh of Creative Boom:
Teacher/Instructor: They say those who can't do, teach. That might not be apt for graphic design, but you may find once you've acquired the design skills that you get a lot out of passing them on and making sure others learn how to design the right way. McHugh interviewed part-time teacher Laura Weldon, who said, "It's such a great process to be part of—we have students come in that have never used a Mac before, and they graduate with the skills to be a designer. It also keeps me on my toes and gives me a fresh perspective on things as I am surrounded by 22 students that have completely different outlooks."
Letterpress printer: The printing press was the invention that brought the written word to the masses and revolutionized the media in ways we still feel today. Because of that, many graphic design "nerds" dream about the chance to work with a printing press. It's very possible, as specialty letterpress printing companies exist, and working with a letterpress today involves a combination of computerized design and manipulating artwork by hand with ink and paper. Training takes many years, but those who do it say the hard work is definitely worth it.
3D illustrator: Along the same lines as letterpress printing, 3D illustration involves adding depth to hand drawn hand-drawn designs to create artwork that mimics the depth and texture of physical objects. To do it, you have to be able to understand how and why things look the way they do outside of the digital sphere, as well as how to replicate those qualities with a computer. It's a melding of old and new forms of art. "Rather than opt for a career that fully encompasses traditional skills, 3D illustration can be a happy medium between this and focusing on contemporary computer processes," said McHugh.
Sign painter: Another job that designers hold up as a fantastic vocation from a simpler time is sign painting, which is highly valued and takes a lot of skill. Hospitality-related businesses like restaurants and hotels often rely on expert sign painters to distinguish themselves in crowded markets. Painting images and especially letters by hand takes a lot of patience and practice, but the final product is often unlike anything else.
Surface Pattern Designer: Much like fashion design, surface pattern design is great for those who are tired of using app windows and blank paper as a canvas. According to designer Elizabeth Silver, "Surface pattern design is the act of creating art for the surfaces of mass-manufactured products. As the name suggests, in its most true form, this is primarily artwork that repeats in a pattern. For example, wallpaper, wrapping paper, upholstery, quilting fabric, apparel fabric, and floor coverings." Designing surface patterns lets you add another dimension to your creativity by manipulating fabric, allowing shape, texture, and light to play bigger roles in your work.
Game designer: Yes, of course, we had to get to creating your own video games as an actual job. Game design, at its core, is about learning advanced computer programs and using them to create complex images that react to each other in real time. But don't be too intimidated—once you know the basics of motion graphics and layout, it all comes back to how you can use imagery to build satisfying repeated actions, tell stories, and create emotion. McHugh spoke with award-winning game designer Vanille Cuvelier, who created the mobile game Shillorun despite not having any game design experience. Cuvelier said, "Creating a game is straightforward once you get the hang of how rules, (behaviors) and attributes work."
Email marketing designer: Email marketing isn't always fun when it's clogging up your inbox, but it's undeniably an important tool for any company or organization to advertise their products. So, if you're annoyed with marketing emails, why not apply your skills to improve them? Companies contracted to create email campaigns are always looking for talented designers who know how to draw the eye and get users to click.
Start on Your Graphic Design Career Path
Whatever career you pursue, the all-important first step is finding a graphic design school with a program that can give you the skills and expertise you most need. Look for a program like the one at North Central College. North Central's program offers a broad range of courses taught by faculty with extensive industry experience. The curriculum emphasizes conceptual, formal, and technological skills as well as a focus on strong communication to help connect designers and clients. Features of the program include studying abroad, internship opportunities, industry-standard technology in professionally designed lab space, and plenty of opportunities for hands-on experience alongside the design theory. Go to North Central's graphic design school in Chicago to find out more.
Jacob Imm is a communications specialist in the North Central College Office of Marketing and Communications. He has 10 years of collegiate communications experience and has worked with hundreds of college students. He has a bachelor's degree from the University of Notre Dame and a master's degree from Northern Illinois University.