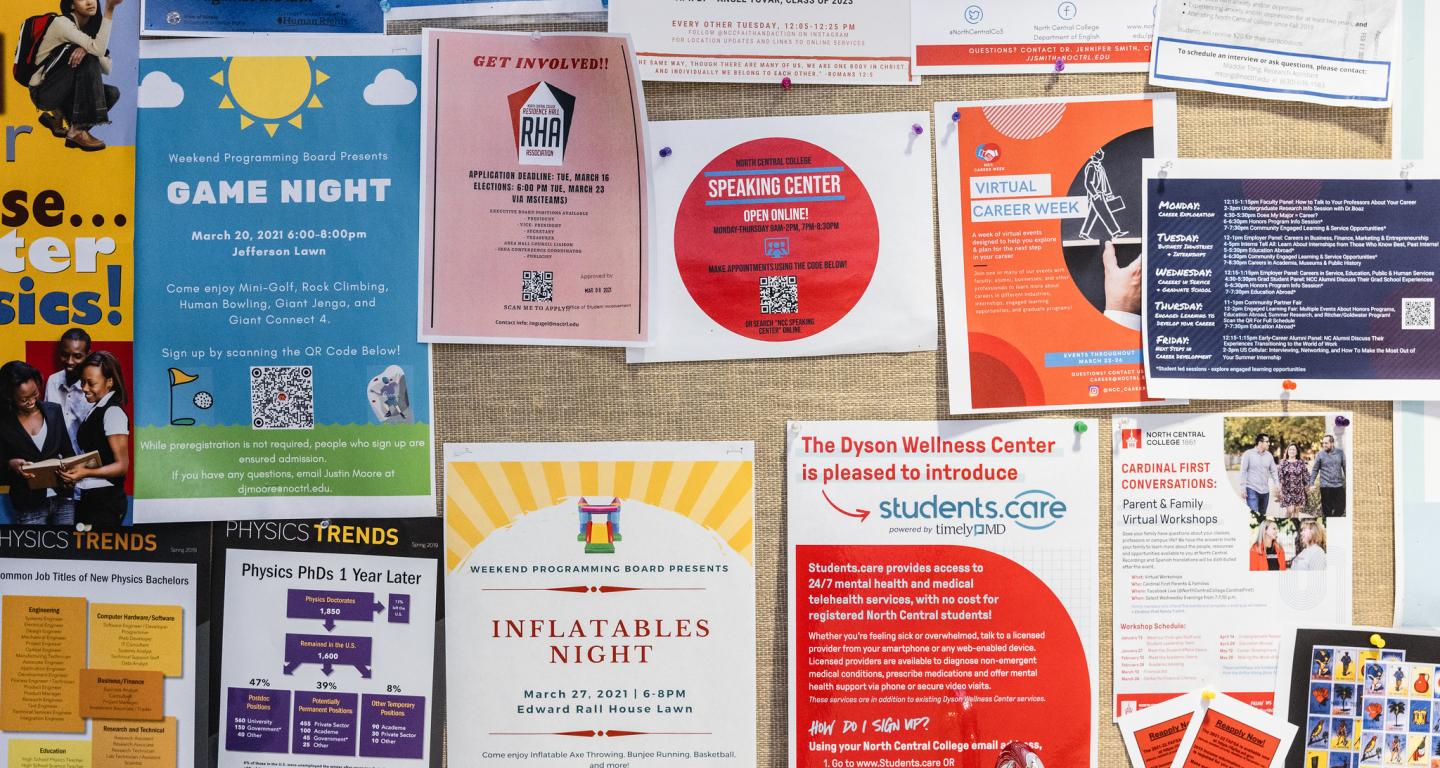 What is Graphic Design?
May 05, 2021
When you hear the words graphic design, what comes to mind? A detailed website? An eye-catching billboard? A personalized business card? If you thought of any of these, that is correct. While these all fit under the definition of graphic design, they are only a few of the many examples. From print to web design to motion graphics, the list of what graphic designers create goes on and on. If you are interested in learning how to become a graphic designer, you have come to the right place. Whether you are in the process of visiting colleges or completing your online college application, keep reading to receive an overview of what graphic design entails and if it could be the right fit for you.
What is Graphic Design?
According to Britannica, "Graphic design is the art and profession of selecting and arranging visual elements—such as typography, images, symbols, and colors—to convey a message to an audience." In other words, graphic design is a way to communicate visually and leave a lasting impression. To most, graphic design is not a foreign concept but a massive part of our daily lives. Interactions with graphic design can be as simple as spotting a business logo during your commute to work or scrolling through Instagram in your free time.
 
Even if we don't recognize it, we take in the visuals and messages from designers and their work. These designs can ultimately influence our perceptions each day. This high amount of exposure is why almost every company utilizes graphic design to promote and market what they are selling. Companies can better connect with their consumers through the content while conveying the idea of their product or event.
"Designers need to be good communicators and collaborators. They also need to be good at receiving and giving feedback," stated David Cordero, assistant professor of art and design at North Central College. "The work they make will go into the world and be seen by others, so they must advocate for good ideas throughout the ideation process. The power to shape culture is a privilege, and it comes with a lot of responsibility." In addition to the graphic designers' power to shape culture, they also have the freedom to create work for themselves as an artistic expression.
Graphic Design Basics
If you enrolled in an introductory graphic design course, a professor would likely begin the first lesson by breaking down a design's fundamental parts. To better understand the design process, it is essential to understand the factors that make up a design. Some of the design elements include:
Space
Balance
Hierarchy
Lines
Shapes
Color
Typography
Texture
Branding
While space, lines, and shapes are simple concepts, getting them to work together in a digital design can often be complex. Whether you are creating a logo or website design, each is a building block that plays a crucial role in the final product.
Types of Graphic Design
When asking yourself, "Is graphic design a good career?" or "What can you do with a graphic design degree?", remember there are various fields and specializations you can enter. Since graphic design is the art of communicating visually, it can be displayed through print, digital, and everywhere in between. Whether that is designing websites and mobile applications, pamphlets and brochures, or an item's packaging, graphic design career opportunities are available no matter an individual's interests and design skills.
Over the years, the notions surrounding graphic design have changed. In today's world, where technology plays a massive part in our daily lives, companies are starting to focus fewer efforts on print and more on digital. Technological advancements have ultimately paved the way for new graphic design areas that require a specific set of skills and design techniques. Below, there are types of the graphic design listed to provide more context regarding the different areas and what each entails. Some of these areas include:
Brand identity and visual identity help bring life into a story or narrative through colors, images, and shapes.
Advertising and marketing design means strategically creating ideas that resonate with a target demographic.
Digital or web design encompasses anything viewed on a screen.
Product design is the process of creating an image or design for a product in the market.
Publication design deals with the editorial composition of books and magazines.
Package design aims to find the proper visibility of a product.
Typeface design is experimenting with the art of lettering.
Motion graphics design uses visual effects, animation, and other cinematic techniques to bring their work to life.
Common Graphic Design Jobs
From entry to mid to senior level, there is a wide array of graphic design jobs to choose from in the workforce. With new and exciting technological advancements, unique graphic design jobs have emerged, ultimately changing the entire landscape of careers.
"Designers go into fields as varied as marketing, advertising, software, film and television, journalism, and industrial design," stated Cordero. It's becoming more common for graphic designers to go into web development and motion graphics. Designers wear many hats wherever they work because the field requires that kind of flexibility."
While the demand for traditional graphic designers in print has gone down, digital graphics and imagery have increased, creating new workforce jobs. Some of the new, as well as standard graphic design jobs, include:
Animation/Animator
Art Director
Business Strategist
Creative Director
Freelance Graphic Designer
Graphic Designer
Logo Designer
Multimedia Artist
Product Designer
User Experience (UX) Designer
User Interface (UI) Designer
Web Designer
From this list, you can see a wide array of job functions and fields related to graphic design. Of the many titles above, a freelance graphic designer may stand out from the rest. This job differs from the rest as it offers freedom and flexibility that a traditional 9 to 5 job does not have, making it a popular choice for some individuals. In this case, a freelance graphic designer could potentially work on projects for several clients and companies. However, if you do not desire to be a freelancer, there are plenty of other graphic design positions to choose from that match different interests and design skills.
Popular Graphic Design Tools
With a better idea of the basics of graphic design and what kind of jobs there are for designers, it is crucial to go over the tools designers use daily. When it comes to specific devices or programs that graphic designers should be committed to learning, the first and often most important is not one that you can purchase.
"Knowing programs like Adobe Photoshop, Illustrator, and InDesign are important, but developing a creative process that works best for you is just as important," stated Cordero. "Focusing solely on the technology side of design can be a mistake. Technology should always be at the service of your creative process." As a future creator of our visual landscape, exercising your creative process as much as you can is essential. Keeping a journal or drawing pad is a great way to brainstorm new ideas and concepts. Sketching out ideas can also help create a rough draft to follow when completing the final design on a computer.
Graphic Design is Emotional Design
As creators of our everyday visual landscape, graphic designers have the power to create work that moves us. The graphic design basics we discussed earlier, such as space, color, and typography, can appeal to our emotions differently. For instance, more formal fonts and darker colors can evoke a more serious tone. On the opposite side, playful fonts and brighter colors can convey a lighter, fun tone. Through these design basics, graphic designers can elicit specific reactions from viewers.
What Do Graphic Design and UX Design Have in Common?
Before looking at what graphic design and user experience (UX) design have in common, it is essential first to define UX design. UX design refers to the factors that affect a user's experience with a digital product. In most cases, an experience can be judged by if the product provides value, functions well, is easy to use, and provides an overall pleasant experience. When it comes to graphic design and UX design, both require creative thinking and emotional communication skills. Similar to the process graphic designers utilize, a UX designer also focuses on finding the proper typography, colors, and overall appeal of the product users will interact with when completed.
What is User Experience and User Interface Design?
As mentioned previously, UX design is creating and applying a user-friendly design approach to meet users' needs from their first interaction to their last. On the other side, user interface (UI) design focuses explicitly on the visual design of interactive elements, such as drop-down menus, button styling, color schemes, and animations. To many individuals, UX and UI design are seen as the same thing or something quite similar. While both are crucial to a product's function and effectiveness, that is not always true. A UX designer goes beyond what is looked at on the surface to design the specific functions of the digital product's visuals. UX design is different from UI since it focuses on the logic and structure of the elements you see and interact with within the product. In contrast, UI aims to visually guide a user through a product's interface by carefully curating the buttons, spacing, icons, typography, and much more.
UI Design Patterns for Successful Software
After learning more about UI design, understanding what UI design patterns are and how they can impact a user's experience is also advantageous. When we first visit a website and get lost, this frustrates us. We get frustrated that things are not where they usually are or where it would make the most sense for them to be. If several individuals share a similar experience on the same website, the UI designers likely did not choose the correct design pattern. UI design patterns are how structure and order work together to make a powerful and efficient user experience. Therefore, choosing the right pattern is essential to achieving maximum usability and enhancing the user experience.
Create Your Future in Graphic Design
After reading through an overview of graphic design, it is clear to see that you can tailor your career around your skills and passions. There is no one direct route to take as a designer but a multitude to choose from when charting your path. By developing and establishing your creative voice and style, you can leave a lasting impression on others through work that is true to you.
Learn More about Graphic Design
If you are interested in learning more about majoring in graphic design, take some time to explore different College websites and programs. For instance, students enrolled in North Central's graphic design program have access to cutting-edge labs dedicated exclusively to graphic design majors and minors and work with expert faculty in the field. Students also have the opportunity to gain hands-on experience by working at the student-run Design Agency. There, you can create designs for on and off-campus organizations to receive valuable client experience. You can count on North Central College to help you discover the right path for you as a student and in your career.
Kara Kots is a social media specialist at North Central College, where she contributes her content, writing and communication skills.