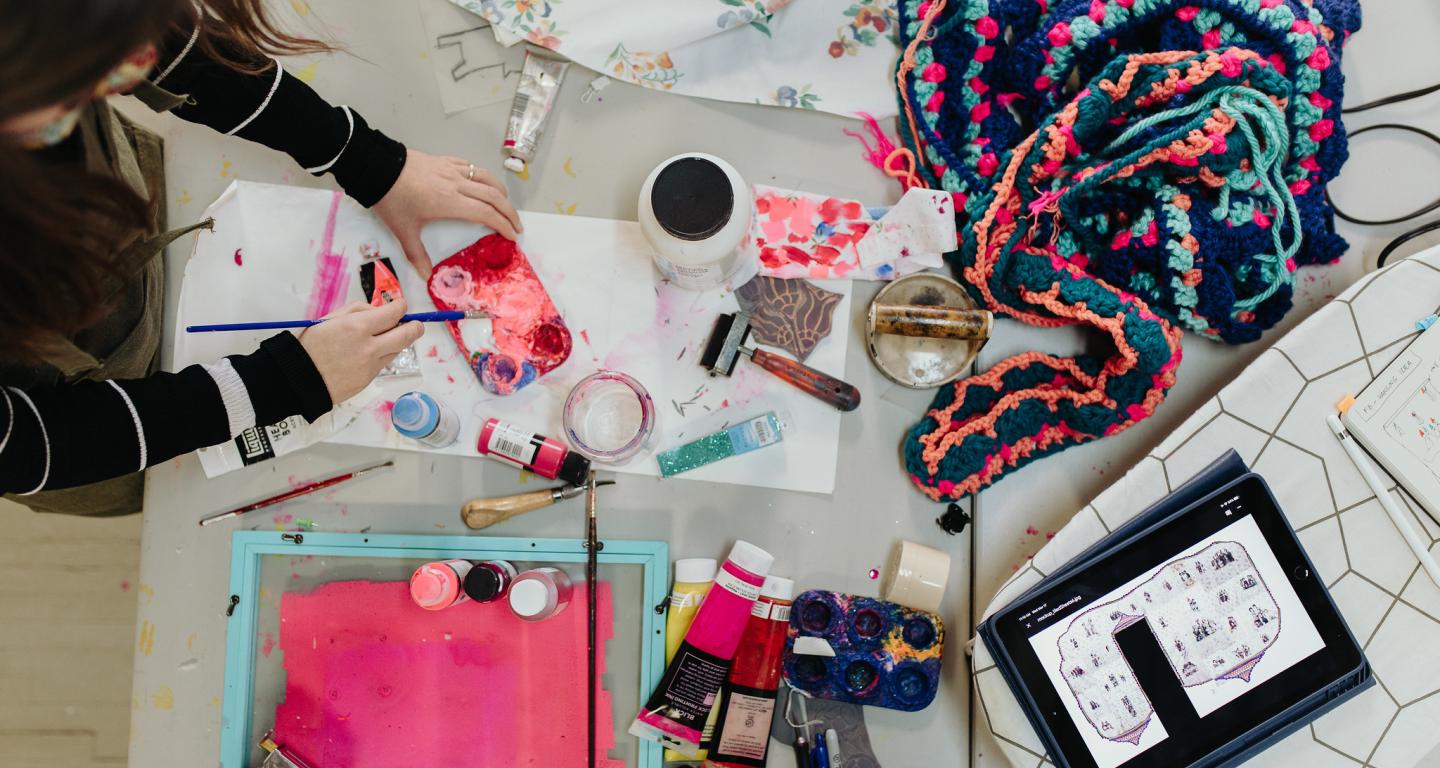 Is Graphic Design a Good Career?
Reviewed by Jacob Imm
Jun 16, 2021
Is Graphic Design a Good Career?
If you're considering a career in graphic design, there's a good chance you may have some questions like, "What is graphic design?", how to become a graphic designer, and "What can you do with a graphic design degree?" It's important to understand the variables involved in this creative and rewarding field, from expected salaries to industry growth—and the skills that can give you an edge.
Developing a career in graphic design will take time, especially with respect to earning a relevant degree and accruing professional experience. Before you dive in, we're here to answer the question: "Is graphic design a good career?"
Hint: it absolutely is.
Careers in Graphic Design
Graphic design is a diverse field. Graduates who earn a graphic design degree can pursue a number of different positions in the professional world, including:
Web designer – Graphic designing is a crucial aspect of website development. Many graduates use their computer graphics skills and artistic ability to create the layout, pages, and even the coding for high-quality websites.
Photo editor – Many  graphic design graduates go on to use their Photoshop talents to become tech-savvy photo editors. A background in art can also lend important skills to this visually-driven job.
Brand designer – These designers create logos and other visual design elements to build a brand identity. This position requires strong illustration and marketing skills and focuses mainly on developing a company's visual identity  to make it recognizable to consumers.
Digital artist – As a digital artist, you may be employed by a company's creative team or work as a freelancer selling individual pieces to customers and clients. Digital artists produce a variety of work, including magazine covers, billboards, and the newly-popular NFTs (non-fungible tokens).
Architecture drafter – Architects often employ graphic designers to develop artistic renderings for future projects. This gives team members, supervisors, and investors a better sense of the final product.
Animator – Some graphic designers go on to pursue careers in animation. Animators can be hired for television shows, movies, commercials, and advertising.
How Much You Can Expect to Make as a Graphic Designer
Today in the U.S., the average graphic designer salary is $46,116. Specific salaries  depend on a number of factors, including experience.
For example: A graphic design intern earns an average of $25,291 per year, while a senior graphic designer salary can be up to $83,312. This number increases even more for creative directors, whose average salary is $108,833.
Your geographic location  can also make a significant difference in salary. San Francisco has the highest average salary for graphic designers at $77,940. New York City is another high-paying city, with an average salary of $65,430.
Industries in Need of Graphic Designers
The demand for graphic design professionals is on the rise in a variety of industries. This is predominantly due to the increased importance of digital marketing, website design, and brand recognition. Companies need strong digital presences with attractive design elements, and the following fields are catching on and hiring more graphic design professionals:
Advertising
Printing and publishing
Multimedia
Social media
Television and broadcasting
Projected Growth for the Graphic Design Field
Positions in the field of graphic design are predicted to grow by 7% overall in the next few years, but that figure will differ dramatically depending on the specific industry you choose. Careers in graphic design usually fall into one of two categories:
Digital graphic design – The field of web design and computer graphics is expecting to grow by 30% in the next 7 to 10 years, creating a strong job market for tech-based designers. Experts also predict that careers in mobile advertising and video editing will rise up to 21% by 2024.
Print-based graphic design– Job openings in print publishing are expecting a 5-10% decline over the next decade, due to strong competition from digital media.
Graphic design is a field that's always evolving with the development of new graphic design software, changing art styles, and a push toward social media marketing. As a graphic designer, you'll need to stay current with trends in technology  and work within the ever-changing industry standards in order to advance your career.
Advancing Your Career as a Graphic Designer
A newly graduated graphic designer may start in a junior or assistant position, or even as a freelance graphic designer. Once you have enough experience under your belt, you may be able to advance into leadership positions, like:
Creative director
Art director
Senior design manager
Senior director of design
Professor of graphic design (You'll need at least one advanced degree to teach graphic design)
Skills Needed for Graphic Design
Employers will look for you to demonstrate more than just undergraduate degrees or proficiency with the right computer programs. You will need to think about how to demonstrate you can be a good employee, just like in any other job. Some of the most important skills needed to work in the graphic design field include:
IT skills
Organizational skills
Problem-solving
Time management
Attention to detail
Ability to follow trends and social media
Creative mindset
Start Your Graphic Design Career
The most important step in your graphic design career is choosing the right school. That's why you should look for a school with an excellent graphic design program, like North Central College.
At North Central, students gain the knowledge and skills needed to succeed in graphic design. From high-tech software to industry-standard hardware—as well as access to  internship opportunities and the chance to get professional experience at the College's in-house Design Agency—graduates are thoroughly prepared to join the workforce after completing the graphic design program.
Take the first step toward your future, and learn more about the graphic design major at North Central College.
Jacob Imm is a communications specialist in the North Central College Office of Marketing and Communications. He has 10 years of collegiate communications experience and has worked with hundreds of college students. He has a bachelor's degree from the University of Notre Dame and a master's degree from Northern Illinois University.