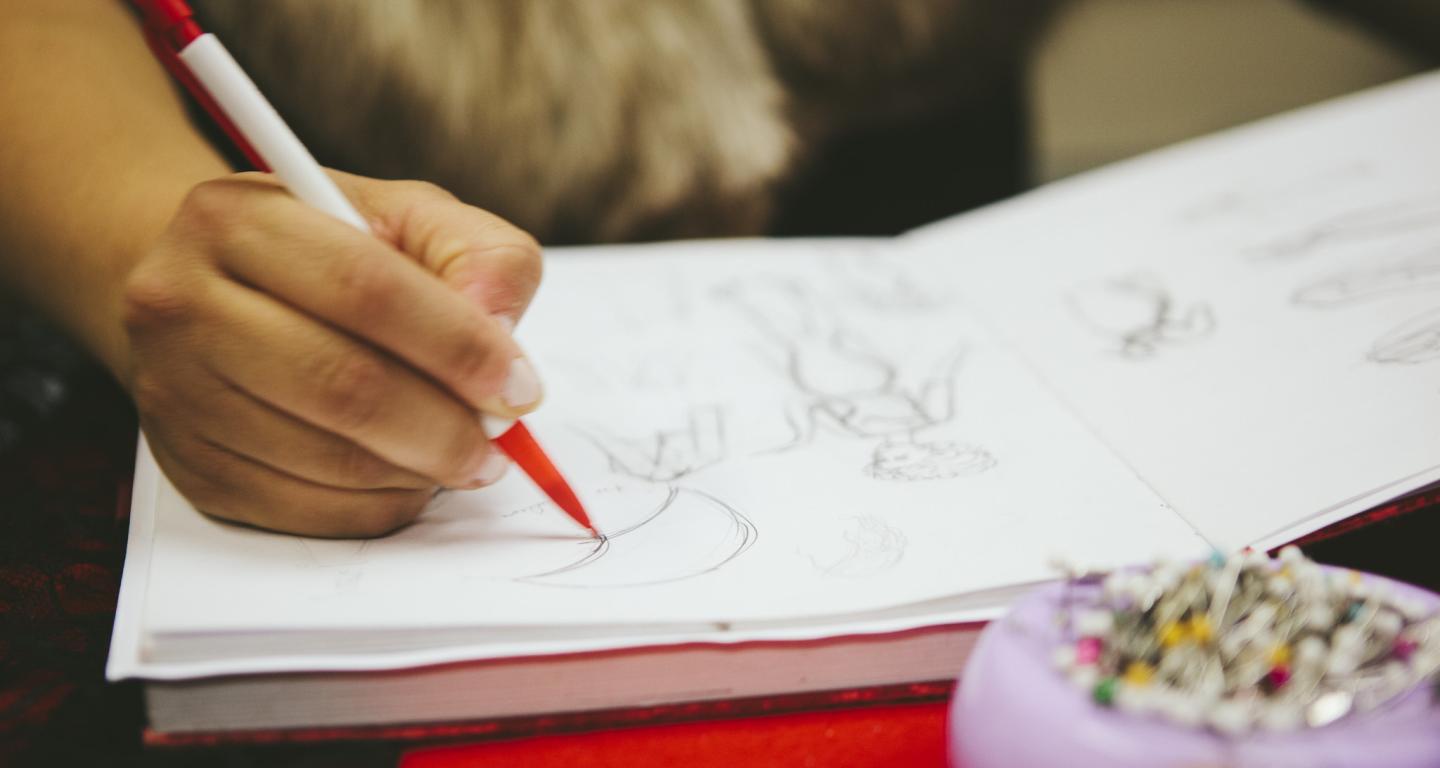 How to Become a Graphic Designer
Reviewed by Jacob Imm
Jun 11, 2021
How to Become a Graphic Designer
Do you have a passion for visual or fine arts? Does a career in technology, advertising, or marketing sound interesting to you? If you answered yes, then graphic design may be the field you're looking for. Graphic design is a budding industry, with more and more companies looking for qualified professionals in the field. If you're completing your online college application and trying to figure out how to become a graphic designer, then this guide is for you.
You probably have questions, like "What is graphic design?", "Is graphic design a good career?", and "What can you do with a graphic design degree?"
From education to experience, we've outlined everything you need to know about how to become a graphic designer.
Becoming a Graphic Designer Starts With The Right Education
Graphic design is a growing field. If you're interested in an artistic career that values the importance of technology, then this is ultimately the path for you.
Completing your education and gaining experience are important steps to becoming a graphic designer. As time goes on, you'll develop a unique style, learn how to use new programs, and climb your way up the professional ladder.
Succeeding in graphic design is attainable if you put in the work. Don't be afraid to take chances, practice your design skills, and discover new aspects of this exciting field.
The best way to start? Getting an excellent undergraduate education.
Earn Your Degree
It's not enough that you learn graphic design. Employers prefer graphic design candidates with college degrees in the field. While an associate's degree may be enough in some cases, a bachelor's degree typically leads to more job opportunities and a higher starting salary.
Here's what an undergraduate graphic design program will entail:
Coursework
Graphic design course curricula should focus on both the technical and creative aspects of this field. For example, at North Central College, students complete a well-rounded curriculum that includes courses like:
Visual Literacy
2D Design
Digital Art
3D Design
Photography
History of Design
Professional Practices
Animation
Video Production
Web Design
History of Design
Graphic Design I: Typography
Graphic Design II: Methods and Materials
A broad liberal arts degree can also lend valuable skills to those pursuing a career in graphic design. Taking courses in business, marketing, or creative writing are just a few examples of ways you can expand your education and better prepare to become a successful graphic designer.
Internships
Internship experience is another way to get the most out of your graphic design major. Graphic design internships will help you gain knowledge of the professional world, bulk up your resume and portfolio, and make valuable connections in the field.
You should consult with the career department at your university to  find applicable internship opportunities in the graphic design world. Students may gain experience by interning in a variety of fields, such as:
Label printing companies
Photo development companies
Product development companies
Publishing houses
Consumer product manufacturers
Web design companies
Video game developers
In-house graphic design agencies
At North Central College, graphic design students have interned at a variety of local and nationwide organizations. Just a few examples include Kellogg's, Weblinx, and FELD Entertainment.
Certifications
In such an artistic field, you may be surprised to learn that many graphic design positions require certifications. This is mainly due to the fact that graphic design professionals are expected to use a number of types of graphic design software in their line of work.
Employers want to see that candidates are competent in these programs, thus requiring certifications in programs such as:
Adobe Photoshop
Adobe Illustrator
Adobe InDesign
Autodesk 3ds
Omg Uml Professional
Google AdWords (for SEO-based content)
Professionals may also receive more general certifications, such as:
Advertising Design Certification
Animation and Motion Graphics Certificate
Certifications are typically earned after you've graduated from an undergraduate graphic design program. These short courses can be taken online, and most will require a final test and a fee.
Experience
In addition to an internship, a higher-level graphic design job may require a certain level of post-graduate professional experience. Entry-level positions may include junior professional graphic designer, graphic design assistant, and freelance digital artist.
Once you've gained some experience in graphic designing, you'll be able to earn higher-level titles such as:
Senior digital design manager – As a senior digital design manager, you'll be in charge of overseeing junior designers, making final calls on projects, and critiquing work at every step of the process.
Brand designer – As a brand designer, you'll be in charge of the creative process from beginning to end. Your vision will be placed at the forefront of the project, and you will work directly with clients to develop a strategic branding plan.
Creative director – Creative directors work at the senior level of management in a variety of media fields, such as music, advertising, film, and television production. As a creative director, you'll need a diverse portfolio and a unique style that qualifies you to lead a design team.
Art director – Art directors work in many different fields, including animation, fashion, and video game development. As an art director, your job will mainly revolve around digital illustration, concept art, and leading the artistic team on projects from start to finish.
Graphic designers should also develop a diverse portfolio to show employers their artistic range. A proper balance of education, experience and artistic abilities should come through when presenting your resume and portfolio to potential employers.
Skills Needed for Graphic Design
Graphic design is a multifaceted career path. If you're looking to succeed in this artistic industry, there are certain strengths that can make the process much easier. When pursuing a graphic design job, you should expect employers to be looking for particular attributes and think about how you can show you have them. They include:
Tech savvy
Imagination and creativity
Research skills
Communication skills
Problem-solving
Through education and professional experience, these graphic design skills can be honed and sharpened as you advance in your career. As you learn, reflect on your experiences and think about how you can use them as examples to share in job interviews. It's also important to keep up with changes in trends, technology, and marketing to prepare for interviews and meetings with clients.
Careers in Graphic Design
Graphic design is an extremely diverse field, with a number of different options for graphic design jobs. A graduate with a graphic design degree may find themselves working as a freelance graphic designer, or in-house designer employed by a single organization.
Some of the most common specialties within graphic design include:
Typography – Typographers work with and develop fonts for written pieces, such as magazine covers, websites, billboards, and more.
Desktop Publishing – As a desktop publisher, you'll be in charge of the layout and structure for written work. This could apply to print publishing or web design, depending on the organization.
Branding and Advertising – Graphic design graduates often go on to work in the field of branding and advertising. This specialty involves creating art for digital or printed ads and developing the visual elements of a company's brand.
Email Blasts and E-Newsletters – Email blasts and e-newsletters are often filled with artistic elements. Graphic designers use digital software to create these documents for organizations and businesses.
Interface and User Experience (UX) Design – Graphic design professionals may work on the visual or even functional elements of websites and computer programs. The choices you'll make when working with interface and user experience can range from color palette to coding.
Web Design – As a web designer, you'll be put in charge of creating a client's website from scratch. Responsibilities for this position involve developing the coding, graphics, and layout for a web page.
Product Packaging and Design – Corporations may use a graphic designer to develop packaging and visuals for a variety of goods at multiple stages of production.
Book Design – Publishing houses often hire graphic designers to create digital art for book  covers and illustrations.
Logos – Many graphic designers help develop logos for companies, either as freelancers or in-house artists. graphic design agencies also work with a variety of clients to develop logos and other forms of branding.
Cross-Media Marketing– As a graphic designer, you may be hired by a client to develop cross-media marketing strategies. From print and billboards to social media, these marketing campaigns should be cohesive and far-reaching.
Earn Your Degree in Graphic Design
The right educational degree program can make a major difference in your graphic design career. A good graphic design program will focus on the technological, artistic, and professional skills needed to succeed in this field.
Look for a program like the one at North Central College, which strives to prepare graphic design students for a bright future. At North Central, graphic design majors will have access to Mac and PC graphics labs, industry-standard hardware, and hands-on experience at the school's Design Agency as well as through their partnership with the Art Institute of Chicago.
Students can also take advantage of internship opportunities through the school, and bulk up their resume with relevant experience that employers want to see.
Start your graphic design career on the right foot, and learn more about North Central College's graphic design program today.
Jacob Imm is a communications specialist in the North Central College Office of Marketing and Communications. He has 10 years of collegiate communications experience and has worked with hundreds of college students. He has a bachelor's degree from the University of Notre Dame and a master's degree from Northern Illinois University.