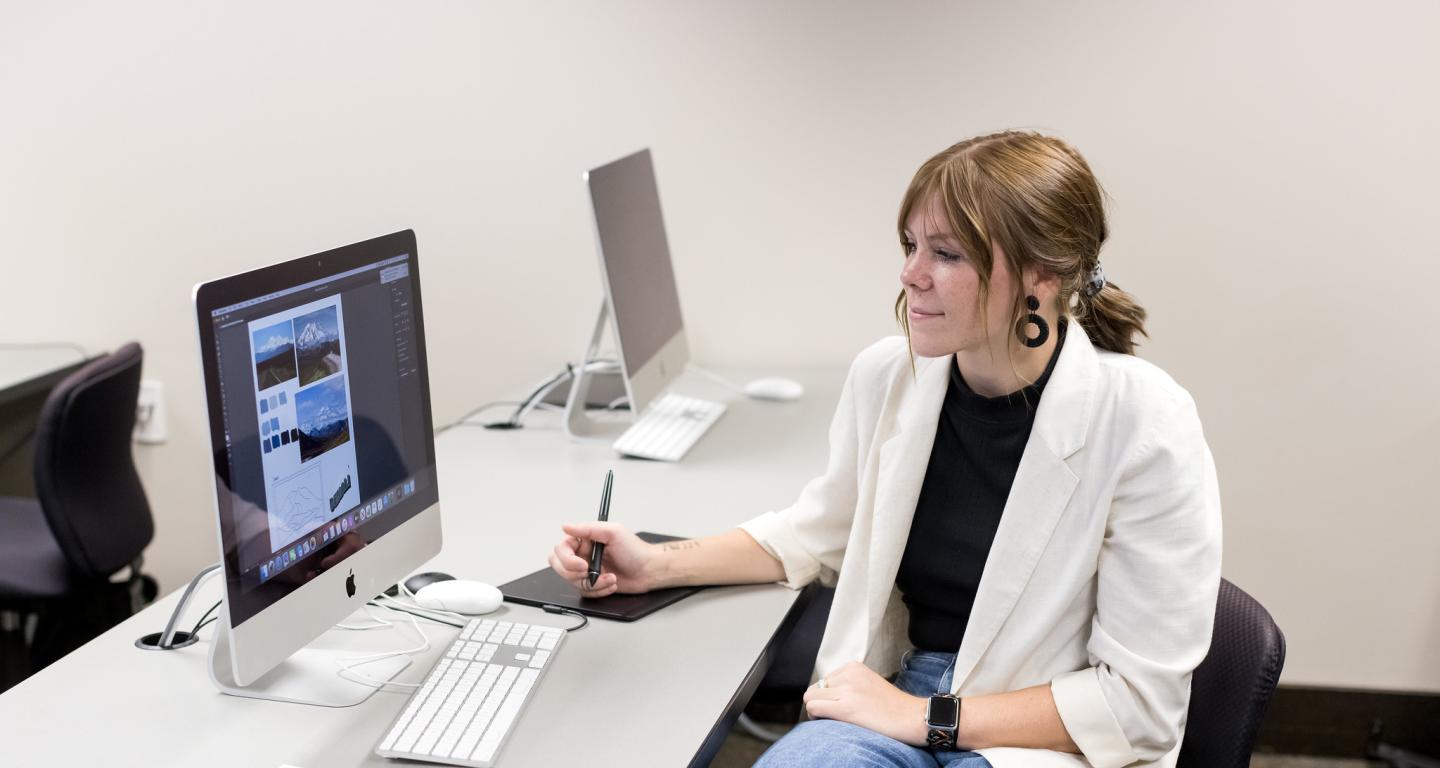 Is Graphic Design Hard?
Mar 04, 2022
Is Graphic Design Hard?
If you are interested in communicating in visual mediums, working with cutting-edge computer programs, and bringing creative ideas to life, then a degree in graphic designing might be for you. The field of graphic design is one made for those with a sense of creativity, a passion for producing effective solutions for real-world communication problems, and the dedication to learn the latest design tools and software. To see if it is the right path for you, keep reading to learn more about graphic design and how you can succeed in the field.
How to Become a Graphic Designer
The path to becoming a graphic designer can be challenging yet is highly rewarding. Everywhere you look, the work of graphic designers, whether created using computer software or by hand, is on display. From advertising to entertainment to news, graphic designers are needed to create a wide array of materials to communicate ideas through print publications (magazines, newspapers, brochures), digital and broadcast media (television, websites, and social media platforms), and much more. As a graphic designer, you can find yourself working for a business, corporation, non-profit organization, or as a freelance graphic designer. If this sounds interesting to you, read on for five steps to becoming a successful graphic designer. 
Find a Degree Program
The first step to becoming a graphic designer is finding a degree program that best aligns with your academic and career goals. For instance, students choose the graphic design program at North Central College to develop a comprehensive set of design skills by working in a full-scale lab equipped with cutting-edge, industry-standard hardware and software. Similarly, students can build a robust professional network by working alongside industry experts and gaining hands-on experience at the student-run Design Agency creating designs for on and off-campus organizations while getting valuable client experience.
Since North Central College is part of the University Partner Program offered by the Art Institute of Chicago (AIC), students have the unique opportunity to gain admittance to the AIC free of charge with their identification cards. With this opportunity, they have access to lectures, educational programs, and other special events within the Chicagoland area. 
Learn Graphic Design Principles
Throughout the time you earn your degree, you will take various courses to develop your graphic design knowledge and skills. While possessing a creative mindset is beneficial, it is not everything you need. Having a solid understanding of design principles and theories will allow you to better plan and execute your ideas. Not to mention, it will help you bring all elements of a design together, such as shapes, colors, spaces, forms, lines, values, textures, and typography. Each of these elements can affect the outcome of the design and how it informs, inspires, or captivates an audience. 
Practice in Graphic Design Programs
After you learn graphic design principles, it is time to test your knowledge. While graphic designers use a variety of programs, software, and tools, most work within the Adobe Creative Suite. The software that graphic designers frequently work with includes Adobe Photoshop, Adobe Illustrator, and Adobe InDesign. While these programs might seem daunting at first, plenty of tutorials and resources are available to help you get started. 
Work on Projects to Develop Your Skills
Once you are well versed in graphic design principles and software, spend time practicing what you have learned. "The best way to grow your skills and master graphic design software is to work on your own design projects," stated Brooke Belair, graphic designer at North Central College. "To get started, you can create mockup ads and logos for real or made-up companies. You can also take a company's existing designs and try creating a new design — this is good practice for identifying and designing for target audiences." 
Start Building Your Portfolio
After you have worked on several projects, you can start to build your portfolio. In graphic design, a portfolio is a visual representation of the work you have created so far that showcases who you are as a designer. It displays your graphic design personal style and skills and gives employers an idea of what you can do. If you are unsure where to start, reach out to a faculty member, Office of Career Development, or even alumni from the graphic design program for some guidance. 
Is graphic design a stressful major?
As a graphic designer, you have the opportunity to inform, inspire, and captivate an audience through visual mediums. In most cases, the ideas you visually communicate will be subject to feedback and will need to be completed by a specific deadline. While these factors may be stressful at first, over time, you will learn how to manage your time, implement feedback, and meet deadlines with ease. Although there are guidelines to follow, graphic designing sometimes can mean adding your own creativity, which some find to ease their stress.
With these challenges in mind, the graphic design program and faculty at North Central College prepares students and helps set them up for success right from the get-go. "Our department stresses the value of being multidisciplinary," stated David Cordero, assistant professor of art and design. "We want our students to approach problem-solving with a variety of tools at their disposal. The more skills you have, the easier it is to pivot in an ever-changing world."
Is Being a Graphic Designer a Good Career?
Understanding what graphic designers do is a vital part of deciding whether to follow the career path or not. Graphic design is an excellent career choice to unleash your creative side and make a lasting impact through visual communication. Everywhere you look, graphic design is present. From your cereal box in the morning to the advertisement you see on your social media feed at night, it is present in almost all aspects of life. According to the U.S. Bureau of Labor Statistics, around 23,900 job openings are projected to become available for graphic designers each year, on average, over the next decade. This comes as no surprise as almost every company or business utilizes the expertise of graphic designer to market to their target audience and stay competitive. 
How Do You Find Your Specialty?
There are various specialties you can learn when it comes to graphic design. Finding the right one for you often depends on your interests and passions. Having a specialization in your toolkit can help you stand out among employers. "College is the perfect opportunity to expand what you know and to discover new things about yourself," added Cordero. "Students have the opportunity to take a wide array of courses, from printmaking and motion graphics to web design and typography. They can also advance their design practice through independent studies and internships."
Is Graphic Design Hard to Learn?
In the beginning, learning graphic design will likely be challenging. However, once you have a solid foundation of knowledge and skills, it becomes easier and eventually becomes secondhand. Like most fields, graphic designers will need to keep practicing and experimenting to improve their skills, which will require time and effort. In addition to practicing, they will need to stay up-to-date with the latest design trends and technologies. While these things can all be learned, hard work and a passion for continually learning will be at the root of your success. 
Do You Need a Degree to Become a Graphic Designer?
A degree is highly recommended and, in most cases, is a requirement when applying for a graphic design jobs. With a degree in graphic design, you will have the necessary knowledge, skills, and experience to give yourself a leg up on the job market. Throughout your time at college, you will also have the opportunity to build your professional network and create pieces for your portfolio, making it even more advantageous. 
If you would like to learn more about majoring in graphic design and following the graphic design career path, take some time to explore different College websites and the type of programs available. Students enrolled in North Central College's graphic design program work alongside expert faculty in the field and have access to resources beyond the classroom. North Central College will help you discover the right path for you as a student and your career. 
Kara Kots is the social media specialist in North Central College's Office of Marketing and Communications. There, she contributes her content, writing, and communication skills. 
 
Sources: 
Graphic Design Degree Program. North Central College. https://www.northcentralcollege.edu/program/graphic-design. Accessed January 19, 2022.
Elements of Design: Understanding the 7 Elements of Design. MasterClass. https://www.masterclass.com/articles/elements-of-design-explained. Accessed January 21, 2022. 
How to Become a Graphic Designer: Graphic Design Schools & Careers. Become with Lantern. https://www.learnhowtobecome.org/graphic-designer/. Published November 9, 2021. Accessed January 25, 2022.
Graphic Designers, U.S. Bureau of Labor Statistics. https://www.bls.gov/ooh/arts-and-design/graphic-designers.htm#tab-1. Accessed January 25, 2022. 
How to Become a Graphic Designer. BrainStation. https://brainstation.io/career-guides/how-to-become-a-graphic-designer. Accessed January 26, 2022.
7 Career Goals for Aspiring Graphic Designers to Succeed. indeed. https://www.indeed.com/career-advice/career-development/aspiring-graphic-designer-career-goals. Published December 9, 2021. Accessed January 26, 2022.