Feature News
Leading the Next Generation of Physical Therapists
DPT student Manny Noye '25 looks to give back to his community
Oct 24, 2023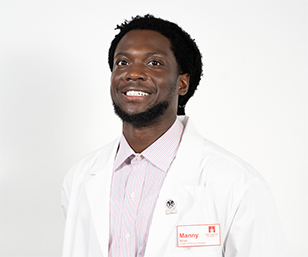 As a student in North Central College's doctor of physical therapy (DPT) program, Manny Noye '25 has his sights set on giving back to the city he loves: Chicago. 
Noye earned his bachelor's degree in health sciences, with a minor in kinesiology. His goals were to do something related to sports and to make a difference for others, especially children, and he is already turning his two aspirations into reality while on his way to becoming a physical therapist.  
In the first of four clinical experiences with North Central's DPT program, Noye is working alongside a school-based physical therapist in the Chicago Public Schools — helping children with and without disabilities participate in group activities and become more independent.  
He is equally enthusiastic about North Central's DPT program and being part of the inaugural cohort — particularly "having access to new and high-quality resources, providing feedback on how to improve the experience for future students — and best of all, lifetime bragging rights!" 
As a pre-professional, Noye recognizes the importance of diversity and accessibility in the physical therapy field. Serving on the Diversity, Equity and Inclusion Committee at North Central, he advocates for himself and underrepresented classmates. He also received the Rizing Tide Crest Scholarship, which The Rizing Tide Foundation awards to DPT students from underrepresented racial or ethnic backgrounds to promote diversity in the field.  
"These scholarships are designed to empower the upcoming generation of leaders of the physical therapy profession who are Black, indigenous and people of color, so I'm extremely honored to be recognized for my efforts," said Noye, who hopes to continue working with children in Chicago after he graduates from North Central.  
His desire to help others also extends across the globe. Originally from Ghana, Noye seeks to help family members and local partners to raise awareness and improve access for physical therapy in his home country. 
North Central's DPT program provides students like Noye with the professional knowledge and practical experience they need to provide physical therapy services to the community, whether local or international. 
Learn more about the DPT program at North Central College.