Feature News
Conducting research as an undergraduate student
In the lab, Nathaniel Fukutake '24 discovers much about his subject — and himself
Nov 14, 2023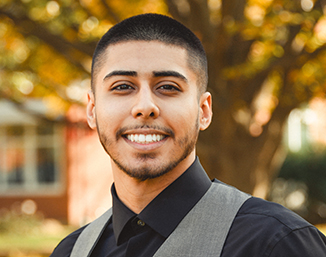 Nathaniel Fukutake '24 is majoring in biology/biomedical science and minoring in chemistry at North Central. A commuter student, he says his favorite campus spot is the Wentz Science Center, where he can study, do homework, visit with friends, and take breaks between classes. It's also where this first-generation college student has worked in a lab conducting research as an undergraduate — an opportunity he says has been "invaluable."
What has been a pivotal academic experience in your time at NC? 
My sophomore year, I took a course on ecology and evolution with Dr. Chandreyee Mitra. The next year, I got to be a teaching assistant for the course, and I worked in her lab, maintaining crickets and assisting with data collection for ongoing research. That experience sparked my interest in pursuing my own research project. 
What did you learn while working in the lab? 
I gained knowledge and insights that were valuable for my research and to my personal and professional growth. I learned the importance of attention to detail, patience and consistency in conducting experiments and data collection. The experience highlighted my passion for research and ability to work diligently and independently when engaged in hands-on scientific exploration. I also enjoyed the challenges and problem-solving opportunities and learned the significance of effective communication and collaboration. Sharing ideas, data and insights with my peers and Dr. Mitra was essential, showing me that teamwork, adaptability and effective interpersonal skills are indispensable attributes in a scientific endeavor.
What do you hope to do after graduation? 
I hope to pursue a career in healthcare, like nursing, dentistry or medical research. I am interested in working directly with patients or conducting scientific research to improve health outcomes. My goal is to find a rewarding career where I can apply my education in the health sciences.
Learn more about majoring in biology/biomedical science at North Central College.