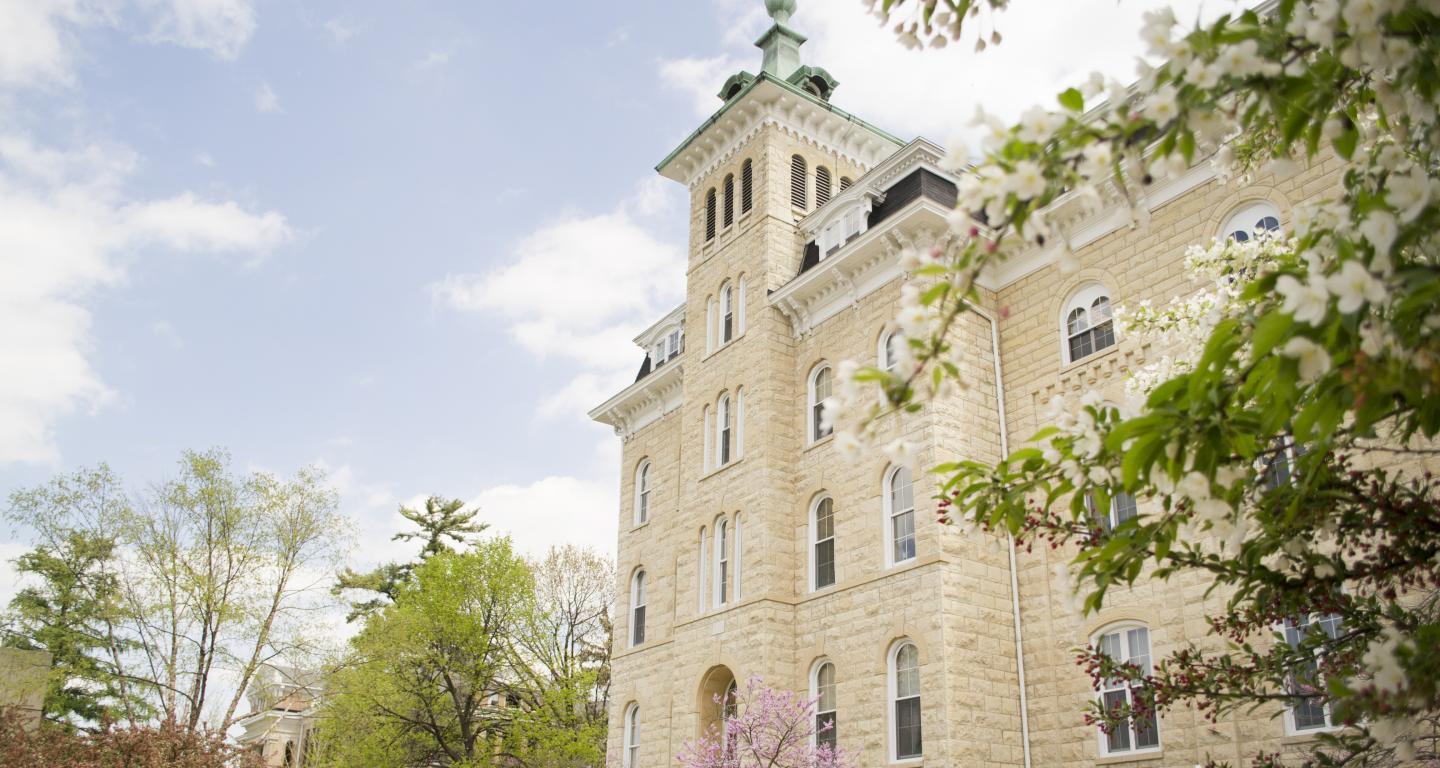 College of Arts & Sciences
Biology
Why pursue a biology degree at North Central College?
From your very first course, Biology engages you in authentic science! Our curriculum starts by involving you in discovering what influences West Nile virus in mosquitoes in a research course. Open-ended, project-based labs and active-learning classrooms build skills in experimental design, data analysis, scientific writing, presentations, problem-solving, synthetic thinking, teamwork, and research ethics. Capstone courses and summer and academic-year research opportunities involve you in real research projects with faculty mentors.
Choose advanced courses in five curriculum tracks to prepare yourself for any life-science career. Biology majors can go straight to the workforce or continue to graduate or professional programs. Diverse career opportunities include research, medicine and health professions, secondary education, pharmaceutical development, environment, veterinary medicine, public health, scientific writing or illustration, medical labs, forensics, and many more.
IF YOU ARE INTERESTED IN
Using the latest scientific tools to understand how living systems work
Understanding living organisms relationship to their existing ecosystem
Studying biological, medical, professional or health functions
then a degree in BIOLOGY might be for you.
Why study biology at North Central College?
In the Classroom
Coursework topics:
Biostatistics
Calculus
Career-Readiness Seminar
Cells & Systems
Chemistry
Ecology & Evolution
Gateway Research
Genes & Genomics
Physics
Beyond the Classroom
As a biology major, you can:
Apply for internships and jobs through robust faculty and alumni networks or the Center for Career and Professional Development.
Apply for our funded summer research program.
Take experiential courses at Shedd Aquarium and Morton Arboretum
Take your studies abroad to Costa Rica, Ecuador, Africa, Galapagos)
Explore our experimental prairie
Be inducted into the Biology Honor Society
Join one or all of our student clubs like Student Pre-Health Organization or GreenScene environmental club
Work closely with faculty on pre-health advising
Student Research
Past biology majors have conducted a variety of research projects, including:
A New Method for Counting and Identifying Water Molds in Field Samples
Utilization of Spent Coffee Grounds as a Fuel Source
Phenotype Testing Mutant Alleles of the Human COX10 Gene Using Saccharomyces cerevisiae
Multihost Pathogen Creates Ecological Links Between Its Hosts and Thus Influence Host Population Dynamics
Complementing Phosphodiesterase Gene BinA in Vibrio fischeri
Dual admission bachelor's/master of occupational therapy degree
Biology Internships and Jobs
A North Central education integrates career preparation with rich academic study. Our faculty encourages you to refine and apply your knowledge in an interconnected world. Here you'll learn to think independently and work globally to solve problems and lead.
Graduate Schools
Recent graduates in biology have been accepted at:
University of Illinois 
University of Iowa
University of North Carolina
University of Texas
University of Wisconsin
University of Pittsburgh
San Diego State University
University of Colorado
University of Mississippi
University of Michigan
University of Southern California
Medical and Professional Schools
Schools attended by recent graduates in biology include:
Northwestern University Feinberg School of Medicine
University of Illinois College of Medicine
University of Iowa College of Dentistry
Kansas State University College of Veterinary Medicine
Rush University College of Nursing
Midwestern University Chicago College of Osteopathic Medicine
William M. Scholl College of Podiatric Medicine
Pennsylvania College of Optometry
Midwestern University physician assistant program
Careers
Recent graduates in biology include people working at:
Edward Hospital
U.S. Environmental Protection Agency
Loyola University Medical Center
Oswego East High School, Oswego, Ill.
PharmaPro, Inc.
Shedd Aquarium
Morton Arboretum
Therapeutic Proteins International
Teach For America
Prairie Analytical Systems
University of California-San Francisco
Midewin Tallgrass Prairie
Indiana Department of Natural Resources
US Forest Service
Invest in your future
Choosing the right college is a big decision. Don't make it alone. North Central's admission and financial aid team is here to help you design a financial aid solution that works best for you and your family.
Merit scholarships, grants, loans, campus employment - these are just some of the resources available to you. Over 95 percent of students and 100 percent of all eligible students receive aid. Let our team partner with you in finding the best value for your education.
Learn more about financial aid and costs for North Central College
Apply to North Central College
The first step to becoming a North Central student is reading the application instructions specific to you. Find out everything you need to know about applying by selecting the group you belong to below.