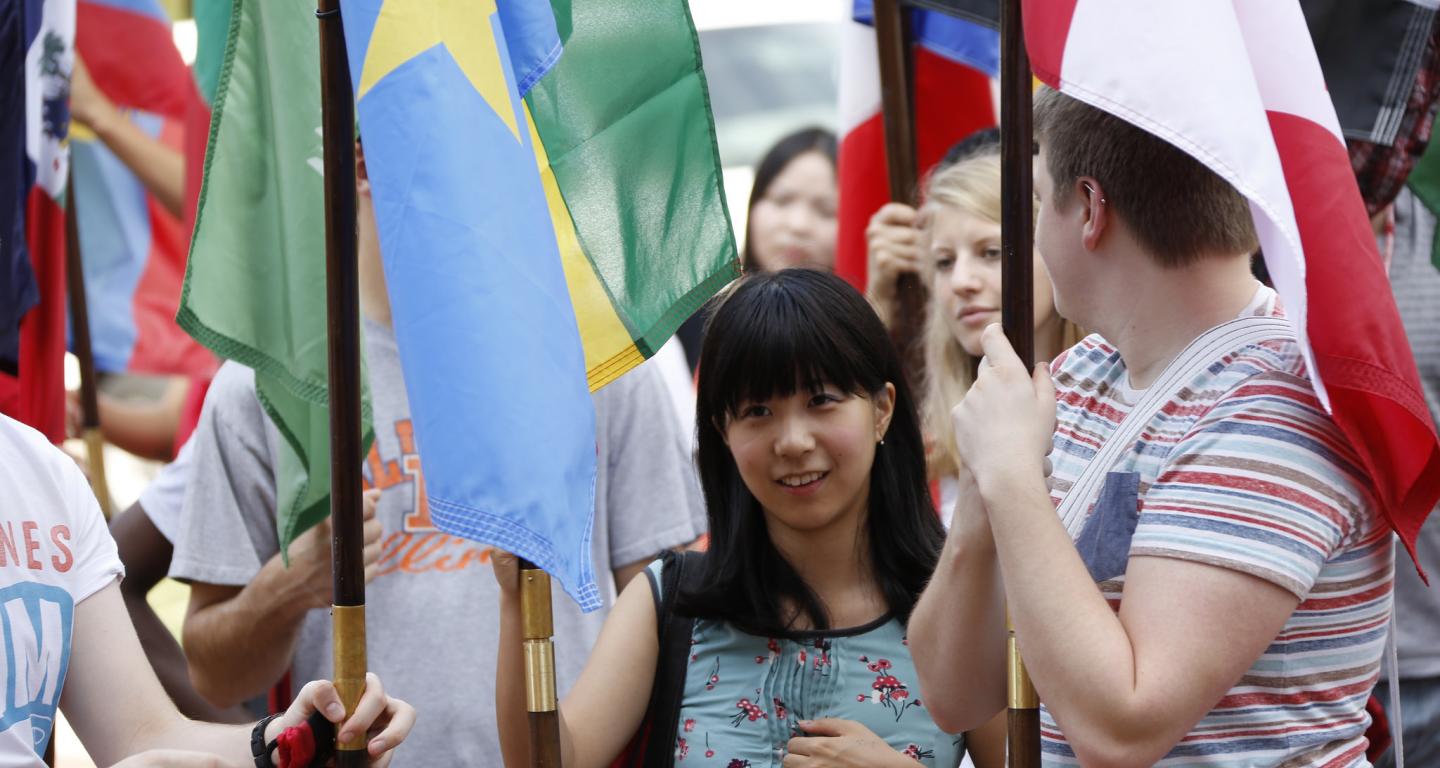 International Undergraduate Applicants
A Location That Offers the Best of Both Worlds
North Central is a nationally-recognized liberal arts university near Chicago, Illinois. As a North Central student you can:
Walk to downtown Naperville and to the train—and be in Chicago in about 30 minutes.
Be part of an active international community, supported by the award-winning Center for Global Education, where your perspective is valued.
Connect with a local Friendship Family and a student mentor at orientation.
Conduct hands-on research and participate in national conferences.
Be considered for international scholarships of up to $27,000 per year.
Transition easily from the on-campus English Language Institute into your degree program.
Learn more in our international brochure or our international quick-facts sheet.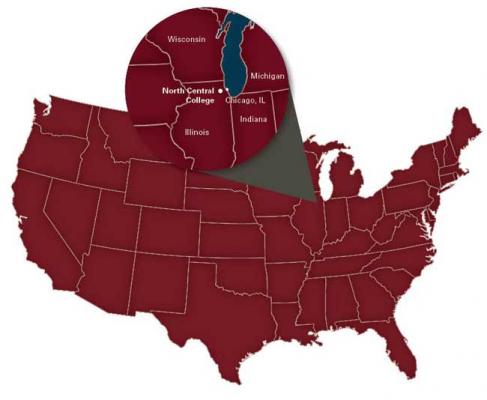 Where is North Central?
Naperville, Illinois is a safe, friendly city of 150,000 ranked as one of the "best places to live" in the United States by Money Magazine. North Central's beautiful 68-acre residential campus is just a two-minute walk from downtown's stores, banks, restaurants, parks and coffee shops. Easily reached by car, train or airplane, Naperville is just 45 kilometers from downtown Chicago (30 minutes by train) and only 30 minutes from Chicago O'Hare International Airport.
Home to three million people from around the world, Chicago offers practically unlimited cultural opportunities - from world-renowned museums and theaters to annual events like the Chicago Jazz Festival. Students can participate in Chicago Term courses and internships as well as outings to Chicago's neighborhoods, sporting events, festivals and theaters. 
Admission Timeline
North Central makes admission decisions on a rolling basis starting on October 1 for the next academic year. While there is no set deadline, we recommend the following priority deadlines for full consideration and to allow time for visa processing:
May 1       - for the semester beginning in August
October 1 - for the semester beginning in January. 
Our academic calendar will have two semesters starting in August 2019, and you can start your program in August or January. Most new students begin in August.  
International Undergraduate Application
Application form
    Choose one of the following options:
Official Transcript(s)
All Applicants: Official high school transcripts/records and certification of graduation. These should include all grades earned in the most recent three (3) academic years.
We only accept electronic transcripts that are sent directly to North Central College by the issuing institution through the following sources:
 
SENDedu
Credentials eScrip-Safe
National Student Clearinghouse
Parchment (formerly Docufide/Avow)
If your school or Ministry of Education does not use any of these sources, you will need to request they send an official transcript in a sealed envelope via postal mail to our office at:
North Central College
Office of Admission
30 North Brainard St.
Naperville, Illinois 60540
USA
Transfer Applicants
Applicants who have attended university-level classes should also submit official transcripts/mark sheets for all university-level course work. Course descriptions are also required for any university-level courses taken at institutions located outside of the U.S.
Click here for a Transcript Request Form.
Please note: North Central does not consider emailed transcripts to be official transcripts.
English Proficiency
Applicants must demonstrate English proficiency in one of the following ways:
TOEFL (Test of English as a Foreign Language): North Central requires an official TOEFL score of at least 79 (Internet-based test) or 550 (paper-based test).  (Our institution code: 1555)
IELTS (International English Language Testing System): North Central also accepts official IELTS overall scores of 6.5 with sub-scores of 6.0 or higher.
ACT or SAT: Students may also submit official SAT or ACT scores in place of the TOEFL.

Most successful applicants choosing this option have earned at least a 500 on the EBRW section of the SAT or at least a 19 on the English section of the ACT. 
Our institution codes are: 1555 (SAT) and 1096 (ACT).

EIKEN - Students may submit official EIKEN results with a minimum Grade Pre-1.
Successful completion of the Advanced Level of North Central College's full-time English Language Institute (ELI)
 
Transfer Students: Students applying for transfer from a U.S. college or university who have completed two English composition courses with grades of C or higher are considered to have met the English proficiency requirement.
Conditional Admission option:
Students who meet all academic requirements for admission but do not have the required level of English proficiency may be considered for conditional admission and enroll in North Central's English Language Institute.  Simply:
Complete the free online undergraduate application and mark that you would like to be considered for conditional admission
Submit official transcripts, and:
Submit a $100 English Language Institute deposit using the Credit Card Payment Authorization Form or flywire.
Optional Documents (Not Required):
A personal statement (1-2 pages) describing your degree and career plans and how North Central can help you achieve them. This can be mailed with your application or emailed to Megan Otermat. (Be sure to include your complete name and the semester for which you are applying.)
One letter of recommendation from a teacher or instructor.
Once your application is complete, we can review your file and let you know your admission status and scholarship eligibility within approximately two weeks.
Students who will need an F-1 student visa to study at North Central will also need to submit:
Please Note: All admissions documents become a part of a student's official file and cannot be returned to the applicant or forwarded to another institution.