Feature News
The Right Fit
Sprinter Marcedes Jackson '22 M '24 has found athletic and academic success at North Central
Nov 14, 2023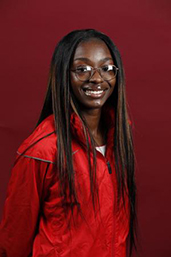 As she visited colleges, looking for the right fit, Marcedes Jackson chose North Central because it was where she felt most comfortable—almost like finding the perfect pair of running shoes.
The choice has been the right one for Jackson, who earned a bachelor's in health science at North Central and now is a graduate student working towards a master's in business administration. During the 2023 track season, she set a new indoor school record by running the 60 meters in 7.7 seconds. She also won the 100 meters and was part of the first-place 4x100-meter relay at the College Conference of Illinois and Wisconsin Outdoor Track and Field Championship. She went on to finish 10th in the 4x100 and 16th in the 100 at the NCAA Division III National Outdoor Championship.
Along the way, Jackson focused on improving her academic performance, and it's paid off in ways she could not have imagined when she first came to the College.
What has it been like running for North Central?  
Although my athletic career has been a rollercoaster, my team has always been my safe space. Track and field has brought me a family away from home and some of my closest friends. I have learned so much about myself and experienced many things that promoted positive character development. It has been an honor to wear the uniform throughout my career. My athletic career comes to an end this spring, which is bittersweet, but stay tuned for what's to come this outdoor season!
Who's a faculty member or coach who has influenced you and why?  
Coach Kari Kluckhohn has had the biggest influence, because she has worked with me through a lot of personal challenges over the years. Even through times where I was being stubborn or afraid to open up, she never gave up on me — which honestly motivated me to not give up on myself, no matter how hard things got. Much of my personal development was inspired by the time and patience she had with me. I honestly do not think I would have made it through college without her. I'm very grateful to have had a person like her throughout my journey.  
What would you tell a prospective student who's considering coming to North Central?  
I would encourage prospective students to enjoy the journey and not just focus on the destination. I would emphasize that it is okay to fail! The struggles you face along the way do not determine your outcome. For example, I was ineligible my freshman year and then received national All-Academic honors as a first-year graduate student. I would also encourage them to not be afraid to reach out for help, because there are so many people on campus who care and are willing to provide the support they need to be successful.
Learn more about undergraduate health science and master of business administration programs at North Central College.