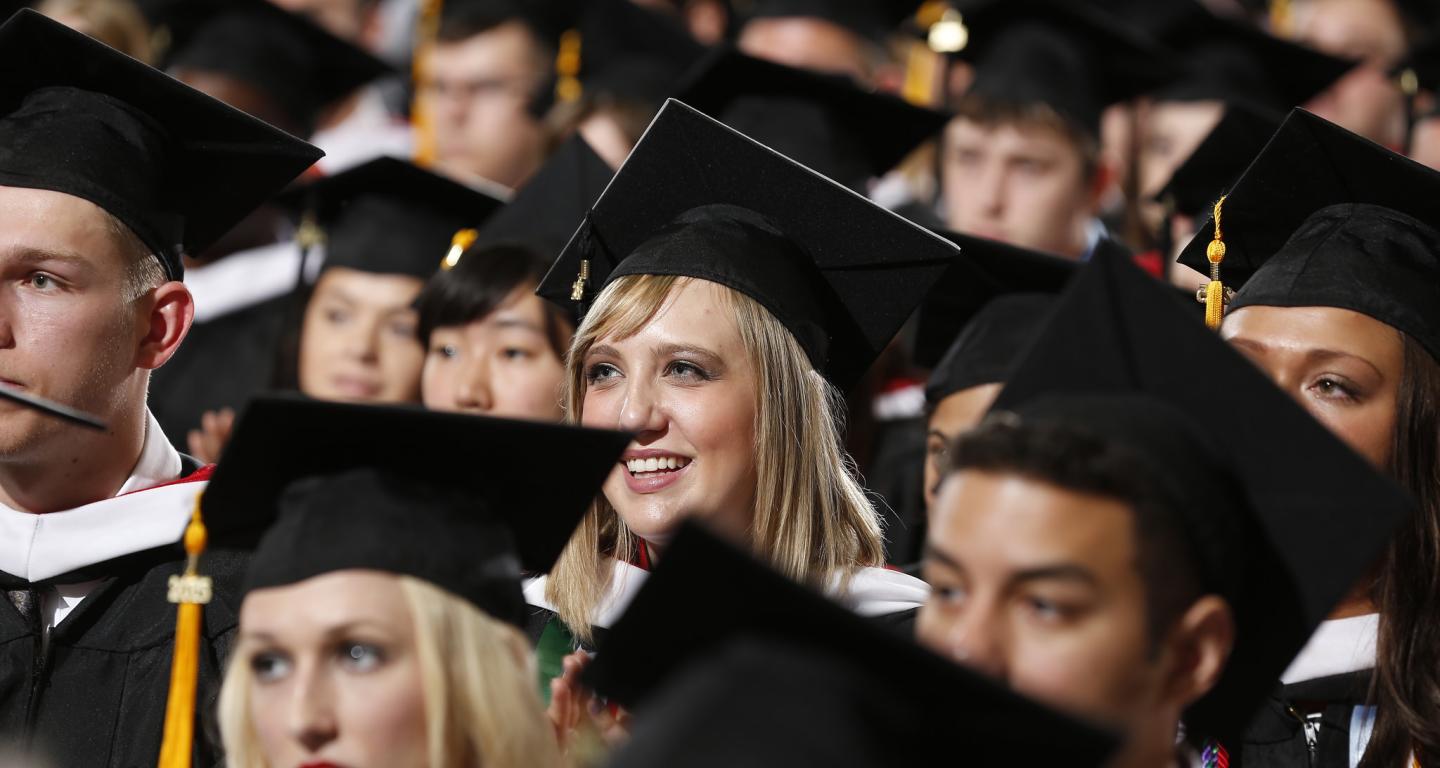 Graduate School or Job Market?
"What can I do with a Psychology Major?"
As a psychology major, you have developed skills that are valued in many different careers. You have learned to find, organize, analyze, and interpret information; communicate both orally and in writing; work collaboratively in groups to accomplish a task; understand the various personal, interpersonal, social, and cultural factors that impact individuals; and facilitate group projects in leadership positions. These skills are needed in research, human services, business, human resources, and education.
After receiving your bachelor's degree in psychology, you have two general options: you may go to graduate school or you may enter the job market directly.
Graduate Study in Psychology
An undergraduate degree provides you with some psychological skills and knowledge, but it will not make you a "Professional Psychologist." Similar to physicians whose undergraduate study of biology and chemistry prepares them for medical school but does not make them doctors, your undergraduate training provides a basis for further study. You need to go to graduate school for further training to become a professional psychologist.
Approximately 40% of North Central psychology majors eventually pursue graduate degrees. In graduate school, you will specialize in a specific area of psychology, such as social, experimental, developmental, clinical, counseling, cognitive, physiological, industrial-organizational, and school psychology (among others). Overall, approximately 10% of our majors complete Ph.D. degrees and 30% complete master's degrees. These individuals are then employed as teachers and researchers in colleges and universities; as researchers and consultants in business, government, and medicine; or as therapists in private practice or hospital, school, and community mental health settings.
Career Options with a Bachelor's Degree in Psychology
Most psychology majors do not go on to graduate or professional schools. At North Central about 60% of psychology graduates do not pursue advanced degrees and enter the job market directly. What sorts of jobs are open to them?
Human Service Careers. Approximately 30% of North Central College psychology graduates enter human service fields, working as counselors in such settings as group homes for troubled adolescents, schools for emotionally disturbed children, and psychiatric hospital wards. You might be surprised to learn that paraprofessional positions filled by individuals with bachelor's degrees in psychology often involve the greatest amount of direct contact with people in need. For example, the counselors at a home for battered women or crisis center will often have bachelor's degrees and spend the majority of their time directly answering crisis telephone calls, counseling women who come to the shelter, and helping people locate other kinds of help they might need, such as advocacy services.
Business Careers. Another third of psychology majors at North Central pursue business careers in management, personnel, or public relations, often combining their psychology major with courses from business or communication studies. Some of the positions open to these graduates are research-oriented, such as marketing analysis or research on highway safety. Other positions, such as personnel work and management-trainee positions, emphasize knowledge about assessment, human motivation, and the effects of different organizational structures on workers.
For More Information on Careers in Psychology. Please keep in mind that there are many things you can do with a degree in psychology. If you want additional information, arrange an appointment with a member of the Psychology Department or visit the North Central College Career Development Office.
"HOW CAN I DECIDE WHICH DIRECTION TO TAKE?"
The "good news" is that many of the courses recommended for the three areas of Research/Graduate School, Human Services, and Industrial Psychology are the same. You can concentrate on the courses that are required for all psychology majors regardless of which track you eventually follow before you need to make a decision about your career path. The various tracks involve a similar course of studies through your sophomore year.
At that point, you do need to make some decisions in order to choose the best possible courses to prepare for your future. One of the first questions psychology students need to answer is: What kind of work do I want to do? And then, do I need to go to graduate school to prepare for that work?
Searching for Answers
One way to begin to answer these questions is to explore the different areas of psychology. The major areas in psychology are represented in the topics covered in the introductory psychology course. Ask yourself which chapters in that class most intrigued you. It will also help if you sample a variety of courses early in your studies.
Learn More About Career Options and Graduate School
To learn about career options in psychology, all psychology majors are encouraged to take PSY 293 Careers in Psychology. (Beginning in fall of 2017, all majors will be required to take PSY 293.) This one-credit course covers the different professional options available in psychology and how to successfully prepare for a future career in psychology. Students collaborate with other students, instructors, and resource people both inside and outside of the North Central community as part of their exploration.
To explore graduate school options, psychology students are encouraged to take PSY 390 Seminar: Professional Psychology. This one-credit course helps students decide which advanced degree to pursue, how to choose graduate programs, what the application process is like, and what to expect in graduate school. By the end of the course students will have a list of possible graduate programs and drafts of application materials that can be modified for individual programs.
The American Psychological Association (APA) publishes a number of documents helpful to students, including the brochure "Careers in Psychology" available online at (http://www.apa.org/careers/resources/guides/careers.aspx?item=1). APA also publishes a book "Career Paths in Psychology" which you can borrow from the Psychology Department or order for yourself (http://www.apa.org/pubs/books/4313041.aspx). There are many other sites on the internet that can help you explore psychology as a career.
Plan an Independent Study or Internship As Part of Your Major
Independent studies and internships can help you make decisions about your career direction, as well as providing valuable experience.
Independent Studies. In an independent study, students plan and carry out a study in an area of their choice or conduct library research on a topic of interest to them. Usually the credit earned for an independent study is the equivalent of one course in psychology. As the name suggests, independent studies are planned by students but conducted under the direction of a faculty member who meets regularly with the student to discuss the work in progress. Because of the background required for independent studies, students are usually in their junior or senior year and have completed PSY 250 Statistics and PSY 255 Research Design and Experimentation classes before doing an independent study.
Internships. An internship involves working on-site to gain hands-on pre-professional experience in various areas of psychology. The credit earned for internships is usually equivalent to one course in psychology. In an internship, you usually spend about 15 hours per week at the internship site and another 3 hours per week working on the academic paper or project that is part of the internship. Student interns meet weekly with their "on-site" supervisors as well as with a faculty member in the department who supervises their work. Because of the background required for internships, students are usually in their junior year, and have completed PSY 255 Research Design and Experimentation, at least one 300-level course, and sometimes other coursework related to the specific internship.