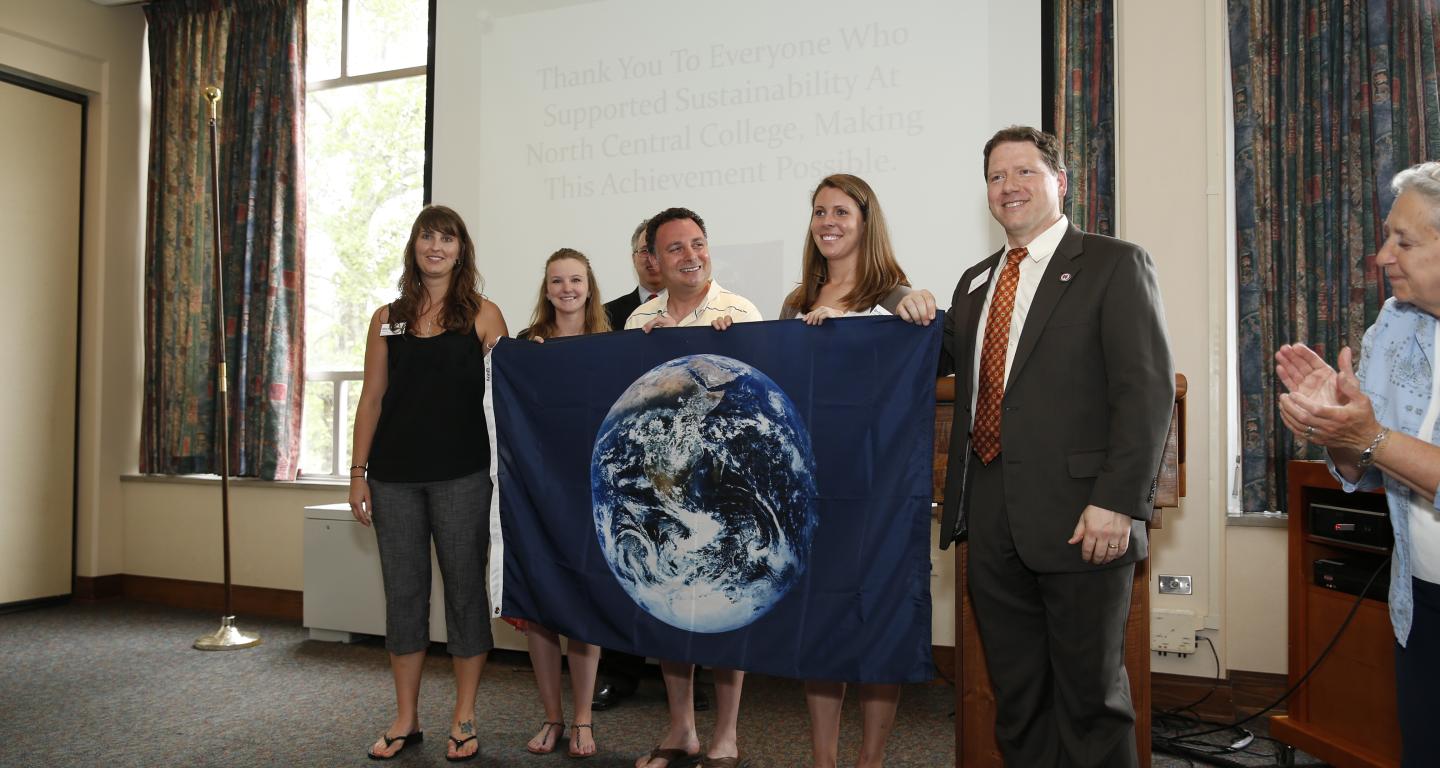 IL Campus Sustainability Compact - Gold
In 2011, President Emeritus Harold R. Wilde signed the Illinois Sustainable University Compact, pledging Gold Level by 2015. Actions outlined in the Compact include such initiatives as setting sustainability targets, monitoring progress, implementing new initiatives, and integrating sustainability into core institutional principles. North Central reached the Gold Level in December 2014. Track progress on the Illinois Campus Sustainability Compact website. 
Illinois Food Scrap Coalition, We Compost
The College is a founding institution of the Illinois Food Scrap Coalition's We Compost program. This is a recognition program that promotes businesses and institutions that participate in a commercial compost program. North Central is a Gold Partner for demonstrating the highest level of commitment to food scrap diversion by composting both pre-consumer and post-consumer food scraps. Learn more at illinoiscomposts.org.
North Central was honored to be the first college or university in DuPage County to receive an Earth Flag from SCARCE (School and Community Assistance for Recycling and Composting Education). President Dr. Troy D. Hammond accepted the recognition for the College in spring 2013. This flag symbolizes North Central College meeting a set of requirements for sustainability, and demonstrates the College's commitment to being an environmental conscious school. The requirements included, but are not limited to: completion of waste reduction activities, educating students and staff on how to be sustainable, and implementing a comprehensive recycling program. 
The College was, once again, included in "The Princeton Review's Guide to 353 Green Colleges: 2015 Edition," acknowledging North Central as one of the most environmentally responsible colleges and universities in the United States and Canada.  
Workplace Charging Challenge
In 2014, the College joined the U.S Department of Energy's Workplace Charging Challenge. This Challenge aims to achieve a tenfold increase in the number of U.S. employers offering workplace charging by 2018. As a member of the Challenge, North Central offers electric vehicle charging to students and employees of the College, and affirms its commitment to providing and promoting electric vehicle charging in the workplace. 
In April of 2014, North Central was awarded a conservation@work certification from the Conservation Foundation in Naperville. This award recognizes businesses and schools who have sustainable land use practices. The college has all the requirements for this certification, including permeable pavers, native gardens and rain gardens! To learn more click here.
As a proud member of AASHE (The Association for the Advancement of Sustainability in Higher Education) North Central is able to learn from, share ideas, and work with other colleges to improve sustainability in higher education. AASHE's mission is to inspire and catalyze higher education to lead the global sustainability transformation. To sign up for an AASHE account and get access to these great educational resources, go to http://www.aashe.org/user/register. Anyone with a noctrl.edu email account can sign up for free!