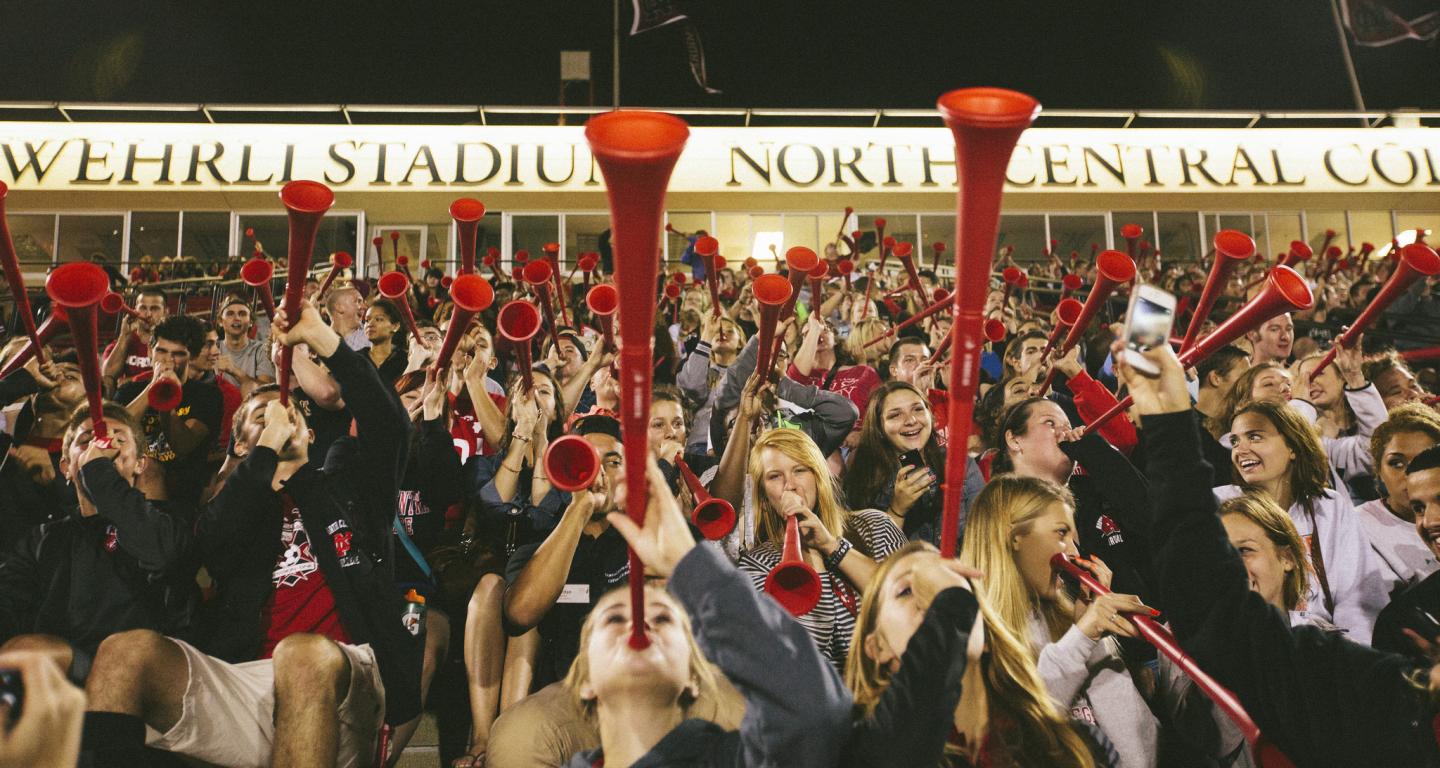 ---
8:00 a.m. - 12:00 p.m. New Student Move-In
All Residence Halls
The Cardinal Move-In Crew—including campus leaders and members of our nationally ranked football team—will help you get settled in your residence hall room.
12 p.m. - 2 p.m. Welcome Picnic Lunch
Jefferson Lawn and Ratio Hall in the Wentz Science Center (rain location Res/Rec)
You and your family are welcome to enjoy a picnic lunch with the campus community. If you choose to dine in downtown Naperville, we encourage you to take advantage of the special offers provided by local restaurants. You can find these special offers online here. 
1:00 - 2:30 p.m. Commuter Student Check-In and Parking Permits
Harold and Eva White Activities Center, Centennial Hall
Students living off campus will check in and receive all Welcome Week materials and meet our Commuter Services Staff!

Parking permits will also be available for purchase!
2:30 - 4 p.m. Opening Convocation
Pfeiffer Hall
Join in this traditional celebration with your family, where you are formally welcomed into the North Central academic community. This is the last event for parents and family members before we say "See You Soon!".
4 - 5 p.m. Boilerhouse Open House
Rolland Center Boilerhouse Cafe
Commuter Student Services welcomes our newest students. Come and meet our Commuter Assistants while enjoying light snacks and friendly conversation. 
5 - 7 p.m. Opening Meetings and Dinner
Residence Halls, Harold and Eva White Activities Center, Kaufman Dining Hall and The Cage
Meet your respective Resident Assistant (RA) and Commuter Assistant (CA), learn about campus services and upcoming events. Resident Student meetings will be on their assigned floors, and Commuter Students will meet at in Upper WAC. Resident Student dinner will be in Kaufman Dining Hall, and Commuter Students will eat dinner at The Cage. 
7 - 7:45 p.m. FYE or Transfer Group Meetings
Various Locations
Join your First-Year Mentor or Commuter Assistant (CA), who will provide you with an overview of Welcome Week. You will also have a chance to get acquainted with other new students in your FYE section. Your FYE class will be located on the Welcome Week packet that you will receive at Check In or on your Residence Hall room door!! If you haven't received it, please reach out to the orientation staff at orientation@noctrl.edu or 630-637-5410.
8 - 10 p.m. Torchlight Celebration
Pfeiffer Hall
A kickoff to a night of North Central College traditions, the Torchlight Parade dates back to 1912! Hear about the College motto Lux Veritas in a night dedicated to North Central College traditions and inspiring school spirit, including North Central's fight song, Alma Mater, and more.
10 - 11 p.m. Bonfire
Benedetti-Wehrli Stadium, South Lawn behind stadium
Enjoy a bonfire with fellow first-year students. Make your own s'mores! 
---
7:30 - 8:45 a.m. Breakfast with your Group
Kaufman Dining Hall & Cage
Meet with your group for breakfast. Your FYM will tell you a time and location to meet for breakfast.
9-10:30am FYE Meeting for First Year Students / Transfer Student Meeting
First Years will meet in their FYE classroom and Transfer Students will meet in Upper WAC
Get excited to meet your fellow students! You'll hear all about Welcome Week and ways that you can get to know each other and learn all about the great resources at North Central!
11-12:30pm The Hook Up
Pfeiffer Hall
Hooking up can often sound like harmless fun, but it can also be a cover for some very unhealthy behaviors. This engaging discussion pulls back the covers on hooking up, clarifying when it's actually sexual violence and how bystanders can protect potential victims from predators.
12:30 - 1:30 p.m. Lunch
Kaufman Dining Hall
Meet with your group or with friends for lunch. Check in with your FYM or OL to find out where you should meet before your next presentation.
1:30 - 3 p.m. From the Streets to the Stage
Pfeiffer Hall
A product of a one night stand, abused in foster home after foster home, and raised sleeping in parks were just a few of the daunting obstacles in Monti Washington's journey from the streets to the stage.
Monti's passion for helping students stems from the adversity he faced early on in life. Forced to live in poverty due to his mother's drug addiction, Monti grew up sleeping on cardboard boxes, living in parks, and being abused by foster parent after foster parent. Until 8th grade Monti was in special Ed. classes and was held back on two separate occasions. Despite his adversity, Monti would go on to obtain two college degrees, become a state basketball champion, award winning poet, Mcdonalds All- American nominee, a nationally recognized actor, and co-founder of Truality.org, a non-profit organization aimed at inspiring youth to be TRU The Real U.
 
4 - 6 p.m. Scavenger Hunt--Amazing Race Style!
All FYE & Transfer student teams will compete for the ultimate prize. Each team will compete in a series of challenges, some mental and some physical, before they move on to the next location. Ultimately getting each team to know North Central College, the surrounding areas and great fun in the process!
4:30 - 7 p.m. Dinner
Kaufman Dining Hall
Enjoy dinner with your group or with friends.
7:30 - 11 p.m.  Casino Night
Wentz Concert Hall and Madden Theatre Lobbies
With $1,000 in prizes the odds are in your favor, you just have to join in the game. Fun favorites like Poker, Roulette, Craps, and Blackjack along with some free food: it's sure to be a good night.
---
7:45 - 8:45 a.m. Breakfast with your Group
Kaufman Dining Hall, Cage & Boilerhouse
Meet with your group for breakfast. Your FYM will tell you a time and location to meet for breakfast.
9 - 11 a.m. Theatre of the Oppressed
Pfeiffer Hall
Members of our theatre faculty lead all new students in an exploration of eliminating oppression. Short scenes will depict situations that could occur on our campus and the audience will work to find a solution. 
11 - 1 p.m. Lunch
Kaufman Dining Hall
Meet with your group or with friends for lunch.
1 - 3 p.m. A Better High
Pfeiffer Hall
This informative and humorous presentation focuses on natural highs and creating healthy habits in college. Matt's comedic style, interactive demonstrations and inspirational stories are an ideal combination for college audiences. In addition, current research on resilience, mental health and substance abuse are integrated into the program. Matt also shares his own story of college prevention leadership, as the founder of a nationally recognized student group at Bucknell University.
3 - 4:30 p.m. FYE Part 2
Various classrooms, see your Welcome Week brochure for location
Part 2 is a continuation of your meeting from Thursday. Take this opportunity to ensure you are ready for classes on Monday and give feedback about the week's events.
3 - 4:30 p.m. Transfer Student Debrief
Harold and Eva White Activities Center, Centennial Hall
Let's debrief the week so far and see where we can best suit your needs before classes begin on Monday!
4:30 - 5:30 p.m. Presidential Ice Cream Social
President's Lawn (409 E. Chicago Avenue)
Join Dr. Troy Hammond, president, and his wife, Sharlene, as they welcome you to North Central College!
6pm, "The Union Presents: Arrested Youth", FREE
Jefferson Plaza
Arrested Youth is a new class of alternative crafted by singer/songwriter Ian Johnson. Growing up in Louisville, Kentucky, Ian was influenced by genre-blending artists like The Red Hot Chili Peppers and Kid Cudi, and began writing lyrics at the age of 15. Encouraged by friends and family, he released a series of mixtapes and an EP which made the iTunes Top 25 pop charts.
5:30 - 7 p.m. Dinner
Kaufman Dining Hall
Enjoy dinner with your group or with friends.
8:00 - 10 pm Improv Olympics: Whirled News Tonight
Pfeiffer Hall

Whirled News Tonight is an improvised show that strives to not only provide a satirical turn on current events, but to provide another, human, point of view of those stories.
When the audience arrives they will be brought to a table with several local and national publications where they can cut out any articles they are interested in and tack them onto several bulletin boards onstage. The cast will randomly choose these articles throughout the show to inspire their improvised scenes.
---
10 a.m. - 12:45 p.m. Brunch
Kaufman Dining Hall
11 a.m. - 5 p.m. Cardinal Excursions
Various Locations
Sign up for your choice of excursions for the day!! Stay on campus and paint a masterpiece for your residence hall room, test your skills at intramural sports. Or you can choose to attend the Museum of Science and Industry, Round1 bowling and arcades or SkyHigh trampoline park.
No cost! Sign up at the WAC Front Desk--there are limited spots for the off campus excursions, so make sure you sign up early! 
4:30 - 7 p.m. Dinner
White Activities Center, The Cage and Kaufman Dining Room
8 - 10:30 p.m. Outdoor Movie: Avengers: Infinity War
Jefferson Lawn

An unprecedented cinematic journey ten years in the making and spanning the entire Marvel Cinematic Universe, Avengers: Infinity War, brings to the screen the ultimate deadliest showdown of all time. The Avengers and their Super Hero allies must be willing to sacrifice all in an attempt to defeat the powerful Thanos before his blitz of devastation and ruin puts an end to the universe. 
 
---
9:00 - 10:00 a.m. Local Church Send Off Breakfast
Kiekhofer Hall Lobby
Meet staff members from the Office of Ministry and Service for an informal breakfast. You will hear about the opportunities for involvement from our office's student organization leaders (Catholic Cardinals, Focus, and United). After breakfast, transportation and walking groups will be provided to a number of local churches.
10 a.m. - 12:45 p.m.
Brunch
Kaufman Dining Hall
1 - 4 p.m. Rock the Plaza 
Jefferson Commons
Play a casual game of bags or spikeball; then eat some delicious walking tacos and relax.
1 - 11 p.m. (Shuttle leaves every hour on the hour) Afternoon shuttle service to Target, Westfield Fox Valley Mall, Jewel, All Saints Catholic Academy (Remote Parking Lot) and more
Forgot something? Looking for a chance to get off campus? Check out the Shuttle schedule at northcentralcollege.edu/shuttle.