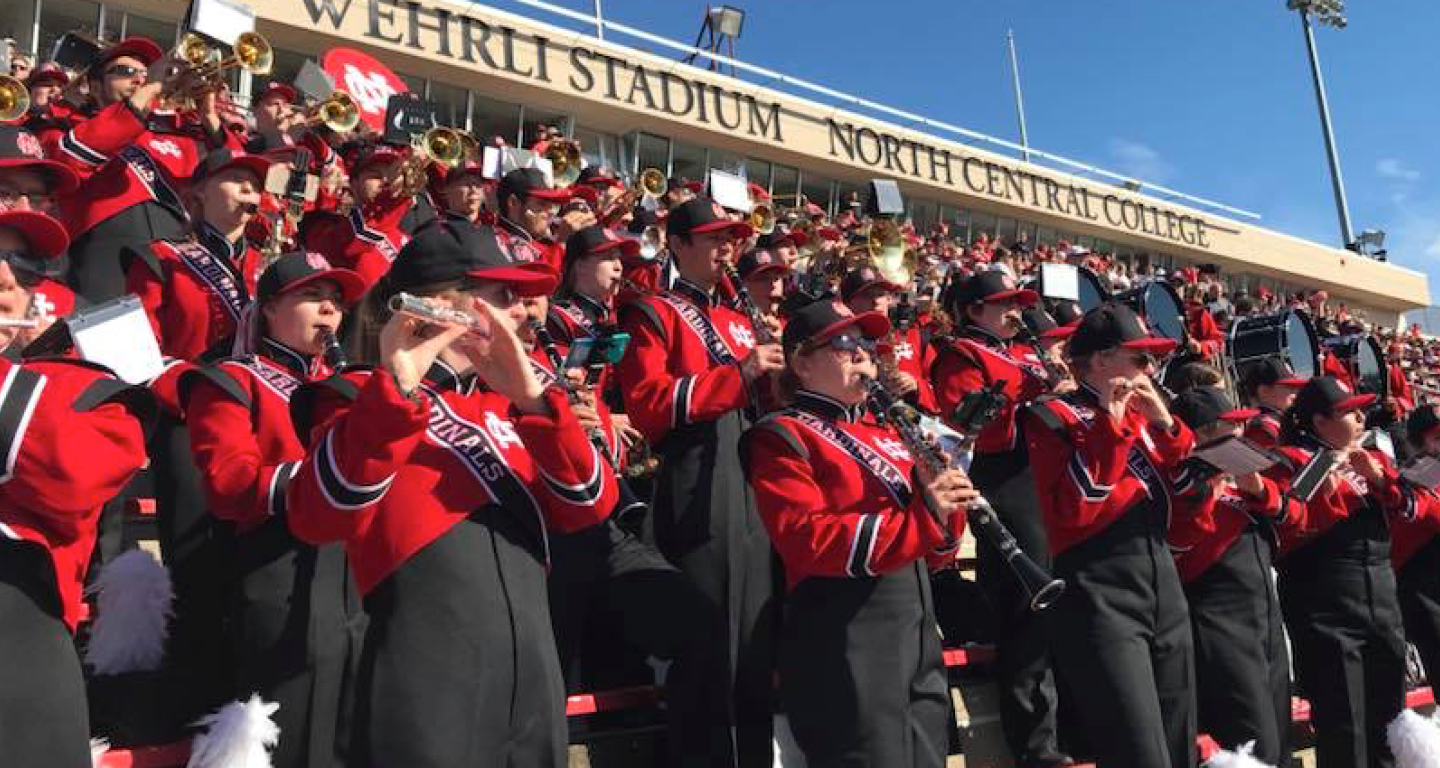 Quick References for 2018 Members
The Cardinal Marching Band is a Family.
It is a group of nearly 100 friends whose share one mission: to be their personal best, every day. Our members come from a wide variety of high school backgrounds; some have no marching band experience, and others marched in Bands of America Grand National Finalist programs. Despite our differences, however, every new member learns one very important thing the moment they arrive: the North Central Cardinal Marching Band is the most accepting and friendly group of student-musicians that you will ever encounter.
Our schedule is structured with the busy student in mind. We rehearse only twice per week for two hours per rehearsal. We perform only at home games, which means that for each weekend with a game commitment, you'll typically have a weekend off. How do we do this while maintaining our quality? It's simple. North Central is not a typical college. We have the best, hardest working students in the world. We meet our goals quickly because our students are, in a word, better. 
Fast Facts

Band Camp begins two weeks before the beginning of Fall Term. 
The camp runs for 7 consecutive days, Sunday through Saturday. Students move in to their residence halls on Sunday morning, with the rest of the day filled with ice-breaking and getting-to-know-you activities. Regular rehearsals begin on Monday morning. The rehearsal schedule runs from 8:00 am to 5:00 pm, and each evening, there are social activities that include bonfires, movies, and bowling. The week between band camp and the beginning of fall term is Welcome Week for all new students, so the band rehearses sparingly until fall term begins. 

Once Fall Term begins, Weekly rehearsals are Monday, 6:30 to 8:30 pm and Thursday, 6:00 to 8:00 pm. 

There are typically 4 to 5 home games per season.
This means that, of the 10 weeks in the Fall Term, there are 5-6 weekends off.

Cost of participation is low. 
There is no overarching course fee, but students will need to purchase some uniform parts (polo shirt, ball cap, member jacket, etc.) and accessories (lyre, flip folder, etc.). Overall, expect to spend less than $250 per season. 

Scholarships are generous.
Each instrumental member is qualified to receive a considerable talent-based scholarship. An audition with Dr. Kelley is required. Click here to learn more. 

Review our Band Handbook to get a better sense of the overall experience.
2016-2017 Cardinal Marching Band Handbook