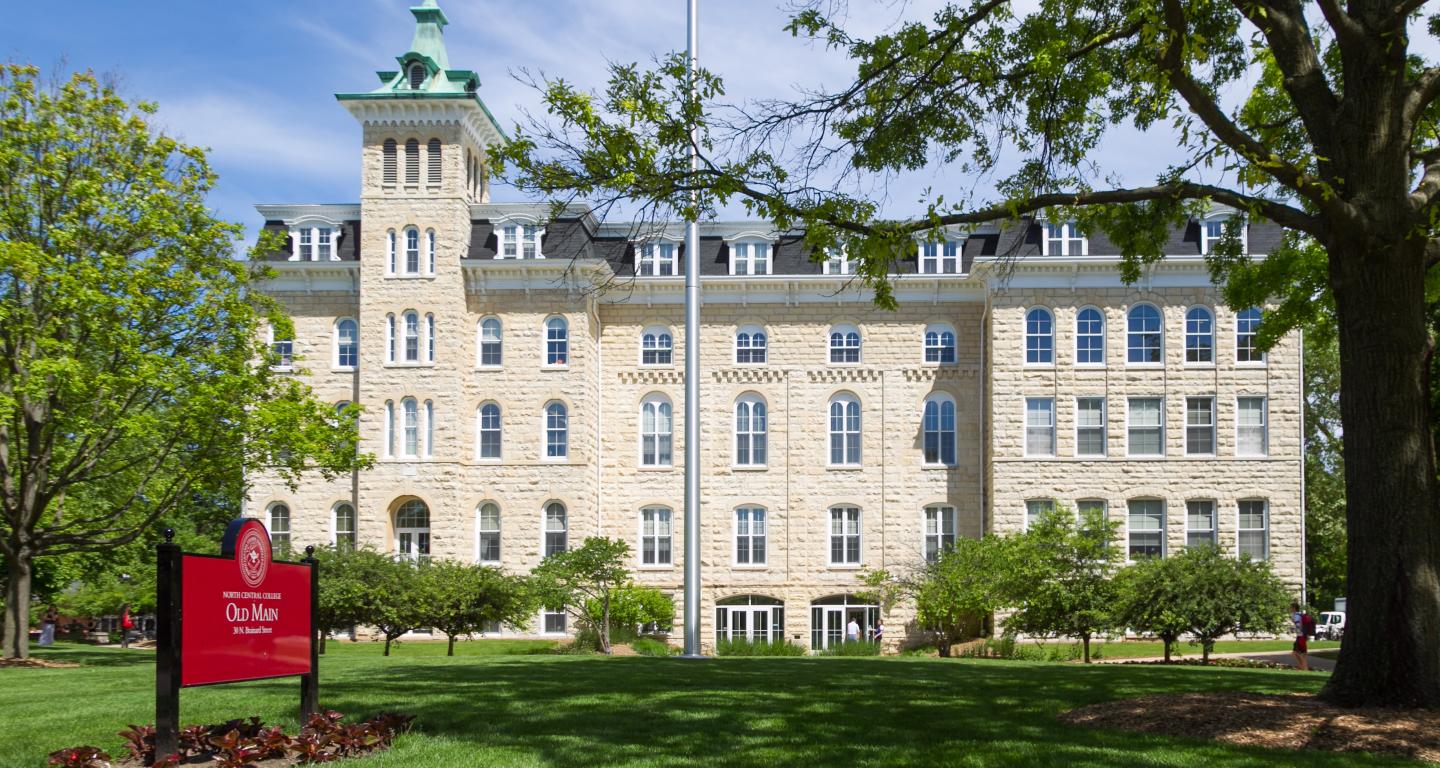 A scientist, business leader and entrepreneur, Dr. Troy D. Hammond became the 10th president of North Central College on January 1, 2013. Thanks in large part to his inspired leadership over the course of his first six years, the campus is now in the midst of a renaissance.
In 2017 alone, North Central built or renovated more than 200,000 square feet of space. The most dramatic campus addition is a state-of-the-art interdisciplinary science facility. The Dr. Myron Wentz Science Center is now recognized as the region's premier facility of its kind and is transforming the way faculty teach and students learn science. In addition, the College's new School of Business and Entrepreneurship—home to the innovative Bloomberg Financial Lab—has helped propel North Central to the forefront of business education.
To fund these and other improvements, Hammond in 2015 publicly launched the most ambitious capital campaign in the College's history—the $150 million Brilliant Future Campaign. Thanks to the overwhelming support of alumni and friends, the Campaign has raised more than $80 million dollars to date, and its impact is already visible throughout campus.
Hammond has helped energize the North Central student academic experience and ensure that the College meets the needs of students both today and tomorrow. Under his leadership and guided by a new strategic plan, faculty have reimagined existing programs and developed major new academic offerings, including an undergraduate engineering program and a master's in occupational therapy. The College also created the Shimer Great Books School with a distinctive, reading-intensive model of education. The College has designed an innovative new general education curriculum, Cardinal Directions, which it is preparing to launch in the fall of 2019.
A prominent figure in higher education nationally, Hammond is chair-elect of the New American Colleges and Universities board of directors. He travels internationally to confer with other global leaders in higher education and serves on the board of Japan America Society of Chicago. He is a member of the NCAA Division III President's Council, chairs the President's Council of the CCIW athletic conference and has presented at the Council of Independent Colleges. He is also a board member of Illinois Campus Compact, Associated Colleges of Illinois, Gold Eagle Co., OWP Pharmaceuticals Inc, and the Naperville Development Partnership.  A trustee of the Morton Arboretum, he is also a member of the University Club of Chicago and The Economic Club of Chicago.
Hammond graduated magna cum laude with a B.S. in mathematics from Milligan College and received a second B.S. degree, in physics, from Georgia Tech. A prestigious National Science Foundation (NSF) fellowship paved his way to the doctoral program in experimental atomic physics at the Massachusetts Institute of Technology, where he was mentored by thesis advisor Dr. David Pritchard and Nobel Laureate Dr. Wolfgang Ketterle for his Ph.D. research.
After graduate school, Hammond joined McKinsey & Company, a global leader in management consulting, where he became an associate principal. He then joined Plextronics, Inc., helping raise substantial venture and strategic capital and growing the technology company into a global leader in printed electronics. During this time, he also served as adjunct professor of business at Milligan College.
Prior to joining North Central College, Hammond was president of BlueStar Energy Services in Chicago, a provider of energy efficiency services for commercial and industrial customers.
Hammond holds numerous patents and has published extensively on physics, nanotechnology, polymer electronics and solar technology, a topic on which he has provided expert testimony before Congress. In 2013 Hammond was recognized as one of 60 outstanding alumni of the NSF's highly competitive Graduate Research Fellowship Program.
---
Built or renovated more than 200,000 square feet of campus space, including

Dr. Myron Wentz Science Center
School of Business and Entrepreneurship
New Hall, a suite-style student residence building

Ranked among the top 15 regional universities in the Midwest by U.S. News & World Report
Launched the $150 million Brilliant Future Campaign, the largest in the College's history, currently more than halfway toward its goal
Added new academic programs in fast-growing, high-demand disciplines: undergraduate majors in computer, electrical and mechanical engineering, environmental studies, health science and neuroscience; and master's degrees in occupational therapy and nonprofit leadership
Created Shimer Great Books School through acquisition of Shimer College
Reimagined the general education curriculum to create the innovative Cardinal Directions program
Restructured academic programs into the College of Arts and Sciences, School of Business and Entrepreneurship, School of Education and Health Sciences, Shimer Great Books School and School of Graduate and Professional Studies
Developed a new strategic plan, reinforcing the College's mission as a diverse community of learners dedicated to preparing students to be curious, engaged, ethical and purposeful citizens and learners in local, national and global contexts
Established nationally recognized student success programs for first-generation, disadvantaged and veteran students
Earned recognition as a global leader in social innovation education; one of fewer than 50 higher education institutions globally to be designated a "Changemaker Campus" by Ashoka U
Implemented extensive sustainability advances—including the second-largest roof-mounted solar array in the country among small colleges—through a novel endowment investment model
Earned the Senator Paul Simon Award for Comprehensive Internationalization, recognizing the College's significant progress toward innovative and creative global engagement
Expanded athletic offerings to include women's triathlon, bowling and wrestling and men's lacrosse and volleyball, making North Central's athletic department the largest in the College Conference of Illinois and Wisconsin