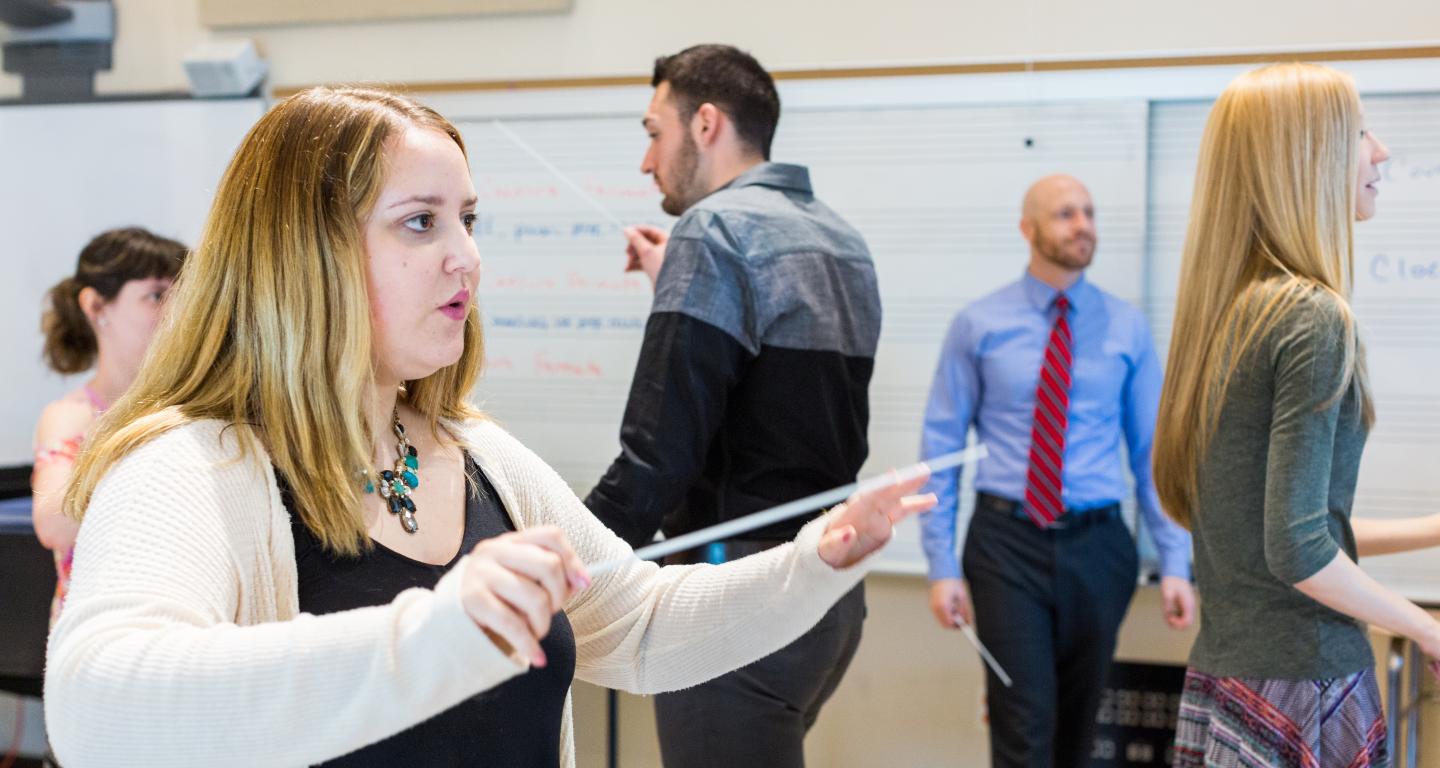 Program in Music Education
The North Central College
Music Education Experience
The Music Education program at North Central College is a comprehensive, rigorous, and student-centered degree plan that prepares its majors for success in the classroom, on the performance stage, and in every facet of professional life.

Our program enjoys a rare 100% placement rate--in other words, every student who has completed the degree program is employed in the music education field. Our students have also achieved a 100% pass rate on the Education Teacher Performance Assessment (edTPA), a test required for teacher licensure in Illinois and many other states.
Students choose from two tracks:
1) Choral/General Music (focuses on vocal and general music education)
2) Instrumental (focuses on band and orchestral music education)
Our highly active and award winning NAfME (National Association for Music Education) chapter is one of the largest and most respected groups of its kind in Illinois. Students benefit from annual state conference attendance, guest speakers, and professional development opportunities.
North Central music education students receive some of the most rigorous and thorough training available in the United States, with one of the hallmarks of our music education program being the comprehensive practicum experience. Our students complete an unprecedented 150 hours of meaningful classroom teaching (not observation) prior to their student teaching placement, giving our students an experiential advantage.
Our music education students have the option to perform in more than twenty high quality ensembles, including concert choirs and choruses, opera workshop, vocal jazz ensemble, chamber strings ensemble, jazz and big bands, concert bands, marching band, basketball pep band, and many chamber groups. With classical and jazz faculty for every instrument and voice, our offerings are truly second-to-none among liberal arts colleges. 
Our facilities are a point of pride for North Central College and the City of Naperville. Our music education students perform in the awe-inspiring, state-of-the-art Wentz Concert Hall, the historic and grand Pfeiffer Hall, the intimate Koten Chapel, and the modern and flexible Madden Theater. Additionally, North Central annually hosts internationally acclaimed classical, rock, pop, jazz, country, Motown, and R and B superstars.
North Central's esteemed music education faculty are successful classroom teachers, published authors and composers, outstanding musicians, and caring mentors who are personally and professionally invested in every student. Our music education majors receive a personalized education experience that challenges them to grow in every aspect of their musical and intellectual development. 
For more information about studying education at North Central College, please contact Dr. Bruce Spitzer, chair of the Department of Education.

For more information about the Department of Music, please contact Dr. Jonathon Kirk, chair of the Department of Music.