Media Releases
2016 Outstanding Alumni Award Winners
Hollywood producer, business leader, scientist, journalist, social justice champion
Nov 03, 2016
A leading Hollywood producer, an accomplished research scientist, an award-winning sports journalist, a visionary business leader, and a champion for social justice.
They are North Central College alumni. All five—Hudson Hickman '71, Peter Jones '76, Dr. InSun Ho '81, Wayne Randazzo '07 and The Rev. Dr. Joseph Agne '66—reflect the high aspirations of North Central graduates and were recognized as outstanding alumni with awards at the College's 2016 Homecoming Celebration. Click here to view their complete biographies.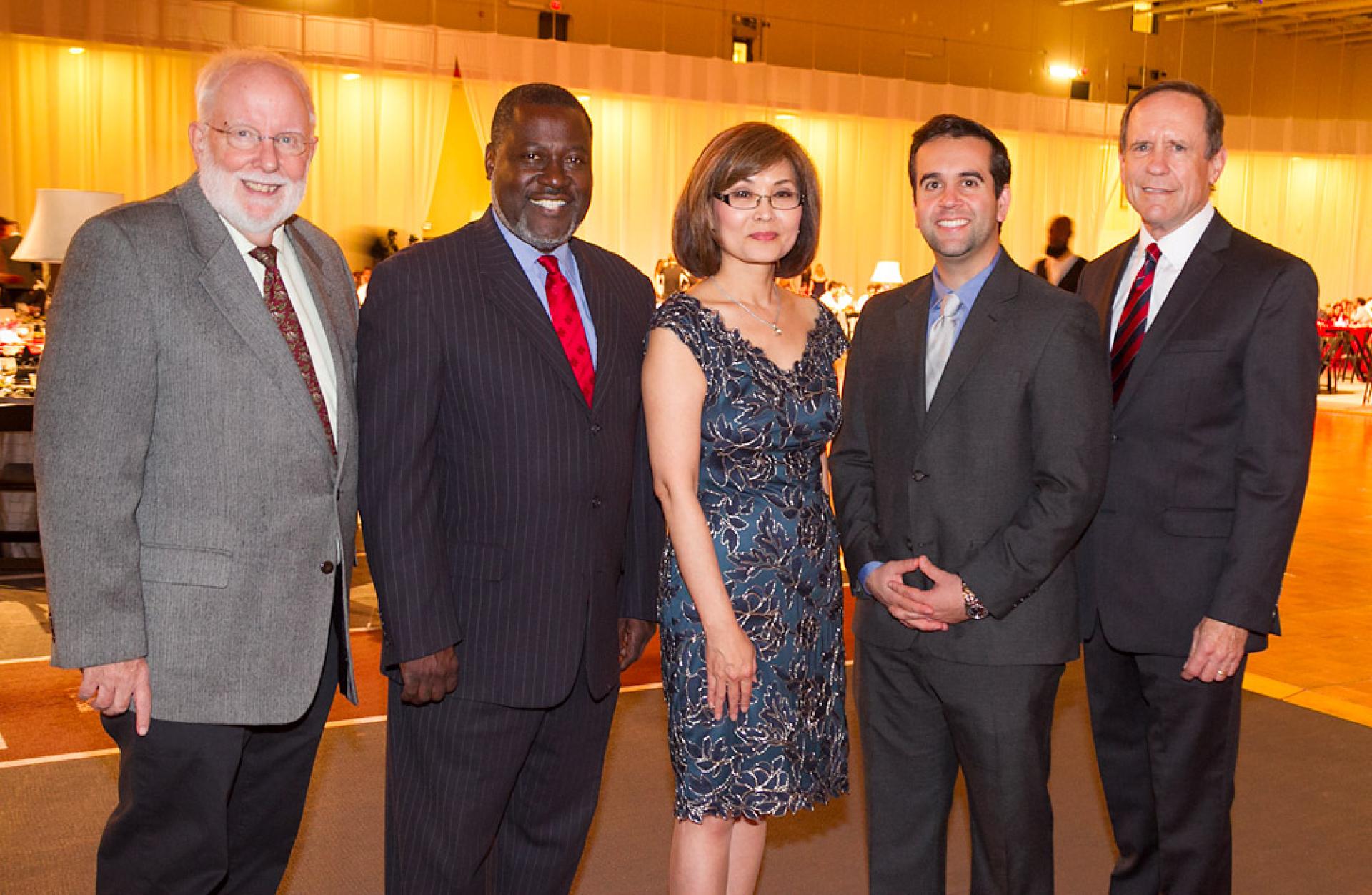 Rev. Dr. Joseph Agne '66, Peter Jones '76, Dr. InSun Ho '81, Wayne Randazzo '07, Hudson Hickman '71
Outstanding Alumni Award
Hudson Hickman '71 has guided some of Hollywood and TV's best-loved entertainments to the screen, including "The Love Boat," "MacGyver" and "Hotel." He majored in speech communication at North Central, where he was mentored by the late Don Shanower, professor of speech communication/theatre emeritus.  
Hickman has worked for many of the major Hollywood studios, including Aaron Spelling Productions. As the senior vice president of production for MGM Worldwide Television, Hickman launched "Stargate SG-1," TV's longest running science fiction series, and was involved in the production of more than 25 films and 700 hours of episodic television.  
In the North Central spirit of public service, Hickman helped raise $15 million for the victims of Hurricane Katrina through his production of documentary segments for the celebrity telethon "Mississippi Rising."
Peter Jones '76 is a visionary business leader and entrepreneur. He cofounded Mind Safety Management, a Washington, D.C.-based business consulting firm, in 2003. As CEO, Jones brings to his position a 35-year track record of success in investment banking, general business management, strategic planning and fiduciary oversight.
His years at North Central College helped Jones sharpen his business acumen. A major in speech communication and political science, he participated in forensics, the College Union Activities Board and WONC-FM 89.1. And his loyalty to North Central didn't stop there. Jones has served on the College's Board of Trustees since 1991.
Jones was honored as Small Business Person of the Year in 1998 by the U.S. Small Business Association for his work as chief financial officer at M-Cubed Information Systems, Inc.  
Dr. InSun Ho '81 has devoted her career to making the world a healthier place. A leading research scientist, Ho takes the lead in monitoring compliance with worldwide regulations for restricted substances. Over a 24-year career at Abbott Laboratories, Ho has led efforts to deter potential risks to human health and the environment.
Ho led teams working to improve testing for infectious diseases such as Hepatitis, HIV and German measles, as well as blood donor screening. Her current role helps ensure the safety of chemicals in healthcare industry products in response to international regulation developments.
A biology major at North Central, Ho has a master's degree in biology and a Ph.D. in agronomy from the University of Illinois at Urbana-Champaign.  
Alumni Recognition Award
Wayne Randazzo '07 has taken his sports broadcasting skills from North Central's WONC-FM 89.1 to the World Series. As host of the New York Mets pregame and postgame shows on WOR-AM, Randazzo covered the Mets in the league playoffs and the World Series in 2015. He's already one of the country's top 30 sportscasters under 30, according to the Sportcasters Talent Agency of America.
Randazzo's journalism dreams were first realized as sports director at WONC, North Central's award-winning radio station. "I was on the air from day one," says Randazzo. A broadcast communication major, he also served as anchor/reporter for the Illinois Radio Network.  
After graduation, Randazzo worked as a sports anchor and reporter at Chicago radio stations WMVP-AM/ESPN 1000 and WGN-AM before joining CBS Radio Chicago in 2011, WBBM-AM/Newsradio 780, then WOR-AM in 2015.
Wall of Witness
The Rev. Dr. Joseph Agne '66, a longtime champion of human rights, was named to the Wall of Witness, which recognizes alumni of North Central College and/or Evangelical Theological Seminary for their lives of witness to their faith and service to humanity.
From the historic Selma civil rights march to serving with the Dr. Martin Luther King Jr. Institute for Nonviolence and the World Council of Churches Programme to Combat Racism, the Rev. Agne has been a tireless advocate for social justice.  
His dedication to the fight for social justice was nurtured during his years at North Central by the college's chaplain, Rev. George St. Angelo '43. A speech communication/theatre and English studies double major, Agne returned to the North Central campus in 2004 as the keynote speaker at the annual Rev. Dr. Martin Luther King Jr. breakfast.
The organizer of the Racial Justice Connection and the leader of numerous antiracism workshops, Agne has devoted his life to working on behalf of the disenfranchised.  
Awards
Presented each year at Homecoming, the Outstanding Alumni Awards are awarded to alumni who graduated more than 15 years ago, while the Alumni Recognition Award is given to alumni who graduated less than 15 years ago. The Wall of Witness recognizes alumni of the College and/or Evangelical Theological Seminary for their lives of witness to their faith and service to humanity. Names of honorees are displayed in Kiekhofer Hall, which houses the College's Koten Chapel and is the former home of the seminary.