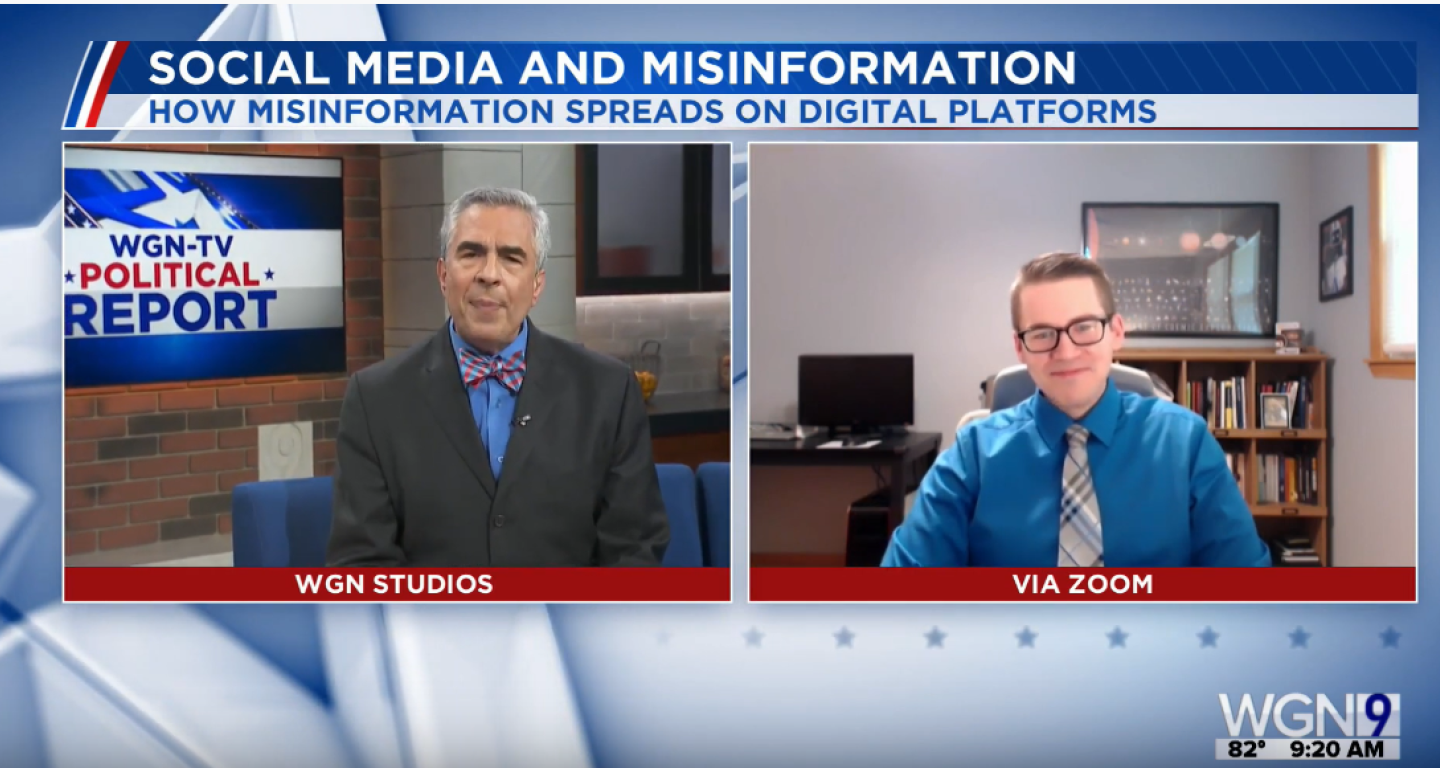 North Central College in the News
North Central College subject-matter experts continue to make regional and national headlines
Jul 28, 2020
Faculty share expertise on crime, politics, COVID-19 and more
As times of uncertainty have continued to take society by storm, North Central College has stayed current within the media landscape. With insights including a summer webinar series on the ripple effects of COVID-19, adjusting perspective on the year 2020, and tips on how to get personal finances in order, the College's subject-matter experts have provided the public with the knowledge they need on everyday issues. North Central faculty have appeared in prominent outlets including the New York Times, the Associated Press and MoneyGeek as well as regional media throughout the Chicago area.
Dr. Raleigh Blasdell puts her criminology background to the test in the New York Times
A recent federal lawsuit has been filed by a Colorado family against a local police officer, claiming excessive force was used in the death of a fellow family member. The suit challenges the "fleeing felon" defense that has given police near impunity to use deadly force against a person escaping their custody. North Central College's Dr. Raleigh Blasdell, criminologist and assistant professor of sociology, shared her perspective on the topic in an interview with the New York Times. She stated that Colorado is among other states and towns or cities that have recently announced plans to re-examine standards for the use of deadly force to stop someone who is fleeing from the police.
"What we are seeing at the local level is police departments are updating and amending their policies to provide citizens with greater protections," said Dr. Blasdell.
Most states, she said, have tailored their fleeing-felon statutes around the 1985 Supreme Court ruling in Tennessee v. Garner, a case involving a 15-year-old boy who was killed as he fled from a police officer in Memphis even though the officer who shot him was "reasonably sure" he was unarmed.
Stuart Patterson details how we can fix our hopes on 2021 in the Associated Press
The coronavirus pandemic has caused a tumultuous change for almost every part of life—how we live, where we live, where we work, what we do for work, what it means to be a kid, what family means, and what is important. The global pandemic caused life to be put on hold for months on end, leaving many to question their purpose and passions.
Experts who study human behavior say the human desire to pin failures, hopes and dreams on a period of time like a calendar year has primitive roots connected to our attachment to routine. Experts like Stuart Patterson, visiting associate professor in the Shimer Great Books School at North Central College, discussed this very concept with the Associated Press.
"Because we missed our spring, summer isn't really summer because it only comes after a complete spring," said Patterson. "The only opportunity to reset is next spring. Everything else we're doing this year is going to be drained of significance because they don't have the proper sequence."
Dr. Ryan Decker reveals how to help your college freshman get financially ready for school in MoneyGeek
Whether you are preparing to send your child off to college or preparing for them to have a remote college experience, there are many factors to consider. Regardless of how this coming semester plays out on college campuses, you still need to prepare your student for the rigors and demands of college, including finances. If you are not sure where to begin, North Central College's Dr. Ryan Decker, director of the Center for Financial Literacy and assistant professor of economics and finance, weighed in on seven critical topics to discuss in an interview with MoneyGeek.
"Encouraging the use of a credit card early will allow the student to obtain a quality credit score for the car purchase, home purchase or student loan refinancing that typically happens after college," says Decker. "Teach the child to use the credit card for small purchases and pay it off in full every month. Treat the credit card like a debit card, and you'll never be in credit card trouble."
Dr. Lauren Stone discusses face masks as part of dress code come fall academic year in Naperville Sun
North Central College's Dr. Lauren Stone, assistant professor of occupational therapy, recently interviewed with the Naperville Sun on the concept of face coverings likely to become an everyday accessory in schools come the fall. As schools prepare their campuses for the upcoming school year, they are faced with reopening guidelines from the Illinois State Board of Education and the Illinois Department of Public Health
Dr. Stone recommends parents help their children prepare for this new mandatory dress code ahead of time. She told the Naperville Sun that starting school can be a stressful time and requiring something over the face can add another layer of anxiety, even for adults.
"The sooner children become acclimated to wearing masks during everyday tasks, the quicker it will become part of their regular routine," said Stone. "This will be important for younger children who tend to fidget with face covering or for kids with sensory issues."
North Central experts' examination of the ripple effects of COVID-19 catches regional media attention
North Central College is offering a free summer webinar series centered on the COVID-19 pandemic and the many ripple effects it has in our lives and throughout our communities, as well as within a broader cultural and historical context. Faculty from 13 academic programs will offer a total of 18 informative sessions in their areas of expertise, many of which will include live Q&A sessions. The free webinars are open to the public and will explore this important moment in world history. Webinar summaries can be found on the series' web page.
"North Central College faculty have such a vast range of expertise, and the COVID-19 pandemic lends itself to examination from multiple perspectives," said Stephen Maynard Caliendo, dean of the College of Arts and Sciences at North Central College. "What has emerged throughout this project is a rich, multi-disciplinary exploration of this important moment in world history. North Central students will be excited to see some of their favorite professors doing what they do best, and the community at large will benefit from the information and invitation for discussion.
"This series captures the essence of the North Central experience by combining real-world events with deeper academic exploration."
This hit summer series has captured the attention of both print and television media: