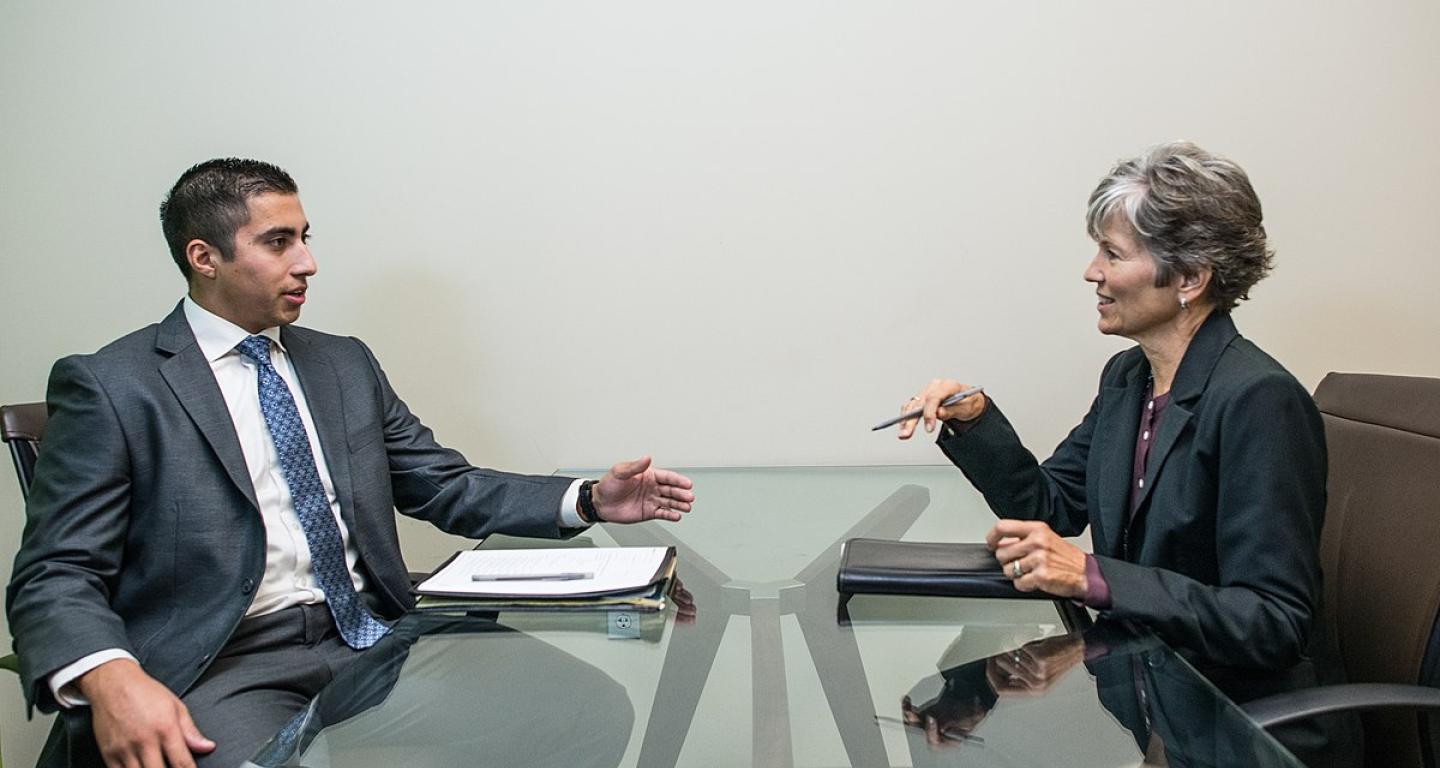 Top Grad School Interview Questions
May 21, 2021
Grad school interview questions based on your degree
Getting ready for a graduate school interview actually begins early in your college career … as you undertake research projects and extracurricular activities that round out your undergraduate academic experience. Your academic successes, leadership skills, research interests, accomplishments and published work during college are the kind of topics you'll discuss as part of your online college application and interview. This shows that you will make important contributions to a graduate school program as you pave your future career path as a graduate student. 
Not only will you want to research "What is grad school A, B, and C known for," you'll also want to research the type of potential interview questions that are frequently asked in graduate school interviews, so that you can be ready with answers that show the admissions officer that you are well-qualified and able to contribute to the graduate program you're applying for.
"Although many graduate programs are extremely specialized, interviewers will often ask similar questions to get a sense of your personality and attitude," according to Indeed.com. "Your interview answers should emphasize your successes and share information about yourself that was not included in your application materials."
Here are some typical questions that are asked by the admissions committee, provided by Indeed.com to guide you in preparing for the interview process:
Tell me about yourself.
How will you contribute to our grad program?
What are your career goals?
Do you have a particular research interest?
Tell me about a time you failed.
What would you consider to be your greatest accomplishment?
What are your hobbies and interests?
Why are you interested in our grad program?
What books have you been reading?
What are your strengths and weaknesses?
Grad school interview questions for advanced science and other degrees
The summer before senior year, students in the sciences should start looking for where they want to attend grad school and how to apply to grad school—plus a principal investigator (PI) they want to work with in conducting research. Ultimately, they will interview with this PI plus others––and they need to be ready to impress.
"At the beginning of the fall semester, we recommend they contact PIs to see if they have openings," said Maggie Gill, associate professor of neuroscience at North Central College. "At our annual meeting every fall, we encourage our seniors to meet and talk with these PIs, and view the posters of their graduate students and postdocs to talk with them about their labs. This gives them a good idea before applying whether that lab would be a good fit."
Gill also recommends that seniors returning for fall semester meet with at least three faculty members to ask for letters of recommendation. The application process for Ph.D. programs typically takes place in December and January each year. Every prospective student should have a list of seven to 10 schools they are interested in based on their contact with various PIs.
"Students will hear back where they are top candidates, and typically visit campus for interviews in February and March," explains Gill. "Candidates will typically interview with PIs of a few labs and graduate school administrators."
To prepare for these interviews, Gill tells students to thoroughly prepare to talk about their own research experience or how they've worked with a faculty member. They should be able to talk about the PIs research and prepare by reading their published papers and background on the lab.
"At North Central College, professors typically meet with students prior to these visits for a practice interview and guide them with a list of questions and answers tailored to their discipline and research," said Gill.
Most Ph.D. programs have historically used this same apprentice-based system. So whether your goal is a research lab in the sciences or psychology, or in the social sciences/humanities, you'll apply to a Ph.D. program to work with a specific professor. Applicants choose this professor based on what they work on so they can learn from the experts.
Grad school interview questions for health professions and medical degrees
Interview formats and the questions you can expect from graduate degree programs in the health sciences vary by specialty and also by program.
"The interview questions will vary depending on the format of the interviews, which can be very different for various health graduate programs," said Marguerite Degenhardt, pre-professional health program coordinator at North Central College. "In all cases, students need to be ready to answer the question 'why this health profession?' and questions related to leadership, handling conflict, communication, decision-making, cultural awareness and diversity in an admissions interview."
How many interviewers do you interview with?
From admission to medical, dental, podiatry, optometry, veterinary medicine, physician assistant, physical therapy, occupational therapy (OT), nursing, nurse practitioner, pharmacy and athletic training programs, the meeting could include:
A "traditional" interview format on the interview day, where the applicant will have two or three of these interviews with a faculty and/or staff member. Some programs (nursing, OT) may conduct traditional 30-minutes interviews with one faculty/staff member and a health professional. A third- or fourth-year medical student will also typically interview candidates for medical school. Another interview might take place with a physician or other health professional.
Multiple-mini interview (MMI) is used by some health graduate programs, including three of the medical schools in Illinois. An MMI requires the prospective student to read a brief scenario for two minutes and then enter the interview room with one or two interviewers. The applicant then discusses how they would respond to the scenario in about eight to 10 minutes. The MMI often consists of rotating through six to 10 independent "stations" or scenarios with different interviewers. Many of the scenarios are based on ethical decision making, judgement, compassion, critical thinking and other important qualities.
A group interview or panel interview format is occasionally used involving a panel of up to five applicants who are interviewed together by multiple interviewers. What's important in this format is how the applicants––future health professions colleagues––interact with each other.
A group activity may be part of the process for applicants in professions like pharmacy, medicine, podiatry and others. The group activity requires two or three applicants to work together to solve a problem––like assembling some Lego pieces. The interviewers are looking for communication skills and teamwork during the admissions process.
At North Central College, Degenhardt works closely with pre-health students to help them brainstorm and reflect on their experiences––so that they can readily pull examples while answering interview questions. "I also conduct mock interviews with pre-health students and provide direct feedback and suggestions," she said.
With the change in processes necessary during the pandemic, the upcoming 2020-2021 interview cycle for the health professions will likely move to virtual formats like Zoom or GoToMeeting. "I am putting together resources for students to help them prepare both and will conduct mock interviews with them virtually," Degenhardt said. "I also plan to reach out to our Career Development office to partner with them and offer a practice interview event."
To prepare, signup for feedback during mock interviews conducted by your school's career development office.
Grad school interview questions for advanced law and business degrees
With thorough preparation, prospective candidates can feel confident going into interviews for law and advanced business degrees. Not only will these candidates be readily prepared to respond to complex interview questions, they will also be knowledgeable of the most beneficial questions to ask grad school interviewers.
Always begin with the resources available on your campus. This includes your professors, your career development/placement office and alumni in the field you want to pursue. Sign up for career fairs to get advice; take advantage of campus mock interview events; reach out to recent graduates; and find resources to help you hone your resume—and then be prepared to talk about it.
Some simple internet research will yield plenty of help to prepare for graduate admission interviews. In the case of Harvard Law School, a very thorough list of questions is provided as part of a job search toolkit; it includes topics and categories you should prepare to answer wherever you apply.
In preparing for an interview for admission to a master's of business administration degree (M.B.A.), a resource like clearadmit.com can help you get started. Here are a few basic questions to begin with:
Walk me through your résumé.
What are your career goals?
Why this graduate program?
Give us an example of a time you took a leadership role.
Tell us about a time you failed.
And don't forget that in any interview situation–whether for grad school admission or in a job interview–you should always have questions prepared for your interviewer. Ask about working with faculty, publications, the career paths of other graduates, networking opportunities and anything else that reflects your sincere interest in the program.
Laura Zahn Pohl is an editorial director in higher education with more than 17 years of experience as a content writer, publications editor and speechwriter. An honors graduate of the University of Iowa School of Journalism, her experience includes corporate communications and freelance reporting for the Chicago Tribune, Daily Herald and Kalamazoo Gazette.
Sources
Indeed:
https://www.google.com/url?q=https://www.indeed.com/career-advice/interviewing/graduate-school-interview-questions&sa=D&source=editors&ust=1620848349439000&usg=AOvVaw0NIJ3ESQILbq7XGRBUl6iE
Clear Admit:
https://www.clearadmit.com/mba-admissions-tips/5-mba-interview-questions-you-need-to-ace-and-how-to-do-so/