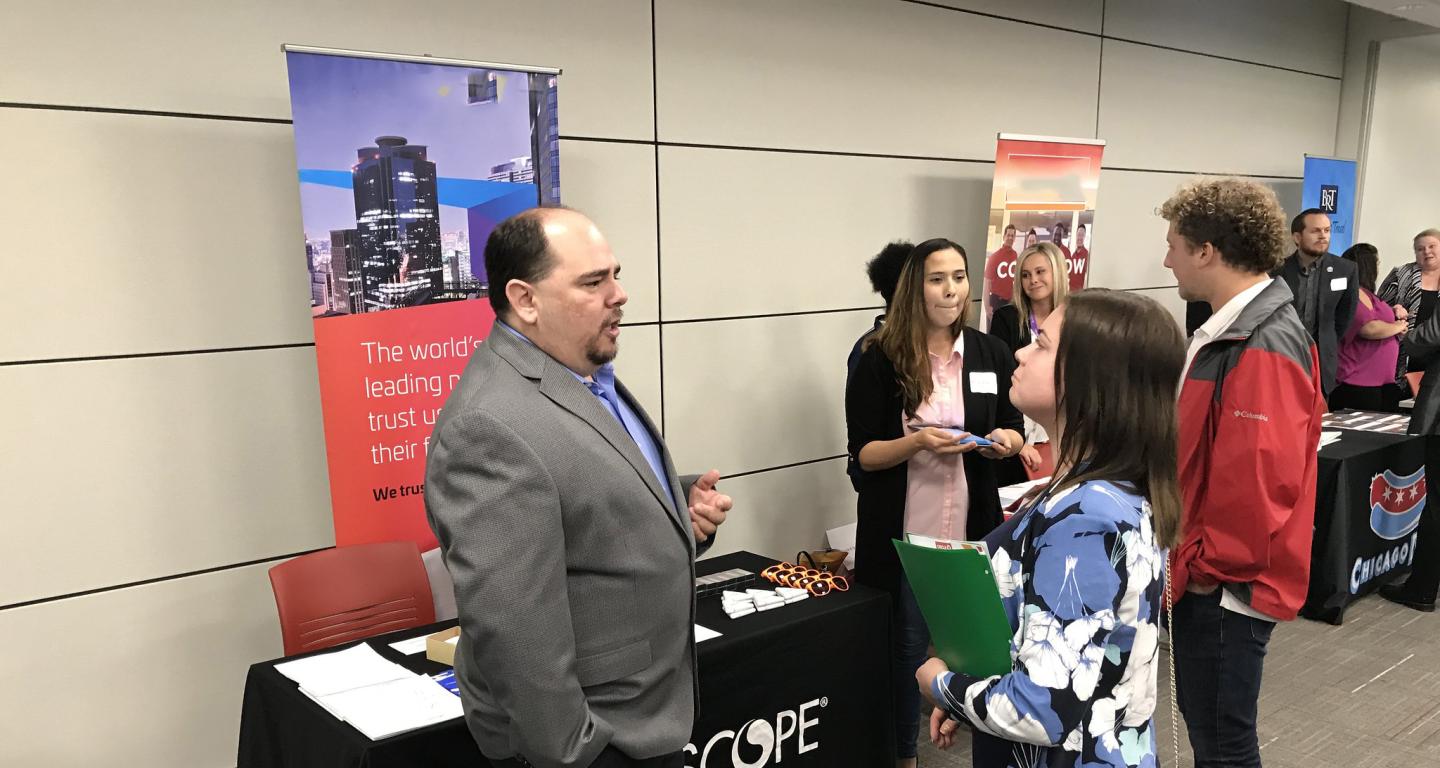 Perfect an Elevator Pitch for Career Fair
Oct 26, 2020
Perfecting Your Career Fair Elevator Pitch
You've just signed up for the local career fair. You've already learned what to wear to a job fair, researched what questions to ask at a career fair, and Googled how to prepare for a career fair. But when you walk in, you are speechless, unable to find the words to simply introduce yourself. You have already filled out your online college application and may have a year or two of schooling already under your belt--but entering a career fair is a whole new ball game. In this article, you'll learn how to master professional introductions and to perfect your elevator pitch for a career fair.
What to include in your job fair elevator pitch
A job fair is an event that takes place for potential employees to meet recruiters and make connections. Professional conversations, resume exchanges, and sometimes even an interview can take place at a career fair. Job seekers must go into a career fair armed and ready to present themselves in a digestible, genuine, and confident way to hiring managers.
Conversations at job fairs should communicate basic information about you as a professional and your work experience.  If you were to boil down your best attributes to a series of bullet points, what would they say? Dr. Michael Blight, professor of business & professional communication at North Central College, explains that students and professionals need to be able to easily answer some baseline questions when speaking to recruiters like, "Who are you? What do you want to do? What value do you bring? And how does this company interest you?" An elevator pitch is a verbal summary of these answers, which reflect who you are as a candidate for employment. What you say should "serve as a win-win for both you and the organization."
Who are you?
A difficult question, but one that is key to quickly drawing recruiters in and helping them understand your background. Prospective employers do not want your life story but rather would like to know what parts of your background are important about you as a professional. This tough question can be answered by breaking it down into more easily answered questions...
Where do you go to school? What year in school are you? What are your majors and minors?
The answers to these basic questions will shape the start of your elevator speech, helping you to begin to convey who you are to the recruiter.
What do you want to do?
Answering this question will help the recruiter to help you. Your goal here is to help the recruiter to see one or more places that you might fit into their company or organization. Your reply may be quite targeted if your goals are very specific or may include a number of possible options if your goals are still being fine-tuned. This question can be answered by asking yourself…
What are your career interests? What classes are you enjoying most? What are you good at? What skills are you looking to gain professional experience in?
By asking yourself these questions, you are preparing in advance to best communicate to recruiters what you are interested in doing (i.e. your career goal) and what you would be best at in an internship or available position.
What value do you bring?
This question asks you to consider your skill set. Summarize your specific skills as they relate to the recruiter and explain where those skills came from. This requires you to keep an inventory of the building blocks you have accumulated as a result of your varied experiences.
What campus groups are you involved in that you would like the recruiter to know about (Radio, Model UN, PRSSA)?  What professional experience do you have off-campus (Internship, professional development, research)? Do you have volunteer experience? How have your professional experiences made you a successful employee or intern? What professional traits do you have that make you, you?
These answers help to explain what you bring to the table that differentiates you from the many other people that the recruiter will meet. It explains how your skills transfer into the workplace. Highlight your skills and work history as they relate to the employer. If you do not have direct experience, you should show how the skills you have gained in past seemingly unrelated experiences are an asset to you overall.
How does this company interest you?
After registering for a career fair, you will be given a list of different companies that will be attending the fair. You must research the companies you are interested in and narrow the list to those that you 'must-see' before leaving the fair as you will not likely have an opportunity to speak with everyone. You should take notes on the companies you will speak to, memorizing what they do and why you find them attractive as a potential employer. Employers want to know that you want to work for them.  Ask yourself…
What are their values? What are their current initiatives? What are they doing differently from their competitors? Have they been in the news recently for something positive (never bring up something negative)? Do you have any connections to the company?
Decide which of these questions applies to the specific company you are talking to and run with it. This is your chance to impress the recruiter by showcasing that you are invested enough to have done your research. It is often the knowledge that you gain through research that can set you apart from others. It shows that you are interested in the job at a specific company rather than a job in general. Your knowledge need not be limited to companies or organizations alone, but also any issues or changes the industry is experiencing as well.
Career fair elevator pitch examples
Now that you've answered these questions, it is time to write your pitch. Below is an example of an elevator pitch that could be used at a career fair.  The corresponding sections of the article are indicated in parenthesis.
(Introduction) Hello! My name is Job Applicant and (Who you are) I am a senior at Location College studying organizational communication and interactive media. (What you want to do) I am interested in working in PR because of (What value do you bring) my experience last summer interning in media relations with Blue Cross Blue Shield Association where I learned a variety of skills such as building a subject matter expert database, growing client intelligence, and identifying share content and influencer sentiment. (How does this company interest you) I am interested in interning with Apple next summer because the cross functional business strategy Apple describes on the website is exciting to me. (Closer) I am confident I can use my PR experience, writing skills, and commitment to learning to make a positive contribution at Apple.
Using this sample to guide you, prepare your pitch. Fill it in with your information that corresponds to the associated questions.  Include your skills, experiences, and what makes you unique. Don't forget to include an introduction and closer, but be flexible enough to alter this as necessary in natural conversation.  Remember, you want to be both professional and genuine.
Practice, Practice, Practice
Now that you have prepared what you'll say, write your elevator pitch onto a notecard. Begin by practicing your elevator pitch with a notecard in hand to a family member, friend, or yourself in the mirror. Choose someone who can "be objective, and ask for constructive feedback." As you practice, work toward getting comfortable without using the notecard. This should become a pitch you memorize, one that becomes second nature. Like actors practice their lines, you will practice your elevator pitch every day leading up to the career fair.
Next, you'll need to focus on your body language and vocal technique. Practice your pitch so that it becomes natural, using hand gestures, a comfortable stance, and excellent posture to support your words. These small details can make or break a first impression with prospective employers.
Body language is everything. A firm handshake (post-COVID-19), a friendly smile, good eye contact, and hands by your side or resting at your waist are key. Hands in pockets, knuckle cracking, crossed legs, and looking down is a good way to take the attention away from your pitch and put it on distracting behavior.
Vocal quality is also important, as strong speaking skills are sought after by employers. Time to put the casual fillers such as "like" and "um" to rest. Practice by removing filler language from everyday conversation with your family and friends; this is a communication habit you can break if you try. Another habit to consider breaking is "upspeak." Upspeak is evident when someone incorrectly ends a phrase or sentence in an upward pitch, much like a question when making a statement. This can make a candidate sound unsure of themselves.  The accompanying "vocal fry" is also a common habit. This is evident when someone is ending a sentence and their voice drops into the lowest register, causing vocal cords to make a static-like breaking or frying sound. This can make a candidate sound incompetent or uncertain. Use your voice to show enthusiasm but with proper vocal variation.
Before the fair
Reducing stress and anxious habits is crucial to performing your elevator pitch effectively.
Career fairs are typically open for many hours, so attend at a time that you feel your best. Get plenty of sleep the night before the fair and the week leading up to the fair. Have an easy stomach-friendly meal or drink that will soothe your throat. Know booth locations and prepare accordingly. Arrive with enough time to be able to have the engaging conversations you want to have with all the recruiters you'd like to talk to. Do not leave anything until the last minute, prepare it all the night before.
Stress can deeply impact your memory, nerves, and ability to perform something like an elevator pitch. Public speaking is one of the nation's largest collective fears, and an elevator pitch can feel like a speech. Preparation both in the way of practice and anxiety-reducing techniques will be extremely important to cultivating a successful day and strong elevator pitch. Anything you can do (no matter how silly) to raise your confidence will be impactful in creating a great first impression.
But remember, having some nerves can be a good thing, as they keep you on your toes and remind you to listen to yourself and think through what you are saying. Remember, it is just a conversation. If you can shift your thinking about the elevator pitch and remind yourself it's an opportunity rather than a test or speech, you will be well equipped to speak with recruiters.
The career fair and beyond
The elevator pitch is your ticket to a successful job fair. The connections you make can last a lifetime, and it is your elevator pitch that will leave a lasting impression about who you are. It is both what you say and how you say it that will connect you with recruiters helping you to land that coveted opportunity. But the value of the elevator pitch is not limited to career fairs. You can use it to network in every situation where people gather. With the newfound confidence and practice that a polished elevator pitch will bring, it will quickly become part of your everyday casual conversation and will lead to countless new opportunities at career fairs and beyond.
For more information or help regarding elevator pitch, resume, or career-building skills, visit https://www.northcentralcollege.edu/career-development.
Claire Hartman is a 2020 graduate of North Central College, a Graduate Assistant in their Office of Marketing & Communications, and an MBA candidate. She honed her corporate communication skills as a media relations intern in downtown Chicago with the country's leading health insurer, Blue Cross Blue Shield Association, where she contributed to a variety of social research projects.