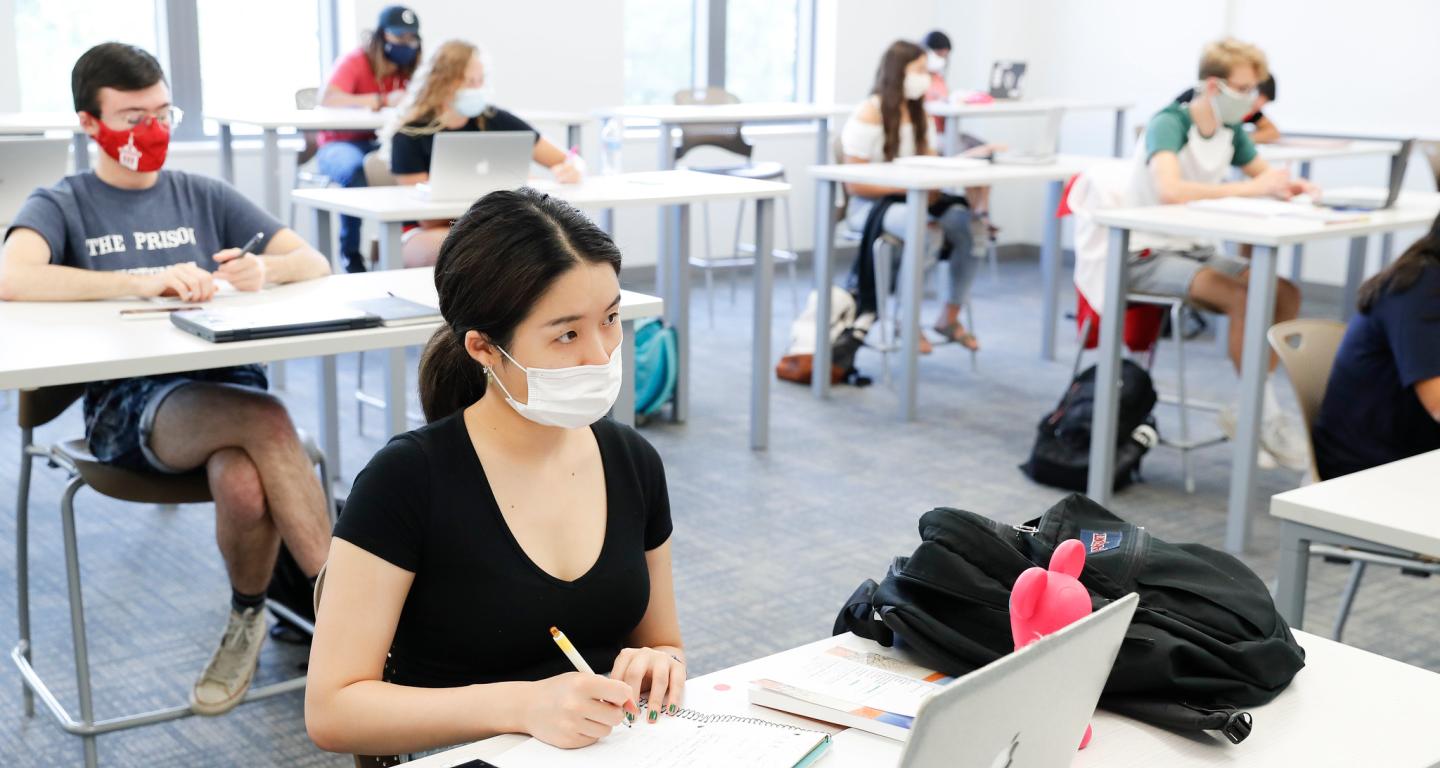 Mental Health Tips for College Students
Jan 15, 2021
5 Mental Health Tips for College Students
Your mental health is important, especially during a time where anxiety and depression are increasing at faster rates. Day to day stressors, shutdowns, financial crises, and social issues have amplified the stress, anxiety, and depression many are experiencing. For example, according to the Centers for Disease Control and Prevention there was a considerable increase in reported mental health issues from June 24 to June 30, 2020—all associated with COVID-19. Among those most affected were younger adults and racial and ethnic minorities, experiencing an increase in substance abuse, suicidal thoughts, and symptoms of anxiety and depression.
Why are younger adults among the most affected by mental health issues connected to COVID-19? Many young adults struggle with adapting socially during the COVID-19 pandemic. Social distancing and stay-at-home orders have limited gatherings where young adults meet with friends and family. College years are typically a time where students meet and interact with new people often and in social settings that are easily accessible. It can be difficult for students to learn how to make friends in college during COVID. Many young adults have missed important events or experiences that happen during college life due to COVID-19.
During a pandemic, a college student on a college campus may also have to adapt to virtual learning or at least a hybrid of in-person and online courses. Precautions to stop the spread of COVID-19 on campuses have changed the college experience and overall college life, affecting how young adults learn, eat, work, and travel—impacting their social lives. Many young adults have lost a job or internship opportunity, position, or wages due to closures on and off-campus. This often leads to financial or economic insecurity and could have social, emotional, and physical consequences such as a higher risk of exposure to violence. Economic difficulties combined with stay-at-home orders can result in domestic violence, sexual violence, or sexual assault.
Why are racial and ethnic minorities among the most affected by mental health issues connected to COVID-19? Systemic health and social inequalities that contribute to an increased risk of exposure to and death from COVID-19 among ethnic and racial minority groups include:
Poverty
Access to healthcare
Discrimination
Housing
Occupation or income
Transportation
Access to childcare
Language and cultural barriers and differences
Education
College students of color should pay close attention to their mental health to prevent the development of a mental illness. Not only does the stigma of mental illness make individuals of particular minority communities more susceptible to the harms of mental health issues, but also historical events have created mistrust between these groups and healthcare systems. Many students of color have less access to resources that could help them due to low income and non-existent or limited access to technology.
Feelings of being unwelcome or unwanted may also affect a student of color, contributing to a lack of a sense of community and feelings of isolation in a remote environment. This can have negative impacts on students of color's mental health. During stressful times, many students of color find comfort in their racial, cultural, or other identities. When a college student does not see their communities or identities represented at their college, in their peers, staff, faculty, or curricula, it can add to the feeling of social exclusion they are already experiencing—especially during times of physical distancing. The unconscious bias, microaggressions, and stereotyping students of color experience also contribute to their mental health issues.
These unique struggles that a young person can face during times of stress contributing to depression in college students and anxiety in college students, makes mental health among young people on college campuses an important topic. Here are five mental health tips for college students.
1: Become self-aware
Do you know how to become more self-aware? Self-awareness or mindfulness starts by taking a breath. Inhale deeply through your nose, hold your breath for a moment, and exhale through your mouth. Taking a moment to breathe also communicates to the rest of your body that you are safe. Controlled breathing helps our parasympathetic nervous system respond to our fight-or-flight response. Breathing helps manage stress and anxiety as well as lowers your blood pressure and heart rate.
Take a break and do something that makes you happy. It can be as simple as listening to your favorite song;, simple acts can be very uplifting. Next, evaluate what you are feeling, thinking, and what your body is experiencing. Seek and participate in mental health activities for college students that may be happening on your campus or in your community and take time to acknowledge your feelings.
2: Be nice to yourself
Acknowledge your feelings and analyze your thoughts—are they helpful, or do they add to your feelings of sadness and depression? The relationship between your body and thinking is important. Your thoughts, feelings, beliefs, and attitudes have positive or negative effects—your mind can affect you physically. Make sure your self-talk is kind. Be real with yourself, but find a way to be kind also. Reassure yourself that whatever you are going through is just temporary. Do not self-judge.
3: Create good habits
Using this time to create good habits is an amazing mental health tip. In the same way that our mind has an affect on our body, our physical health affects our mental health. Our sleep, exercise, and nutrition can affect our mental state. Try getting to bed ten minutes early every night, taking a walk, participating in wellness activities for college students on your campus or another physical activity in your community, and practicing healthy eating. Creating good habits surrounding sleep, physical activity, and nutrition can contribute to good mental health and physical health during times of stress. A healthy diet and regular exercise can have a significant impact on you.
You don't have to do it alone. Connect virtually with friends and family for accountability and utilize apps that help you create routines and stick to them. Don't be intimidated by change. The most minuscule change can make a big difference and inspire you to make more healthy changes.
4: Avoid creating bad habits
Of course, if we want to create good habits, we wouldn't want to develop bad habits, such as binge drinking or substance abuse—but it is easy to do. Healthcare professionals are concerned that additional stress, anxiety, and depression due to the COVID-19 pandemic are contributing to the increase of addiction to alcohol and other substances as they attempt to cope with stress, leisure time, and symptoms of anxiety and depression. These unhealthy behaviors can devastate those already dealing with an eating disorder, anxiety disorder, bipolar disorder, a mental health disorder, suicide, or suicidal ideation. Avoid using substances such as alcohol and drugs. Instead, stimulate your five senses as a healthy alternative.
Tatiana Sifri, director of the Dyson Wellness Center at North Central College, gives college students some advice during stressful times. "Right now, take a nice deep breath in through the nose and exhale out through the mouth. Let your shoulders drop away from your ears," she said. "Notice the temperature of the air on your skin, the weight of your body against the seat or ground underneath you. This five-second practice signals the body and mind that you are safe, muscles can relax, blood pressure drops, thoughts wind down, immunity boosts. Little hinges open big doors. Implementing new habits, like taking a mindful breath, are not typically huge undertakings. They are tiny adjustments that transform and improve our lives."
Stimulating your five senses releases the same chemicals as using substances such as alcohol and drugs. Stimulate your sense of smell by buying candles or other healthy alternatives with strong scents. Listen to music during leisure time or while you are working to stimulate your sense of sound. Did you know you could work out your eyes? Do eye exercises to stimulate your sense of sight. Try new and healthy foods to add some variety to your diet and stimulate your sense of taste. Be mindful of the textures you encounter and stimulate your sense of touch. Don't assume that these things will happen, you must make time for them.
5: Reach out for help
There are a few common reasons young adults avoid seeking help. Due to stay-at-home orders, social distancing, and increases in COVID-19 cases, young adults may be apprehensive about going out because they are afraid of getting sick. It is important to experience a social connection during times of stress and anxiety, especially with your loved ones. Part of our survival is connecting with people and loved ones along with creating a feeling of belonging. Belonging is essential to happiness and health and could affect interests, aspirations, motivation, immune function, academic performance, and self-control.
A lot of people feel alone during times of stress. We tend to feel better when there is someone to witness our feelings. It is much easier to feel relief when someone else helps you deal with the feelings of stress, depression, loneliness, and chaos. Connect with people, especially the people you love and trust. You shouldn't and don't have to deal with your feelings on your own. Communicate what you need from the people there to comfort you. Sometimes you need someone to listen, acknowledge, and be kind—not to try to fix things. Be willing to communicate, be vulnerable, and share your feelings. When you open up, others will be more willing to open up as well.
Due to the COVID-19 pandemic, we must depend on technology in other aspects of our lives where we often get face-to-face communication. In our personal and professional lives, we use technology to improve our performance, hold us accountable, and complete tasks—but technology can also have adverse effects on our health and mental health. Due to stay-at-home orders and social distancing, technology can also contribute to a lack of connection with others.
College students should reach out to the counseling center at their institutions for counseling and other support services, educate themselves on mental health in college students, and take advantage of the resources they have access to on their college campus.
Do you know of any mental health services or student mental health resources on your campus or in your community? Are there resources where you can report your feelings of anxiety and depression or where you can report a friend or family member experiencing these feelings? North Central College has an Early Alert referral system for anyone in the community concerned about the state of their own mental health or the mental health of someone they know. The referral is kept private, and a group of people will reach out as support.
Does your campus or community offer support groups? Many people are afraid to show up to virtual support groups because they do not know what to expect or who will be there. Don't be nervous about connecting with other people with similar feelings. Be willing to step out of your comfort zone to receive the help you need. North Central College hosts support groups through the Dyson Wellness Center. You can find more resources, including hotlines and phone numbers on the Dyson Wellness Center web page.
Kamari Jordan is a graduate assistant in the Office of Marketing and Communications. She creates content for web and print and is pursuing a Master of Arts in Liberal Studies. Kamari received a bachelor's degree in Communication and Media Arts from the University of St. Francis (IL).