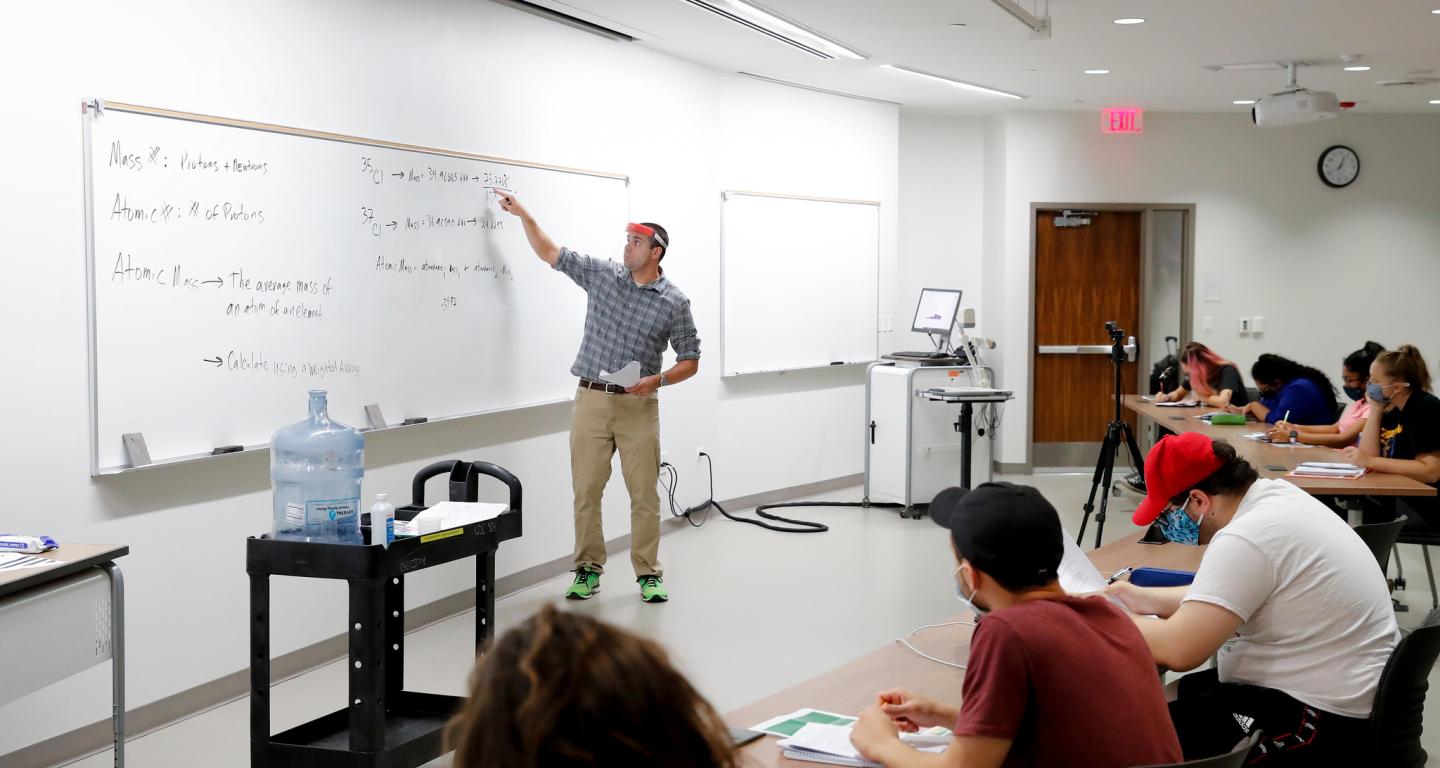 Types of Math Majors
Reviewed by Jacob Imm
Apr 09, 2021
Types of Math Majors
Mathematics is a subject that incorporates abstract thinking and solving complex puzzles. And degrees in this field can be as intricate and unique as the theorems you'll come to understand.
When choosing a college major, students can quickly become overwhelmed by the number of options they have. To help you avoid hitting this roadblock, it's important to understand the different types of math degrees you can pursue. For example, at North Central College students can choose from four different math majors:
B.S. in Mathematics
B.A. in Mathematics
B.S. in Applied Mathematics
Mathematics Minor
Let's take a closer look at each one and get some more details about what math degrees are all about. ead on for everything you need to know about selecting a mathematics major.
What is a Math Degree?
First, we'll begin  with the basics: what is a degree in math?
A mathematics degree teaches students various problem-solving techniques and theorems, as well as how to apply them to real-world challenges.
Unlike in high school-level courses, college math majors are not limited to one form of arithmetic. Instead, college math students take fundamental concepts and prove them with practical applications. They'll also build a knowledge base around seemingly intangible questions, like, "What does it really mean to divide by zero?"
Math courses have a high ratio of class time to outside project or lab time. Students will be tasked with focused, intensive coursework and solving challenging problem sets. That said, there is variation depending on which math major you choose.
The right mathematics degree program will depend on the field and career path that most interests you.
Common Job Opportunities for Math Majors
The most common question people ask before committing to a math major is, "What can you do with a math degree?" There are plenty of reasons students should consider a mathematics degree.
One of the most significant is mathematics graduates have a large number of job opportunities in the professional field, including:
Educator – Math teachers and professors will typically complete their bachelor's degree in mathematics before earning a master's degree in education and a teaching license. The average salary for a middle or high school-level math teacher can range from $58,600 to $60,320 per year—while a college professor has the potential to earn more depending on their experience.
Mathematician – Many math majors go on to work as mathematicians, people who solve the most challenging questions in any number of  settings and industries. This is an ideal position for graduates who want to pursue their master's or doctorate in mathematics and enjoy detailed study of abstract mathematical concepts. The average mathematician earns a salary of $103,010 per year in the United States.
Financial analyst – Financial analysts are trained to create mathematical models for a variety of institutions, including banks, insurance companies and private businesses. Earning your bachelor's degree in mathematics is the first step toward a career in this exciting field, and a financial analyst can expect to make an average salary of $85,660 per year.
Economist – If there's one thing an economist needs to know, it's mathematics. Many graduates with a math degree go on to perform market analysis and forecasts, and work with data crucial to the nation's economy. The average economist earns $104,340 per year in the United States.
So now that we know the basics on what constitutes a math major and some of the opportunities it can create, let's get back into the different types of math majors.
#1 B.S. in Mathematics
The most common type of math degree is a bachelor's of science in mathematics. This major incorporates an advanced mathematics curriculum, with a specific focus on abstract concepts, formulas, and algorithms. Graduates with a B.S. in mathematics will typically work behind the scenes, studying big-picture ideas, solving complex equations, and discovering important patterns.
Students who earn a B.S. in mathematics will enroll in a variety of rigorous courses, including:
Calculus – Foundational and advanced calculus classes are required for this degree. Students will learn everything from single-variable calculus to multivariable functions, theorems, and vector analysis.
Complex Variables – This class will cover variable-driven aspects of mathematics, including geometry, analytic functions, and residue theory.
Data Structures – In this mathematics course, students will gain an introductory knowledge of data structures and algorithms. Topics covered in this class range from stacks and queues to analyzing and plotting graphs.
Beyond these core classes, a B.S. in mathematics incorporates a mandatory science credit at many schools, like North Central College. The predetermined options for fulfilling this requirement at North Central are:
Computer science (which can be taken as a minor)
Physics
Chemistry
Coursework for a B.S. in mathematics will incorporate a mix of lectures, exams, and research projects. Students considering this path should expect a challenging workload of problem-solving, analysis, and labs.
#2 B.A. in Mathematics
Another option for mathematics students is a bachelor of arts degree.
You may be wondering where the correlation is between the arts and mathematics. The truth is, a B.A. in math can fulfill many unique interests for students, including language, social sciences and creative expression. If you're looking to earn your bachelor's in math—without sacrificing the flexibility of a liberal arts degree—this is often the suggested path.
At schools like North Central College, the curriculum for a B.A. in mathematics has a few key differences from its B.S. counterpart. Some of the core mathematics classes within North Central's B.A. degree program include:
History of Mathematics – This class focuses on the creation of mathematical concepts, including the creative elements used by history's greatest mathematicians. Coursework will require students to illustrate the methods and processes involved in the origins of mathematics.
College Geometry – Students will learn the basics of Euclidean and non-Euclidean geometry in this mathematics course, as well as transformations, isometries, and symmetries.
Students pursuing a B.A. in mathematics will also complete many of the same classes required for a B.S., such as calculus, linear algebra, and research methods. The main differences between the two degree paths is that B.A. students must fulfill a foreign language requirement, along with  the more expository, creative, and literature-based work required by non-mathematics classes.
#3 B.S. in Applied Mathematics
Mathematics and applied mathematics are two uniquely defined majors. While pure mathematics majors study the broad principles, concepts, and techniques of math, applied mathematics stays in the realm of the practical. Applied mathematics majors will learn how to use  equations, proofs, and algorithms in ways that apply to specific jobs and tasks. Courses required for this mathematics major include:
Calculus – Since calculus offers a foundation for more advanced courses, applied mathematics majors must complete the three calculus requirements.
Introduction to mathematical statistics – Statistics are among the most commonly used concepts  in applied math. An introductory statistics course will teach students the skills they need to make estimates, calculate probability, and study data in real-world situations.
Introduction to computer programming – Applied mathematics majors are required to take an introductory course in computer science. The curriculum for this major ensures that all students graduate with a thorough understanding of practical mathematics in its most popular forms.
At North Central College, applied mathematics majors must pursue a minor in a relevant area of study. Students can choose one of the following to fulfill this requirement:
Biology
Biochemistry
Chemistry
Computer Science
Economics
Environmental Studies
Finance
Neuroscience
Physics
Psychology
#4 Degrees Paired with a Mathematics Minor
For students interested in multiple subjects, a mathematics minor can complement a number of other degrees. Some of the most common majors students can pair with a math minor include:
Accounting
Biology
Chemistry
Computer Science
Engineering
Financial Management
Physics
Earning a mathematics minor alongside another major provides students several professional benefits, even outside of math-heavy fields. Mathematics courses offer students logic expertise, general problem-solving skills, and an intuition for the world around them—all of which can be applied in any pursuit.
Mathematics minor requirements vary by college, but usually involve taking some of the primary courses associated with a math major. For example, getting a mathematics minor will require a minimum of 24 calculus credits at North Central College. Core classes include taking Calculus I, Calculus II and Calculus III.
In addition to the core calculus credits, students can also choose from a variety of electives to complete their minor. Elective options include:
Mathematical Theory of Interest
Probability
Linear Algebra
Mathematical Economics
Data Analytics
Quantum Mechanics
The Nature of Proofs
Additional Math Degree Options
In addition to pure and applied math, there are plenty of other degrees that incorporate mathematical principles. Some of the most popular math-related majors include:
Engineering – Engineers use math heavily on a constant basis, so pursuing this degree will certainly get you your fill. At schools like North Central College, there are three different concentrations within the engineering department: mechanical, electrical, and computer. Each of these majors will require a number of mathematics classes, including calculus, algebra, and data structures and algorithms.
Physics – Physics is regarded as the most math-intensive  degree path you can pursue within the sciences. Linear algebra, quantum mechanics, and engineering calculations are just a few of the core courses you'll need to take for this major.
Computer Science – Computer science majors must take a number of mathematics courses in order to grasp this complex field. Data structures, discrete structures, and the design and analysis of algorithms are just a few of the core mathematics courses required for this degree.
Find Your Path in Mathematics
As you can see, a  math major creates a great deal of possibilities. Between science, art, and industry, a degree in mathematics can carry you virtually anywhere. But taking the first step is up to you. Start by finding a college that will give you the math and science courses you need with the highest-quality instruction--a place like North Central College.
At North Central, students have a wide array of options when it comes to their major. Our curriculum is thorough, diverse, and most importantly, customizable, so you can create the degree program best suited to you.Get started by filling out our request information form and you'll receive the resources necessary to make the right decision for your future.
Jacob Imm is a communications specialist in the North Central College Office of Marketing and Communications. He has 10 years of collegiate communications experience and has worked with hundreds of college students. He has a bachelor's degree from the University of Notre Dame and a master's degree from Northern Illinois University.