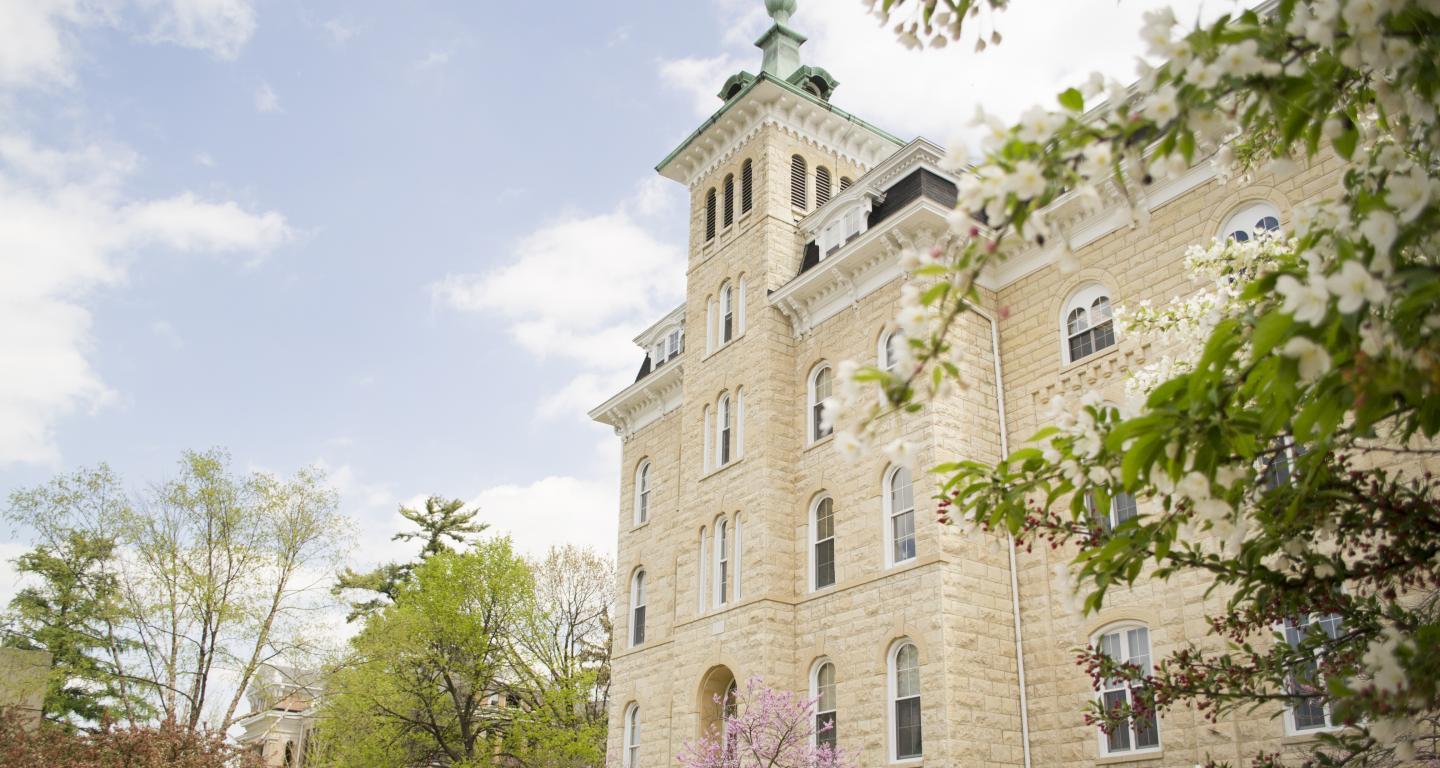 College of Arts & Sciences
Mathematics
Why pursue a mathematics degree at North Central College?
Thinking of pursuing a mathematics degree? With our mathematics degree program, you'll receive all the help, advice and personal attention you need, thanks to our accessible professors and small classes. North Central's math faculty members are committed to involving you in their research projects, so you'll also get valuable firsthand experiences. Our pure mathematics major is renowned for preparing high school and middle school math teachers and for maintaining an extensive network of school contacts. Others with their mathematics degree go on to work in various fields in industry and technology, or to graduate school to prepare for a career in higher education, teaching, and research. North Central College mathematics faculty have wide-ranging interests and make math majors available in pure mathematics, applied mathematics, and actuarial sciences. We're committed to making sure that all math major students in each of our classes are successful in learning mathematics they need to know for their chosen careers.
With our mathematics courses, you can also:
Collaborate with your professors or other mathematician faculty on research projects that enable critical thinking and explore topics like knot theory or mathematical concepts that model disease transmission and share your findings at North Central College's Rall Symposium.
Attend local, regional and national academic conferences.
Participate in campus activities like Math Club and the Pi Day Celebration with alumni.
Enroll in a problem-solving seminar that prepares you for competitions like the Putnam Exam.
Obtain extra help from a peer tutor—or become one yourself.
Join the mathematics honor society Pi Mu Epsilon.
Mathematics, B.A.
For additional programs and courses in this department, see Mathematics and Actuarial Science.
Note:
Students seeking teaching licensure must also complete the  major requirements as well as the following courses:
Students must demonstrate elementary competence in a foreign language. For more information, see the  within the Academic Regulations section of this catalog.
Mathematics Minor
For additional programs and courses in this department, see Mathematics and Actuarial Science.
A minimum of 24 credit hours, including:
Elective Options
Students may select one of the pre-approved options listed below but other options may be available with departmental approval. The set of courses should be cohesive with respect to each other and the student's area of applied study. The Mathematics Department must be consulted in the planning process.
Mathematics Internships and Jobs
A North Central education integrates career preparation with rich academic study. Our faculty encourages you to refine and apply your knowledge in an interconnected world. Here you'll learn to think independently and work globally to solve problems and lead.
Graduate Schools
Recent graduates in mathematics have been accepted to graduate programs at:
University of Nebraska
University of Notre Dame
University of Iowa
University of Oregon
Purdue University
University of Michigan
University of Illinois at Chicago
University of Arizona
University of Tennessee
Baylor University
University of Missouri
St. Louis University
Northern Illinois University
University of Colorado Denver
University of Wisconsin-Madison
Rosalind Franklin University
University of Texas
University of Kansas
Indiana University
Johns Hopkins University
Careers
Math majors frequently find teaching positions in districts within a 30-mile radius of North Central, including:
Aurora School Districts
Chicago Public Schools
East Aurora School District 131
Naperville School District 203
Indian Prairie School District 204
Plainfield School District 202
Recent graduates in mathematics also include:
Algorithm analyst
Software engineer
Computer scientist
Financial consultant
Commercial loan officer
Statistician
Biostatistician
Environmental mathematician
Systems engineer
Budget analyst
Product analyst
Marketing specialist
Companies that have hired alumni:
Google
Bank of America
Trans Union Credit
The College Board
Allstate
Blue Cross/Blue Shield
Invest in your future
Choosing the right college is a big decision. Don't make it alone. North Central's admission and financial aid team is here to help you design a financial aid solution that works best for you and your family.
Merit scholarships, grants, loans, campus employment - these are just some of the resources available to you. Over 95 percent of students and 100 percent of all eligible students receive aid. Let our team partner with you in finding the best value for your education.
Learn more about financial aid and costs for North Central College
Apply to North Central College
The first step to becoming a North Central student is reading the application instructions specific to you. Find out everything you need to know about applying by selecting the group you belong to below.