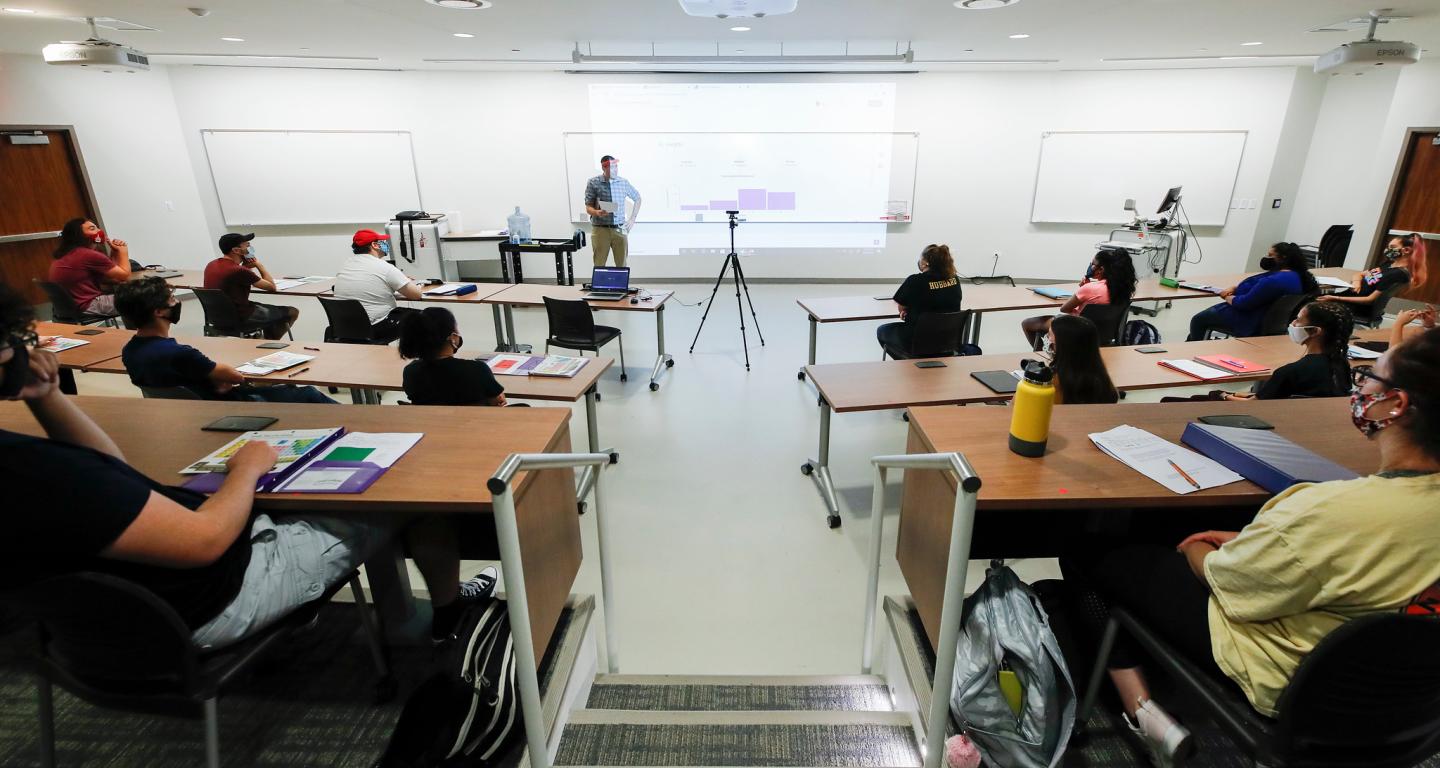 What Can You Do With a Math Degree
Apr 14, 2021
What can you do with a math degree?
In life, you tend to find two classes of people: "math people" and people who are better with words. The latter group is often quick to dismiss the importance of learning complex math—the age-old question is, "When am I ever going to use this?"
If you not only know several answers to that question, but think it shouldn't even be asked, chances are you're looking at getting a math degree. But while knowing how to balance your checking account or calculate the tip for a delivery driver are great math skills to have (There won't always be an app to do it for you, believe it), devoting your entire college career as well as your future plans to math is a whole different thing.
Does it make sense? What can I do with a math degree? Will I be able to make it through to my degree? Can I find a job I'll enjoy that will make me a decent living? The short answers to those questions is yes. For more details, though, read on as we lay out the many doors a mathematics program can open.
What a Degree in Math Entails
Any mathematics graduate will tell you that you'll enter your career field feeling prepared after you get your degree, because every math course involves a lot of careful work and studying. But what exactly does it take for math students to turn into math graduates?
We asked Neil Nicholson, associate professor of mathematics at North Central College, what is required for a math degree at his school. He said, "If (you're) majoring in mathematics, then completing either the B.A. or B.S. track (for those wanting to go into industry, we would likely encourage students to complete a B.S., but a B.A. still gives a great foundation). The courses here fall under the guise of 'pure mathematics.' For a major in applied mathematics, mid-to-upper-level courses are applied in nature, focused on how mathematics can be used to address external questions. Additionally, students must complete a minor in an approved field outside of the department."
Although there are different types of math degrees, the average mathematics degree should provide you with a distinct set of mathematical skills that will qualify you for a career or to pursue a master's degree or Ph.D. in the subject—or even an advanced degree in a related field like economics, statistics, or an MBA. Nicholson named what you should expect those skills to be:
The ability to persevere through multi-pronged questions;
Communicating technical answers to the non-technically minded;
Teamwork (it is rare to find a mathematician who works alone);
Logical reasoning skills;
Analytical thinking skills;
Patience with challenges; and
The ability to ask questions in order to arrive at a solution to a tough problem.
Top Jobs You Can Get with a Math Degree
It's likely you will need something above an associate degree to find the best job prospects in mathematics. That said, the job outlook for those with a math degree at the bachelor level or higher is particularly strong. The Bureau of Labor Statistics (BLS) reports, "Employment in math occupations is projected to grow 27 percent from 2019 to 2029, much faster than the average for all occupations, and will add about 56,100 jobs. Growth is anticipated as businesses and government agencies continue to emphasize the use of big data, which math occupations analyze."
The BLS goes on to say that in their most recent available data, "Math occupations had a median annual wage of $90,410 in May 2019, which was higher than the median annual wage for all occupations of $39,810."
From the perspective of an academic who's helped many math majors to find careers, the possibilities are wide open in terms of good jobs to look for. Nicholson said, "Studying mathematics opens doors to working in almost any career field. For the computationally minded, nearly every industry (financial, scientific, business, etc.) has jobs titled '____ Analyst.' For those with algorithmic or programming-focused minds, computer-related careers for mathematicians abound.
"Working for a non-profit, using your skills to give back to society? Nearly every organization needs quantitative, problem-solving minds, and they view math majors as the crème-de-la-crème for that type of thinking. Law school? Working with statistics? Project manager at a Fortune 500 company? (A math major) is ideal to prep for any of these."
The best career path for a mathematics major tensd to match up with the concentrations you can choose as part of your bachelor's degree program. Tami Robinson of Best Colleges groups them this way:
Actuarial science – leading to jobs in statistics, insurance and higher education; subjects including corporate financial mathematics, linear regression, economics, and property and casualty analytics
Computer information systems – working on cybersecurity, software development, video game programming; subjects including information technology, software, engineering, computer languages, and studies in how networks function
Computer science – career roles in computer science include software engineer, database administrator and web developer; subjects include pure math and applied math, mathematical sciences, statistics, engineering, data structures, and business systems
Statistics – leads to careers in data science, biostatistics, and research; subjects include calculus, high-level algebra, probability, as well as possibly studying public health, epidemiology, and computer programming languages
Mathematics education – can teach anywhere from K-12 with a state teaching license or college courses by going on for a masters degree or Ph.D.; subjects include mathematical theory and mathematical modeling, discrete mathematics, high-level algebra, geometry, and using technology in the classroom
Economics – can lead to work as a research analyst, planner, consultant or researcher; subjects include microeconomic theory, econometrics, and statistics
Less Typical Math Careers
What if you're interested in math, but looking for something more unconventional than a typical math career? Nicholson came up with some relevant examples from his own students:
"A student who had minimal computer science experience (only a minor) landed a very high-profile programming job."
"Math majors are about the most prepared majors for law school applications (which I think would surprise the 'common' person), because of the logic involved in most of the LSAT questions."
"Data analysts and statisticians. These may not seem surprising, but our mathematics major (and almost every institution's 'math' major) provides minimal statistics/data training. But we've prepared our students to be able to learn and master this new material."
So if you are looking for careers in mathematics, but the usual jobs don't appeal to you, you might need help deciding where to look. When asked which industries or kinds of companies math majors could consider as potential employers, Nicholson said, "Any … My strongest recommendation for (any) student is to look at companies, firms, or fields in areas that interest them. For example, if they are into financial markets, then look for a career in that field (they exist!). If sports is a passion, then look for quantitative-type careers in the professional sports realm.
"I'm confident that there is a place for mathematicians (and a need for them) in every field. So, if you're a student just starting out, do work in a field that interests you!"
He added that a good mathematics degree program requires you to branch out and study other fields so you're better-equipped for a wider variety of math career opportunities, and he gave his own program as an example.
"(For) applied math majors … during your time at North Central, you actually pair mathematics with another field, learning how to answer questions in that field using mathematics," he said. "So, before you graduate, you'll have already started 'working' in a field, and you're very likely to land a career as an applied mathematician in that field."
While we've covered that there are lots of ways to work in the mathematical sciences while pursuing your own unique interests, having a reasonable salary is an important part of your math career choices as well. So do jobs less commonly associated with mathematics come with good pay?
Interestingly, many of the best-paying math jobs are not what you'd immediately associate with the subject. Crystal Lee of trade-schools.net compiled some of the top jobs you can get right out of college with a bachelor's degree in mathematics, listing them by salary:
Cryptographer
Median salary: $120,1822
Top salary: $149,529 or more
Actuary
Median salary: $108,350
Top salary: $193,600 or more
Mathematician
Median salary: $105,030
Top salary: $162,060 or more
Economist
Median salary: $105,020
Top salary: $185,020 or more
Statistician
Median salary: $91,160
Top salary: $146,770 or more
Financial planner
Median salary: $87,850
Top salary: $208,000 or more
Operations research analyst
Median salary: $84,810
Top salary: $140,790 or more
Investment analyst
Median salary: $81,590
Top salary: $156,150 or more
Systems engineer
Median salary: $79,6421
Top salary: $122,000 or more
Budget analyst
Median salary: $76,540
Top salary: $116,510 or more
Inventory control specialist
Median salary: $74,750 for all logisticians
Top salary: $120,400 or more
Accountant
Median salary: $71,550
Top salary: $124,450 or more
Insurance underwriter
Median salary: $70,020
Top salary: $124,320 or more
Programmer analyst
Median salary: $66,5771
Top salary: $95,000 or more
Cost estimator
Median salary: $65,250
Top salary: $111,350 or more
Purchasing agent
Median salary: $64,380
Top salary: $107,510 or more
Market researcher
Median salary: $63,790
Top salary: $122,630 or more
High school math teacher
Median salary: $61,660
Top salary: $99,660 or more
Fraud investigator
Median salary: $61,3131
Top salary: $90,000 or more
Energy analyst
Median salary: $60,9081
Top salary: $81,000 or more
Data analyst
Median salary: $60,5131
Top salary: $85,000 or more
Software tester
Median salary: $56,9951
Top salary: $88,000 or more
Robinson also included in her research career opportunities that require graduate study to get an advanced math degree:
Algorithms engineer
Median salary: $121,5001
Top salary: $142,000 or more
Geodesist
Average salary: $119,130 for geodesists who work for the federal government
Top salary: $163,817
Data scientist
Median salary: $96,0091
Top salary: $134,000 or more
Meteorologist
Median salary: $95,380 for all atmospheric and space scientists
Top salary: $147,160 or more
Mathematical modeler
Median salary: $87,2991
Top salary: $105,000 or more
Quantitative financial analyst
Median salary: $84,3171
Top salary: $131,000 or more
Whatever you are looking for in a career, you will need a mathematics program that prepares you with analytical skills, mathematical technique and science expertise while letting you keep an eye toward gaining experience and planning for your future. North Central College is exactly that kind of program, offering insightful, devoted instruction from experienced faculty who will pay attention to your interests and help you find a path that fits. Find out more about their program on their web page.
Jacob Imm is a communications specialist in the North Central College Office of Marketing and Communications. He has 10 years of collegiate communications experience and has worked with hundreds of college students. He has a bachelor's degree from the University of Notre Dame and a master's degree from Northern Illinois University.