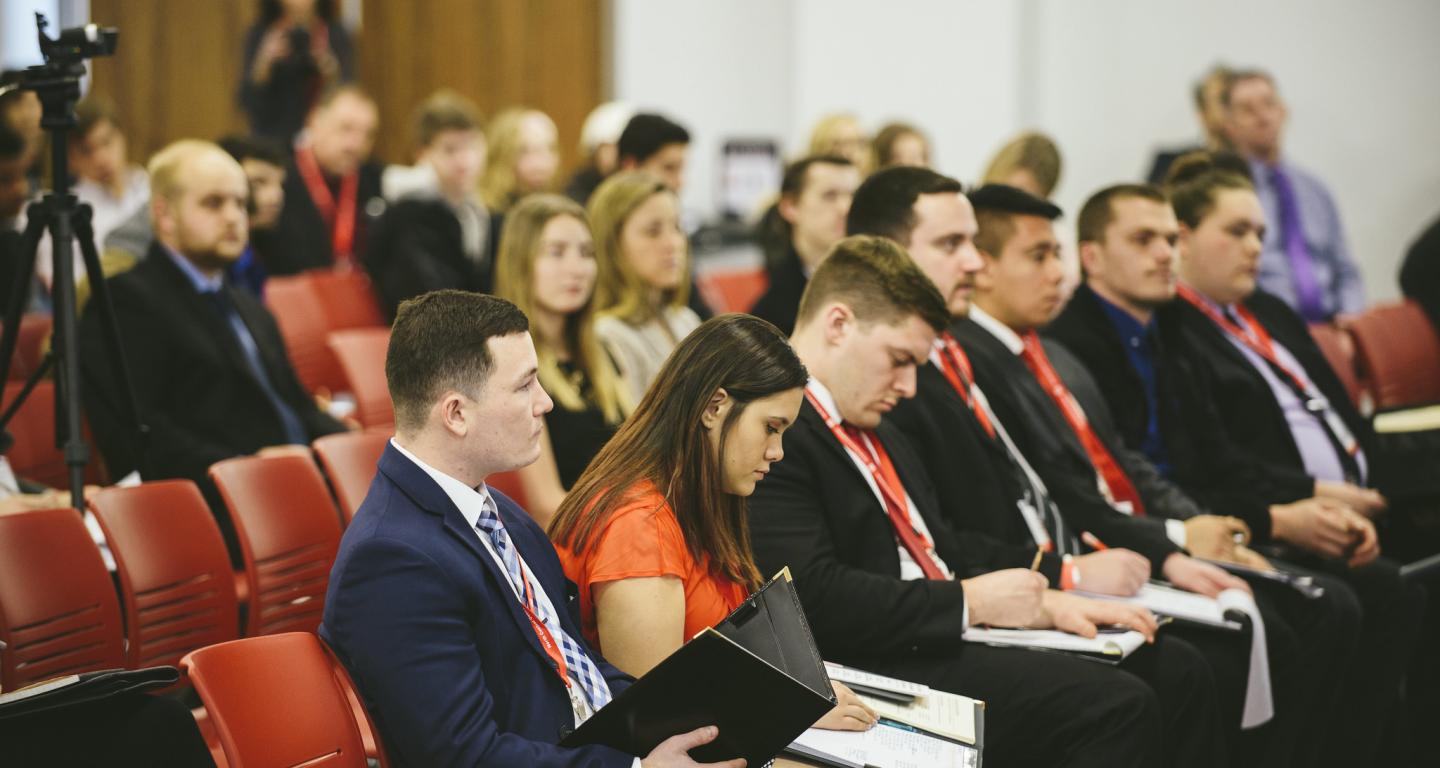 How to Become an HR Manager
Reviewed by Jacob Imm
Jun 02, 2021
What Degree is Needed to Be in Human Resource Management?
Are you interested in pursuing a career in human resource management? The importance of human resource management is that it helps human resource (HR) departments do what they do best: keep employees feeling safe, respected, and heard within their workplace. Human resource management is a perfect career field for hardworking,empathetic professionals who excel at leading others and looking for ways for a company to improve.
It takes dedication and careful planning to find a successful career in human resource management. Organizations look for experienced, well-educated candidates to fill these high-priority roles.
If you're considering this career path, read on to learn how to become a human resource manager.
What is a Human Resource Manager?
A human resource manager (HRM) is a high-level leadership position within the HR department. As an HR manager, you'll have a greater number of responsibilities on a daily basis than other HR staff. What does a human resource manager do? In addition to performing standard HR duties, you'll also be in charge of overseeing other members of the HR department, implementing new policies and techniques, and communicating with organizational leadership on a regular basis .
Since HRM is considered a leadership position for HR professionals, you'll need certain qualifications to earn this title.
If you're new to the field, here's a human resource management description to get you started. Now let's go over the steps to becoming an HR manager:
Step #1: Earn Your Undergraduate Degree
The first step to kicking off this career is knowing what degree is needed to be a human resource manager.
Most HRM positions require at least a bachelor's degree, if not a master's degree. Students who want to enter this field can complete their degree program in an applicable field—like business administration or marketing—but earning a bachelor's or master's degree in HR management is the most efficient route.
Here's what to expect from these degree programs.
Coursework
A thorough HRM curriculum—like the one for the bachelor's degree at North Central College—will cover a wide variety of business knowledge and practical skills necessary to a career in HRM. Courses may include:
Financial Accounting
Business Law and Ethics
Business and Economic Statistics
Micro and Macroeconomics
Marketing
Employee Training and Development
Staffing and Employment Law
Compensation and Performance Management
Internships
Internships also play a critical role in preparing you for your HR career. Gaining in-field experience will get you ready to work in the corporate world following graduation, provide you with professional contacts, and add helpful qualifications to your resume. Internships also teach valuable skills needed for HR work that supplement your work  in the classroom, such as: interpersonal communication, professionalism, labor relations, and conflict management.
In the past, HRM students have gained professional experience through internships with a variety of organizations, such as:
Event Staffing Companies
Museums
School Districts
Healthcare Facilities
Insurance Companies
At North Central College, students can intern at a number of local and national businesses. Some of the most well-known employers of North Central interns include State Farm insurance and Northwestern Medicine.
Step #2: Get Certified
HR employees (particularly those in management positions) may be required to earn certifications within their field. The most common HR certifications are:
SHRM-Certified Professional – The Society for Human Resource Management (SHRM) Certified Professional certificate is an HR certification designed for experienced HR staff who are looking to advance their careers to a higher level.
SPHR – The Senior Professional in Human Resources (SPHR) certificate is an HR certification similar to the SHRM. This certification is designed for HR employees with a minimum of four years experience who have completed a master's degree program; those with five years of experience and a Bachelor's degree; or those with seven years of experience and a high school diploma.  
SHRM-SCP – The Society of Human Resource Management Senior Certified Professional certificate is an HR certification designed for experienced HR employees looking to reach executive-level positions.
Specialty Certifications – These include talent development, learning and performance, and more.
Step #3: Gain Experience
Every organization has different standards, but most HRM positions require candidates with some level of professional experience. While internship experience can be enough to land you an entry-level job, applicants will need more professional experience in order to pursue higher-level HRM positions.
Most certifications also require one year of paid, post-graduate HR work. Many companies choose to promote existing HR staff to leadership positions, rather than recruiting from outside of their organization.
The bottom line is: Working hard and remaining patient are the best ways to earn an HRM job.
Step #4: Complete Training
Once you've secured employment, training will be the next step to a successful career in human resource management. Since HR typically handles employee training across all departments, HR managers are put through detailed training procedures that cover many different aspects of the job, including:
Legal Knowledge –HR managers are briefed on the legal elements related to their field. This information can range from lawsuits and anti-discrimination practices, to employee privacy and insurance plans.
Leadership – As an HR manager, you'll learn the ins and outs of supervising employees, including disciplinary actions, performance measurement, and leadership responsibilities.
Technology – From automatic payroll to training modules, human resources is becoming a tech-heavy field as time goes on. HR managers should be  trained on the specific software their employer uses.
Types of HR Management
Professionals in this position perform a variety of tasks within the workplace. Some of the most common responsibilities of HR managers include:
Recruitment and Hiring
Training and Development
Employee Benefits and Payroll
Employee Relations
Labor Relations
Teambuilding
Diversity and Title IX Training
Earn Your HRM Degree and Get Your Career Started
Finding the right school is the first step to any successful HR career. With the right program, HRM students will graduate with a full understanding of the professional world, including leadership and communication skills.
Look for an HRM program like the one at North Central College, which strives to teach students pursuing an HRM degree relevant business practices and provide them with hands-on experience through internship opportunities. Learn more about the HR management program at North Central today.
Jacob Imm is a communications specialist in the North Central College Office of Marketing and Communications. He has 10 years of collegiate communications experience and has worked with hundreds of college students. He has a bachelor's degree from the University of Notre Dame and a master's degree from Northern Illinois University.
Sources:
What Are the Best Types of Internships for Human Resources Majors? (n.d.). Masters in Human Resources. Retrieved April 12, 2021, from http://www.masters-in-human-resources.org/faq/what-are-the-best-types-of-internships-for-human-resources-majors/
Pope, L. (n.d.). 12 Types of HR Certifications (+Requirements and Costs). Learning Hub. Retrieved April 12, 2021, from https://learn.g2.com/hr-certification
How to Become a Human Resource Manager. (n.d.). GetEducated. Retrieved April 12, 2021, from https://www.geteducated.com/career-center/how-to-become-a-human-resource-manager/
Heathfield, S. M. (2021, January 31). What Does a Human Resources Manager or Director Do, Anyway? The Balance Careers. https://www.thebalancecareers.com/what-does-a-human-resources-manager-do-1918551