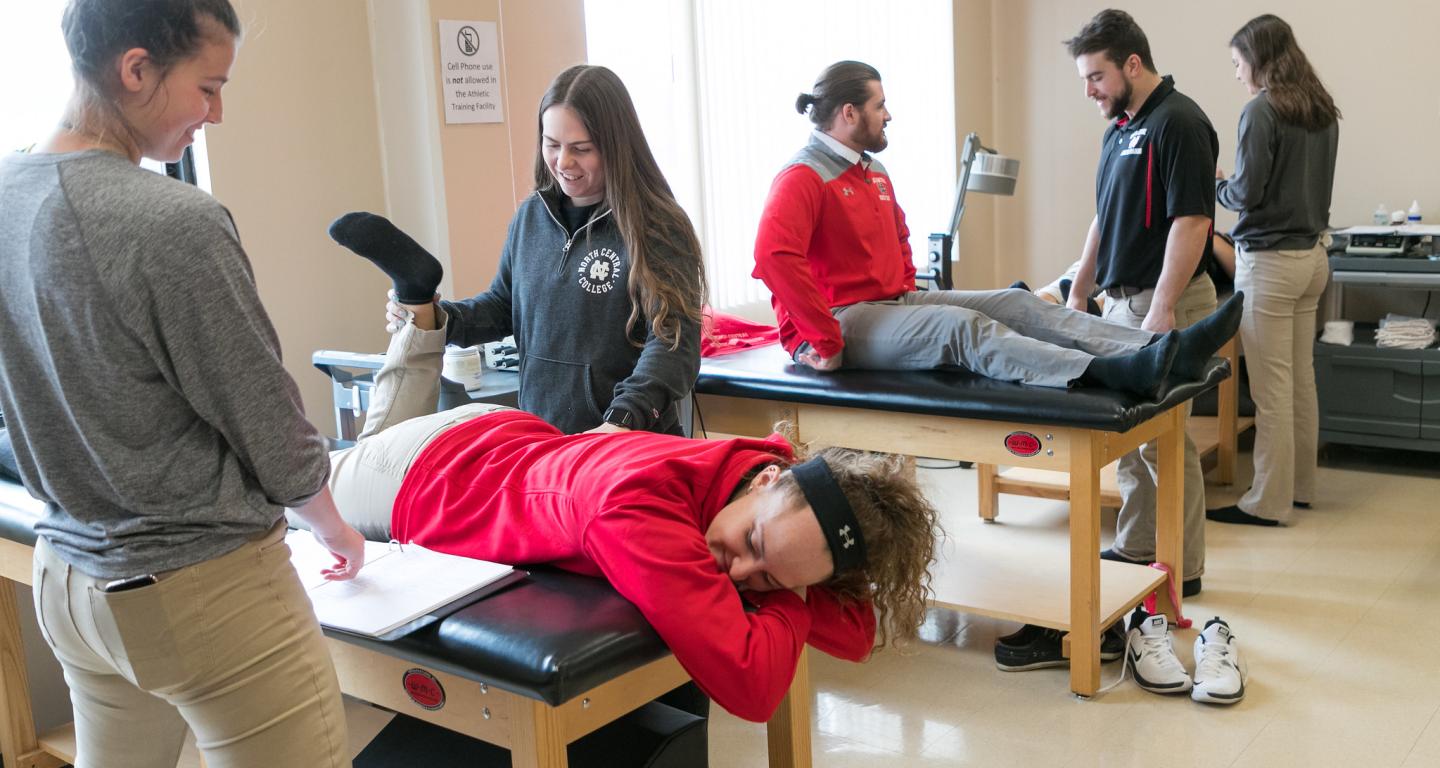 What to Do With MS in Athletic Training
Jul 16, 2021
What Can I Do With a Master's in Athletic Training?
When it comes to athletic training, a common misconception is that athletic trainers only tape and ice. While athletic trainers specialize in managing and preventing injuries, and rehabilitating injured athletes, it is not the complete scope of athletic trainers' job role and capabilities. In reality, athletic trainers are highly qualified and skilled healthcare professionals who work with patients across a lifespan.
If you're interested in continuing your education in athletic training, you've come to the right place. This article will discuss the job responsibilities, work environment, and employment outlook of athletic training and highlight the top reasons why you should consider earning a master's in athletic training. 
What is a Master's Degree in Athletic Training?
To best understand what a master's degree in athletic training entails, it is essential to know what an athletic trainer is and their responsibilities. According to the National Athletic Trainers' Association (NATA), athletic trainers are "highly qualified, multi-skilled healthcare professionals who render service or treatment, under the direction of or in collaboration with a physician, in accordance with their education, training and the state's statutes, rules and regulations." In simpler terms, athletic trainers help prevent and treat injuries and illnesses in people who are physically active.
Successful completion of a master's degree in athletic training helps shape you to be the highly qualified and skilled healthcare professional you want to be. It not only expands your knowledge but prepares you with the necessary skill set to provide quality care and improve patient outcomes. The mission of a master's degree program in athletic training, such as North Central College's CAATE accredited master of athletic training program, is "to prepare athletic trainers for patient‐centered and evidence‐based clinical practice in a diverse and rapidly changing healthcare environment."
Important Facts About Athletic Trainers
As stated previously, there are often misconceptions when it comes to athletic training. The education, experience, and skillset of athletic trainers are not widely known. If you're wondering how to become an athletic trainer, you must complete an accredited baccalaureate program (only until 2022) or master's program and complete a variety of clinical rotations, each rotation giving you more responsibility than the last. According to the National Athletic Trainers' Association, about 70% of athletic trainers have a master's degree. After the fall of 2022, programs will only be able to admit to a master's degree program as the professional entry degree will move to this level.
The curriculum and clinical experience training of athletic trainers follows a medical-based education model. North Central College's master of athletic training degree is a 55 credit-hour program that extends over six consecutive semesters. In this program, you can expect to take classes such as Foundations of Athletic Training, Administration and Management in Athletic Training, Principles of Nutrition and Strength and Conditioning for Athletic Training, and much more. This program, along with successfully passing the Board of Certification Exam, prepares you to become a certified athletic trainer. Once you're certified, you'll be responsible for maintaining your certification with continuing education.
Job Responsibilities
Whether you are working at a hospital or a college or university, job responsibilities for athletic trainers mainly include recognizing, evaluating, and treating injuries. On the job, you can also expect to plan, develop, and implement rehabilitation programs for those who have injuries or create programs to prevent injuries, among other administrative tasks. No matter where you are employed, athletic trainers greatly impact organizations for the better. 
Work Environment 
Alongside physicians and other health professionals, athletic trainers are integral members of the healthcare team at fitness centers, hospitals, professional sports teams, and many more. Since athletic trainers work in a variety of settings, they will treat patients of all ages. With a master's of athletic training under your belt, you may find yourself working at:
Branches of the military
Colleges and universities
Health departments
Medical clinics/offices
Performing arts
Police and fire departments
Professional and Olympic sports
Secondary schools
Youth sports leagues
Kendall Selsky, associate professor of athletic training and director of the athletic training program at North Central College, describes what a typical work week looks like for an athletic trainer (AT):
"Some ATs work a standard 40-hour week on a regular schedule. This happens in the orthopedic office and industrial settings most often. Others work a schedule that is quite variable from week to week based on athletic seasons and schedules. Some start their day at 1:00 as their student-athletes transition out of the classroom and into the athletic facilities. They might begin with meetings or paperwork, transition to one-on-one rehabilitation appointments, then complete pre-practice/pre-event treatments and taping.
"During the practice/event, the AT will remain on-site or nearby for new injuries or emergencies but will likely be working with other patients doing rehab or preparing for another practice or completing medical documentation. After the practice or event, the AT will manage any new injuries, and close the facility for the day."
Employment Outlook 
In the job force, athletics trainers have a bright future ahead in terms of job outlook and salary. According to the U.S. Bureau of Labor Statistics, the demand for athletic trainers is expected to increase. In 2019, there were 32,100 available jobs. By 2029, employment will grow 16 percent, which is much faster than the national average for all positions. If you are wondering, "How much do athletic trainers make?", in May of 2020, the median annual wage for athletic trainers was $49,860. This number is the central number of all salaries collected, meaning in athletic training, half earned more than that amount and half earned less.
So in summary, you absolutely must have a bachelor's degree or master's degree (must be a master's degree after 2022) from a program accredited by the Commission on Accreditation of Athletic Training Education (CAATE) and certification from the Board of Certification for the Athletic Trainer (BOC) to work as an athletic trainer.
Top Reasons to Earn an Athletic Training Master's Degree 
Why should you consider furthering your education in athletic training? Investing in a master's degree program can increase job opportunities and springboard your professional network, life, and career trajectory. To dig deeper, below are some of the top reasons to consider earning a master's degree in athletic training.
Learn like a professional: If your goal is to be an athletic trainer, a professional education is a must. Earning your master's degree in athletic training will provide you with the practical knowledge and expertise you need not just to pass your classes, but to help your patients. Learning the most up-to-date curriculum and participating in various clinical experiences will prepare you to be a successful healthcare professional soon after graduation.
Receive hands-on experience: One of the most common athletic training interview questions revolves around hands-on experience, so having the opportunity to receive hands-on learning is especially important. It allows every athletic training student to learn from their mistakes and bridge gaps between theory and practice. North Central College's curriculum will enable you to gain hands-on experience through five semesters of clinical education experiences as you work towards your master's degree.
Grow your professional network: As you earn your master's in athletic training, you'll work with expert faculty in the field. Over time, they will become your mentors and great resources for you not only throughout your education but throughout your career.
Increase your career options and mobility: As an athletic trainer, earning a master's degree at a school with a strong alumni base will open more doors for you career-wise. It not only prepares you for certification and but can help set you up with a rewarding career on a healthcare team.
Leave a positive impact on patients: In the field of athletic training, you will come into contact with a wide variety of patients across all ages, activities, and competitive levels. The knowledge and expertise gained from a master's degree will help you leave a positive impact on the well-being of others.
If you think a master's degree in athletic training could be for you, consider North Central College. The curriculum and clinical experiences will prepare you to be a curious, engaged, ethical, and purposeful leader in the industry. Our expansive alumni network, expert clinical preceptors, and dedicated faculty can help you realize your athletic training goals. To learn more about North Central College's MAT program, visit their web page.
Kara Kots is the social media specialist for North Central College's Office of Marketing and Communications, where she contributes her content, writing, and communication skills.