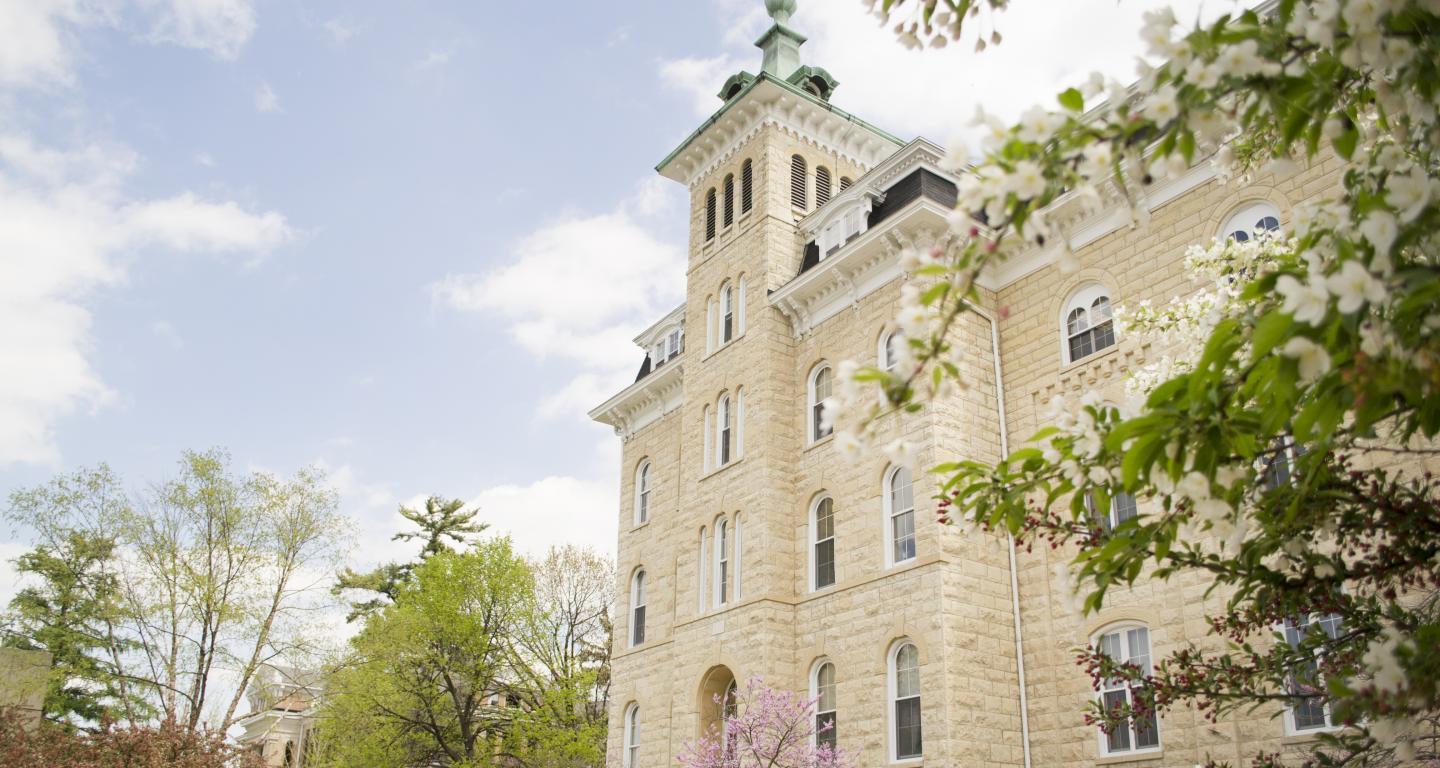 School of Education & Health Sciences
Master of Athletic Training
Why Pursue a Master of Athletic Training Degree at North Central College?
The CAATE accredited Master of Athletic Training Program at North Central College can prepare you for a fast-paced careers in a wide variety of settings, including competitive athletics, occupational health, clinical healthcare settings, and performing arts environments. After completing one of our two tracks (4+2 or the accelerated 3+2 plan) you'll have the skills required to deliver the highest quality patient‐centered and evidence‐based healthcare to your patients. You'll be practice-ready when you graduate because we integrate personal and professional development into your education, while our curriculum ensures you are fully prepared for certification as an athletic trainer. Your five semesters of clinical experience will prepare you to be a curious, engaged, ethical, and purposeful citizen and leader in healthcare. During the final semester you can stay local or travel the country to complete your immersive clinical experience. Our unique curriculum ensures you will gain hands-on experience managing athletic injuries and illnesses in both simulated and actual patient care formats. Our expansive alumni network, expert clinical preceptors, and dedicated faculty can help you realize your athletic training goals. As a student of North Central's Athletic Training Program you will;
Complete a Quality Improvement project related to an authentic clinical challenge
Have access to online textbooks and medical databases for the most up to date information
Gain nearly 1000 hours of clinical experience to help you solidify and apply your classroom knowledge
Become part of a community of scholarly clinicians who work together for maximal student growth
Upcoming Events
The Changing Healthcare Environment
The skills and knowledge you develop in the Master of Athletic Training (MAT) program will help carry you from your first job to your dream job, and translate to a wide range of settings. Telemedicine, healthcare informatics, and a deep exploration of athletic training practice are all part of the entry level curriculum, and prepare you for employment in any of these settings:
Hospitals and Healthcare Systems

Medical Clinics

High School and Club Sports

Colleges and Universities

Industrial or Occupational Settings

Performing Arts
Our accredited program has a long history of successfully preparing future health professionals for the Board of Certification (BOC) Exam to become certified athletic trainers.
By incorporating forward-thinking curricular content and providing intensive clinical experiences in a variety of settings, the Master of Athletic Training degree will equip you with the skills needed for a rewarding career in healthcare. Whether it's caring for the health and safety of athletes on professional sports teams or keeping active employees on the job, you'll be practice-ready as an athletic trainer upon graduation.
Accreditation
North Central College is accredited by the Commission on Accreditation of Athletic Training Education (CAATE) located at 2001 K Street, NW, Washington, DC, 20006. The program will have its next comprehensive review during the 2027-2028 academic year.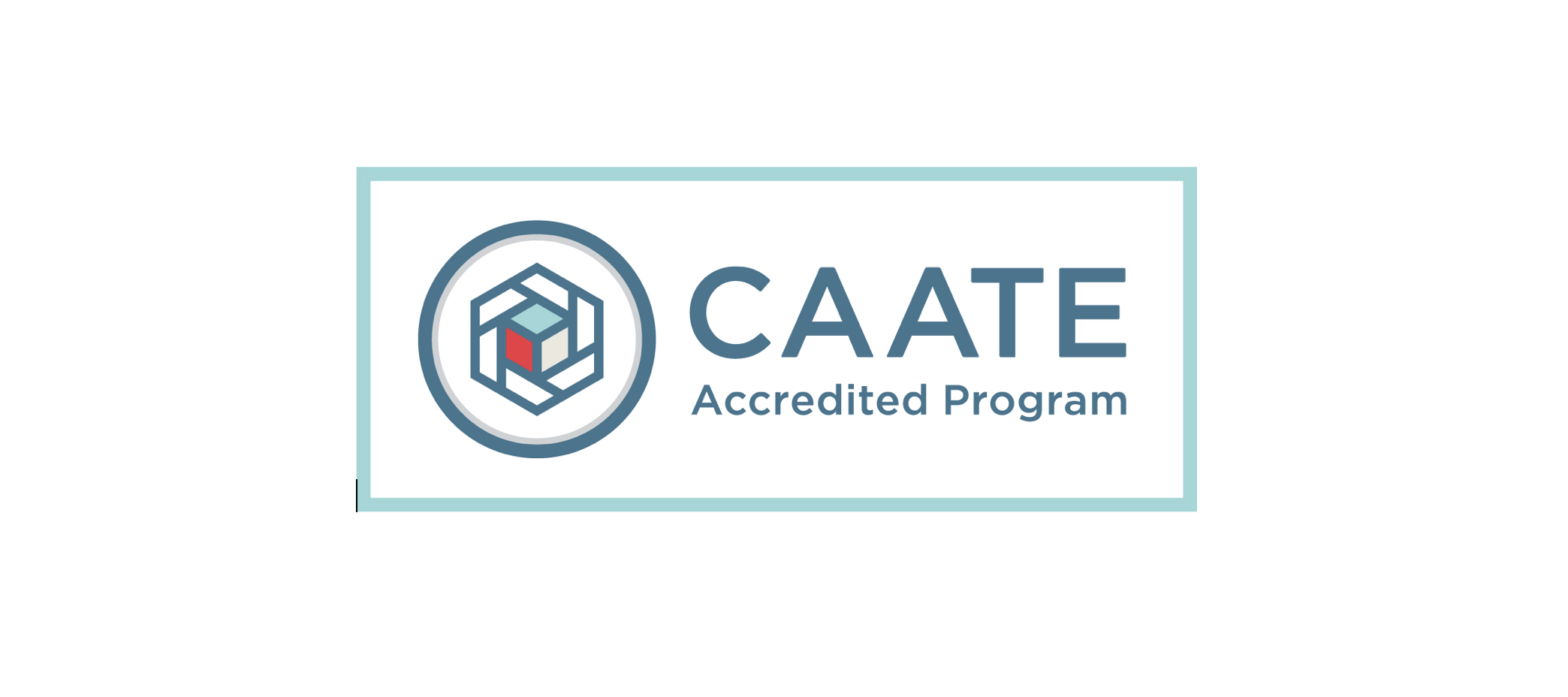 Athletic Training Handbook
Review the Athletic Training Handbook (PDF) for an overview of the goals, objectives, and degree policies.
Stay Connected!
Follow us on your favorite social media channels:
BOC Exam and Programmatic Outcomes
The North Central Master of Athletic Training program outcomes, including our BOC exam pass rate, and employment, graduation, and retention rates, can be found by clicking HERE.
98% of our program's graduates from the last 10 years became certified athletic trainers after successfully passing the BOC exam. This is one way we show our value to our prospective community members, but it takes more than passing an exam to be a leader in healthcare, so we don't stop there. The MAT program at North Central pursues three primary goals that steer our programmatic activities:
Goal 1: To prepare students for fulfilling professional lives through athletic training by integrating personal and professional development throughout the program.
It's not enough just to survive in a healthcare career. We want you to thrive. So that you are prepared to handle the social and emotional challenges that come your way as an Athletic Trainer, our program incorporates personal development skills like time management strategies and teaches you how to use productivity systems and technology. We also enable you to recognize and avoid the healthcare provider burnout that is so common today by giving you skills for self-care, empathy, and establishing appropriate professional boundaries.
Goal 2: To develop competent candidates for the Board of Certification exam through a unified approach to didactic and clinical development.
The clinical education component of your curriculum is where your knowledge will be solidified. You'll be engaged in clinical experiences consistently for five of the six semesters of the program. Your faculty will connect these experiences to your learning through a deep understanding of the preceptors you'll be learning from and the places you'll be. Having faculty who understand clinical practice and clinical preceptors who understand your curriculum, you'll be able to maximize your professional growth. Our strong BOC exam success rate is supported by the intentional relationship between the academic and clinical aspects of the program.
Goal 3: In keeping with the mission of the College, to prepare graduates to be curious, engaged, ethical, and purposeful citizens and leaders in healthcare.
Our alumni are leaders and learners in the industry across a wide array of professional settings. You can take advantage of opportunities to refine your leadership skills by being active in campus, state, or district athletic training organizations, clubs, and committees. The AT faculty members at North Central are active members of the state and national athletic training community and can help you decide how to become involved. Your curiosity about AT will be fueled through the opportunity to direct your own learning experiences, conduct research and quality improvement studies, and learn from and with faculty and students from multiple healthcare programs. Whether you decide to present your work on campus or to a state, district, or national audience depends on your goals for your time at NCC.
Accelerated 3+2 Degree Options
These accelerated pathway programs are designed for North Central undergraduate students who complete a specially designed program for the first three undergraduate years of a B.S. degree in Exercise Science or a B.S. in Health Science, followed by two years in the Master of Athletic Training Program.  Accepted 3+2 pathway students will be awarded their B.S. in Exercise Science after the fourth year (pending successful completion of course requirements), and will continue on to complete their MAT degree after the fifth year. This plan is accelerated and is not ideal for everyone. Programmatic policy prevents MAT students from simultaneously competing as an NCAA student-athlete. Student-athletes who wish to compete for four-years and become athletic trainers are encouraged to apply to the MAT program on the standard 4+2 basis, after completing their bachelor's degree.
Where do I find the Accelerated Plans? 
Contact the Athletic Training Program Director to receive the 3+2 plans, or contact your Student Success Coach to learn more. You can view the 3+2 requirements for the Exercise Science pathway HERE and the Health Science pathway HERE. 
When do I apply to the MAT program? 
3+2 Pathway students apply to the MAT program at the beginning of their 3rd year at North Central College, after completing the course requirements for the accelerated program. All 3+2 candidates will be interviewed. MAT program admission has a capacity of 16 students per year. Qualified applicants from North Central are given preferential admission over external candidates through a rubric scoring system. Completion of the first 3 years of the plan is not a guarantee of admission to the MAT program, but we work closely with you to help you become a qualified candidate. When you complete your application we'll arrange an interview and inform you of your next steps. If you are admitted, you'll begin the MAT program the next summer.  
All students that are accepted to the MAT program must meet minimum admission requirements, including
A 3.0 minimum GPA in undergraduate courses

A grade of C or better for all prerequisite courses

Completion of the required observation hours

Completion of the application process through ATCAS (fee vouchers available for NCC applicants)
What happens if I am not accepted to the MAT program?

 
Applicants who do not meet the minimum requirements and are not admitted will continue their undergraduate degree during the fourth year. Students who follow the accelerated plan will be on track to complete the bachelor's degree in this final year and you should work closely with your success coach to create a plan for the fourth year if not admitted to the MAT program. Students are encouraged to re-apply after the fourth year as a 4+2 student if they subsequently meet the minimum requirements. 
Master of Athletic Training Curriculum
The Master of Athletic Training degree is a 55 credit-hour program that extends over 6 consecutive semesters, beginning with a summer semester. The program runs continuously for 24 months.
Summer Year One
MATR 515 - 

Foundations of Athletic Training (

4 hours)

MATR 530 - 

Principles of Musculoskeletal and Medical Assessment (

3 hours)
Fall Year One
MATR 500 - 

Clinical Experiences in Athletic Training I (

1 hour)

MATR 541 - 

Diagnosis and Management for Athletic Trainers I: Upper Extremity, Head, and Neck Injuries and Conditions (

4 hours)

MATR 550 - 

Medical Aspects of Athletic Training (

4 hours)

MATR 525 - 

Therapeutic Interventions in Athletic Training I (

4 hours)
Spring Year One
MATR 505 - 

Clinical Experiences in Athletic Training II (1 hour)

MATR 540 - 

Diagnosis and Management for Athletic Trainers II: Lower Extremity and Spine Injuries and Conditions (

4 hours)

MATR 535 - 

Therapeutic Interventions in Athletic Training II (

4 hours)

MATR 551 - 

Administration and Management in Athletic Training (

4 hours)
Summer Year Two
MATR 600 - 

Clinical Experiences in Athletic Training III (

1 hour)

MATR 620 - 

Principles of Nutrition and Strength and Conditioning for Athletic Training (

3 hours)
Fall Year Two
MATR 605 - 

Clinical Experiences in Athletic Training IV (

2 hours)

MATR 625 - 

Psychosocial Aspects of Athletic Training Practice (

4 hours)

MATR 640 - 

Special Topics in Athletic Training (4

 hours)

MATR 655 - 

Applied Research Project (2 hours)
Spring Year Two
MATR 610 - 

Clinical Experiences in Athletic Training V: Immersive Experience (

4 hours)

MATR 650 - 

Decision Making in Athletic Training (2

 hours)
Athletic Training Faculty
Spearheaded by a faculty with experience as clinicians as well as educators, you'll be able to learn from instructors who can draw from practical experience. Our faculty are passionate advocates for the athletic training profession who are active in state and local professional organizations. 
Applying to The Master of Athletic Training Program
Important Dates
As a prospective student of North Central's Athletic Training Program your admission depends on the successful completion of the following:
June 30, 2023 - 

Application for the summer semester is available through 

Athletic Training Central Application Service

 

(ATCAS).

Rolling Application Process - Submit materials to ATCAS. Priority interviews begin in the fall.

November 1, 2023 - 

ATCAS priority application deadline
May 27, 2024 - ATCAS standard application deadline
Prerequisite Requirements 
To be considered, all prerequisite coursework must be complete or in progress.  All prerequisite coursework must be completed with a grade of C or above. Prerequisites may be in progress when you apply. They must be completed prior to the start of the program if you are accepted. We do not accept advanced placement credit to fulfill prerequisite coursework.  
Biology: 3-4 credit-hour course with a lab

Chemistry: 3-4 credit-hour course with a lab

Physics: 3-4 credit-hour course with a lab

Psychology: 3-4 credit-hour course

Human Anatomy and Physiology:

Two-semester sequence or 

3-4 credit course in Human Anatomy and 2-4 credit course in Human Physiology
Application Process
Begin your ATCAS Application

: 

All applicants apply online via the online application service ATCAS.  Review all ATCAS and North Central College specific instructions prior to completing the application process.

Submit the following to ATCAS:

Verification of completion of a minimum of 25 observation hours under the supervision of one or more certified athletic trainers.  Download the observation form and upload to your ATCAS application.  

Professional Resume

Official transcripts from each institution attended. An earned, four-year bachelor's degree from a regionally accredited college or university prior to matriculation is required. 

Letters of Reference; one from a healthcare provider.

Application Review and Interview Decisions:  Applications are reviewed throughout the admission cycle.  Interviews begin in the fall and admission decisions are made until the class is filled. Applications must be completed before full admission into the program. Qualified candidates will be notified in writing if they are selected.  An interview does not guarantee admission into the degree program.  Applications must be verified for full matriculation into the program.
Next Steps for Admitted Students
Once you are admitted to the program as an athletic training student, you will submit the following materials: 
Signed Matriculation Agreement (provided with your Offer of Admission letter)

Official (final) transcripts from all institutions attended, demonstrating an earned bachelor's degree

Signed Technical Standards Form requiring physician signature.

Proof of compliance with institutional immunization requirements (Hepatitis B, Measles, Mumps, Rubella, Tetanus, and Diphtheria).

Federal Background Check: Students who refuse to consent to or have findings on the background check that would preclude certification or licensure will be dismissed from the program. 

Acknowledgement of student handbook policies. 
Matriculation Criteria
Technical Standards
Once accepted into the program, students must submit a signed copy of the technical standards, which requires a physician signature. It is the responsibility of the student to schedule the examination and obtain this signature prior to the beginning of their first term in the program. The "Technical Standards for Admission to the Athletic Training Program" form must be signed by both the applicant and the physician completing the physical examination and submitted to the Program Director. The student is responsible to inform the Program Director if the ability to meet the Technical Standards changes.
Immunizations
Students are also expected to obtain all required immunizations (Hepatitis B, Measles, Mumps, Rubella, Tetanus, and Diphtheria).  The immunization record must be signed by the physician conducting the physical examination or a record must be obtained from the health care provider.  The cost of any physical examination, follow-up tests, and/or immunizations is the responsibility of the student.  Failure to provide proof of immunizations will result in removal of the student from the clinical portion of the program.
Additional requirements for drug screening, immunizations/vaccinations, and background checks may be required by specific clinical sites.
Background Checks
The student will undergo a background check once admitted to the program. Additional background checks may be required by clinical education sites. The student is responsible for the costs associated with the first and future background checks. Students may not begin clinical experiences until the background check is completed. Candidates for the BOC exam must report felony and misdemeanor convictions, which may result in denial of ability to take the BOC exam.