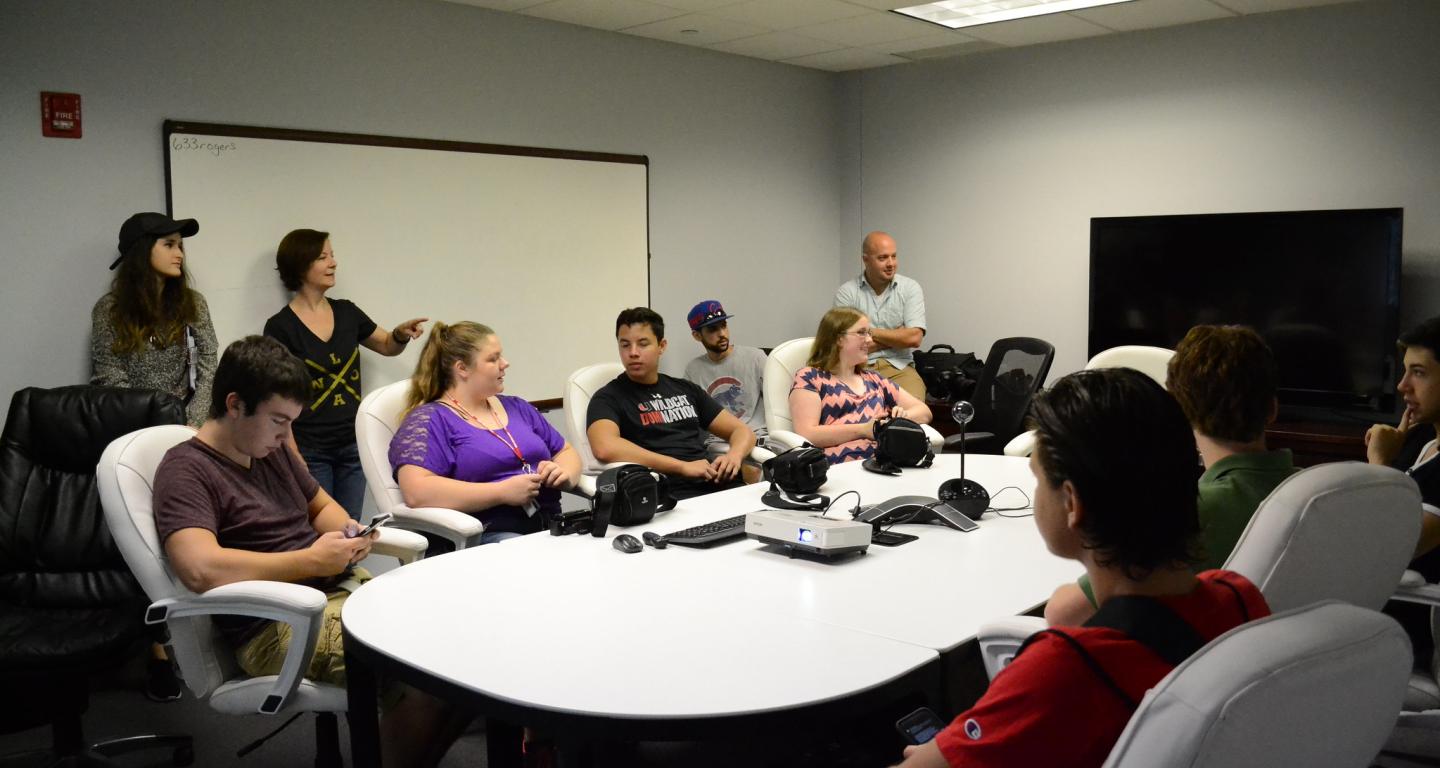 What Can You Do with a Film Degree?
Reviewed by Jacob Imm
Aug 11, 2021
What Can You Do With a Film Degree?
When you hear the term film, you probably imagine the Hollywood walk of fame, the Oscars and the glamor of the silver screen. It's true, films have been around for decades, and there seems to be no end in sight for the public's love of movies. After all, stories and narratives are practically hard-wired into American culture. 
The film industry, however, is much more complex, diverse and widespread than you may realize.
A film degree is valuable, but an aspiring filmmaker might wonder "Is a film degree worth it?" and "What can you do with a college degree in film?" The answer is actually quite a lot. From directing to editing to being a critic, read on for everything you can do with a film degree.
What Is Film Studies?
Film studies as part of media studies is a broad program that covers everything related to the art of moving images. From cinema to television, as well as video art, social media and advertisements—a program in film studies will explore how the world of film goes beyond the confines of your local movie theater.
At North Central College, for example, students can pursue a minor in film & screen studies. This program focuses on both the technical and creative aspects of film, from production to analysis (and everything in between).
If you're interested in one of the many careers that fall under this umbrella, it's important to understand what this degree will entail:
Coursework
In addition to their major and electives, students at North Central College who pursue a minor in film & screen studies can expect to take the following core courses:
Introduction to Film and Screen – The introductory class focuses on the critical analysis of classic and contemporary films. Weekly screenings and discussions will make up a majority of this four-credit course.
History of American Film – This course delves into the history, impact and evolution of American cinema. Weekly screenings and discussions will also make up a majority of this four-credit class, as well.
History of Global Film – In addition to American cinema, film studies students will also gain a deeper understanding of the global film industry. Weekly screening, readings and scholarly discussions make up a majority of this four-credit course.
Film Theory and Criticism – This four-credit course analyzes the theoretical models and strategies found in cinema. Students will discuss the various social, political and psychological models that many films are based around.  
Concentrations
Core classes are important for a general understanding of film, but concentrations are also vital for a successful career post-graduation. This is because filmmaking requires many different jobs, and students in the film studies degree program may be interested in a specific concentration within this field, such as:
Editing

Writing

Directing

Analysis

Animation

Lighting

Cinematography

Sound design
At most schools, students can customize their film studies degree by adding electives to their class schedule. Some of the most common elective options at North Central include:
TV Form: History and Theory – This course outlines the impact and theories developed throughout the history of modern television.
Video Storytelling I – This introductory course teaches students the basics of video production, including shooting, editing and audio. 
Screenwriting – This course covers every step of the screenwriting process, from pre-writing research to plot analysis and character development. Students will also learn the dynamics of the screenwriting industry, including the Writers Guild of America formatting guidelines and obtaining an agent. 
Introduction to Digital Audio – In this elective course, students will learn the principles of digital audio recording, production and editing.
Introduction to Acting – Students with previous acting experience will gain a deeper understanding of the craft through exercises, theory analysis and scene productions.
Directing – This class will teach students the basics of directing through theater exercises, techniques and groundwork with other students.
Animation I: Methods and Story – In this class, students will study the unique storytelling techniques used in 2D computer animation and the technical skills needed to bring these stories to life.
Skills Gained with a Film Degree
A film studies major or minor will teach students a wide variety of filmmaking techniques, in order to fully prepare them for a career in the field. Core and elective courses alike will focus on valuable skills used in the film industry, such as:
Script structure

Networking and collaboration

Story analysis

Proficiency in editing software

Camera equipment and shooting techniques
What Careers Can Film Graduates Pursue?
As previously stated, film majors are not limited to any one film job in this diverse industry. Each crew member plays a valuable role in the production and completion of a film or video project. This means a film studies graduate has a plethora of options for their career path. Some of the most common positions that film majors go on to include:
Director
Film majors pursue a career as a director in several different genres. In addition to feature films, directing positions are also prevalent in the world of television, theater, music videos and more. 
Directors play an important role in the style, pacing and performances within these productions. As a director, you'll be in charge of the set, working with actors, crew members and even the editor in post-production.
Not only is this film career rewarding, but it also comes with reliable pay. The average salary for a film director in the U.S. is $70,000 per year, and big-budget Hollywood directors typically earn quite a bit more. 
Writer
Students who study film will also learn the valuable writing skills needed to create these stories. Some graduates pursue screenwriting in motion picture and television, while others may use their writing experience for blogs, copywriting or manuscripts. 
The average salary for a screenwriter in the U.S. is around $80,000 per year, and many writers may go on to join the Writers Guild of America, which provides coveted union benefits and steady work. 
Editor
Editors are an essential part of all video production. While some film majors may edit feature-length movies as a career, others work in television, YouTube, and social media marketing. As an editor, you'll have a major influence on the post-production process. From the pacing to the visual effects, editors are responsible for a wide range of creative elements. 
The average salary for a film editor in the U.S. is around $50,000 per year. Assistant and junior editing jobs allow recent graduates to break into the industry more easily, and learn from their superiors. 
Animator
Film majors who want to utilize their visual art skills can pursue a career in animation. Animation is prevalent in the feature film industry, as well as advertising, short film and television. 
Animators use many of the same principles as live-action film makers, such as:
Storyboarding

Framing

Coloring

Editing

Shot lists

Lighting
Additionally, animation expands the possibilities of storytelling and can often be done with a tighter budget, fewer actors and a smaller amount of equipment. The average salary for an animator in the U.S. is around $60,000 to 70,000 per year.
Commercials
Advertising is a major aspect of video production that many people overlook. The commercials you see on a daily basis are written, produced, and filmed by professionals in the industry. 
Film majors can use their creative talents and production knowledge to enter this field and begin an exciting career in short-form video production. Advertising also pays quite a bit, with commercial directors earning an average salary of $130,000 to 140,000 per year. If you're looking to join an industry with ample opportunities, advertising is an excellent option for film studies graduates.
Film Critic
Film students earn valuable analysis skills during their education, and these skills can be put to use as a film critic. It's crucial for film critics to understand the principles of filmmaking, storytelling and even technical knowledge, such as cinematography and lighting. This is a great career path for graduates who prefer the analytical aspects of cinema, rather than working on set or in post-production. 
The average salary for a film critic in the U.S. ranges from $30,000 to $50,000 per year. Film critics may be employed by media companies, magazines, and newspapers, or digital publications. 
Career Outlook for Film Graduates
The film industry is a major part of the U.S. economy, and students can rest easy knowing this field is always in need of skilled professionals.
The Bureau of Labor Statistics (BLS) predicts an 18% increase in the demand for film and video editors over the next decade, which is much faster than the average occupational growth. The BLS also estimates a steady 10% growth for film directors and 14% for cinematographers and camera operators.
Earn Your Degree in Film 
Before you begin a successful career in the film industry, you'll need the right education under your belt. Earning your degree from an esteemed film studies degree program, like the one at North Central College, is the first step toward honing your craft. 
At North Central College, students will gain a well-rounded knowledge of the history, production and structure of filmmaking. Request more information, and start your journey into filmmaking today by finding out more information about North Central College!
 
Sources:
Payscale. (2021, March 29). Film Director Salary | PayScale.
https://www.payscale.com/research/US/Job=Film_Director/Salary
Payscale. (2021a, January 9). Screenwriter Salary | PayScale. 
https://www.payscale.com/research/US/Job=Screen_Writer/Salary 
Payscale. (2021c, April 6). Film / Video Editor Salary | PayScale. 
https://www.payscale.com/research/US/Job=Film_%2F_Video_Editor/Salary 
Glassdoor. (2021, April 19). Commercial Director Salary.
https://www.glassdoor.com/Salaries/commercial-director-salary-SRCH_KO0,19.htm 
Indeed Editorial Team. (2021, February 22). How Much Does a Movie Critic Make? Indeed
Career Guide. https://www.indeed.com/career-advice/pay-salary/movie-critics-salary 
Bureau of Labor Statistics. (2021, April 9). Film and Video Editors and Camera Operators: Occupational Outlook Handbook: : U.S. Bureau of Labor Statistics. 
https://www.bls.gov/ooh/media-and-communication/film-and-video-editors-and-camera-operators.htm 
Bureau of Labor Statistics. (2021b, April 9). Producers and Directors: Occupational Outlook Handbook: : U.S. Bureau of Labor Statistics.
https://www.bls.gov/ooh/entertainment-and-sports/producers-and-directors.htm 
Study.com. (2021, March 28). Study.com | Take Online Courses. Earn College Credit. Research Schools, Degrees & Careers. Study. https://study.com/cinematographer_career.html