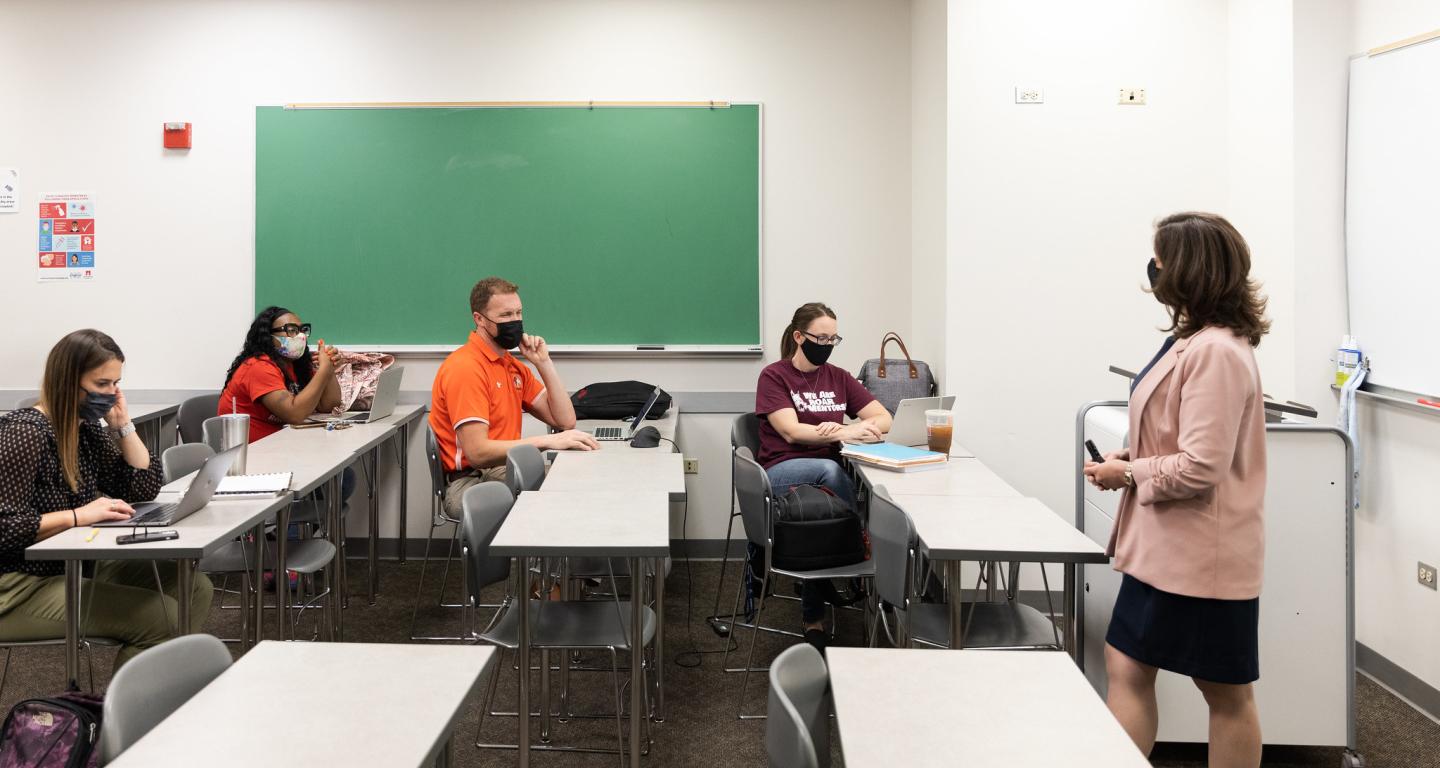 Is a Business Management Degree Worth It?
Reviewed by Jacob Imm
Oct 29, 2021
Is a Business Management Degree Worth it?
For individuals interested in leadership, problem solving and communication, earning a bachelor's degree in business management can open the door to a tremendous number of rewarding job opportunities. But choosing the right field of study involves more than finding a program that utilizes and grows your innate skills and interests—it's also about understanding what your future will hold after graduating.
If you've thought about pursuing a career in business, you may have wondered, "Is a business management degree worth it?"
The answer is: it depends. Entering in a business degree program presents a world of possibilities, but it's also a challenging field of study. To better understand whether a business management degree is right for you, let's break down what a business management degree can teach you, how it can expand your job prospects, and how it can advance your personal, professional and financial goals.
What a Business Management Degree Can Teach You
In a nutshell, studying business management is about learning to become a strong leader in a business environment. Students gain a holistic view of organizational structures and their place in our society, then use that knowledge to help steer companies down the right path—a path that is both profitable and socially responsible.
Because a business management degree emphasizes versatility and outside-of-the-box thinking, it's one of the few degrees that teaches skills which can be applied to nearly every industry and position. You can even use the knowledge you acquire studying business management in your everyday life and relationships.
When you study business management, you'll learn and practice skills as varied as:
Budgeting and finance

Problem-solving with creative solutions 

Anticipating future trends through data analysis 

Communication and critical thinking 

Goal setting and planning 

Project management and supervision 
So, what can you do with a business management degree? Ultimately, business management not only trains you in various disciplines but also teaches you how to learn effectively. As a manager, you're constantly adapting, listening to new ideas and taking on projects that may be outside of your comfort zone. Business school or a degree in business may seem like a whirlwind of different skills, but there's a reason for this: it's preparing you for a fast-paced, ever-changing work environment.
What Type of Courses Do You Take When Studying Business Management?
To develop the above skills, business management students will take courses in:
Accounting

Business

Finance

Marketing

Management

Economics 
On top of these specific areas of study, you'll also have to take any liberal arts and general education requirements your school deems necessary for a bachelor's degree.
At North Central College, for example, the business management program is chock-full of inspiring classes that will expand your thinking and help you succeed in your business career. Some highlights include:
In these courses, you'll draw on subject matter as diverse as neuroscience, mythology and more to better understand the world of business.
However, not all business degrees are the same. For example, make sure you understand the differences in business administration vs. business management degrees, as they focus on different skills even though they have similar names. 
Skills Needed to Succeed in Business Management
A quick glance at a business management course load suggests you'll need plenty of math and theory. While these "hard skills'' are a necessity for business management majors, the "soft skills" you'll learn along the way are equally important—if not more so.
To succeed in business management, you'll need to excel as a leader and manage your time productively. Strong communication skills are another asset business managers need to be able to collaborate with others, problem-solve and motivate their teams to work efficiently and effectively.
To put it plainly, business management is art and science. An outstanding manager is a jack-of-all-trades who combines interpersonal skills with competencies in policy, finance and business strategy.
How to Make the Most of a Business Management Degree
While a business management degree alone can open the door to a multitude of job opportunities, to truly make the most of a business degree program, consider taking advantage of your school's unique resources. These include:
Career centers

Clubs

Networking events

Faculty and alumni networks
North Central College boasts dozens of clubs that complement your business studies. For example, you can hone your leadership skills by mentoring first-year students or working on the Student-Athlete Advisory Committee. These extra-curricular activities allow you to network with other students, and they improve your resume, too.
You can also seek mentorship from local business owners and professors, many of whom likely have experience in managerial roles. Most institutions also help students find internships and job placements, so be sure to make your career goals known to faculty and staff who can help you make these connections.
To better understand your career and financial prospects after graduating with a business management degree, explore the different avenues while you're still at school. In particular, it can be beneficial to learn the highest potential level of growth for each job opportunity.
Career Prospects with a Business Management Degree
Thanks to the wide range of courses required for a business management major, students leave school with an incredible breadth and depth of knowledge. With this set of skills under their belts, business graduates can take their degree  and find work in almost any industry.
To determine which field to enter after graduation, consider your interests, personal goals, financial aspirations and the potential for growth within the sector. There's a high chance you'll find a career that aligns with your passions.
Popular fields to enter with a business management degree include:
Administration

Advertising

Computer Technology

Engineering

Construction

Finance

Food Services

Healthcare Services

Real Estate

Sales

Public Relations
A business management degree program not only gives you nearly endless choices, but it's also a ticket to a secure and reliable career path. According to the U.S. Bureau of Labor Statistics, employment in management occupations is expected to grow by 5% from 2019-2029, resulting in 505,000 new jobs. 
And if you stick with it, you can reap the benefits financially. Even right after graduation, business management majors can make $60,000 or more per year. The growth potential is clear, too; the median annual salary for management occupations is $109,760 as of 2020—the highest wage of all major occupational groups in the United States.
Business Management Positions with High Salaries
To give you an idea of what to expect as your career takes off, here are four business management positions with a high average annual salary:
Computer and information systems manager – If you love working with technology, you could receive an average salary of $115,780 managing an organization's IT. For a position like this, you'll need at least five years of experience in the IT industry (on top of your college degree).
Advertising and marketing manager – After 3-8 years at an advertising and marketing firm, you could move into a management position and earn $129,380 annually on average.
Human resources manager – Do you see yourself as an effective link between an organization and its people? If so, focus on human resource courses in school and garner at least five years of experience in HR. You could make an average of $101,596 per year.
Sales manager – For those who thrive in fast-paced environments, supervising a sales team may be the answer. With your degree and 1-5 years of experience, you can expect an average salary of $113,860.
Financial manager – Looking to find an analytical position where you can don your commercial and business awareness? Hone your skills for financial reports and market analysis and earn an average of $139,780 a year.
How to Know if a Business Management Degree is Right For You
If you feel confident in a leadership position, enjoy critical thinking and want to work collaboratively with others to create innovative business solutions, a business management degree may be the best choice for you. Plus, with its wide range of applications, those with business management degrees can enter hundreds of industries and experience a high level of job stability.
Even if you're currently undecided about your future career, the range of topics explored in business management can help you find and develop your passion.
However, you should be aware that business management—both in school and as a career—is demanding. There's a lot to cover, and as with any field that evolves constantly, there's always something new to learn, even after you land your dream job. With that said, a strong work ethic goes a long way. If you put your mind to it, you can succeed!
Earn Your Bachelor's in Business Management at North Central College
The first step to a successful career in business management is finding the right school. Look for a business management program like the one at North Central College. North Central's business management, business administration, and international business degree programs focus on how innovative problem-solving techniques, effective leadership and strong communication skills can lead to creative business solutions and growth. By completing a major or minor in business management at North Central College, you'll gain a comprehensive understanding of these concepts and more so that you can tackle business problems efficiently and effectively no matter where you work. 
Plus, at North Central College, you can gain professional experience by becoming a member of the American Marketing Association (AMA) or the Entrepreneurship and International Business Organization (EIBO). You'll also have access to hands-on internships through our Career Development Center. Learn how you can become an asset to any business or industry by getting more information from North Central College today.
Sources: 
U.S. Bureau of Labor Statistics (BLS). (2021, May 14). Management Occupations: Occupational Outlook Handbook. https://www.bls.gov/ooh/management/ 
Dowd, M. (2021, February 16). The Salary of Business Management Majors. Chron. Retrieved Septemeber 1, 2021 from https://work.chron.com/salary-business-administration-right-out-college-10589.html 
The 27 Highest Paying Business Management Positions in 2021. (2021, April 19). Business Management Degree (BMD). Retrieved September 1, 2021 from https://www.business-management-degree.net/highest-paying-business-management-positions/