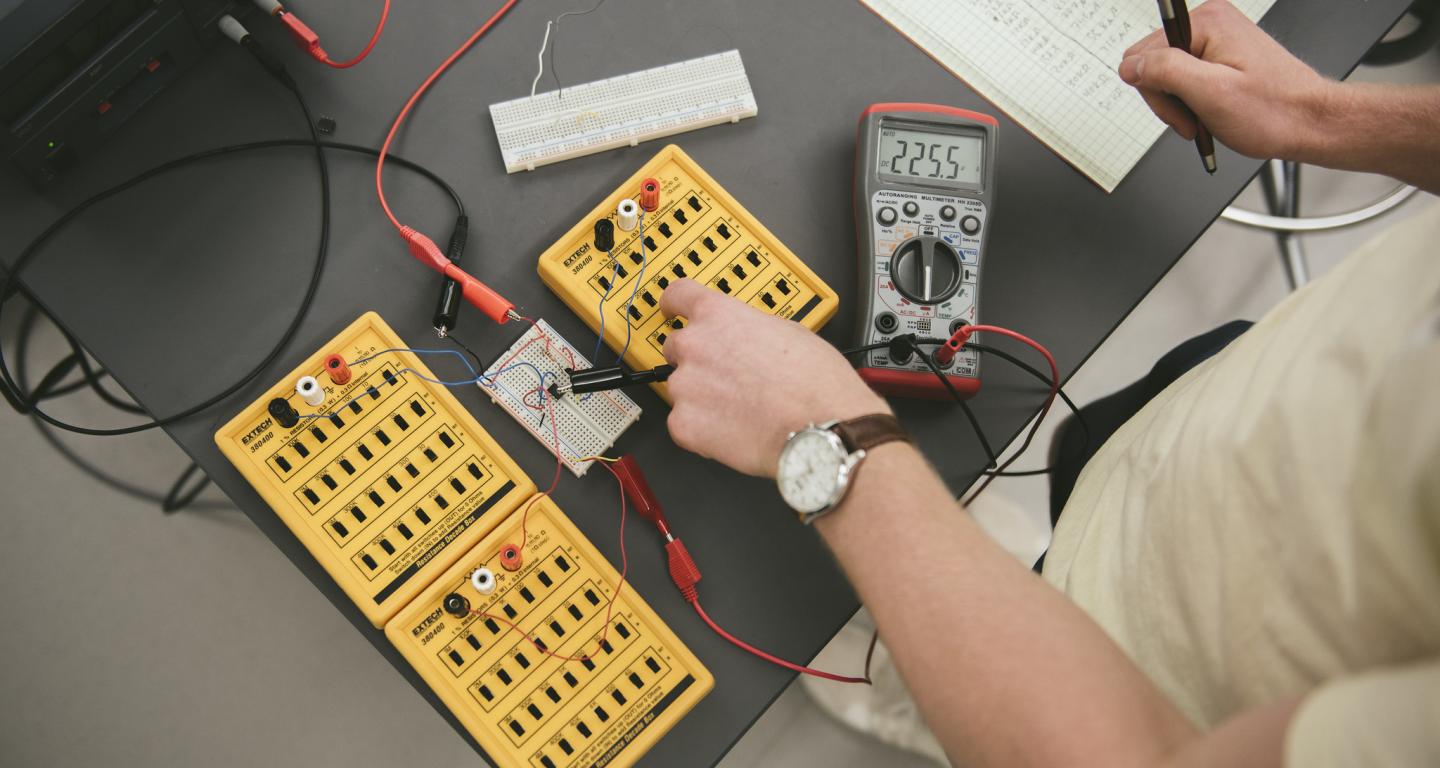 How to Become an Electrical Engineer
Reviewed by Jacob Imm
Feb 09, 2022
How to Become an Electrical Engineer
Working as an electrical engineer is fascinating, fulfilling and illuminating (no pun intended). The job description involves pushing the boundaries of technology and creating solutions that can help millions of people at a time. What's more, given high demand and projected growth in this field, salaries for a wide range of jobs are competitive.
But how do you attain such a desirable role? How do you become an electrical engineer?
Because it can sometimes be challenging to find reliable, updated information on how to enter the field, we've put together this step-by-step guide on how to become an electrical engineer. Starting with prepping for college, we'll examine every part of the process—and the jobs you can apply for when you reach the end.
Step 1: Understand the Job
Before you begin your journey toward the field of electrical engineering, it's worth asking if the job is right for you. To do that, it helps to understand what electrical engineers do and the differences in mechanical engineering vs. electrical engineering.
Electrical engineering is the study and application of electricity and electromagnetism. Through a mix of theoretical and practical concepts, electrical engineers build and improve electronic devices and electrical systems.
Depending on your exact job description and industry of choice, your everyday duties as an electrical engineer may include:
Designing and testing electrical equipment

Project management

Consulting with clients or government officials

Repairing electrical equipment systems that use or generate electrical power

Ensuring products meet safety standards
No matter which of these tasks you find yourself handling as an electrical engineer, one thing is for certain: physics and mathematics will almost certainly be involved. As such, you should be prepared for an electrical engineering job that requires plenty of critical thinking and creative problem-solving.
With that said, don't worry if you're not yet an expert on linear algebra or differential equations—you'll practice all the necessary skills in college. At this stage, all you need is an interest in those topics and a willingness to learn.
Step 2: Prepare for College
Though your electrical engineering journey "officially" begins with higher education, you can foster essential skills before you even step on to a college campus. If your high school offers advanced math and science classes, be sure to enroll—especially if there are programs that will earn you college credits.
Your preparation can also take place outside of the classroom. Look for opportunities to volunteer with local organizations, especially if they'll give you a chance to practice the skills you'll need in electrical engineering (such as math tutoring or building houses). Volunteering is a great way to: 
Practice valuable interpersonal skills

Give back to your community 

Improve your college applications
Finally, sign up for any relevant extracurricular activities in your school or community. Robotics teams, computer programming boot camps and audiovisual clubs are all avenues for exploring concepts in electrical engineering.
Step 3: Complete Your Undergraduate Degree
As most electrical engineering jobs require at least a bachelor's degree, your next step should be applying for college. Specifically, you'll want to look for an electrical engineering program from an accredited school.
Like most undergraduate programs, an electrical engineering degree takes around four years of full-time schooling (though you can often graduate earlier if you take classes during the summer). The vast majority of electrical engineering programs will provide students with a bachelor of science (BS) degree. However, some schools offer a more diversified bachelor of arts (BA) in electrical engineering.
Whether you pursue a BS or a BA, you'll take many of the same core courses. To give you an example of a potential schedule, here are some of the required courses from North Central College's electrical engineering program:
Introduction to Computer Programming

Introduction to Electrical Engineering

Circuit Analysis I

Analog and Digital Signals

Motors and Actuators

The Engineering Method

Engineering Calculations

Calculus I-III

Physics I: Mechanics and Heat

Physics II: Electromagnetism, Waves, and Optics
Many electrical engineering degrees may also include an internship. Once you fulfill all the requirements of your undergraduate degree, you can start working as an engineer.
Jobs You Can Apply for at This Stage
With your bachelor's degree in hand, you'll be qualified to work in many of the industries that employ electrical engineers. And because most modern technologies incorporate electrical devices in one way or another, your options are practically limitless.
Here are just a few of the roles you can apply for after graduation:
Computer Hardware Engineer – If your interests lie in computers and you are weighing your choice of computer engineering vs. electrical engineering, try combining both and specialize in hardware design and development. You'll work to build and test processors, hard drives, and routers, usually in a lab. According to the U.S. Bureau of Labor Statistics (BLS), computer hardware engineers earn a median annual salary of $119,560.
Health and Safety Engineer – These engineers work in the public and private sectors to ensure people and property are kept safe. By designing and installing safety mechanisms, you can make a difference in your community—and earn an average salary of $94,240 per year while doing it according to the BLS.
Electrical or Electronics Engineer – Electrical engineers typically work on large-scale projects, such as aircrafts and systems that generate electricity; electronics engineers tend to focus on smaller devices. Both roles can be fascinating and the average annual electrical engineer salary is $103,390 according to the BLS.
Step 4: Complete Your Graduate Degree to Advance Your Career (Optional)
If you want to further your understanding of electrical engineering, open new doors, and increase your earning potential, you may want to consider pursuing a master's degree. While not a requirement to work as an electrical engineer, a graduate degree can make you a more viable candidate for leadership roles.
Some engineers enroll in a master's program directly after finishing their bachelor's degree, while others may work for several years before returning to school. In some cases, organizations will often cover the engineering education costs of electrical engineers who wish to further their studies.
Most of the time, a master's in electrical engineering will take about two years of full-time study to complete, though online or night classes for working professionals can take longer but might fit your schedule easier. When you apply for a master's program, you'll generally choose from a list of concentrations that includes:
Circuitry

Signal Processing and Communications

Photonics (the manipulation of light)

Bioengineering

Microelectronics
Graduate programs are intensive, but the rewards can be plentiful; you'll have opportunities to network and master advanced skill sets in a controlled environment.
Jobs You Can Apply for at This Stage
A master's degree often opens the door to higher wages in the roles listed above. But it can also unlock new positions in the field of electrical engineering.
With a graduate degree and several years of experience, you can apply to work as a: 
Project Manager – When overseeing the development and completion of projects, your level of responsibility is much greater—but so is your take-home pay. Managers and supervisors can earn well above $100,000 per year.
Controls Engineer – Using sensors, you'll design systems that monitor conditions and automatically correct performance in advanced electrical devices. From self-driving cars to spacecrafts, control engineering is a vital part of the next generation of technology.
Depending on your concentration in school, there are dozens of other roles that a master's degree can unlock, as well.
Step 5: Earn Your Professional Engineer License (Optional)
To solidify your reputation as an electrical engineer and unlock further possibilities, you can work toward a Professional Engineer license (PE). Licensure communicates your commitment to quality engineering work to employers and clients.
To receive your Professional Engineer license, you'll first take a Fundamentals of Engineering exam. If you succeed, you'll work under a Professional Engineer for four years, gaining on-the-job experience. Finally, you'll have to pass the Principles and Practice of Engineering exam.
Although Professional Engineer licensure is more common among civil and mechanical engineers, the certification is becoming increasingly valuable among electrical engineers—especially those who plan to open or own an engineering firm.
Jobs You Can Apply for at This Stage
Professional Engineer licenses are helpful in all engineering roles, but they're also legally required for some engineers—especially those who work in high-stakes fields, including:
Engineers in municipal, state, and federal government occupations

Private consulting engineers

Teachers of electrical engineering (in some states)
If you plan to work in the public sector, PE licensure is highly recommended, as any engineer who submits engineering plans for government approval must be licensed.
Why Work as an Electrical Engineer?
The field of electrical engineering is fast-paced, well-regarded and lucrative when compared to the average national salary. According to the BLS, electrical engineer jobs are also in demand, with the field growing at an expected rate of 7% between 2020 and 2030. This translates into more than 20,000 new positions per year.
Besides the growth potential, electrical engineering is an exciting career. If you want a career that puts you at the forefront of technological advancements, look no further than a job as an electrical engineer.
Why Study Electrical Engineering at North Central College?
A bachelor's degree is your first major step toward an electrical engineering career, so your choice of college is paramount. Look for a school like North Central College that offers a comprehensive program, access to cutting edge technology, and hands-on experience. North Central's experienced faculty can help you navigate the road to a successful and fulfilling career.
When you apply to the electrical engineering program at North Central College, you set yourself up for success. Schedule a visit today and see for yourself.
Jacob Imm is a communications specialist in the North Central College Office of Marketing and Communications. He has 11 years of collegiate communications experience and has worked with hundreds of college students. He has a bachelor's degree from the University of Notre Dame and a master's degree from Northern Illinois University. 
Sources: 
Computer Hardware Engineers : Occupational Outlook Handbook. U.S. Bureau of Labor Statistics. Published September 8, 2021. Accessed November 18, 2021. https://www.bls.gov/ooh/architecture-and-engineering/computer-hardware-engineers.htm. 
Health and Safety Engineers : Occupational Outlook Handbook. U.S. Bureau of Labor Statistics. Published September 8, 2021. Accessed November 18, 2021. https://www.bls.gov/ooh/architecture-and-engineering/health-and-safety-engineers.htm. 
Electrical and Electronics Engineers : Occupational Outlook Handbook. U.S. Bureau of Labor Statistics. Published September 8, 2021. Accessed November 18, 2021. https://www.bls.gov/ooh/architecture-and-engineering/electrical-and-electronics-engineers.htm. 
What is a PE? National Society of Professional Engineers. (N.D.) Accessed November 18, 2021. https://www.nspe.org/resources/licensure/what-pe. 
Electrical and Electronics Engineers : Occupational Outlook Handbook. U.S. Bureau of Labor Statistics. Published September 8, 2021. Accessed November 18, 2021. https://www.bls.gov/ooh/architecture-and-engineering/electrical-and-electronics-engineers.htm.