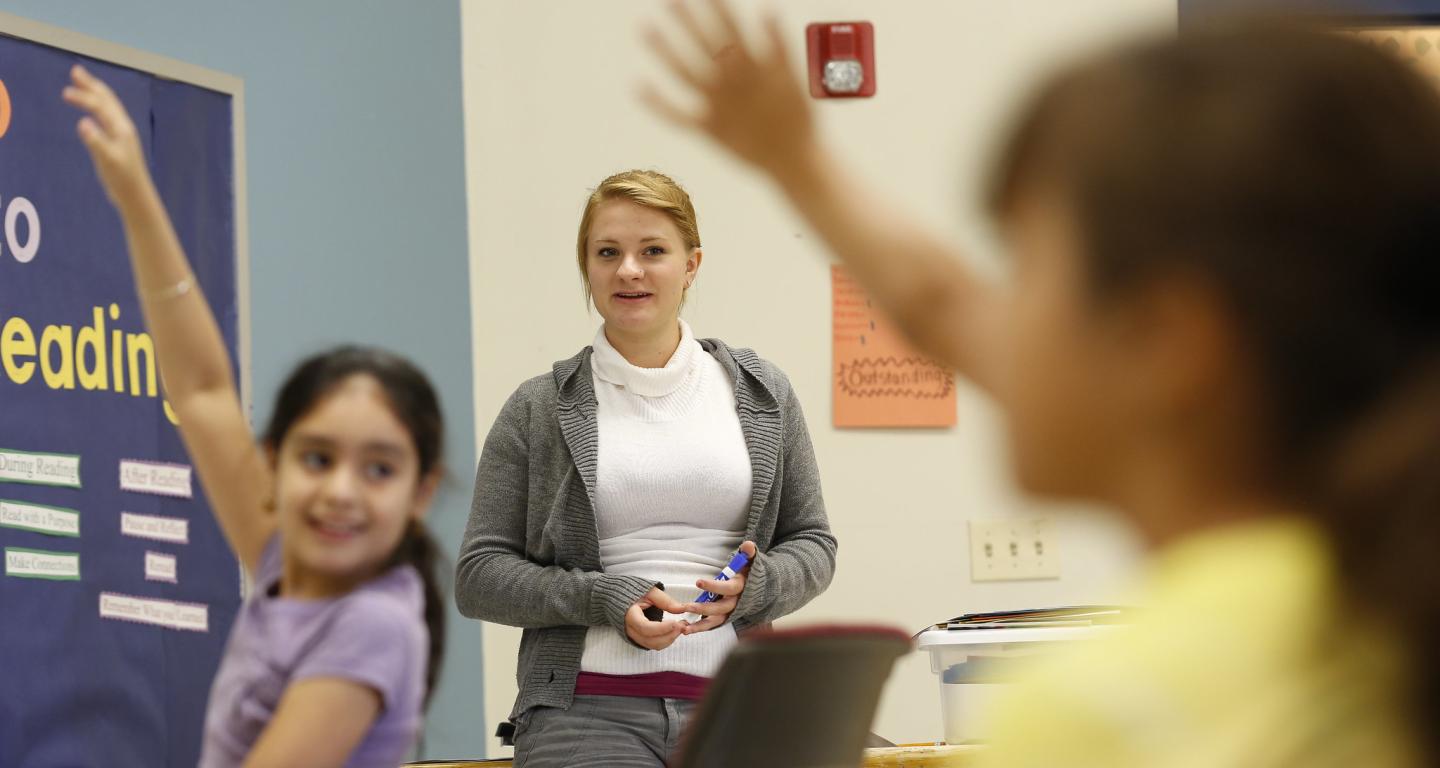 What Classes are Required for Elementary Education
Reviewed by Jacob Imm
Nov 16, 2022
What Classes are Required for Elementary Education?
Most people have that one elementary school teacher that changed their life. If you want to become that elementary teacher for someone else, you first have to take a degree's worth of college classes.
While you can theoretically teach at an elementary school with any bachelor's degree (along with the necessary licenses and accreditations), an Elementary Education degree will best prepare you. Some of the required classes for a teacher education program include courses like educational technology, psychology, and foundations of teaching and learning.
However, the exact courses you'll take will vary from school to school. To demonstrate what classes are required for elementary education, we'll use North Central College's elementary education degree program as an example.
Foundations of Teaching and Learning
First and foremost, elementary school teachers-to-be need to understand how to teach—and how to learn. A course like Foundations of Teaching and Learning prepares students to teach:
Equitably

Sustainably

In a culturally relevant way
Just as no two students are the same, no two classrooms will be alike, either. This teacher education program introductory course explores the necessary skills for teaching diverse learners in various environments. You'll also study the standards and expectations that future elementary school teachers—that's you—need to adhere to in all settings and scenarios.
Educational Technology
The technology in today's elementary school classrooms looks nothing like the technology you used for your early childhood education. From computers to VR headsets, the technological landscape of the classroom environment continues to shift. These new and exciting technologies will come with plenty of opportunities and challenges you and your students will have to conquer.
A class like Educational Technology in K-12 Classroom explores these challenges. This course will introduce you to the existing and emerging technologies that can augment the student experience. When you understand the curricular uses of tech in education, you'll have the knowledge you need to support your teaching and your pupils' learning.
Psychology: Science of Behavior
Educational psychology courses provide future teachers with vital skills. In particular, a Science of Behavior course will help you understand why your pupils act the way they do.
By exploring behavioral theories, you'll be able to:
Recognize patterns in your pupils' actions

Discover new ways of teaching students of all abilities

Learn how to help and motivate all students
Professional courses on psychology and behavior in the Education department also explore learning and memory, intellectual functioning, and social influences on behavior—all essential parts of the elementary classroom experience.
Equity in the Classroom
According to the U.S. Department of Education, equity—which you can think of as "one step further" than equality—is vital in today's classroom (and beyond). While equality means giving everyone the same treatment, equity means giving everyone treatment that corresponds with their needs.
Depending on where you study elementary education, your education program may include multiple courses on classroom equity. For example, at North Central College, you'll take two: Equitable Learning Environments: Elementary and Equity and Access in Systems of Education.
Teaching Students With Disabilities
Most elementary education programs will also have a class on inclusive teaching and different types of elementary teaching styles. Inclusive education states that schools should welcome all students into the classroom—regardless of their abilities, language requirements, or gender identity.
Courses like Teaching Students With Disabilities cover how to approach this goal, touching on topics such as:
Special education

Multicultural perspectives

Legal issues
Courses on How to Teach Various Subjects
Unlike high school and post-secondary teachers who specialize in particular subjects, elementary-level educators help their pupils explore all the quintessential topics. An elementary education curriculum reflects this, giving college students semester-long courses on the elementary methods for teaching topics like:
Social studies – In Elementary Methods: Social Studies, you'll cover the basics of historical and contemporary human society.
Math – In Elementary Methods: Mathematics, you'll touch on all aspects of math at the elementary and middle school levels, including mathematical reasoning skills and procedural fluency.
Science – In Elementary Methods: Science, you'll explore ways to teach and assess in several scientific fields, including chemistry, biology, and physics.
Literacy – In Elementary Methods: Literacy, you'll learn that teaching literacy involves more than instructing children how to read. As a topic, language arts touches on reading comprehension, writing, vocabulary, and media literacy. Literacy is such a complex and crucial topic that North Central College includes two classes on it.
Take Your First Step Toward Teaching in Elementary Schools
An elementary teacher helps shape the minds of future generations. If you think elementary education might be for you, your first step is to enroll in an elementary education degree program to learn how to become an elementary school teacher.
However, not all elementary education programs are created equal. Knowing that you'll be working hands-on with our nation's future, you'll want to start your career as an elementary-level teacher with complete confidence. How can you do that? By going to a reputable college.
As you explore your options, look for schools like North Central College, where you'll gain hands-on classroom experience—even before your teaching residency. When you pursue your degree at the right school, you can walk into the classroom on your first day ready for anything.
Jacob Imm is the associate director of communication in the North Central College Office of Marketing and Communications. He has 12 years of collegiate communications experience and has worked with hundreds of college students. He has a bachelor's degree from the University of Notre Dame and a master's degree from Northern Illinois University.
Sources: 
Department of Education Equity Action Plan. Department of Education Equity Action Plan | U.S. Department of Education. (n.d.). Retrieved September 21, 2022, from https://www.ed.gov/equity